I love the taste of rotisserie chicken done over the flame of a grill. I have used rotisserie grills for years and know what features are essential to look for in the best ones.
So, I decided to research the best grills currently on the market.
I looked at various options to find one that was easy to use, reliable, and had the features I love. I tested the best gas grills with rotisserie out there, and here is the roundup of my top picks.
The Best Rotisserie Grills
#2nd Best Choice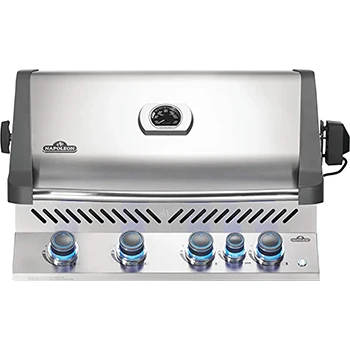 Napoleon Grills
Check Current Price
#3rd Best Choice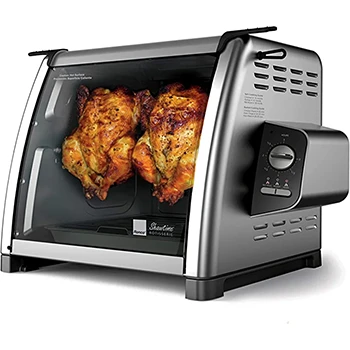 Ronco 5500 Series
Check Current Price
7 Best Rotisserie Grills
Buyer's Guide
When shopping for rotisserie grills, it's important to consider what features matter most to you. Here is what you should look for.
1. Size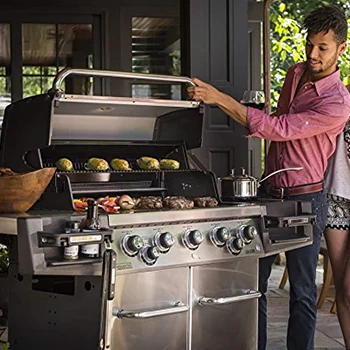 The size of your rotisserie grill should be determined by how many people you plan on cooking for and what type of meals you'll be preparing.
A larger model may be best if you typically cook for big groups or want to cook larger cuts of meat.
However, a smaller model may be sufficient if you usually cook meals for just the family.
2. Temperature Control
Another important factor when choosing a rotisserie grill is its heat settings. It's a good idea to make sure that the one you choose has the ability to adjust the temperature according to the type of meal being prepared.
This will help ensure your food is cooked thoroughly without drying out or charring.
3. Price
You should also consider the cost of the grill. While some models are more expensive than others, it's important to note that these grills can last for a long time if you take good care of them.
Therefore, it may be worth investing in one that is of higher quality and durable enough to withstand regular use.
Read More: Best Gas Grill Under $2000
4. Construction
Most rotisseries are made from stainless steel or cast iron. Stainless steel is great because it's easy to clean and is not susceptible to rusting over time.
Cast iron is strong and durable but can rust if not cared for correctly.
Related Articles:
5. Style of Heating Element
You have to decide what type of heat you want to cook your food with. The more traditional methods are gas, charcoal, and wood flame, but electric heating elements are also available.
The latest in rotisserie technology is a rear infrared burner. Infrared burners provide fast startups and cook food evenly.
6. Accessories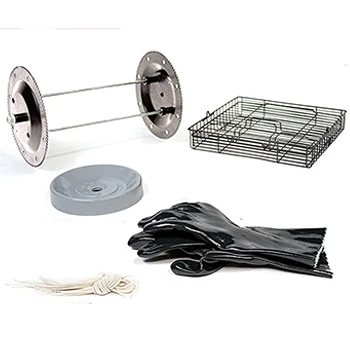 When it comes to rotisserie grills, accessories can make things much more fun.
Look for a model that includes attachments such as tie wraps, cooking gloves, grill cover, drip pan, heat shield, and skewer set—so that you have everything you need right at your fingertips.
Additionally, some grills come equipped with helpful extras like rotisserie baskets and rib racks that can help make your cooking experience even better.
7. Ease of Cleaning
Cleaning is an essential part of maintaining any grill, and this is especially true with rotisseries. Some grills have detachable parts or non-stick surfaces that make cleaning easier.
If you plan on using your rotisserie regularly, look for models that feature a removable grease tray and easy-to-clean, durable cooking grids.
8. Special Features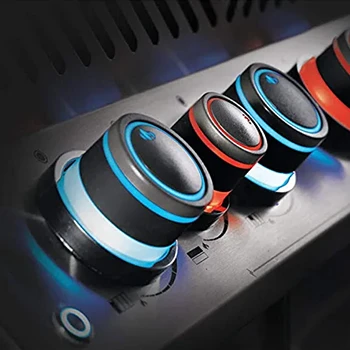 Finally, don't forget about special features.
Some grills may offer adjustable temperatures, programmable timers, or automatic shutoff functions so that your food is cooked just right every time.
Others may include built-in thermometers so you can monitor the internal temperature of the meat without having to open the lid and let out heat.
Also Read: Best Built in Gas Grills
Who Should Buy a Rotisserie Grill?
People who love slow-cooked roasts or crave succulent kebabs should buy a rotisserie grill. A rotisserie will help you make mouthwatering meals with minimal effort.
Who Should Not Buy a Rotisserie Grill?

People who want to cook large quantities of food at once should not buy a rotisserie grill. These grills can also be more expensive than other types of grills, so they may be out of budget for some people.
FAQs
Can You Put a Rotisserie on Any Grill?
Yes, you can typically put a rotisserie on any grill. However, it's essential to ensure that the rotisserie kit is compatible with your grill before buying, as it is hard to find a truly universal grill rotisserie kit.
Is Vertical or Horizontal Rotisserie Better?
A horizontal rotisserie is generally better than a vertical rotisserie because it is more self-basting. This type of rotisserie is simpler to clean after use.
Should You Close the Grill When Using Rotisserie?
You should generally close the grill when using a rotisserie so that the heat is evenly distributed. Additionally, closing the lid of the rotisserie gas grill can help keep your food from drying out.
What Should You Put Under a Rotisserie?
You should put a drip pan and the grill grates under your rotisserie to catch any fat and juices that drip off it while cooking. This will prevent flare-ups and keep your grill clean.
What Is the Best Grill Rotisserie for You?
Grill rotisseries clearly make an awesome addition to your BBQ hardware.
After testing all the rotisseries on the list, I've concluded that the Weber Summit E-470 gas grill proved to be the most versatile, durable, and user-oriented of the bunch.
Even though it is not the cheapest option, the quality, performance, and convenient features make this impressive grill worth the investment.
According to customer reviews on Amazon, this product is reliable and easy to use, with minimal cleanup required. And my experience mirrors that as well.
So, if you are in the market for a high-quality rotisserie grill, give this one a try.
Weber Summit E-470 Gas Grill (Best Overall)
Our #1 Recommendation
Tuck-away rotisserie system
Ample cooking surface with four stainless steel main burners
Cooking grids with a dedicated sear burner
12,000 BTU side burner
Get the BEST PRICE until the end of December
Was this article helpful?