If you've ever attempted to order Chicago steaks online, you know that one of the major concerns is consistency. Our team researched all the self-proclaimed "premium quality" meat providers, and the truth is, finding the right seller is a difficult feat when you value freshness, taste, and marbling, as we do.
After reading some online reviews, we found one company that strictly offers USDA prime beef. In this Chicago Steak Company review and taste test, we'll find out how their reputation holds up and if their "juicy" steaks are worth the cost.
What Is The Chicago Steak Company?
The Chicago Steak Company is a "steaks for delivery" outfit with its roots in the Union Stock Yards of Chicago. They source their beef from the finest Heritage Cattle in the Mid-West and have won multiple awards for the quality of their meats. (1)
Chicago Steak Company caters both to high-end steakhouses and 5-star hotel chains, as well as the regular consumer market, which in turn, prepares some of our favorites - from flavorful prime burgers to the delicious sirloin and flat iron steak. They specialize in wet and dry-aged steaks and claim to have the largest dry-aging facility in the Midwest.
Pros
Steaks aged four to six weeks
Great Steak Debate Peoples Choice Award winner
Same meats, steak, and fish as high-end restaurants
Both wet and dry-aged cut options
Cons
No grass-fed farm-raised options
No subscription box options
What Are The Menu Options?

Though the Chicago Steak Company specializes in high-end steak and prime cut, you can also send an order for various meats, seafood, and other food options to make tasty burgers or country breakfast meals. They have a selection of desserts and excellent gift basket choices you can order and share with family and friends. Some of the most highly rated categories you can choose from their site include:
Premium Angus Beef
Filet Mignon
Boneless Strip Steaks
Wet Aged
Bone-In Ribeye
T-Bone Steaks
Filet Mignon Steaks
Dry-Aged
Boneless Ribeye
Filet Mignon Steaks
Tomahawk Ribeye
American Wagyu Beef
Ribeye
Filet Mignon
Porterhouse Steaks
Steak Burgers
USDA Prime Burgers
Gourmet Angus Steak Burgers
American Wagyu Burgers
Chicken/Pork/Ribs
Whole Chicken
Baby Back Ribs by Coach Ditka
Pork Chops
Popular Menu Items
Choosing Chicago Steak Company means accessing the following popular menu items. They sell the best burgers, seafood, and breakfast meals. The best part is you can order desserts or gift baskets for sharing.
Read on and learn the top three meat products sold by the Chicago Steak Company.
Premium Angus Beef
This type of beef is the company's signature offering. It includes bone-in or bone-out fillet mignon, ribeye, strips, sirloin, baseball cut sirloin, and other cuts.
You can also pick from other assortments of cuts. These are perfect for first-time customers or as gifts for meat lovers.
USDA Prime Wet-Aged
These Chicago steaks undergo a wet-aging process. It vacuum seals the meat before leaving it to age for ten days. The enzymes within the juices will break the muscle fibers and other connective tissues to increase the steak's tenderness.
The longer the steak ages, the more tender it becomes.
All cuts from the premium Angus beef category are available as wet-aged (except for the t-bone).
USDA Prime Dry-Aged
The dry-aging process makes enzymes break the collagen in muscle tissues to tenderize the meat. However, instead of vacuum seals, the steak company hangs the steaks for 21 days or longer.
You can buy all dry-aged steak cuts except t-bone and flat iron ones.
Chicago Steak Company Meat Quality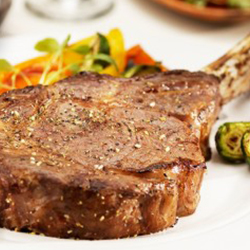 The quality of meat cut we received from the Chicago Steak Company shop was top-notch. The steak flavor complexity was way robust, and the Wagyu we ordered, buttery and tender - perfect in every bite.
Because the company only offers prime beef cuts and not USDA Choice like many companies, each steak cut you receive will be high-quality.
While many companies try and pass off USDA Choice as a premium product, this company seems to be the real deal. They never cease to amaze loyal customers when it comes to consistently delivering some of the best steaks, burgers, and meal packages at your front door. The reviews we read confirm that.
How Does The Price Compare?
The prices of the Chicago Steak Company beef, steaks, and other meats vary greatly depending on the specific hand cut and the quantity of the meat you select and order. Still, based on our research, they are comparable to similar steak and beef providers offering the same caliber.
Their chicken and pork cuts are at the lower end, and on the higher end are their American Wagyu beef cuts. Since this is all delivered meat, there are extra considerations, such as shipping costs, which we will get to later.
Some examples of pricing based on their best selling items include:
USDA Prime Angus Beef Burger - 80z for around $100 (on sale)
USDA Prime Steak Dry Aged Ribeye - 4 x 12oz Steaks for roughly $180 (on sale)
USDA Prime Wet Aged Boneless Strip Steak - 4 x 10oz Steaks for about $150 (on sale)
Chicago Steak Shipping Fees
The only genuine downside of the Chicago Steak Company is that they charge fees for every package shipped, although they're known to offer free shipping promo codes often, so watch out for those. While they charge fees for one-off purchases, shipping is free with subscriptions.
With such high-end meat delivery services, paying the shipping fees shouldn't be much of a problem. We recommend you visit their official website if you want to get up to date with shipping information, including discounts and shopping coupons.
Related Reviews and Comparison Guides:
Chicago Steak Company Delivery Areas

Chicago Steak Company delivers steak, beef, burgers, and other meats throughout the United States. The upside is that they send meat to all fifty states, whereas many online companies would only deliver to the mainland. People in Hawaii and Alaska can enjoy premium Angus beef and American Wagyu beef products.
How Does Your Order Arrive?
All of the products were individually wrapped. The packaging was vacuum-sealed before being flash frozen. When we ordered the Wagyu filet mignon, prime rib, sirloin, and a dry-aged bone-in ribeye, it arrived days after at our doorstep, frozen right and in good shape.
The steak cuts were packed inside the best meat boxes and then placed in a cooler packed with dry ice. Make sure to check the time on the delivery day so you'll be home to ensure your meats stay fresh.
Customer Support & Ratings
The company has high marks for impeccable service on various review platforms. While reading several Chicago Steak Company reviews, one thing that stood out to us was their open, helpful, and consistent communication with customers on Trust Pilot and Facebook.
Having a great customer service department is always a good sign that they are receptive to customer feedback. This, plus their customer satisfaction guarantee, gives them an easy leg up over similar meat delivery providers.
"The quality of their product and top-rate customer service keeps me coming back to Chicago Steaks as a trusted source to purchase gifts and supplies."

-Rick, Trust Pilot Verified Reviewer
Company Reviews
After testing multiple products and researching other reviews, we find them to have some of the best beef, burgers, and prime steak cuts. We love how the company is similar to Omaha Steaks but has better pricing when you make an order. They have a lot more to offer for us hardcore meat and steak lovers.
Chicago Steaks Company provides a good option for delivered steaks. Here is some additional information we gathered online:
Better Business Bureau (BBB) Rating: Chicago Steak has an A+ rating from the Better Business Bureau. They have 0 complaints from customers on the website (2).
Trust Pilot: The company has over 848 ratings on Trust Pilot. The average review is four stars, with 72% of reviewers giving them an excellent rating and 10% a great score (3).
Facebook Page: Over 30 thousand people like the Chicago Steak Facebook page. They have a rating of 4.3 out of 5 based on the opinion of 251 people.
Chicago Steak Company vs. ButcherBox
The main difference between Chicago Steak Company and ButcherBox is that ButcherBox is a monthly subscription service while Chicago Steak Company provides offerings a la carte.
ButcherBox and Chicago Steak Co. both offer top-quality beef because they only source their meat from grass-fed animals that are free of growth hormones.
Additionally, both companies offer high-quality, ethically, and humanely sourced meat. ButcherBox meat is free from hormones, antibiotics, and other growth-promoting chemicals. They also work with family farms that adhere to pasture-raising and other humane practices.
Still, ButcherBox provides free shipping and flexible delivery scheduling to the 48 contiguous states, while Chicago Steak Company charges for shipping based on order price and ships within 5-7 days to all 50 states, with additional costs for expedited delivery.
Chicago Steak Company - Our Verdict?
After reading other Chicago Steak Company reviews and ordering a few meaty delights ourselves, we think that while this meat delivery provider does deliver quality products,  it lacks the high-quality flavor and tenderness that our palates were craving for. When it comes to exquisite steak and meat, ButcherBox is our consistent go-to place.
We've always been impressed with their grass-fed beef selection and excellent pricing when we're buying in bulk. Apart from superior quality, what sets ButcherBox apart from other steak providers is that you can curate your own box and have it delivered right to your doorstep, free of charge.
#1 Meat Delivery Service
ButcherBox
Click For Best Price

Pros
Grass-fed and grass-finished beef delivered directly to your door
Without antibiotics or added hormones
Customizable boxes available
Select from up to 21 different cuts
Get the BEST PRICE until the end of December
Was this article helpful?