I've been on a carnivore diet for more than ten years, so I'm always on the lookout for a supplier of high-quality meat. I recently discovered Rastelli's and decided to give them a try.
I used Rastelli's subscription services for several months. Today, I'll share my experience with this meat subscription service, including the pros and cons and my personal impression of it.
What is Rastelli's?
Rastelli's is a meat delivery service located in New Jersey, U.S. This family-owned business offers both a subscription service and one-time orders. This is primarily an online business, but they also have a local grocery store in New Jersey.
As such, Rastelli's is just a butcher shop that sells beef, lamb, pork, seafood, chicken, and turkey, and they source meat from family-owned farms.
Rastelli's Highlights

1. Meat Selection
Rastelli's meat selection includes beef, lamb, pork, seafood, chicken, and turkey.
Here are some examples of their most popular cuts:
Wagyu beef
Porterhouse steak
Filet mignon
Ribeye
NY Strip Steak
beef
Boneless leg of lamb
Lamb rack
Lamb loin chop
Ground lamb
Pork:
Pre-cooked pork ribs
Pork tenderloin
Pork chops
Pork cutlet
Ground pork
Poultry:
Boneless skinless chicken breasts
Organic chicken drumsticks
Whole chicken
Turkey burgers
Ground turkey
Seafood:
Salmon burgers
Faroe Island salmon filets
Faroe Island smoked salmon
Wild-caught Icelandic cod
Crab cakes
2. Sourcing
Rastelli's sources its food from the US and the Faroe Islands. Their suppliers are farming and fishing families that care for both the animals and the environment. All of Rastelli's meat is without antibiotics, steroids, and hormones [1].
"We work closely with all of our partners to ensure that they meet every one of our exacting standards. Everything we source is certified antibiotic, steroid, and hormone-free. All seafood is wild-caught or sustainably raised in the wild."

- Rastelli's Official Website
Here's how they source each kind of meat they sell:
Beef — Grass-fed and grain-finished Black Angus and USDA Certified Prime beef. All cattle are raised on small family farms without antibiotics, steroids, or hormones.
Lamb — American and Australian lamb, 100% grass-fed. Australian lamb is certified by Australia's Department of Agriculture & Water Resources (DAWR). It's raised with access to fresh water and shelter.
Pork — Heritage breed hogs raised in eastern Pennsylvania. The pigs are allowed to roam outside and come for shelter as needed. The animals grow to 280 lbs on a vegetarian diet.
Poultry — Comes from North Carolina and Shenandoah Valley. Poultry is raised on small farms, allowed to roam free, and given vegetarian feed.
Seafood — All seafood is raised in the wild with sustainable practices to ensure the animals or their habitats aren't harmed. Seafood comes from the Faroe Islands, Indonesia, and the Gulf of Mexico.
3. Subscription Boxes

Rastelli's currently has 4 subscription boxes you can choose from:
Big box — Contains five of their best-selling products such as Black Angus filet mignon, steak craft burgers, Hardwood smoked bacon, chicken breasts, and Faroe Island salmon filets.
Bigger box — Includes everything the big box does, plus two more bestsellers: pork chops and Black Angus Ribeyes.
Biggest Box — Contains everything the first two boxes contain, plus crab cakes and two packs of Mild Italian Pork Sausage.
Build your box — You can choose as many cuts of meat as you like.
4. Shipping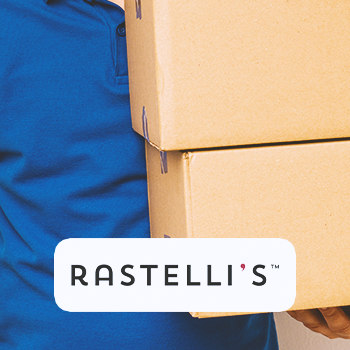 You can order a subscription box or opt for a one-time order. Subscription boxes are shipped every 1, 2, 3, 4, or 6 weeks. You can choose the frequency. The shipping is free only if your order exceeds $200. Otherwise, you'll have to pay a $10 shipping fee for orders between $100 to $199 or $25 for orders under $100.
Rastelli's ship to all 48 US states except for Hawaii and Alaska. Every order is shipped within 5 business days from the day you placed it.
I was sent an email with a shipping confirmation and a tracking number once the UPS picked up my box so that I could track my order.
The only thing I didn't like was that my order was late. The tracking information said it'd arrive on Tuesday but came on Wednesday, so it interfered with my cooking plans.
The box is an insulated, recyclable one, and the bag the products are packed in can be reused, which is a plus. The meat arrived frozen with dry ice inside.
Pros and Cons
Pros
Large meat selection
Sustainably sourced meat
Recyclable box
Transparent sourcing
Cons
No free shipping
Only 4 subscription boxes
Rastelli's Shortfalls
1. No Free Shipping
My biggest issue with Rastelli's was that there was free shipping only if you spent more than $200, which is much more compared to other meat delivery services.
Also, only one of the three pre-selected subscription boxes is above $200, which automatically means, you'll have to pay shipping for the smaller two.
2. Only 4 Subscription Boxes
I also wasn't happy with the choice of subscription boxes. There are only 3 pre-selected ones. Plus, these boxes have a relatively small selection of meat compared to other services I've used.
Where to Buy and Price?
You can buy Rastelli's meats on their official website. The subscription boxes are priced at:
Big box: $129
Bigger box: $169
Biggest box: $209
Comparison to Other Meat Delivery Services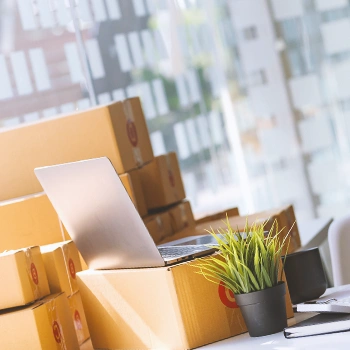 Rastelli's has the second smallest number of subscription boxes — only 4. Crowd Cow has 3, ButcherBox has 5, and Snake River Farms has more than 10 subscription boxes.
Rastelli's shipping is free only if you spend more than $200. ButcherBox has free shipping, Snake River Farms shipping depends on the order and starts from $9.99, and Crowd Cow shipping is $19.99
Rastelli's meat selection includes beef, lamb, pork, poultry, and seafood. ButcherBox has beef, pork, chicken, and seafood.
Snake River Farms have beef, pork, lamb, and seafood. Crowd Cow has the largest selection: beef, pork, chicken, lamb, duck, turkey, seafood, and game meats.
Is Rastelli's Worth It?
I don't think Rastelli's is worth it because I wasn't happy with the selection of boxes they offer. My vote for the best meat subscription goes to ButcherBox.
They have more subscription boxes, and the meat is more affordable compared to Rastelli's.
Most importantly, ButcherBox only sells high-quality meat. All of their cuts are grass-fed, grass-finished, and sustainably sourced.
ButcherBox has free shopping on all of their orders, plus you get a free supply of beef. Click here, and order your delicious meat today.
#1 Meat Delivery Service
ButcherBox
Click For Best Price

Pros
Grass-fed and grass-finished beef delivered directly to your door
Without antibiotics or added hormones
Customizable boxes available
Select from up to 21 different cuts
Get the BEST PRICE until the end of September
Was this article helpful?