After grilling and barbecuing on different Weber grills for 10 years I can safely say that they are versatile, convenient, and durable.
In this article, I will be sharing my experience with Weber grills and give you proven tips and tricks to help your grill last the longest.
Quick Summary
An average Weber gas grill will last up to 10 years.
High-quality materials used for making Weber grills ensure guaranteed longevity.
Most gas grills last the longest, followed by charcoal and electric grills.
Average Lifespan of Weber Grills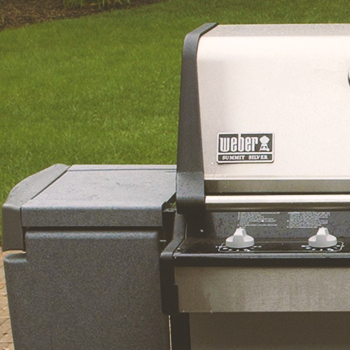 To find the most accurate information, I studied and reviewed data from over 1 thousand customer reviews across several platforms.
I discovered that the average shelf life of Weber grills lasts from 5 to 10 years, based on one's maintenance practice.
Two of the grills I own were purchased 4 and 6 years ago. They are still in very good shape.
Even with Weber's tough grill construction designed to last for over a decade, we found out that the type of brand gas grill you buy, food type and amount, and how frequently you grill your favorite meals can affect this lifespan.
If you're a regular griller and you grill huge amounts of food, your weber grill parts are more likely to wear off quickly due to the frequent usage.
Additionally, if you neglect your Weber grill for a long time without proper care, it'll only last for five years or less.
The secret to having your weber grill working at its best is to apply appropriate maintenance tips and tricks before and after each grilling season.
The Most Durable Weber Grill Parts
The common opinion is that Weber grills are not a knick-knack. The versatility and endurance of its parts are why people continue to buy and use it.
Another interesting thing with Weber grills that you probably didn't know about is that the different grill parts have different lifespans.
Stainless steel: A Weber gas barbecue grill's polished stainless steel cooking grates may comfortably last for ten years.
Grill Grates: A gas grill has porcelain plated grill grates can easily last up to 6 years.
Cook Box: If you're a regular griller, remember that the cook box and other plastic parts can go for at least seven years.
If some of these parts are rusted and damaged to the point of no return, the good news is that many of these parts are easily and affordably replaced.
For instance, you can easily and affordably replace Weber grill grates like I did when my 6-year-old grill plates got corroded.
The Least Durable Weber Grill Parts

Some parts of Weber grills are known to be more prone to damage:
Igniter: According to the Consumers Report from 2018, igniters can last an average of four years [1]. With at least 90% of grills having electric igniters, any form of damage to the wires can affect the whole ignition system.
Burner Tubes: Burner tubes last for four years or less due to easy clogging. If they fail to light, this can result in uneven cooking.
Burner Cover: Burner covers last anywhere from two to five years. With uncontrolled flare-ups that happen time and again during grilling, the burner covers tend to get damaged easily.
Regular proper cleaning and regular checks might prolong the lifespan of your least durable Weber grill components and maintain them in excellent condition for an extended period.
1. Charcoal Grill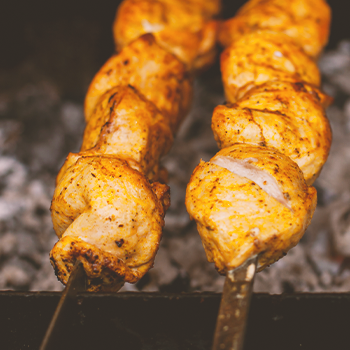 The Weber charcoal grill is often simpler in design than the other barbecue grills. However, charcoal grills may not survive as long as gas grills due to the smoke and flames created when cooking.
The flames and smoke are often particularly harsh on the grill, hastening the pace of deterioration on charcoal grills, especially the cooking grate.
The plastic parts of the grills are covered by a 6-year warranty, while a 2-year warranty covers the remainder of the grill.
2. Weber Gas Grill
Gas grills are manufactured with more attention to detail for aesthetics compared to charcoal grills. High-quality grills like the Weber Genesis II are more costly given the multiple incorporated functions.
Having said that, gas grills are the most durable and they are designed to survive for over ten years.
"Gas grills are versatile because they're easy to start and stop with just a twist of a knob"

- Thinh Phan, Chief Editor, BBQInProgress.com
Related Articles:
3. Portable Grills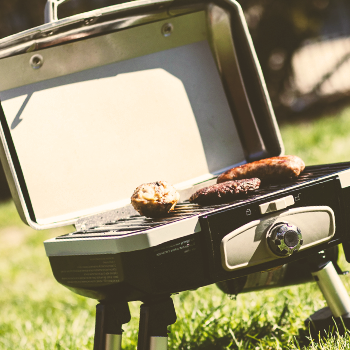 Weber's other primary grill type is portable grills. As the name implies, these grills are intended to be utilized for mobility from one location to another.
They are great for grilling outdoors in distant locations or during picnics. However, they are highly vulnerable to harm due to much movement.
To remedy this, Weber's portable grill is made small enough to fit in the trunk of your car for safe transportation to your next barbecue location.
As a result, the design plays a significant role in the product's extended lifespan.
When it comes to portable grill components, they may endure for an average of 8 years, with the majority of them having a guarantee term.
The cooking grates, plastic pieces, and steel burning tubes, for example, have a 5-year warranty and there's a 2-year warranty covering all other parts.
4. Stainless Steel Grills
The Weber stainless steel barbecue is one of the most durable grills available. It is, however, expensive due to the grill's added features like the built-in thermometer, an illuminated control knob, and a tuck-away rotisserie mechanism.
Aside from those qualities, this grill type decreases the chances of flare-ups by grilling the food rather than heating the air. It also comes with a ten-year warranty.
9 Helpful Tips to Make Your Weber Grill Last Longer

Here's what you can do to prevent the damage to your grill.
1. Clean with a Scrubbing Brush
After each cooking session, use a grill wire brush or steel brush to gently scour the Weber grill grates clean and remove any stray bristles before heating the grill. If you grill regularly, say once a week, clean the burners properly every two weeks, depending on your schedule.
2. Check Parts Regularly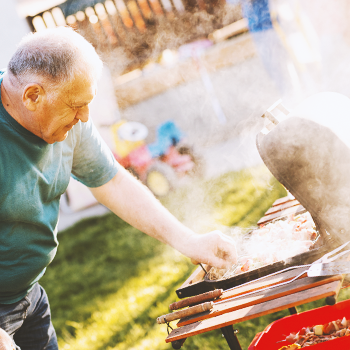 If you're a Weber grill owner, checking your grill parts regularly ensures that you can spot any malfunctioning early enough and fix it before it is too late.
This saves you time and money that you would otherwise use to buy new parts for replacement.
Regular checks also allow you to be on the lookout for any propane leaks and avoid accidental fire, especially if you purchase Weber gas grills. Natural gas is the leading cause of over 8900 house fires every year in the US [2].
3. Grill in Foil
Wrap all your favorite meat and veggies in aluminum foil before grilling during your outdoor cooking.
This prevents excess ingredients and oil from flowing all over the cooking grates. Grilling in foil also makes cleaning weber grills more manageable.
4. Store It
Even if you live in the countryside free of the winter weather, it's not wise to store a wet grill or leave your grill out in the open and exposed to different weather elements during the off barbecue season.
Making a little room in the basement or garage for your barbecue grill helps maintain it in great shape and it'll be ready for the next grilling season.
5. Prevent Molding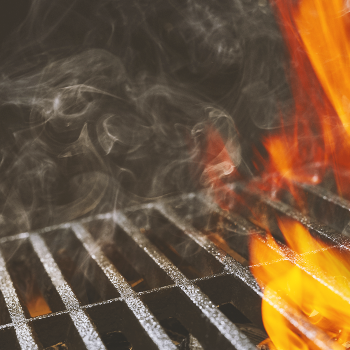 Mold flourishes in wet, humid settings with limited air circulation. It is blossoming on a greasy, dirty grill or leftover food particles on grill grates.
After hours of research, I've found out that high heat temperatures, particularly 150 degrees Fahrenheit, destroy mold.
When tidying up after a barbecuing session, always finish with a serious fire once you've rinsed it out to burn away any leftover fat or excess grease on the grate, pan, or lid. Make sure to dry out the grill perfectly.
6. Keep Away from Harsh Weather
When it comes to harsh weather, one of the primary concerns is that the grill will get wet, rust, and be destroyed.
It's even worse with most recent Weber grills with delicate electrical components that might be destroyed if they become wet.
To manage this, ensure you have a simple grill cover to throw over your grill when caught up in such circumstances.
And if your Weber grill is rained on, use the 3Ds procedure to fix it: Disconnect, dismantle, and dry the grill.
7. Disconnect
If your Weber grill stops operating after being exposed to rain, you must immediately unplug it before repairs before you disassemble your gas grill manually.
This ensures that the grill is not linked to the main propane tank gas or electric supply, preventing further hazards.
8. Dismantle 
After disconnecting the grill, begin disassembling its components for easy cleaning and drying.
We recommend reading the Weber user manual to avoid damaging the grill parts and ensure you dismantle them correctly.
9. Dry The Parts
The last step is to take each part and use a dry rag or paper towel to dry any wet pieces of the grill. Ensure the grill parts are well dried up before you assemble them.
FAQs
Are Weber Grills Solid And Durable?
Weber grills are solid and durable. They offer dependability and convenience and come with a 10-year warranty period.
How Do I Fix Rust On My Weber Grill?
You can fix rust on your Weber grill by using Weber's rust warranty. The warranty protects against corrosion on your stainless steel cooking grids caused by rust. You're covered by the warranty if you have been using and caring for the equipment according to the manual.
Can My Weber Grill Cope With Being Used Outside All Year Long?
Your Weber grill can cope with being used outside all year long because it is composed of high-quality materials. Weber grill parts are made of materials that are resistant to all usual weather conditions. However, washing your grill regularly with warm soapy water is wise to remove any food residue, grime, or surface rust. Remember to store it in a dry place too.
How Long Do Weber Grills Last?
Weber invests significant time in research and development to guarantee that its grills are meticulously constructed using the best and long-lasting materials.
A decent Weber grill will last 8-11 years or more if all manufacturer guidelines are followed with adequate care and maintenance.
You may also repair and upgrade a Weber grill if need be, because of the authentic Weber warranty and the easy availability of replacement parts.
If you want to see how Weber compares to other top grill brands, check out our list of the best gas grills under $500 and see which gas grill is worth purchasing the most.
---
References:
https://www.consumerreports.org/gas-grills/gas-grill-repairs-easy-fixes
https://www.nfpa.org/Public-Education/Fire-causes-and-risks/Seasonal-fire-causes/Grilling
Was this article helpful?