I first started looking into meat delivery services when I realized that it was difficult for me to find certain rare or specialty game and meat cuts at my local grocery store. I set out to find a solution, and after testing over 12 different grocery delivery services, I discovered D'Artagnan.
My team and I got to work on reviewing their selection to see if this could be one of the best options out there. In this review, we'll cover everything you need to know.
What Is D'Artagnan Meat & Food?

D'Artagnan is an artisanal meat and rare delicacy online delivery service that offers a wide selection of high-quality foie gras, game meat, and truffles that are now found in a lot of exclusive restaurants. They also provide some pantry items such as oil, butter, and other spreads. It is not a subscription-based service, though,  so you can go to their online shop and place one-off orders anytime you'd like.
All of the D'Artagnan meat selections are grass-fed, organic, and humanely raised on small family farms. Ariane Daguin started D'Artagnan in 1985 while attending university. She was working part-time for a New York pate producer.
Her employer declined to work with the first foie gras producer in the United States. Since she is from Gascony, France, where foie gras is a specialty, she jumped on the opportunity and started D'Artagnan.
Pros
No subscription required
Selection of the rarest delicacies
Frequent promotions and sales
Shop by collection of favorites
How Is the Quality?

Most consumers tend to agree that the standard of D'Artagnan's meats is superior to that of other physical or delivery stores. All of the meat cuts and other pantry items are specialty and organic, so they are much better for you than grain-fed meat. If you prefer all these pantry items to be delivered straight to your doorsteps, you should try Thrive Market too.
I found that the meat selection was something far superior to that of a normal grocery store. The meats were tender, juicy, and well-marbled. The truffle oils and butter spreads were some of the best available. Since they are so hard to find, D'Artagnan is one of the few purveyors of these types of items.
D'Artagnan Selection & Menu Options
D'Artagnan has a wide selection broken down on its website into categories such as meat and game, duck and poultry, foie gras and caviar, charcuterie (Olympia Provisions' specialty), truffles and mushrooms, pantry, gifts, collections, and sales.
Some of their most popular items include filet mignon, Wagyu beef, Berkshire pork, Kurobuta pork, venison, wild boar, rabbit, and duck magret. They also have truffle butter and oil.
Since D'Artagnan specializes in meat delivery, this may be a good option for someone on a carnivore or keto diet to add some unique meat options to their meal plans.
Meat and Game
Duck and Poultry
Foie Gras
Caviar
Truffles and Mushrooms
How Does The Price Compare?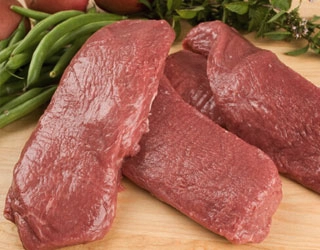 After careful comparison, the prices at D'Artagnan are more expensive than a normal grocery store since they sell hard to find items, you can expect to pay a bit more money for them.
For example, at the time of this review, one Angus NY Strip Steak of 12 oz cost about $30. While the average price at a grocery store is around $14.99 per pound.
D'Artagnan's other offerings include a 14 oz Moulard duck breast for around $15.
They have Berkshire pork or Kurobuta pork rib roast, averaging 6 to 9 lbs for about $100. You can purchase a 4 lb case of frozen chicken breasts for around $36.
As you can see, the prices are slightly higher than the average grocery store due to the organic, grass-fed, and special features of D'Artagnan's meat and charcuterie. You still get the best value for your money.
D'Artagnan Delivery & Shipping
D'Artagnan chooses to use FedEx Overnight delivery. If you place your order before noon on a business day, you can usually expect your package the next day. They ship the items in insulated containers with plenty of ice packs to keep them frozen. Unless your order were more than $500, your delivery would not require a signature. However, due to the Covid-19 pandemic, there may be some policy changes across the United States.
How Is D'Artagnan Food Packaged?
The meat is packaged in vacuum-sealed wraps. They are shipped in an insulated, reusable container with ice packs to keep them frozen. D'Artagnan uses an overnight shipping method, so they don't spend much time traveling before they reach you.
The truffle oil, butter, and caviar are shipped with extra packaging to ensure that they don't break before arrival. Everything arrived on time and without damage.
Do They Have Any Special Offers?
At the time of our review, D'Artagnan is offering a freezer sale of 25% off select meats such as free-range chicken, steak cut, rack of lamb, and pork to throw into your oven for the next dinner.
They are also promoting their in-season mushrooms such as morels and trumpets since they need to be shipped out soon.
D'Artagnan has a category for sales that changes every so often. You can save a few dollars per pound on certain meats and other items.
One Potential Downside
One potential downside to D'Artagnan is the hefty price tag on some of their items. Many grocery shoppers shop here for specialty items like quail, duck breast, and wild boar, but maybe not for their everyday items like bacon and sausage. It should be expected that their items would be more expensive given the rarity of their selection, but keep in mind that they might not fit every budget. To sum it up, expensive goods are not for everyone.
Other Related Reviews:
D'artagnan Reviews & Online Ratings

After careful research, I found that the D'Artagnan store sold some of the world's rarest meat delicacies. While the prices were more expensive than standard online meat delivery services, I thought it was worth it since the goods they sell are unique and of the highest quality.
While checking out other customer reviews of D'Artagnan, I found that most people agreed with me and gave them a pretty good rating. Most didn't have anything bad to say. For example, on a popular review website called TrustPilot, customers gave D'Artagnan a "great" rating with 3.8 stars.
"I regularly order meat from D'Artagnan and it has always been of good quality and reasonable prices (for game meat anyway). They also ship overnight in an ice-packed cooler to ensure freshness."

-Mike Brandenburg - Verified TrustPilot Reviewer [2]
D'Artagnan has a rating of 3.9 stars on its Facebook page, where most consumers rave about their customer service experience.
Other Related Reviews:
D'Artagnan vs. ButcherBox
The main difference between the two meat delivery services is that D'Artagnan offers a wider variety of meats than ButcherBox.
You can get beef, chicken, or pork in your ButcherBox, but with D'Artagnan, you can order lamb, duck, rabbit, bison, venison, and far more in addition to the standard meats.
Additionally, ButcherBox is a monthly delivery subscription, while D'Artagnan meat delivery only offers a la carte ordering.
Both meat delivery services are committed to providing quality ethically and humanely sourced meat.
ButcherBox's mail order meat is free from hormones, antibiotics, and other growth-promoting chemicals. They also work with farms that adhere to sustainable practices. Similarly, D'Artagnan works with over 700 small family farmers, ranchers, and fishermen to bring their offerings to the table.
ButcherBox offers free shipping to the 48 contiguous states and schedules monthly deliveries to suit your timetable, delivering any type of meat any day of the week. In contrast, D'Artagnan's shipping fees vary by order weight, destination, and delivery date, but they deliver to all 50 states and the District of Columbia, with options for next-day delivery and delivery days limited to Tuesday through Friday.
FAQs
Are D'Artagnan products gluten-free?
Yes. All D'Artagnan raw meat is gluten-free. However, the prepared products may contain dairy, wheat, and soy, depending on how they were processed. They recommend checking individual products for details.
If my D'Artagnan goods are slightly thawed during transit, can I refreeze them?
Yes, you can. Based on USDA guidelines, it is still safe to refreeze meat that is slightly thawed. However, you may not taste the same quality and freshness due to loss of moisture. For defrosted goods, the company recommends you use them within 5 days or less.
How long will my D'Artagnan frozen goods last in the freezer?
While freezing generally keeps food safe and edible indefinitely, you may find the freshness greatly affected by the length of time being frozen and the freezing conditions. To maintain the flavor, wrap the product in vacuum-sealed packaging and store them at a 0°F temperature or lower to retain the flavor and texture. You can also try the sous vide process. Otherwise, use the frozen items within 4 weeks as soon as you receive them.
Are D'Artagnan products available in local supermarkets?
Maybe. D'Artagnan sells to several retailers across the country, so it is possible that you'll find one in your local supermarket. For convenience, you may contact the official page, and the support staff will try to locate the nearest retailer in your area.
Does D'Artagnan ship to all US states?
Yes. D'Artagnan ships to all 50 states and the District of Columbia. However, they only deliver to single addresses and not to PO Boxes, APO/FPO addresses, and international addresses.
Can I reschedule the date of delivery?
Yes, but only if you do it immediately, and provided that the products you ordered have not been packed already or left the facility for delivery. The company recommends contacting the support staff of any changes as soon as possible.
What's the best way to dispose of D'Artagnan boxes?
Since D'Artagnan insulated boxes are recyclable, biodegradable, and compostable, you can dissolve the Green Cell Foam packaging and see them melt down the drain. The foam is also compostable and will biodegrade in two months or less in moist soil. You can also use the Green Cell Foam to start a grill or place them in fire pits and fireplaces.
Can I reuse the ice packs that come with my D'Artagnan order?
Yes. According to the company, the ice gel packs that they provide in the packaging are reusable. You can easily store them in the freezer and reuse them to keep any food cold during picnics or road trips.
Is There A Better Choice?
D'Artagnan offers some of the rarest cuts of meat, such as foie gras, Wagyu beef, wild boar, duck breasts, and Berkshire.
Even though I liked the selection of D'Artagnan, I still prefer ButcherBox for my weekly meat delivery. ButcherBox works with small independent farmers to provide some of the highest quality free-range organic chicken and grass-fed beef I've tried. All their products are free of hormones and antibiotics, and you can often save on their subscription boxes.
#1 Meat Delivery Service
ButcherBox
Click For Best Price

Pros
Grass-fed and grass-finished beef delivered directly to your door
Without antibiotics or added hormones
Customizable boxes available
Select from up to 21 different cuts
Get the BEST PRICE until the end of December
Was this article helpful?