In the past, sourcing authentic Kobe Beef meant finding a provider that worked with high-end restaurants and making expensive arrangements.
To solve this problem, Holy Grail Steaks began sourcing authentic beef straight from Japan.
In this Holy Grail Steaks review, we'll see if their unique meats live up to the hype or if you're better off placing your order elsewhere.
What is Holy Grail Steak Company?
The Holy Grail Steak Company is a one-stop meat purveyor that offers elusive world-class steaks, such as Japanese Wagyu, prime Angus, Kobe beef, and Kurobuta pork. These are certainly not cheap cuts of USDA choice that you might find at your local grocer.
They have been featured in luxury lifestyle magazines such as the Robb Report and Esquire (1). The company regularly receives excellent reviews for its buttery and tender steaks, as well as their customer service.
Pros
USDA Upper Prime steak
Unique flavor profile with each cut
Free shipping available
Authentic Japanese Wagyu Beef
Cons
Lacks variety
No subscription service
How Do They Source Their Meat?
The meat producer partners Holy Grail Steak Co works with are all well renowned. Some examples include Chateau Uenae in Japan, where they source their beef and Wagyu patties.
These ranches all have strict feeding protocols to ensure the cattle are of the highest level possible with good fat profiles. According to the Holy Grail website, the way the cattle are raised is both humane and sustainable to ensure the best beef possible.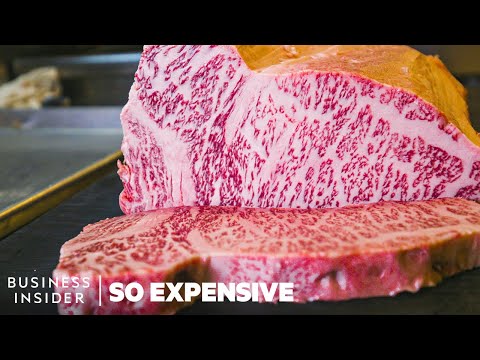 How Does The Holy Grail Quality Compare?
Holy Grail Steak Co delivers premium quality items as they only work with farms that specialize in A5 Wagyu and USDA Prime Beef. A5 refers to the highest level of this type of beef on the market, while USDA prime is the highest level of beef with the most marbling.
Each of the pieces we received was well-marbled and tender. The fat melted on the grill to produce a buttery texture that everyone who tried it enjoyed. The way we cooked the ribeye, seared with sea salt, made it especially tender and great with wine.
Holy Grail Steaks: Japanese A5 Kobe Beef & Wagyu
According to their site, Holy Grail Steaks is the only place to buy A5 quality Kobe Beef online in the US. The A refers to the yield grade, while the five refers to the quality grade. Five is the highest grade of Wagyu on the market and one the lowest.
The meat is known for its high-fat content, which gives it a highly marbled appearance. This fat melts when put on the grill to provide the meat with a buttery and tender texture.
There are four different types of cattle used to produce Wagyu Beef. The product is often labeled according to what region of Japan it comes from. Kobe is a particular type of meat raised in the Kobe region of Japan and one of the most popular types on the market.
They are good from the company to your kitchen counter without worrying about spoiling or issues with freshness.
Holy Grail American Wagyu Steaks
American Wagyu comes from cattle that are hybrid of the purebred Japanese lines and American Angus breeds. This creates beef with a fat profile similar to traditional Wagyu beef but with the flavor typically found in American cattle.
They offer a range of options, such as strip steaks and boneless ribeye. You can get this type of beef as an alternative to the more expensive options from Japan.
Holy Grail Steak Meat Selection
Holy Grail Steak is a renowned beef-centric enterprise offering an impressive selection of steaks, including ribeye, strip, and filet cuts. Their lineup boasts wagyu beef sourced from prestigious regions like Japan, Australia, and the United States.
Additionally, they provide upper-prime-grade Black Angus beef, available in both wet-aged and dry-aged variations.
For those who prefer grass-fed options, they offer both completely grass-fed beef and mostly grass-fed alternatives. Delight in their Holy Grail burger, a 6 oz. wagyu patty. Enjoy affordable, high-quality steaks cooked to a succulent medium rare, featuring perfect fat marbling and seasoned with kosher salt and olive oil.
How Is The Ordering Process?
Holy Grail has a straightforward and easy to navigate website. Because the company only focuses on high-end steaks, their product pages are not overly cluttered, and you can easily find what you want.
For our order, we only needed to select a meat delivery box and add it to the cart. From here, the order was quickly processed and a confirmation email sent. As promised, the order arrived within three days. Although their ordering process is quite good, you can learn which mail-order company we believe is the best by reading this review.
How Much Do They Charge?
Since they are focused on the high-end beef market, the prices are reflective of this level of quality. That said, their prices are, in many cases, more expensive than similar online meat providers we've reviewed, such as Kansas City Steaks.
Here are the price estimates for some of their most popular options:
A5 Wagyu Filet Mignon - 8oz $300-$350
Dry Aged Cowboy Ribeye - 20oz $75-$100
Prime Black Angus New York Strip Steak - 18oz under $60
Tajima American Wagyu Ground Beef - 2lb about $30.00 (2)
Do They Provide Free Shipping?
Holy Grail Steaks offers free shipping on all orders over a couple of hundred dollars. They also offer expedited shipping at reasonable rates. All of their orders take between one and three days to process and for the product to arrive.
Their shipping options are:
Free ground shipping on larger orders - 1 to 3 days
Standard ground shipping $29.99 - 1 to 3 days
Overnight air shipping - 1 day (orders must be placed by 8:45 am Monday through Thursday)
Saturday delivery - add $15
Delivery is available only to people in the 48 contiguous United States, which excludes Hawaii and Alaska.
How Are The Packages Delivered?
The Holy Grail Steak Steaks ships all meat in insulated packaging to ensure freshness upon delivery. The beef is cut and immediately vacuum sealed before being blast frozen.
All orders are then packed with dry ice before being shipped to your home.
The website states that all their orders' outer packaging is recyclable, and their inner insulation is biodegradable.
Related Reviews:
Holy Grail Reviews
We ordered the Steak Nirvana package to review. It was an entire steak flight with five different cuts. Their delivery was prompt, and the flavor robust. Based on the experience and the thorough research conducted, we believe this is a solid choice.
Facebook Page
The company has over 18,000 likes on its Facebook page. They currently have a rating of 3 out of 5, but this rating is slightly skewed. Many of the reviews that lowered their rating came during a recent pandemic that caused meat shortages.
"[Holy Grail] Has spoiled me for steak!! Unbelievable quality products and personalized customer service. This is my go-to for steak! (and burgers)."

- Andrea, Verified Facebook Reviewer
During this time, many of their products were out of stock, which led to some complaints (3).
Are Holy Grail Steaks Worth It?
After tasting and experiencing the ordering process, we can say that Holy Grail Steaks is worth trying. However, they lack the variety and flexibility that we were looking for in a meat delivery service.
We still think that ButcherBox offers better service when it comes to quality and consistent taste. We love how you can curate your own box and have it delivered to your door, free of charge.
ButcherBox is also one of our local favorites when it comes to grass-fed and grass-finished beef.
#1 Meat Delivery Service
ButcherBox
Click For Best Price
Pros
Grass-fed and grass-finished beef delivered directly to your door
Without antibiotics or added hormones
Customizable boxes available
Select from up to 21 different cuts
Get the BEST PRICE until the end of June
Was this article helpful?