If you're a religious carnivore like me, you know that a premium gas grill yields the most delicious-tasting roasted steaks and chicken breasts.
Over the past five years, I've tested different gas grills until I finally curated a list of the best feature-rich and affordable ones.
Read to the end to find my best gas grill recommendation.
Our Top Products
Buyer's Guide

If you're new to the grilling realm, it can be challenging to make a gas grill purchase. Thankfully, here's an ultimate buyer's guide to help you out.
1. Fuel Type
Gas grills use either natural gas or propane.
Before purchasing a natural gas grill, you should be sure about your fuel selection - switching from natural to propane, and vice versa, should only be done by a qualified specialist, and doing so frequently may void the warranty of some grill manufacturers.
Because both fuels cook similarly, your choice should be based on accessibility and convenience.
2. Work With Your Cooking Area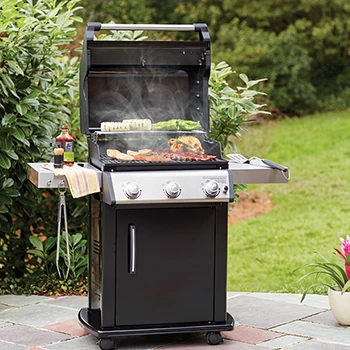 There are different grills depending on the brand, size, and portability.
I recommend buying lightweight and portable grills if you plan to barbecue on the go or work with limited storage space. But if you have a massive cooking area, go for bigger or inbuilt grills.
A built-in propane gas grill is perfect if you want to create a unique outdoor kitchen. These grill heads are permanently fixed on the kitchen island or counter for convenience, and you can uninstall them when you plan to move out.
To give your area a uniform appearance, go with a built-in or three-burner grill that complements all your outdoor theme furnishings and accessories.
3. Know the Size
Nothing is more infuriating than having a too-tiny grill when preparing a huge quantity of food. If you've ever tried batch grilling meat, you know how invigorating it can be to be constantly grilling while others are munching down on the cooked steaks.
If you're cooking for many people, you'll need a grill with a cooking area of at least 320 square inches or more.
This value should match the amount of cooking area available.
Some manufacturers include extra storage in the cooking areas specifications, such as a warming rack or a side burner.
Take that into account while shopping for a gas grill. Also, when buying cheaper grills, headspace is equally essential. Getting a gas barbecue that can't accommodate an entire Thanksgiving turkey can be pointless.
4. Type of Heating Method
Gas grills use either convection or infrared heating methods. Because both have different cooking pros and cons, read the label or ask the manufacturer about the type of heat on a gas grill before buying it.
Convection Heating
Most grills cook food using this traditional convection heating. This high heat method is when the flame and smoke's heat ascend to the food, warming the grill's contents and the air around it.
Most grillers find this quite acceptable, although the food may get dry and take a little longer to reach the proper temperature. Convection gas grills are often cost-effective and an excellent option if you're working with a slim budget.
Infrared Cooking
The technology used by infrared burner grills directly warms the food being grilled.
Compared to its convection equivalent, the grill itself warms up more quickly, reaches higher temperatures, and provides more consistent heating inside the grill. This cooking technique also better seals in fluids, enabling you to dish even more flavorful, juicy meat slices.
Infrared burners also consume less energy and are simpler to clean with a grill brush. Since infrared gas grills are more expensive, they are often a fantastic option for the genuine gourmet who wouldn't mind splurging extra cash.
5. Safety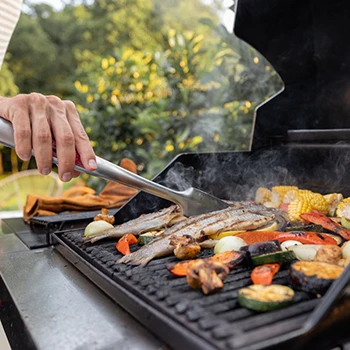 Even though most individuals use gas grills safely every day, it can be disastrous if you don't follow the correct safety precautions.
When working with a gas grill, ensure you know what you're doing and get a high-quality grill that makes safety a little bit simpler.
Look for a reliable grill that supports its weight, one that is strong. Always read the manufacturer's instructions before using a new gas grill to get guidance on properly operating the grill.
6. Durability Plus Warranty
If grill durability is dear to you, review the warranties given on the grill you intend to buy. Next, reweigh the online customer reviews to see how long other users have had that specific gas grill.
If you can, try buying high-end gas grills with lifetime warranties. This way, you'll be spending more to get a gas grill that you can depend on now and for the rest of your life.
However, because most low- and mid-range grills are more prone to break down after a few years, ensure you buy ones with an authentic 5-10 year warranty.
Related Articles:
FAQs
How Much Should I Spend On A Good Gas Grill?
You should spend anywhere between $750-$5000+ on a good gas grill with excellent features in order to achieve a great grilling experience.
What Is The Average Lifespan of A Gas Grill?
The average lifespan of a gas grill is five to fifteen years. Note that not all gas grills will last this long, as the lifespan largely depends on your maintenance habits.
Is It Recommended To Clean Natural Gas Grills After Every Use?
Yes, it's recommended to clean natural gas grills after every use. Ensure you wait until the grates have cooled down totally before cleaning. Cleaning frequently prevents unnecessary buildup in the grill parts.
Which Is The Best Gas Grill for You?
After grilling ribs, turkey, and burgers on a dozen of the best gas grill models, I've realized that versatility, good temperature control, and easy maintenance distinguish a quality gas grill from the rest. Of all the gas grills I've tried, Weber Genesis II 335 ticked all the boxes.
No other gas grill compares to its remarkable performance, convenience, durability, and affordability.
As the topmost choice for devout grillers, this Weber gas grill gives you more high heat per square inch cooking area plus a hotter sear burner zone from the extra burner.
A bonus is its easy maintenance and incredible cooking capacity.
Weber Genesis II E-335 Gas Grill
Our #1 Recommendation
Powerful sear surface
Strong enamel grates
Large cooking surface
Easy to clean
Get the BEST PRICE until the end of September
Was this article helpful?