One of my earliest memories is roasting marshmallows around a fire pit with my family. When I started my carnivore journey a decade ago, I thought of ways to use my fire pit for cooking and started testing the best fire pit brands on the market.
After years of trial, I've finally narrowed my list to those that are worth the money based on their power, capacity, durability, and cooking performance.
Here are the five best fire pit grills you can get today.
Editor's Choice
Solo Stove
Check Current Price
#2nd Best Choice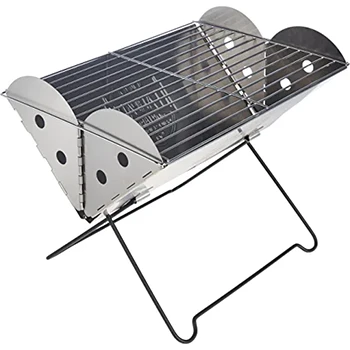 UCO
Check Current Price
#3rd Best Choice
Bali Outdoors
Check Current Price
5 Best Fire Pit Grills
1 - Solo Stove Bonfire 2.0
Solo Stove Bonfire 2.0 is lightweight and a great portable option if you like to travel. It's also sturdy enough to be used permanently in your backyard.
This fire pit grill has a smokeless design and a sleek profile. You get the main unit, a removable base plate, and a carrying case.
However, if you want to cook food on this grill, you'll need to buy the accessories, which drives the price up. My advice is to build the accessories over time. I started with the Bonfire and Cast Iron Grill and bought the Griddle and Wok later.
Bonfire 2.0 doesn't require any assembly, so you can cook as soon as you get it out of the box. This wood-burning fire pit grill burns clean and hot, so it's almost smokeless.
The stainless steel construction is durable, and the airflow design ensures complete wood combustion.
Pros
No assembly
Stylish design
Smoke-free
Portable
Cons
Accessories must be bought separately
Check Current Price
Quick Facts:
Dimensions : 19.5 x 19.5 x 17.5
Weight : 21.75 lbs
Fuel source : Wood or lump charcoal
Material : Stainless steel
Shape : Round
2 - UCO Flatpack Portable Stainless Steel Grill and Fire Pit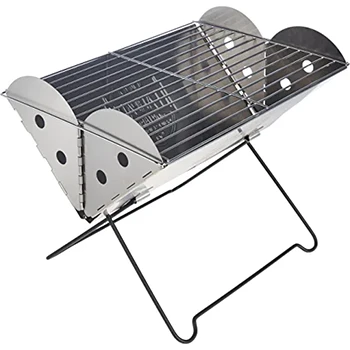 UCO Flatpack wood-burning fire pit grill folds down to a size of a laptop, so it easily fits into a backpack. This is great if you want to grill on the go or don't have a lot of storage space at home.
Flatpack stainless steel grill works with both wood fire and charcoal. The coal burns very well because the grill has air holes for good ventilation. The coals heat up fast and stay hot until you're done grilling.
I had good cooking results. All the food was evenly cooked. My medium-sized Flatpack can fit six burgers, 4 kebabs, or a dozen hotdogs at once.
The only thing I didn't like was the bag the grill comes with. It's too tight, so fitting the grill into it or taking it out is mission impossible.
This is a significant con, considering you need the bag so the grill doesn't unfold, and the ash residue doesn't fall everywhere.
Pros
Can fit in a backpack
Stable base for safe grilling
Rust and corrosion-resistant build
Cons
Doesn't fit in the provided bag
Check Current Price
Quick Facts:
Dimensions : 7.5 x 16 x 7.4 IN
Weight : 3.2 lbs
Fuel source : Wood or lump charcoal
Material : Stainless steel
Shape : Triangular prism
3 - Bali Outdoors Wood Burning Fire Pit
Bali Outdoors fire pit grill has a traditional fire pit design with a removable grill grate for easy cooking. You can use this fire pit grill as a standalone backyard fire pit or an open-fire style grill when you want to cook outdoors.
The grill has a very sturdy construction with a circular steel ring attached to all four legs, which makes it extra stable. The grill grate can be raised, lowered, and swung over or outside the fire-burning area.
This is also one of the rare grills that have a ledge for placing tools, bottles, and more. It's a nice touch that makes the use easy.
However, unlike most other backyard fire pit grills, it doesn't come with a cover. Also, it's not the most portable fire pit grill and is better suited as a permanent backyard fire pit.
Pros
Built-in ring for tools and drinks
Can be rotated, moved up and down, and swung left and right
Comes with a poker
Check Current Price
Quick Facts:
Dimensions : 32 x 32 x 25
Weight : 27 lbs
Fuel source : Wood or lump charcoal
Material : Stainless steel
Shape : Triangular, round
4 - BLUU Deluxe Portable Propane Gas Fire Pit
Bluu Deluxe belongs to gas fire pits. It's made for outdoor use and is lightweight and portable, so you can use it when traveling.
This kit includes a foldable stand, a carry rope, a propane tank holder, and a cover. Overall, you get everything you need to start grilling at home or when camping.
The ignition is very easy, thanks to the piezo igniter. Click and hold the button for 15 seconds to let the thermo-coupler heat up. Set the flame height and heat, and you're hands-free.
This gas fire pit has lava rocks surrounding the bottom, so the flames appear beneath them. The grill insert lets you place pots to boil water and cook on.
When you're done grilling, put the lid on so the grill cools fully. Then fold the legs, wrap the propane lane around the base, and attach the straps that hold everything in place.
Pros
Automatic shut-off for extra safety
Reliable auto ignition
Works in all weather conditions
Check Current Price
Quick Facts:
Dimensions : 18.9 x 18.9 x 9.1
Weight : 26.7 lbs
Fuel source : Propane gas
Material : Stainless steel
Shape : Round
5 - Burch Barrel BBQ Smoker Grill & Fire Pit Combo
Burch Barrel smoker grill and fire pit combo has excellent cooking and grilling versatility. You can use it as a grill, a smoker, or a fire pit.
This is one of the rare backyard fire pits with an integrated temperature gauge and adjustable vent so that you can control the heat. It also has a Pistol Grip Slider that lets you raise or lower the cooking grate.
You can choose how close you want your food to the fire. The charcoal basket is also adjustable in the barrel, so you can choose between direct and indirect cooking [1].
Nine heat settings let you cook different foods, and the Lock Collar System secures the lid. This was especially useful when I seasoned or adjusted the cooking food.
Pros
Functions as a grill, smoker, and a fire pit
Adjustable charcoal basket for excellent heat control
Reaches high temperatures
Cons
Heavy, so it's not very portable
Check Current Price
Quick Facts:
Dimensions : 18 in diameter, 84 in height
Weight : 65 lbs
Fuel source : Lump charcoal, wood chunks, or chips
Material : Stainless steel
Shape : Triangle, round
Buyer's Guide for the Best Fire Pits
Here's what to look out for when purchasing a fire pit grill.
1. Type of Fire Pit Grill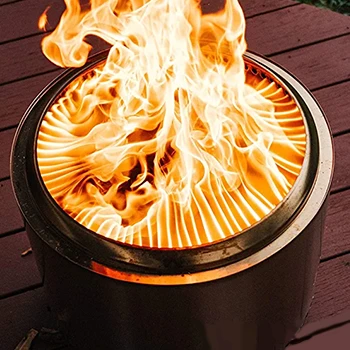 Fire pit grills can be smokeless or traditional. Smokeless fire pits mean there's a low-smoke environment. This fire pit has a double-wall design that catches the smoke from the burning wood and re-burns the air, so the best smokeless fire pits have little smoke coming out from the pit.
A smokeless fire pit is great if you want to have a fire without the smoke going into your face. This is also a more environmentally friendly option, as it emits little to no smoke.
A smokeless fire pit is best when you let the fire burn to embers or when a grill lets you raise the food high enough to avoid char.
2. Shape and Size
The fire pit grill's shape and size significantly affect the grilling experience. For example, do you often entertain a large group of people in your home? Then you need a fire pit grill with a large cooking area.
The cooking area determines the size of the fire pit grills. You want a cooking surface that fits enough food but lets you move freely around your backyard. Allow at least two feet on all sides of the pit for people to walk safely, arrange chairs, add wood, etc.
Also, you should place the fire pit grill between 10 and 25 feet from houses, fences, and other structures for safety reasons (you don't want accidental fires).
If you plan to use a smokeless fire pit as a centerpiece in your backyard, think about how its size, shape, and design complement your outdoor area. Most smokeless fire pits are round, but there are a few triangular ones.
Also, consider how much space you have in your backyard. A portable fire pit grill is great for a smaller backyard (for example, Solo Stove Bonfire 2.0), but if you have a large backyard, you go for a more permanent fire pit grill (for example, Burch Barrel fire pit grill).
3. Type of Cooking
Another thing to consider when shopping for fire pits is what kind of cooking you want to do. For example, do you want to cook a few hot dogs or a grill that can smoke large meat cuts?
If you want versatility, check a fire pit grill with a griddle or wok (such as Solo Stove Bonfire 2.0) or Burch Barrel that also functions as a smoker.
4. Fire Pit Grill Fuel Type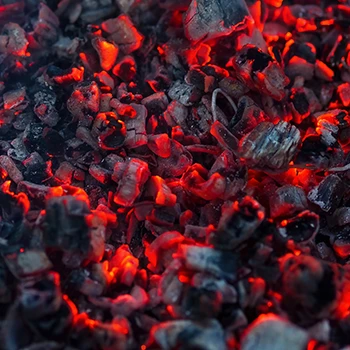 There are three kinds of fuel fire pits use: wood, coal, and gas. Wood is best for an authentic crackling and grilling experience, but coal burns longer and slower, so you have a more consistent longer-lasting heat. Gas is pricier but better if you don't want to deal with smoke and ash.
Some fire pits need traditional fire starters and logs, while others are propane-fueled. Think about how skilled you are in fire-building. Gas fire pits are connected to a propane tank or your home's natural gas line, so it's a matter of turning a knob and pushing the ignition switch.
Wood-burning fire pits need about 15 minutes between lightning and achieving a full fire, while gas fire pits are ready in less time. Think about how much work you want to do when deciding if you want a wood or a propane fire pit grill.
Also, a wood-burning fire pit needs more room to operate safely, while a gas fire pit has more predictable flames and doesn't need as many safety measures. Make sure you have a good supply of both before making a purchase.
5. Grates and Bowl Depth
The best choice for a cooking grate is stainless steel. It's durable and resistant to high temperatures. You can also go for a cast-iron grill grate. It's a more affordable option and has even better heat retention than steel.
Apart from grates, you also need a good bowl depth. Make sure there's enough distance between the food and the heat. If a bowl's not deep enough, it'll bring your food too close to the fire, so you'll have too much charring.
But, if a bowl is too deep, you'll have a wide gap that negatively affects the food quality. The best bowl depth is between 6 to 10 inches.
Pro Tip: Choose a fire pit grill with adjustable grates to control the distance between the food and the heat (Bali Outdoors has great adjustability).
Post You May Like: Best Stainless Steel Grills
6. Outdoor Surface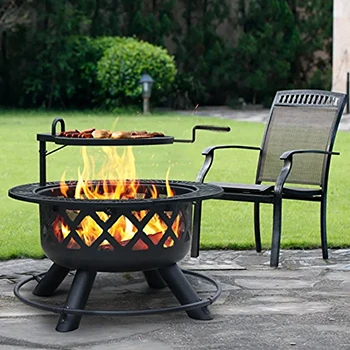 If you plan to do outdoor cooking on fire pits, you need to think about a fire-resistant outdoor surface. The best surfaces are sand, rock, concrete blocks, and gravel. Grass and uneven surfaces aren't ideal, and the fire can expand easily.
Wood decks, table tops, and unfinished concrete are also fire hazards. However, you can use heat-resistant pads to reduce the danger of fire spreading.
Pro tip: Don't place a larger fire pit under a roof or trees because sparks can cause fires.
7. Maintenance
You need to clean and maintain your fire pit grill to increase its longevity, so you should choose fire pits with easy cleaning.
Get brushes and clothes specifically designed for cleaning your grill, and read the cleaning tips for your specific fire pit grill to avoid damaging it.
You shouldn't let dirt and debris stay too long on the grill and grates, or it'll be very difficult to remove. Moreover, metal grills tend to rust, so you need to scrub and wipe them off.
Go for stainless steel fire pit grills for minimal rust, and get a grill with a removable ash pan for easy cleanup. Otherwise, use a shovel or a scoop to remove the ash.
Finally, get a grill with a cover to protect the fire pit from the elements and animals.
Read More: Best Grill Cleaners
8. Accessories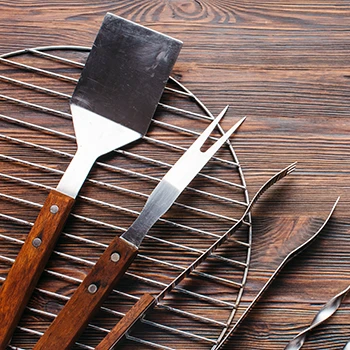 Different fire pits have different accessories, but most are sold separately, which drives the price up.
Once you determine what kind of fire pit grill you want (wood, charcoal, or gas), you can decide if you need additional accessories for the type of cooking you like. Also, consider how much the accessories will cost on top of the unit price.
The right accessories can make a huge change in your grilling experience. For example, Solo Stove Bonfire 2.0 has a griddle and wok accessory you can buy separately.
Generally, get a fire grill with tongs, skewers, heat-resistant pads, grill racks, and more. Some fire pit grills even have a storage option. For example, Bluu Deluxe has a propane tank holder.
Most fire pits are built to withstand the elements, but if you plan to leave it out year-round, make sure to get a fire pit with a cover. Some fire pits have bags for traveling and a cover to keep the pit clean and minimize damage when stored. This protects the grill from collecting rainwater and debris.
Finally, think about where you plan to use your fire pits. Depending on the surface, you may need a heat-resistant fire pit mat.
Fire pits that sit low emit a lot of heat to the ground below, which can singe your lawn or scorch your wooden deck. A heat-resistant mat reflects the heat away, so there aren't any marks after cooking.
9. Price
Price is another important factor when deciding on the right fire pit grill for you. Fire pits range from about $100 to $300 to over $1000 for high-end models. You should choose a price point you're comfortable with and get the best fire pits in this range.
Think about what features you want and what makes a great fire pit for you.
Don't forget about the accessories. Check what accessories are available before buying a fire pit grill, and calculate how much they will increase the price.
Related Articles:
FAQs
Can You Grill on a Fire Pit?
Yes, you can grill on a fire pit. Everything you cook on a grill can be cooked on a fire pit, but the difference is that wood and coal are used for fire pits, unlike grills. These fuel sources give a smoky taste to the food you grill on a fire pit.
Which Is Better: A Round or Square Fire Pit?
A square or rectangular fire pit is better for a formal backyard or garden. A square shape lends better to a garden. The angular shape gives the fire pit a structured feel but doesn't have the coziness of a round fire pit.
What Should You Not Put In a Fire Pit?
You shouldn't put plastic, magazines, newspapers, cardboard boxes, softwood, wooden pallets, furniture, or painted and treated wood in a fire pit.
What's the Best Fire Pit Grill for You?
Seemingly small, fire pits offer outstanding versatility and durability. After testing fire pits from the industry's leading brands, I've finally settled on Solo Stove Bonfire 2.0. It's a great option whether you want a portable fire pit grill or to use it as a permanent fixture in your backyard.
This grill has a sleek design and a durable stainless steel build. It's extremely easy to use, and there's no assembly needed, so it's great both for grilling newbies and professionals.
Finally, you can start with the grilling base and get griddle and wok accessories over time for more cooking versatility.
Solo Stove Bonfire 2.0
Our #1 Recommendation
No assembly
Stylish design
Smoke-free
Portable
Was this article helpful?