We've been barbecuing for more than a decade, and during this period, we've tried a fair share of grill cleaners.
After using so many grill cleaning products to find the best grill cleaner, we've rounded up our top 8 picks, providing you with what we liked, what we didn't like, and our ultimate grill cleaner winner.
Editor's Choice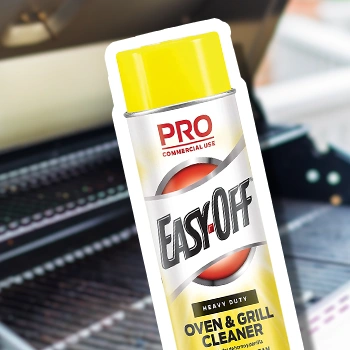 Easy-Off
Check Current Price
#2nd Best Choice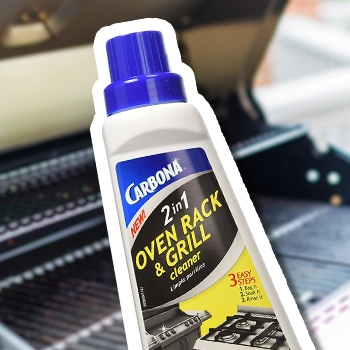 Carbona
Check Current Price
#3rd Best Choice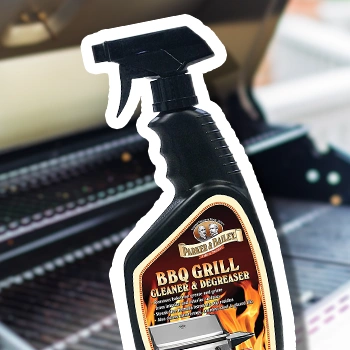 Parker & Bailey
Check Current Price
Our Top 8 Best Grill Cleaners
1 - Easy-Off Professional Oven & Grill Cleaner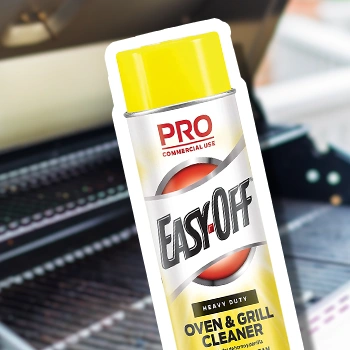 Claiming our number one spot is Easy-Off Professional Cleaner, a grill cleaner made for deep cleaning baked-on food, grease, stains from grills, ovens, broilers, pans, and other stainless steel appliances.
It is a fast-dissolving spray cleaner designed for spot cleaning.
We found it straightforward to use; we simply sprayed the burnt-on grease, let it sit for five minutes, and wiped it clean with a microfiber cloth.
You may have to scrub with a grill brush to remove more stubborn or old stains.
Pros
Fast-acting formula
Works on most steel cooking surfaces
Works well for spot treatments
Removes grease buildup and tough stains
Check Current Price
2 - Carbona 320 Barbeque Cleaner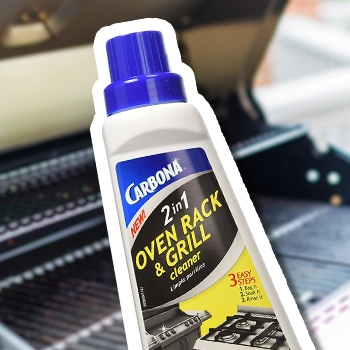 Next on our list is the Carbona 320 Barbeque Cleaner, a BBQ grill cleaner designed to work overnight on both your oven racks and grills.
The kit comes with a zip-up plastic bag, a pair of disposable gloves, and a bottle of the 2-in-1 cleaning solution.
Simply grab your wire brush, remove any baked-on food and burnt barbecue sauce, and pop the grates into the bag. Pour in the grill cleaner, give it a good swish around, and leave it to soak overnight.
With a quick rinse, our grill grates were shiny and new. The heavy-duty cleaner removed stubborn grease from our grill easily.
And, since it's biodegradable, we could simply pour the used solution down the sink.
Pros
Cleans both grill grates and oven grates
Works great on enamel and stainless steel surfaces
Comes with a zip-up bag to soak the grates
Cons
Can only be used for grates
Check Current Price
3 - Parker & Bailey BBQ Grill and Surface Cleaner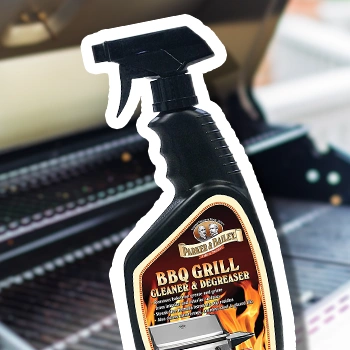 Parker & Bailey Cleaner is a multisurface grill cleaner designed to dissolve caked-on grease and baked-on grime from both the interior and exterior of your grill.
This heavy-duty cleaner comes in a spray bottle and can be used on several surfaces such as countertops, drip pans, pots, microwaves, and more.
Simply spray the dirty grill, leave for a few minutes, then wipe off with a wet cloth. What we enjoyed most about this cleaner was that it didn't leave any streaky stains on the cooking grates, and it didn't have any toxic smells.
Pros
Can be used on several different surfaces
Doesn't leave behind any streaks
No strong smells
Cons
Can take some effort to clean burnt-on messes
Check Current Price
4 - Weiman Stainless Steel Cleaner and Polish
Weiman's grill cleaner is available as a spray and stainless steel wipes. It is designed for any stainless steel surface such as grill surfaces, fridges, microwaves, dryers, dishwashers, and more.
This stainless steel cleaner polish doesn't contain any harmful chemicals since it is also designed for kitchen worktops and appliances.
After we used it, this cleaner did leave a nice finish, free of any streaks or grease.
When using it as a grate cleaner, you may need to add in a reasonable amount of effort to ensure all the food remnants are removed.
Pros
Doesn't leave any streaking or smudging
Can be used on both indoor grills and outdoor grills
Non-toxic chemicals
Cons
Can be harder to remove baked-on grease stains or caked-on food
Check Current Price
5 - Goo Gone Grill and Grate Cleaner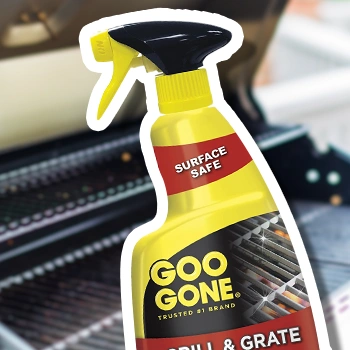 Goo Gone Cleaner is an ultra-strength BBQ grill cleaner designed to lift heavy grease and food remnants from your gas grill or charcoal grill.
It comes in spray foam form, using a biodegradable formula of citrus oils.
We found this to be a good grill cleaner, removing most of the dirt from our grill with minimal effort.
We also liked that the spray dispenser made it easy to reach stubborn corners of the grill. However, the product can be a bit thin, which means you end up using more than usual.
Pros
Can remove deep stains with minimal effort
Spray dispenser makes it easy to reach corners
Biodegradable formula
Cons
Can be thin, so you need to use more of it
Check Current Price
6 - Kingsford Heavy Duty Spray-On Grill Cleaner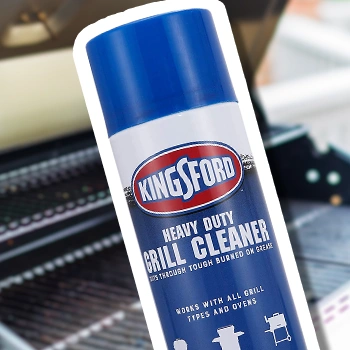 Kingsford Grill Cleaner was designed to get rid of tough grease and stubborn food stains from stainless steel surfaces such as grills and broilers.
We found this spray cleaner very straightforward to use; all we had to do was scrub off the remaining food with a grill brush and spray our grates with the cleaner.
The company claims that the product takes 30 minutes to work; however, it may take longer for the formula to work if your grill is especially dirty.
Pros
Works to remove baked-on stains and grease
Formula is thick and easy to use
Works in 30 minutes
Check Current Price
7 - Traeger Grills BAC403 All Natural Cleaner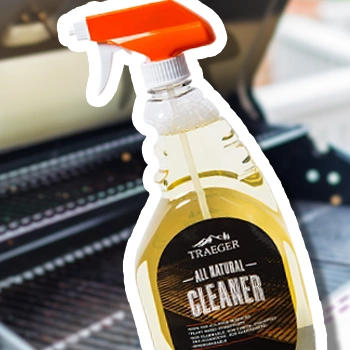 Traeger Grills have produced this BAC403 non-toxic cleaner to cut through even the toughest grease. What we loved about this product was that it is biodegradable and 100% food-safe. This grill cleaner is good for removing buildup that has been sitting there for a long time, and it can be used on stoves, windows, countertops, gas grills, charcoal grills, and pellet grills.
It may, however, take a lot of work and product to get you shiny and new grill surfaces, so you may need to use a brush with stainless steel bristles.
Pros
Biodegradable and food-safe
Can be used on multiple surfaces
Removes buildup that has been sitting for a long time
Cons
Can take some scrubbing to remove stubborn stains
Check Current Price
8 - Absolutely Clean Grill Cleaning Spray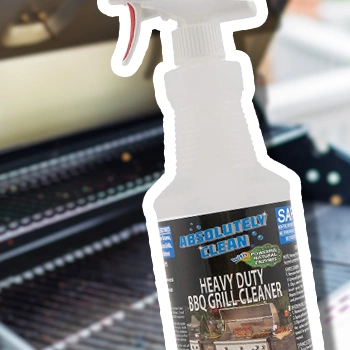 Absolutely Clean Grill Spray can be used on various surfaces such as the interior and exterior of grills, drip pan, grates, and outdoor BBQs. While it works to remove grease, food, and stains from your grates, it also has a pleasant scent that makes the surfaces not only look better but smell better too.
The company claims that this grill cleaner works in as little as 1-2 minutes. However, you may have to let the grates sit for longer. We had a slight problem removing stubborn grease and food from our grills with this grill cleaner.
Pros
Has a pleasant smell
Relatively easy to use
Formula uses natural enzymes
Cons
Can be harder to remove burnt-on food
Check Current Price
Buyer's Guide

When shopping for the best grill cleaners, there are a few things to look out for:
Ingredients: Since you're going to be using the cleaner on your grill, you'll want to ensure it is food-safe. Look out for biodegradable products.
Method of application: Grill cleaners that come in spray bottles or foaming nozzles make applying the product easier. Ones that reduce soaking in a bag overnight may be better for tougher grease.
Strength: Heavy-duty cleaners work best for stubborn buildup; however, they will have more chemicals and may be pricer. Weaker grill cleaners are better for regular maintenance [1].
Related Articles:
FAQs
Should I Clean My Grill Hot or Cold?
If you clean on a cold or hot grill depends on which grill cleaner you are using. Some grill cleaners have a hot steam feature, which helps to break up cooked-on food.
What Grill Brushes Should I Use for My Grill?
You can use nylon bristles for porcelain grates and cast iron grates since they're suitable for sensitive surfaces. If your outdoor grill has a stainless steel grate, you can use a metal wired brush.
Our Best Grill Cleaner Winner
All of the grill cleaners mentioned here today are worthy competitors of that title; however, our winner today is the Easy-Off Professional Oven & Grill Cleaner for its ease of use, ability to get your grates clean with minimal effort, and its fast-acting formula.
Among all the grill cleaners we tested, we feel like Easy-Off Professional is the best grill cleaner that gives your grill a thorough cleaning.
You can say goodbye to grease buildup and tough stains in a matter of minutes.
Easy-Off Professional Oven & Grill Cleaner
Our #1 Recommendation
Fast-acting formula
Works on most steel cooking surfaces
Works well for spot treatments
Removes grease buildup and tough stains
Was this article helpful?