While there are tons of grill covers on the market, not all are one-size-fits-all.
That's why we have decided to test a range of shapes, sizes, and brands, to find out which is the best grill cover available today.
In this article, you will find our top 8 best grill covers, as well as what to look for when shopping for a grill cover.
The Best Heavy Duty Grill Covers
Editor's Choice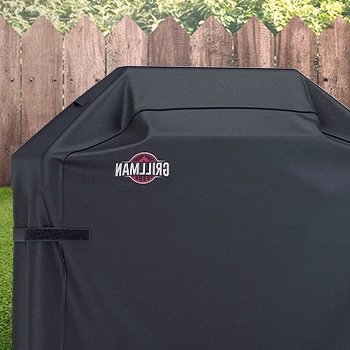 Grillman
Check Current Price
#2nd Best Choice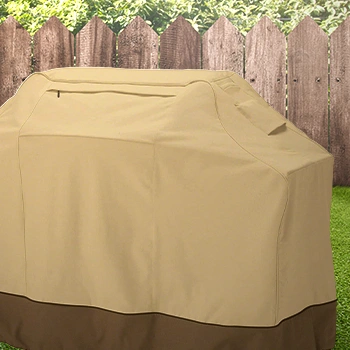 Veranda
Check Current Price
#3rd Best Choice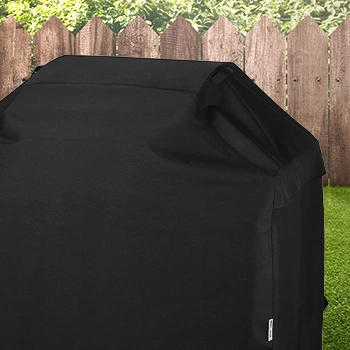 Unicook
Check Current Price
Our Top 8 Best Grill Covers
Grill Cover Buyer's Guide
When shopping for heavy-duty grill covers, there are a few things you have to look out for to ensure you're getting the best value for money.
1. Materials
If you're an avid griller, you'll be removing your cover often, and you may not always have time to fold it up and place it to one side carefully.
For this reason, as well as different elements such as snow, sun, rain, and wind, you'll want to ensure your grill cover is made from a quality, heavy-duty material.
The cover doesn't have to be heavyweight; however, it will help protect against elements better, as thin covers may need replacing more often than not.
Stitching is another thing to look out for: covers with double-stitching will help keep the rain out better than ones with single-stitching.
Most grill covers will be made from polyester, which is fine as long as it is thick. You will want to look out for a cover of at least 600D.
2. Size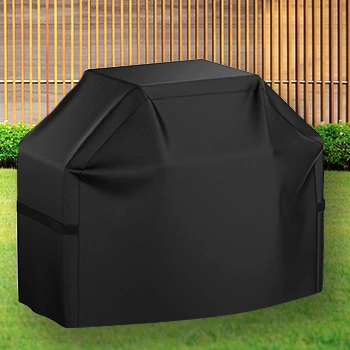 Size is another important factor when finding the best grill cover.
Whether you have a built-in grill, gas grill, kettle grill, or smoker, you need to find a snug one without being a hassle to get on.
If you have to stretch your cover to put it on your grill, it is too tight, and this can damage the grill itself and injure you if it pops off.
However, if you find a cover that is too loose, it will let water, dirt, and moisture inside. If it becomes windy outside, you're also at risk of the cover flying away.
Most covers are made for gas grills, so if you have another type of grill, pay extra attention to its dimensions and shape.
All covers should come with a strap to tie them down even tighter, so don't worry if it looks a little too loose to begin with.
3. Waterproof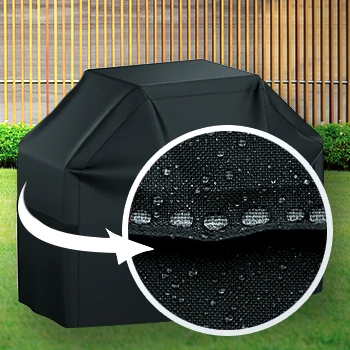 Water leads to rust, but luckily, grill covers prevent rust and can protect your grill from this problem.
If you live in a dry climate, rain or snow won't be a massive issue for you.
However, if you live in a place where it tends to rain often, you need to ensure your cover can protect your grill from the rainy weather.
If you live in a very humid place, your cover is also at risk of condensation. So, try to get a cover with mesh vents inside so the air can still circulate the grill.
You can also buy some vinyl oil to prevent your cover from cracking if you're not sure it will handle the weather.
4. UV Protection
If you've just paid a pretty penny for your new grill cover, chances are you'll want to keep it looking shiny and new. Your grill will spend most of, if not all, its time outside.
There, it will be constantly exposed to the sun and UV rays. If unprotected, the sun will bleach your grill cover and leave it patchy [1].
If you have a porch overhang or an area shaded by trees, store your grill there for better protection.
5. Warranty
Even if your grill cover is advertised to be completely weather-resistant, it's a good idea to get a model with a good warranty.
The best grill covers will come with a few years of warranty, and some even come with a lifetime warranty.
Related Articles:
FAQs
Should I Always Keep My Grill Cover On?
Yes, you should always keep your grill cover on if you're not using the grill. An uncovered grill can start to rust or malfunction.
How Do You Clean a Grill Cover?
Since grill covers are made to resist water and stains, most of the time, you can clean them off with a hose.
If you have any tougher grease or grime, you can use dish soap. If your grill cover comes with a storage bag, put the cover inside the bag when it isn't in use [2].
Can You Buy Grill Covers for a Kettle Grill?
Most covers are made for a gas grill; however, covers are available for kettle grills and smoker grills too. Be sure to check your dimensions before purchasing anything.
Best Grill Covers: Our Winner
All the grill covers featured here today are worthy competitors. However, our best grill cover award goes to the Grillman Premium BBQ Grill Cover due to its high quality of materials, ability to protect against all weather types, and value for money.
We like that it is available in various sizes and is made to fit the most popular grills such as Char-Broil and Weber.
Grillman Premium BBQ Grill Cover (Best Overall & PVC-Lined)
Our #1 Recommendation
PVC-lined oxford material
Fits popular grill brands
Wind-resistant
Lifetime replacement guarantee
Was this article helpful?