I've spent quite a few of my years behind a charcoal grill, so I have a pretty good idea of what constitutes premium quality charcoal briquettes and what does not.
So, what are your charcoal options? I decided to test 6 popular brands to find exactly that.
#2nd Best Choice
Royal Oak
Check Current Price
#3rd Best Choice
Jealous Devil
Check Current Price
Our Top 6 Charcoal Briquettes:
1 - Weber 17950 Briquettes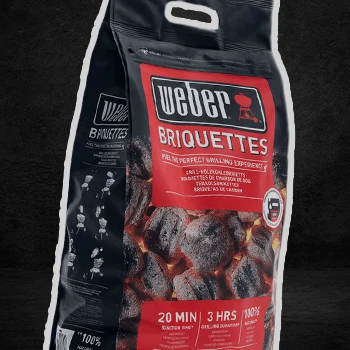 Last but not least are the Weber 17950 Briquettes. While they're more known for grills, they do produce some of the best charcoal briquettes around.
Just like all the other premium brands listed here, there are no added chemicals in this lump charcoal.
The briquettes from Weber are a little larger than most brands; therefore, you don't need many to light your grill.
They burn hot for a long time and are great for grillers who have some experience with charcoal-powered grills.
These are also some of the best charcoal briquettes when it comes to value. Even though these briquettes are rather inexpensive, they don't sacrifice quality and consistency.
They also come in waterproof, resalable, and recyclable packaging - which is great for your carbon footprint.
Pros
Inexpensive
Extended burning time
Waterproof and recyclable packaging
Cons
No design enhancements for an easy light
Click For Best Price
2 - Royal Oak Premium Charcoal Briquettes
Taking first place in this heated debate is Royal Oak premium charcoal briquettes. If you've never heard of this brand, it's because it isn't widely known.
These briquettes contain no chemicals and no coal. They're made from almost 100% hardwood charcoal, derived from hickory trees.
While this means the smoke produced is a lot cleaner, it also makes for a longer burn time and a great flavor.
These briquettes are also super easy to use due to the enhanced ridge around the middle. We found lighting them straightforward, and within a few minutes, we were ready to start grilling.
Pros
Burns hotter than most brands
Easy to use
No harmful chemicals - just natural hardwood charcoal briquets
Enhanced flavor
Check Current Price
3 - Jealous Devil All Natural Hardwood Lump Charcoal - 20LB
Another lesser-known name in the barbecue world is Jealous Devil. Jealous Devil All Natural Hardwood Lump Charcoal comes from South America, made from oak and hickory hardwood.
Due to the natural ingredients used, you can produce a mild flavor, perfect for all types of meat, including fish.
The briquettes burn for up to 12 hours in ideal conditions, creating minimal ash without splitting or popping. Each briquette is made to be an ideal size, allowing for an easy and quick light.
You won't need to add any lighter fluid or other materials to the fire when you have these briquettes - a good option for both newbies and pitmasters alike.
Pros
Produces an intense heat
Doesn't leave a lot of coal dust
All-natural charcoal
Cons
The packaging could be better
Check Current Price
4 - Kingsford Original Charcoal Briquettes
Third on our list is Kingsford, with their Original Charcoal Briquettes. Known as the "king of charcoal", Kingsford is one of the most recognized names in the charcoal grilling industry.
While they may not be the best charcoal briquettes on the market, they offer excellent value for money. These briquettes provide great burning time and high heat.
They aren't made from pure charcoal; however, the ingredients added are all-natural and won't produce any harmful chemicals.
They also feature groves to make lighting and airflow easier. You can stack the hot coals on top of each other and still have them burn consistently. In as little as 15 minutes, your charcoal will be ready to go.
Pros
Will burn hotter than most brands
Adds great smoky flavor to your food
Uniform shape so no hot-spots
Cons
Produces more ash than most
Check Current Price
5 - Duraflame Cowboy Natural Hardwood Briquettes
Duraflame Cowboy Natural Hardwood Briquettes may be one of the best charcoal briquettes you can choose if you're looking for a premium brand.
These briquettes are made from hardwood charcoal, such as American oak and hickory, and the ingredients are all-natural. Not only does this make charcoal grilling healthy, but it also produces minimal ash.
The burning wood creates an authentic smoky flavor and is super easy to use. In less than 15 minutes, they're able to reach their maximum heat level. They create a hotter burn than most lump charcoal.
Since each briquette produces a nice woody taste, they're great for both grilling and smoking. These quality briquettes are also designed to make even heat, ensuring your food is cooking all the way through.
Pros
Premium ingredients
Minimal ash production
Burns hot
Check Current Price
6 - Kingsford Charcoal Professional Briquettes
Heading back down Kingsford road, our 5th charcoal briquettes on the list are the Charcoal Professional Briquettes from Kingsford.
You can use these briquettes to grill, slow-smoke, and sear your food since they can burn red hot and maintain great temperature.
These briquettes are ready to use within 10 minutes and are made to produce less ash. The size of this lump charcoal means there's no charcoal dust in the bag, saving your hands from getting too dirty.
While the ingredients inside these charcoal briquettes aren't exactly made from 100% charcoal or hardwood, the Kingsford company says all the ingredients are 100% natural, and there are no added chemicals.
Pros
Produce little ash
Ready within 10 minutes
100% natural ingredients
Check Current Price
Charcoal Briquettes Buyer's Guide:

There are a few things to look out for when purchasing charcoal briquettes for your grill. Each and every brand is different and has a range of different things to offer.
Here is a quick summary of the things you want:
Thin edges for easy lighting
Fire grooves for maximum airflow
Uniform sizes for even heat and effective charcoal pile
100% hardwood charcoal
Fewer fillers for less ash
Things you should avoid when buying charcoal briquettes:
Added chemicals such as lighter fluid, corn starch, or sodium nitrate
Wood scraps and fillers as they create more ash
The best charcoal briquettes will include "100% hardwood" on the packaging. This means that the briquettes don't come from any unwanted sources such as pallets, sawdust, and scrap wood. They also won't be mixed with any anthracite coal - like cheaper briquettes on the market.
You should also avoid self-lighting briquettes. These things are usually sprayed with all sorts of chemicals to make lighting easier. It will just transfer unwanted chemicals and tastes onto your food.
1. Burning Time
Burning time is probably one of the most important things to look out for when buying a new brand of charcoal briquettes. There's no point in spending a ton of money on some fancy briquettes that only burn for an hour.
When using charcoal for grilling, you don't have much flexibility with cooking methods such as smoking or searing as you do with gas grilling.
If you would like to try out either of these methods, you will have to find charcoal that provides a long cooking time to power through your meals.
Lump charcoal (considered 'pure carbon') will burn shorter than charcoal briquettes since these have a more uniform shape.
Each company will state an approximate burn time for their charcoals; however, the size and shape of your grill will also affect this. [1]
2. Burning Temperature
It will also depend on what type of cooking process and food you're looking to cook. Since many charcoal grills don't have insulation, the heat of the charcoal will vary each time you cook.
This could have something to do with the weather, how many charcoals you use, and similar.
"Charcoal or gas. Both give excellent results, so choose the one that best suits your style of cooking."
- Bobby Flay, Chef
Charcoal briquettes burn at a lower temperature, but they do so more evenly. Lump charcoal is better for hot and fast burning - aka great for searing.
3. Easy Lighting
Another important thing to note is how long the charcoal takes to light. Some charcoal briquettes have a special shape that helps the charcoal catch fire easier. Keep an eye out for thin edges as they burn easier.
You can also use a charcoal chimney starter if you're having trouble starting your grill. [2]
4. Ash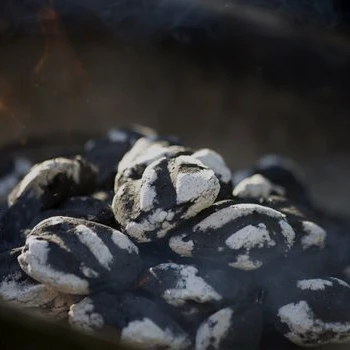 No one enjoys cleaning up a pile of ash, or even worse, having ash blow all around your food as you cook. Burning charcoal will always produce ash, and there isn't any way to avoid it.
You can purchase certain types of charcoal briquettes that bring down ash production considerably.
The best briquette will have no added fillers or additives such as sawdust or wood scraps since these cause excessive ash. However, some ash is good since it helps insulate the coals.
Certain grills, such as ceramic grills, should use lump charcoal since a large amount of ash isn't good for them. A larger grill will be able to handle ash a lot better.
Read More: What To Do With Charcoal Ash
5. Package Size

There is no set package size for charcoal briquettes - it all depends on the company and what they offer. Some companies offer both 20 and 40lbs bags, which are perfect if you've already decided that you love the brand and are going to keep using them.
"I prefer lump charcoal over briquettes, but I do use both for different reasons and different recipes. Sometimes, I combine them both when I really want the woodsy aroma from the lump charcoal and long, even heat from the briquettes."
- Bobby Flay, Chef
If you're buying briquettes during grilling season, purchasing a big bag is ideal. That way, you won't run out of charcoal mid-grill and struggle to find more. Plus, you'll always save more money with larger bulk purchases.
You can also opt for a smaller pack such as 12lbs if you're unsure of the brand and how it holds up. Single-size packs are also available.
Not only is this super convenient, but ideal if you're not looking to grill more than once or twice in a season.
Similar Articles:
FAQs
Are Charcoal Briquettes Safe?
Yes, charcoal briquettes are safe if you use the right ones. If you want to make sure you're using safe briquettes - don't skimp on price.
As nice as it is to save some money here and there, the cheap briquettes are usually the ones that contain a whole lot of nasty chemicals.
You should also ensure you're using your briquettes safely. That means no grilling in a low oxygen environment. The fire uses oxygen and produces carbon dioxide, which may reach toxic levels.
You should also avoid inhaling any ash and fumes that come off your grill since these, like all smokes, can cause respiratory problems [3].
When you've finished cooking, make sure your coals are fully put out before disposing of the waste - this includes ash too.
Do You Need to Use Lighter Fluids on Charcoal Briquettes?
No, you do not need to use lighter fluids on charcoal briquettes. These days, companies have found a way around this lighting problem, and briquettes burn without the need for extra fuel, unlike wood chips.
Not only does lighter fluids create a chemical taste on your grill, but it is also quite dangerous.
If you've found yourself a good brand of briquettes, all you will need is a match or a lighter to get them started.
Is Charcoal Environmentally Friendly?
Using charcoal isn't too harmful to the environment. It does create more greenhouse gases compared to gas grills. However, you can reduce these if you search for sustainably sourced charcoal. [4]
You can choose charcoal made in America if you want to reduce the transportation carbon footprint. Another option is charcoal made from coconut husks. They can be harvested much quicker than hardwood charcoal.
How Do I Know When the Briquettes Are Ready?
You'll know your briquettes are ready when the edges begin to turn grey. As they get hotter, the briquettes will form ash which will fall into the grill, revealing a fine layer of gray ash over the charcoal. Once they look like this, they are ready to be grilled on.
Most briquettes will take 10 - 15 minutes to heat; however, they should have a recommended time depending on the brand.
Which Brand of Charcoal Briquettes Is the Best?
All of the briquettes mentioned today are worthy competitors. However, our winner is the Weber 17950 Briquettes, mainly because they don't contain chemicals and have a fantastic burning time.
Among all the brands we compared, we feel like it produces the best flavor and holds the best temperature without leaving behind any unwanted chemical tastes in the food.
It is also affordable and packed in high-quality waterproof, and recyclable packaging. So, Weber 17950 Briquettes is perfect for people new to grilling and those who would consider themselves grill masters.
---
Weber 17950 Briquettes
Our #1 Recommendation
Inexpensive
Extended burning time
Waterproof and recyclable packaging
Get the BEST PRICE until the end of March
Was this article helpful?