With so many lump charcoal brands on the market, you probably can't decide which one to choose.
To help you avoid wasting money on low-grade charcoal, we've battle-tested numerous brands for you. After using the charcoals ourselves, we also checked their online reviews and came up with a guide on how to choose the one that meets your specific needs.
Here are our top six picks based on hours of research and grilling.
Editor's Choice
Jealous Devil
Check Current Price
#2nd Best Choice
Royal Oak
Check Current Price
#3rd Best Choice
Cowboy
Check Current Price
Top 6 Lump Charcoals
After carefully reviewing dozens of different lump charcoals on the market, we've narrowed down our list to six options that ticked the most boxes.
Here are the six best lump charcoals for grilling anything from white to red meat.
Our Top Products
Jealous Devil All-Natural Hardwood Lump Charcoal
Jealous Devil All-Natural Hardwood Lump Charcoal is just what it sounds like. It's a 100% natural hardwood lump charcoal free of chemicals, fillers, and scrap wood.
We were eager to try it after reading many positive reviews, so we ordered a bag. It was filled with large- to medium-sized pieces of charcoal and contained little to no dust. That's how we knew we were dealing with premium charcoal right off the bat.
That may be why Jealous Devil is also extremely easy to light and heats up quickly. It burns hot, but you can still use it for slow cooking because of its long burn-time.
According to the manufacturers, Jealous Devil can burn for 4+ hours on open grills and 20+ hours in smokers. Most reviewers confirm these claims.
Many have also pointed out that Jealous Devil leaves little to no ash, making clean-up easier.
The only downside is that this brand is on the pricey side. But the general verdict is that the value justifies the price.
Pros
Long burn time
No scrap materials or chemicals
Doesn't pop or crackle
Minimal ash
Facts:
Available in 8lb - 20lb bags
100% natural quebracho hardwood
1100F+ maximum temperature
Royal Oak Hardwood Lump Charcoal
Royal Oak natural hardwood lump charcoal is made from both light and dark wood: renewable oak, maple, walnut, and hickory hardwood. It doesn't contain chemicals or additives.
Many meat-lovers praise this charcoal for its smoky flavor and how well it burns. We also found it easy to light and appreciated that there were virtually no sparks.
After you light it, you'll have to wait about 15 minutes for the charcoal to reach grilling temperature. But beware, because this charcoal may burn faster than what you're used to.
The only downside to Royal Oak is the inconsistency in quality. Some reviewers were happy with what they received, but some reported finding rocks, nails, and even scrap metal mixed with charcoal in the bags.
Still, Royal Oak is more affordable than most charcoal brands, so you'll still be getting value for your money.
Pros
Easy to light
Great flavor
Budget-friendly
Cowboy Hardwood Lump Charcoal
Most foodies love Cowboy lump charcoal for two reasons: its flavorful smoke and negligible ash production. Unlike many other charcoal brands, Cowboy adds a fantastic natural flavor to your meals without making too much mess.
What's more, this all-natural lump charcoal is compatible with all styles of outdoor cooking appliances.
You can use it in ceramic-style grills, like the Big Green Egg, barrel grills, and kettle barbecues. So, you could say that this is one of the more versatile charcoals on the market.
It's on the pricey side, but you do get high-quality charcoal for that price. Our bag was mainly filled with medium-sized chunks and contained very little dust.
The only downside is that this charcoal may burn too hot and too fast for some meals. Some reviewers mention they had trouble maintaining medium temperature, which isn't ideal for slow cooking.
Pros
Leaves very little ash
Great smoky flavor
Can be used with most outdoor cooking appliances
Cons
Not ideal for slow cooking
Facts:
20 lb per bag
100% all-natural hardwood lump charcoal
Rockwood All-Natural Hardwood Lump Charcoal
Rockwood all-natural hardwood charcoal is an excellent option for those that care about sustainability.
For starters, it's made exclusively from hardwood left from timber milling — namely Missouri oak, hickory, maple, and pecan. On top of that, the bag it comes in is 100% recyclable and landfill-safe.
The charcoal itself has a rich aroma and produces a smoky flavor. We liked that it burns hot and clean, leaving you with only small flakes of ash here and there.
Although Rockwood suits any charcoal grill, it works especially well with ceramic-style grills, like the Big Green Egg.
The only problem is the inconsistency in quality. Many reviewers reported receiving tiny pieces of charcoal in their bags, while some were delighted with their purchase.
Considering that Rockwood is one of the pricier charcoal brands, such differences in quality are disappointing.
Pros
Made from renewable resources
Nice smoky flavor
Clean-burning wood
Cons
Lots of smaller pieces in the bag
Facts:
100% natural
20 lb per bag
Recyclable bags
Fogo Super Premium Hardwood Lump Charcoal
Fogo Super Premium is ideal for those who like to cook slow and long. Like Rockwood, Fogo is also more suitable for ceramic-style grills, such as the Big Green Egg and Kamado Joe.
The company promises that every bag contains XL pieces, and reviewers largely confirm that to be true. Many of them report finding huge chunks of charcoal in their bags, which made their cooking much more enjoyable.
If you want our take, there are two things we particularly like about Fogo.
Firstly, it has a distinct, sweet flavor that you rarely get with other lump charcoals. Secondly, lighting this charcoal is a breeze even if you don't use lighter fluid.
The only downside is that the chunks may actually be too large and difficult to place. So, you may have to waste time breaking them into smaller pieces, or you may not even be able to use them with smaller appliances.
Pros
Very easy to light
Distinct flavor (sweet)
Ample burn time
Cons
The chunks may be too large
Facts:
17.6 lbs per bag
80% of the bag consists of pieces of 4 inches or larger
Kamado Joe Big Block Lump Charcoal
This 100% natural lump charcoal is made explicitly for Kamado grills. But it works well with other ceramic-style grills, too.
Most reviewers report getting mainly good-sized chunks and finding little to no crumbs and debris. That's the first sign of a high-quality product.
We've further tested the quality in my backyard. The charcoal didn't pop or crackle while being lit, which was yet another positive sign.
Another pro is that Kamado Joe is also long-burning lump charcoal. Its steady burn can last up to 18 hours, which is perfect for low and slow cooking.
The only thing that could improve is the amount of ash left after using this charcoal. Charcoal ash is bad for the environment and your health, so we'd prefer to see less of it [1].
Pros
Perfect for slow smoking or grilling
Mainly large- to medium-sized chunks
Easy to light
Facts:
20 or 30 lbs per bag
Burn time up to 18 hours
100% natural
How To Choose The Right Charcoal

Most foodies initially struggle to find the right charcoal for their needs, tastes, and cooking appliances. It usually takes some hit and miss until you get it right.
To help you speed up the process, we put together this super-quick guide for you.
Consider these three things when choosing your charcoal, and we guarantee you'll be happy with your purchase.
Flavor
The first thing to consider is what flavor you want to get from your charcoal. Here's a rule of thumb you can follow:
Lighter woods — Typically produce a sweet and subtle flavor that best suits white meat. Think maple and pecan.
Darker woods — Typically leave a stronger flavor better suited for red meat. Think oak and hickory.
For example, let's say you want a mild flavor. In that case, you should avoid oak or hickory lump charcoal. Instead, you need charcoal made from lighter wood — like Fogo Super Premium.
Burn Time
Next, consider how long you want your charcoal to burn. The burn time depends on two things: 
The size of charcoal
Wood density
Unfortunately, you can't influence whether you'll get big or smaller charcoal chunks. But you can choose the right wood density for your needs.
You only need to follow a simple formula: the denser the wood, the longer it burns.
So, you should choose charcoal made from denser wood for slow and long cooking. For example, hickory is an incredibly dense wood that can burn for hours. On the other hand, lighter woods like maple are better for burgers and other quick meals.
So, consider the meals you want to make first and then choose charcoal based on that.
Quality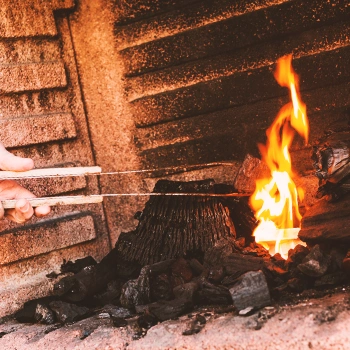 Low-quality lump charcoal typically contains lots of fillers and chemicals that are bad for your health and the environment. So, we suggest avoiding cheap charcoal at all costs.
But maybe you're wondering how to recognize low-quality charcoal in the first place. Here are two ways to do so.
Firstly, check if your bag contains broken pieces, dust, or scrap materials. If so, you're probably dealing with an inferior product.
But even the best lump charcoals can get damaged in transit. So, broken pieces may not necessarily mean the product is low-quality.
That's why you also want to focus on what happens when you light lump charcoal. If it's producing too many sparks or too much ash, you'll know that you didn't get a good product. That's when you should consider other options.
Related Articles:
FAQs
Is Lump Charcoal Any Good?
Lump charcoal is good. It's generally considered better and higher-quality than briquettes.
How Big Should Lump Charcoal Be?
Lump charcoal should be from 1 to 4 inches in size.
Can You Use the Snake Method With Lump Charcoal?
You can use the snake method with lump charcoal, but it's not an easy feat because of the variations in charcoal chunk sizes and shapes.
What Is The Best Lump Charcoal?
Our impression is that Jealous Devil is the best lump charcoal even by the highest foodie standards. And apparently, we're not alone. Other reviewers raved about it too.
"Been using this charcoal for a while now and I couldn't be more pleased. Great flavor imparted by the smoke…" - JCinPC from Florida
"Buy this charcoal! I have had a big green egg for over a decade and have used several different brands of charcoal on countless smokes and grills. This charcoal is absolutely the best one in terms of coal size, density, heat, longevity and lack of foreign objects." - Dan from Southern California
No matter how many charcoals we've tried, we've found ourselves constantly going back to this high-quality product. It produces minimal ash, lights easily, and doesn't pop or crackle.
But what really won us over was the size and quality of the chunks inside the bag. Our bag contained zero dust, crumbs, and debris. Jealous Devil definitely ticks all the boxes.
Jealous Devil All-Natural Hardwood Lump Charcoal
Our #1 Recommendation
Long burn time
No scrap materials or chemicals
Doesn't pop or crackle
Minimal ash
Was this article helpful?