As a professional chef with years of experience in the culinary arts, I have an extensive understanding of chicken wings and all that goes into making them truly exceptional.
With the knowledge gained through countless hours of experimentation, training, and collaboration with other chefs, I know about every aspect of this beloved dish.
If you're searching for the ultimate recipe and cooking tips to achieve perfectly crispy and flavorful wings, you've come to the right place.
Oven-Baked Chicken Wings Recipe
Recipe Overview
Prep Time: 10 minutes
Cook Time: 40 minutes
Total Time: 50 minutes
Servings: 4
Nutrition
Calories: 300
Total Carbs: 2g
Protein: 25g
Fat: 21g
Fiber: 0g
Net Carbs: 2g
Ingredients

For the Chicken Wings and Dry Spice Rub:
2 pounds chicken wings, tips removed and whole wings separated into flats and drumettes
1 tablespoon baking powder
1 teaspoon garlic powder
1 teaspoon onion powder
1 teaspoon smoked paprika
1/2 teaspoon black pepper
1/2 teaspoon salt
For the Buffalo Sauce:
1/2 cup hot sauce
1/4 cup melted butter
1 tablespoon brown sugar (optional, for a touch of sweetness)
For Serving:
Ranch or blue cheese dressing
Celery sticks
Instructions

Preheat the oven to 425°F.
Combine the baking powder, garlic powder, onion powder, smoked paprika, black pepper, and salt in a large bowl. Mix well.
Pat the chicken wings dry with a paper towel and add them to the bowl with the spice rub. Toss the wings until they are evenly coated.
Line a baking sheet with parchment paper and place a wire rack on top. Arrange the seasoned chicken wings, skin-side up, on the rack in a single layer.
Bake chicken wings in the preheated oven for 40 minutes or until golden brown and crispy. Flip the wings halfway through the baking time for even browning.
While the wings are baking, prepare the Buffalo sauce. In a small bowl, combine the hot sauce, melted butter, and sugar (if using). Mix well until the ingredients are fully incorporated.
Once cooked, remove the wings from the oven and transfer them to a large bowl. Let rest for 5 minutes.
Pour the Buffalo sauce over the wings and toss to coat them evenly. Adjust the amount of sauce according to your preference for spiciness.
Serve the crispy baked chicken wings with blue cheese or ranch dressing on the side for dipping. Garnish with celery sticks for added freshness.
Recipe Notes

Baking powder is the secret ingredient that helps achieve crisp skin on the wings. Do not substitute it with baking soda, cornstarch, or flour.
For super crispy wings, broil them for 2-3 minutes after baking.
Double-check the internal temperature of the chicken wings using a meat thermometer to ensure they are fully cooked. Bake wings so the temperature reaches 165°F [1].
Adjust the amount of dry rub wing seasoning according to your taste preferences. Feel free to add more or less of any spice listed in the recipe.
The wire rack allows air to circulate around the chicken, resulting in crispier skin. Do not overcrowd the baking sheet, and spread the wings in a single layer on the wire rack for even baking. You can still bake the chicken directly on the baking sheet if you don't have a rack.
The brown sugar in the Buffalo sauce is optional and can be omitted if you prefer a tangier sauce.
You can deep fry in vegetable oil or make air fryer chicken wings with this chicken wings recipe. Adjust the baking time and temperature according to the air fryer or other appliance you use.
Make sure the chicken wings are patted dry before seasoning with the spice blend to help achieve crispiness.
This recipe can be easily doubled, tripled, or halved to accommodate different serving sizes.
Leftovers can safely be kept in the refrigerator for 3-4 days [2

].
What to Serve With Chicken Wings?

Here are some side dishes that would complement the crispy baked chicken wings:
Coleslaw: The cool and refreshing crunch of coleslaw provides a nice contrast to the hot and spicy wings. The creamy dressing also helps balance out the heat of Buffalo wings.
French Fries: Classic french fries are a popular accompaniment to chicken wings. The fries' crispy texture and savory flavor pair well with the juicy and flavorful meat.
Veggie Sticks with Dip: Serve a variety of fresh vegetable sticks, such as carrots, celery, and bell peppers, along with a creamy dip like ranch dressing. The crispness and natural sweetness of the veggies provide a refreshing contrast to the rich and spicy chicken.
Corn on the Cob: Grilled or boiled corn on the cob is a fantastic side dish to accompany chicken wings. The corn kernels' sweetness and juiciness complement the wings' savory flavors.
Macaroni and Cheese: Indulge in some comfort food by serving creamy and cheesy macaroni and cheese alongside the meat. Combining the cheesy pasta and the flavorful chicken wings creates a satisfying and hearty meal.
Potato Salad: Creamy and tangy potato salad is another great side dish option. The cool and creamy texture of the potatoes complements the crispy perfection of the meat, while the tangy dressing adds a burst of flavor.
Onion Rings: Crispy onion rings add an extra layer of crunch and flavor to your meal. Their slightly sweet and savory taste pairs well with a spicy chicken wing.
"The secret to exceptional chicken wings lies in achieving that perfect balance of crisp skin and juicy, flavorful meat. Whether you cook chicken wings by air frying or baking, it's all about nailing the right seasoning combination."

- Gordon Ramsay, British Chef
Also Read: Chicken Wings in the Crock Pot
Are Fried Chicken Wings Better Than Baked Chicken Wings?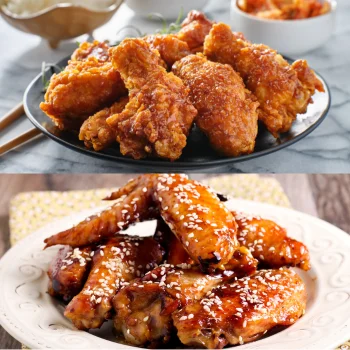 Fried chicken wings are not necessarily better than baked chicken wings.
Fried wings are well-known for their irresistible crispiness. Crispy baked wings offer a healthier alternative to their fried counterparts, without sacrificing flavor or texture.
The deep-frying process required for making fried chicken wings leaves a golden-brown exterior that delivers a satisfying crunch with every bite.
This method allows for quick cooking, resulting in a chicken wing that is juicy and succulent on the inside.
Air-fryer chicken wings are an option for those who are looking for a healthier fried option. Air-fryer wings still taste great but use less oil and have less saturated fat.
On the other hand, baked chicken wings can still achieve a delicious level of crispiness when prepared correctly.
The secret lies in the use of baking powder in the seasoning mix. Baking powder helps create a chemical reaction that generates air pockets on the skin, leading to a crispy exterior.
Related Articles:
5 Alternate Dipping Sauces

While traditional Buffalo chicken wings sauce is the classic choice for party wings, many other delicious dipping sauces can elevate your game day to the next level.
Here are some of our favorite dipping sauce alternatives:
BBQ sauce: Give your wings a tangy and smoky flavor by serving them with your favorite barbecue sauce. Whether a classic tomato-based sauce or a unique regional variation, your favorite sauce adds a delicious twist to the wings.
Honey Mustard Sauce: This sweet and tangy sauce adds a delightful twist to your chicken wings. Combining honey and Dijon mustard creates a balance of flavors that complements the savory chicken.
Teriyaki sauce: Dip your wings in a homemade teriyaki sauce for an Asian-inspired twist. The combination of soy sauce, ginger, garlic, and a touch of sweetness creates a sticky and flavorful glaze that pairs well with the crispy chicken.
Sriracha mayo: If you crave some heat, combine Sriracha sauce with mayonnaise to create a creamy and spicy dipping sauce. The mayo's creamy richness helps mellow the sriracha's fiery kick, making it a perfect accompaniment for wings.
Cilantro Lime Dip: Combine chopped fresh cilantro, lime juice, sour cream, mayonnaise, and a pinch of salt to create a zesty and herbaceous dipping sauce. This bright and tangy dip adds a burst of freshness to your crispy chicken wings.
Also Read: Smoked Buffalo Chicken Dip
FAQs
Should I Oil Chicken Wings Before Baking?
No, you should not oil chicken wings before baking. The baking powder used in simple recipes helps create crispy skin without additional oil.
Is Baking Powder or Cornstarch Better for Wings?
Baking powder is better for wings than cornstarch as it helps the skin brown and create a crispy texture. Cornstarch is not typically used for wings as it can lead to a heavier and less crispy coating.
You Can't Go Wrong With These Crispy Baked Wings
This comprehensive guide has equipped you with the knowledge and techniques for an easy chicken wings recipe, from their crispy perfection to their mouthwatering Buffalo sauce.
Now, if you're eager to explore a convenient way to source high-quality meat for your cooking adventures, check out our review of the best meat delivery services, where you'll find recommendations and insights to enhance your culinary journey even further.
---
References:
https://www.usda.gov/media/blog/2022/10/03/cooking-meat-it-done-yet

https://ask.usda.gov/s/article/How-long-can-you-keep-cooked-chicken
Was this article helpful?