Finding clean meats is a challenge. We've seen companies claim they have ethically-sourced products, but after a more in-depth inspection, it wasn't the truth.
Moink Box is a meat delivery company that makes similar claims. We tried their service to see if they're worth an order, so be sure to read our Moink Box review until the end because there could be an even better option.
What Is Moink Box?
Moink Box is a meat subscription service company founded with a specific goal, and that's to connect small family farms practicing ethical farming with retail consumers and wholesale customers.
They source only humanely-raised meat like chicken and beef from family farms focusing on fully sustainable practices.
The company ships a delivery box each month, and you get to choose to fill that box with fresh steaks, beef, pork, chicken, and salmon.
Shipping is free for all orders, and prices start at about $130 for their smallest meat delivery services option.
The Moink Box's History
Founded in 2017, Moink Box has quickly become a favorite meat delivery service among meat lovers. Its creator, an 8th-generation farmer, brings a wealth of industry expertise to the table.
Feedback from numerous clients highlights Moink's exceptional selection of wild-caught seafood and responsibly-sourced meat, including the finest grass-fed beef, organic chicken, chicken breasts, ground pork, and free-range organic chicken.
Pros
Ethically sourced animals
Free shipping with all orders
Referral program for extra savings
Easy to use ordering system
Cons
No lamb cuts
No promo codes or coupon codes
Limited seafood items
More expensive than other meat delivery services
Quality & Sourcing Methods

According to their website, their featured products are all of the highest quality variety.
Because the beef, pork, chicken, and other meats they sell are hormone and antibiotic-free, it's healthier and cleaner than much of the meat you would find in any grocery store.
That's something you don't see on a farm every day.
They claim to source everything from small farmers who are committed to trying sustainable farming practices.
They source all of the products from farms in the United States and require the farmers to raise cattle in a great way that is different than large distributors.
What Are the Menu Options?
We love how the menu rotates regularly to include farm items, such as big kabobs, beef, bacon, chuck roast, pork chop, and different types of wild-caught seafood.
Some of the items commonly found on their online menu include:
Beef
Ground Beef
Chuck Roast
NY Strip Steak
Stew Meat
Pork
Breakfast Sausage
Pork Chops
Pork Sausage
Shoulder Steak
Poultry
Chicken Wings
Chicken Thighs
Chicken Drumsticks
Chicken Breast
Seafood
Sockeye Salmon Fillet
Wild-caught salmon
Moink Box Pricing
Prices depend first on which box type you choose. Per serving, the price breaks down to around $4.50.
There are currently four different boxes with more choices at different times of the year, such as the chicken box.
It may be possible to add special items to your meat subscription as single purchases at a price if you want.
The choices you can make are:
Medium - $159
Medium (No Pork) - $159
Small - $129
Small (No Pork) - $129
Is Moink Box a Subscription Service?
Yes, Moink Box is one of the best meat subscription services that deliver different cuts of the best farm meat, including pastured pork, right to your door.
There's no beef lamb, though. You place your order first and set up a recurring subscription, and a new order is sent to you once each month.
You can customize or cancel your order by swapping out specific meats or leave it up for a surprise if you like.
Check out our article about the best meat subscription boxes to find even more great options.
How Are the Boxes Shipped?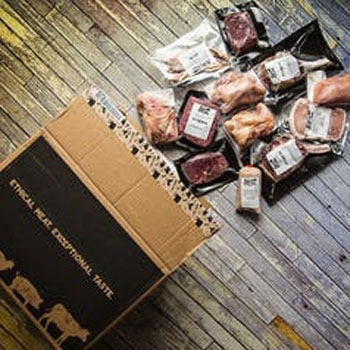 All orders are shipped in recyclable packaging insulated by dry ice and are guaranteed to taste fresh.
If you have any issues with the freshness upon delivery, you can reach out to business customer services for a replacement.
Shipping is always free for every delivery. Many of the other companies we've reviewed, such as Omaha Steaks, Chicago Steaks, and Holy Grail Steaks company, charge shipping costs.
With these companies, shipping can be $20 or more per order.
Boxes are delivered throughout the continental United States, so residents of Hawaii and Alaska can't order.
Other meat subscription services:
Online Reviews
After our research and the reviews we've read, we believe this is a good company to order from in a way. We know this is a good alternative to the typical grocery store food of one questionable origin.
They offer products that you know are humanely sourced and raised to be healthier without the use of antibiotics.
Everything they offer is of high product quality, and their customer service is quick to respond. We spent some additional time on the web to see what the people have to say.
Facebook Page: The company has almost 10 thousand likes on its Facebook page. They have a rating of 4.7 out of 5 based on the opinion of 152 reviewers (1).
"I'm born and raised in Los Angeles, and let's be honest- meat here sucks! Their meats smell differently and taste amazingly different than what we buy locally. We are SO happy with our purchase."

-R.D., Verified Yelp Review
Yelp: Monik Box has a rating of 3½ stars on their Yelp page. There are a total of seven reviews with an average five-star rating given by reviewers (2).
Did Moink Get a Deal on Shark Tank?

In 2019, the founders of Moink were given a chance to present their product on the hit television show Shark Tank. Lucinda Cramsey, one of the founders, presented an offer to the hosts. One of the hosts, Jamie Siminoff, invested $400,000 to help the business grow (3).
FAQs: Moink Meat
Technically, no. The last time we checked, many of the farms Moink Box work with have not gone through their state organic certification process. All of the meat is humanely sourced, and all animals are ethically well-treated.
Where Is Moink Box Located?
Moink Box is located in La Belle, Missouri. They source the meat from various farms and ranches around and throughout the American Midwest.
What Does Moink Stand For?
Moink stands for Moo-Oink. This is a combination of the sounds of cow and pig. It's a reference to beef meatballs wrapped in bacon.
Yes. Moink Box offers grass-fed and grass-finished beef. The company sources beef from farms that raise 100% grass-fed cows. The meat is also a hormone, antibiotic-free, and free of GMO grains.
Is Moink Box Meat Certified Humane?
Yes. Moink only sources certified humane meat. They work with farms in the United States who are committed to sustainable and ethical farming practices.
Should You Buy Moink Box?
After our Moink Box review and the information we received, we can say that they offer adequate service.
But, out of the many online companies we've tried, we feel that ButcherBox is a better offer. We think they have more choices, especially when it comes to wild-caught seafood.
ButcherBox offers grass-fed and grass-finished beef, as well as other types of high-quality meat which are ethically sourced. They also have better taste and more consistent quality.
#1 Meat Delivery Service
ButcherBox
Click For Best Price

Pros
Grass-fed and grass-finished beef delivered directly to your door
Without antibiotics or added hormones
Customizable boxes available
Select from up to 21 different cuts
Get the BEST PRICE until the end of December
Was this article helpful?