While there are plenty of meal delivery services, only a few of them cater to vegetarians or vegans.
That's why I decided to try Purple Carrot for a month - a meal kit service that encourages its customers to experiment with more plant-based dishes.
In this article, I'll go over my experience with Purple Carrot, highlighting what they have to offer, the cost, and the key highlights of their service.
What is Purple Carrot, and How Does it Work?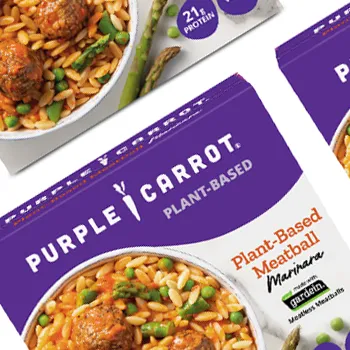 Purple Carrot was founded in October 2014 by Andy Levitt. Andy decided to start his company after he was diagnosed with Crohn's disease in 2012.
He noticed a major change in his health after incorporating more plant-based meals into his diet [1].
It is the first of its kind, being the only 100% plant-based meal kit on the market.
While plant-based eating is fantastic for vegans, vegetarians, and people with dietary restrictions, Purple Carrot recipes are targeted towards all diets, with the idea that healthy eating can also be simple and delicious.
Each week, Purple Carrot meal delivery service offers customers over 16 meal kits to choose from, featuring dinners, breakfasts, lunches, snacks, and sides.
All the ingredients come straight to your door, pre-measured, and designed to take 30 - 40 minutes to cook.
They also offer a range of fully prepared and microwave meals, all without animal bi-products.
Purple Carrot currently ships to the contiguous US only, so, unfortunately, you won't be able to order if you live in such places as Alaska and Hawaii.
That being said, the company is working on expanding its delivery zones in the future.
Benefits and Highlights
After testing out this meal delivery service for a month, here are a few benefits and highlights that stood out to me the most.
1. Easy to Sign Up and Order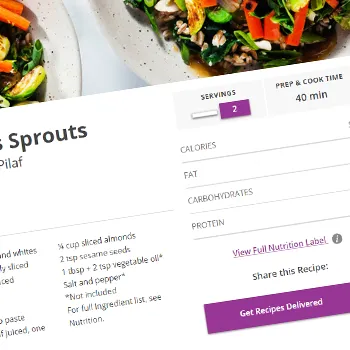 Signing up is pretty straightforward. You can choose between two or four servings.
You will then be able to select three or four meals from the weekly menu.
Also, you will be given the option to try the prepared meals during the sign-up process.
After signing up, the vegan meals will be automatically chosen for you.
While some may like having their weekly menu selected for them, personally, I prefer to choose my own.
Thankfully, Purple Carrot makes that pretty simple, allowing you to change meals right after signing up.
You can add up to three extras and breakfasts, such as overnight oats and avocado toast, to your order.
It is possible to change your meal plans and preferences at any point, as long as changes are made on Tuesdays at 11:59 p.m, the week before your order date.
The website of this plant-based meal delivery displays four weeks in advance; therefore, you can easily manage your upcoming orders if you're looking to cancel, change meals, or skip weeks.
You can pause your account for ten weeks or cancel your subscription without any charge if you wish to do so.
2. Good Selection of Meals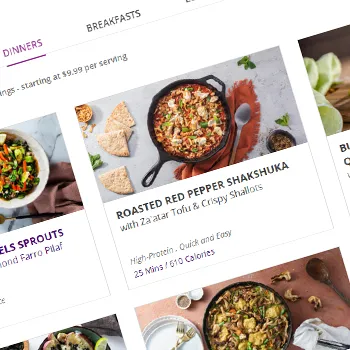 When it comes to meal selection, you will have around 16 items to choose from.
They usually include the following:
Dinner: 7-8 meals per week
Breakfast: 2 options per week (extra cost)
Lunch: 2 options per week (extra cost)
Plantry: 4-5 options per week (extra cost)
I was slightly surprised to see that your options change depending on how many servings you order.
On some weeks, you will only choose from four menus if you select the four-serving plan.
With other meal kit companies, the ingredients of all meal kits are usually altered to suit serving sizes.
All recipes are entirely vegan, using vegan cheese, nut milk, etc.
The recipes also come with different tags, including but not limited to:
Gluten-Free Meals
Soy-Free Meals
High-Protein
These tags make it easy to choose meals that adhere to food allergies.
With the prepared meals, you can pick between 15 vegan options each week, most of them being microwavable and taking around two minutes to heat up.
You can choose 6, 8, or 10 weekly recipes.
I found the selection to be of decent size, especially when you consider other meal delivery services only provide one or two vegetarian meals.
3. Easy Recipes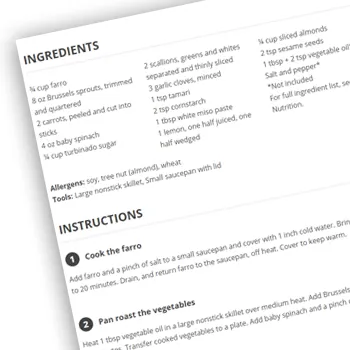 Unlike most meal kit delivery services, Purple Carrot doesn't include recipe cards.
However, they do include an entire recipe booklet containing all eight dinner recipes, along with two breakfast and two lunch recipes.
I was pleasantly surprised to find this since I had only ordered three dinners within my first box.
This means that if I wanted to try some other plant-based recipes on my own accord, I could do so easily.
"If you are a chef, no matter how good a chef you are, it's not good cooking for yourself; the joy is in cooking for others."
- will.i.am, singer
The recipe booklet lists step-by-step instructions alongside full-color pictures.
The recipes also include the ingredients you will receive and nutrition values.
Since these vegan recipes were described in detail, it was pretty easy for me to follow them.
If you happen to misplace your recipe book, you can find all of Purple Carrot's recipes listed on their website.
4. Recyclable Packaging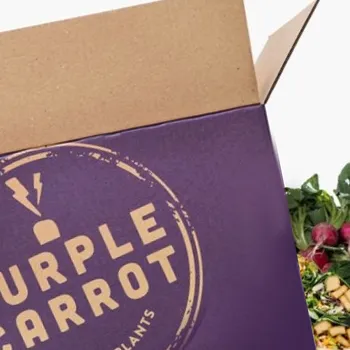 Purple Carrot Meals come straight to your door in recyclable and reusable materials.
They use icepacks and lots of insulation to ensure their produce remains fresh while on the road.
The box in which Purple Carrot sends the food can be broken down and recycled curbside.
Their liners come in three different forms: 
TemperPack ClimaCell
Fiber Liner
Bubble Liner
In my experience, all liners and other packing materials such as plastic bags, jars, and ice packs were pretty easy to recycle.
Their website has a video showing how you can upcycle and reuse your packaging, which I thought was a nice touch [2].
5. Fresh Ingredients and Tasty Meals
As someone not used to a plant-based diet, I was delighted with how the meals turned out - all the ingredients being very fresh and ready for cooking.
The root vegetables, green beans, carrots, and other ingredients stayed fresh in my fridge for several days.
Purple Carrot makes cooking easy as all ingredients are pre-measured and ready to go.
Not to mention, it was rather fun uncovering new ways to cook vegetables and eat healthily.
What Can be Improved with Purple Carrot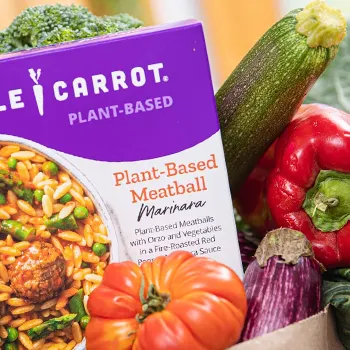 I was hard-pressed to find anything remotely disappointing about Purple Carrot.
That being said, there are a few changes that could make this meal delivery service even better.
Unfortunately, there is no way to select delivery dates.
Purple Carrot delivers on Monday, Tuesday, and Wednesday each week, and the arrival of your order depends on your location and proximity to the packing facility.
They do give you tracking info so you can see when your box is going to arrive.
However, since the meals contain perishable goods, it would be better if you could choose the delivery time and date yourself.
Purple Carrot Pros and Cons
Pros
Plant-based diet with special options such as gluten-free and soy-free
You can have them choose a meal plan for you
Extras such as breakfasts and lunches
Fresh and pre-measured ingredients
Cons
No option to select your delivery date and time
The meal kits allow for no customization
Other Users' Experience
After checking out a handful of reviews on Reddit and Facebook, it seems people are pretty pleased with Purple Carrot and what they have to offer.
Mindy from Florida commented on how fresh the ingredients were, even after they were left in the fridge for a few days.
Jake from California was pleased with the wide range of choices and commented how hard it was to find delicious vegan meals elsewhere.
That being said, Chris from Washington pointed out how expensive the service seems to be.
While I can agree that they are a bit pricey compared to some other services, especially when there are no animal products involved, I feel like their product quality helps soften the blow.
How Does Purple Carrot Compare to Other Meal Delivery Services?
If you're not sure if Purple Carrot is right for you, here is how they compare to other meal kit services.
1. Blue Apron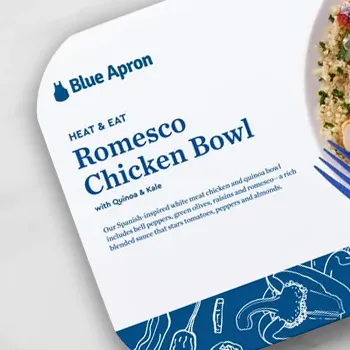 Blue Apron is a cost-effective meal kit company that provides customers with sustainable produce and tasty meals.
You can choose from 12 different meals per week, 2 or 3 of which are vegetarian.
If you are a vegetarian or vegan, Purple Carrot is a better choice due to the larger selection of vegan meals.
The dinners arriving weekly don't allow for much customization, and customers on a special diet may be hard-pressed to find something that fits within their restrictions.
The dinners arriving weekly don't allow for much customization, and customers on a special diet may be hard-pressed to find something that fits within their restrictions.
2. Green Chef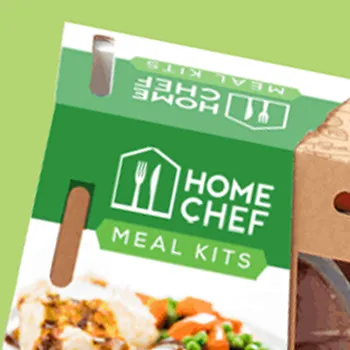 Green Chef meal delivery service is an ideal option for those looking to stick to a particular diet - especially plant-based meals, low-carb, and balanced living.
They offer customers meal services that take little to no prep-time, allowing for quick and healthy meals.
Similar to Purple Carrot's meals, they don't allow for customizations.
3. Sunbasket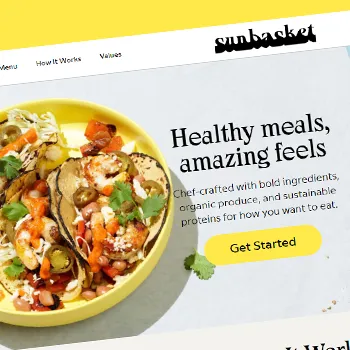 Sunbasket meal delivery is an excellent choice for those looking to expand their eating habits.
They offer a range of world cuisines such as Mexican, Korean, Mediterranean, and Japanese dishes.
Customers can also choose from family-friendly, dairy-free, soy-free, and more.
However, Sunbasket is a rather expensive delivery service.
Similar Delivery Services We've Reviewed:
How Much Does Purple Carrot Cost?

The price of this meal kit service depends on your choice of the serving plan and how many meals you purchase per week. Here is a summary of the cost [3].
| | | |
| --- | --- | --- |
| | Two Servings | Four Servings |
| Two Meals | / | $9.99 per serving / $79.92 per week |
| Three Meals | $11.99 per serving / $71.94 per week | $9.99 per serving / $119.88 per week |
| Four Meals | $11.99 per serving / $95.92 per week | / |
Breakfast kits contain four servings and will cost $4.49 per serving.
The lunch recipes include two servings at $8.99, and you can also add snacks and sides to your order which range from $3.99-$15.99.
FAQs
Is Purple Carrot Organic?
Most of their non-produce items such as beans, tofu, and vegan cheeses are organic.
However, according to their website, they have limited non-GMO products due to constraints with shipping and sourcing.
Do I Need Any Extra Ingredients?
You will only need basic kitchen supplies such as olive oil, salt, pepper, and occasionally non-dairy milk.
Is Purple Carrot Worth it?
Purple Carrot work towards providing customers with healthy and exciting plant-based recipes.
You don't have to be vegan or vegetarian to incorporate these meals into your diet - you just have to be interested in healthy meals made quick and easy.
That being said, some customers may be searching for a meal kit that provides completely organic and sustainable ingredients.
If that is an important aspect to you, you may want to try Trifecta.
They offer two separate vegan and vegetarian plans, each with the option of 28 meals over breakfast, lunch, dinner, and a 3rd entre.
All ingredients are locally sourced, high-quality, unrefined, and non-GMO.
If you'd like to try out Trifecta, click here to find out more.
We Recommend This Instead
Trifecta
Click For Best Price

Pros
Plant-based diet with special options such as gluten-free and soy-free
You can have them choose a meal plan for you
Extras such as breakfasts and lunches
Fresh and pre-measured ingredients
Get the BEST PRICE until the end of December
Cons
No option to select your delivery date and time
The meal kits allow for no customization
Was this article helpful?