Since there are many meal kit companies to choose from, picking an affordable and quality one can be tricky.
That's why we decided to test Home Chef for a month to see how they compared to other meal kit services.
We will cover how they work, available menus, the cost, and much more.
What is Home Chef, and How Does it Work?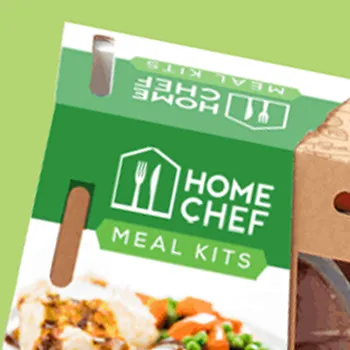 Home Chef was founded in 2013 by Pat Vihtelic.
It was one of the first meal delivery services to come about in the U.S., offering weekly subscription boxes with pre-prepped fresh ingredients, sauces, and seasonings, made for quick and easy meals.
Home Chef currently delivers to 98% of the U.S. Customers can choose a delivery date within the upcoming weeks, which can easily be canceled or skipped online.
Benefits and Highlights
After testing Home Chef for a month, here are a few benefits and highlights that stood out to us.
1. Large Selection of Recipes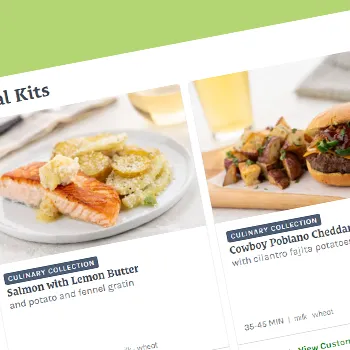 Choosing Home Chef's meals is a pretty straightforward process; you can either use their website to order or the app.
Pick the number of servings (two, four, or six servings) and how many meals you will need per week (two, three, four, five, or six meals).
You can either have Home Chef choose your recipes with the 'save time' option or customize your order with the choice of 25+ weekly menus [1].
I like Home Chef because anyone can view the menus - other meal kits usually require customers to sign up before even looking at what recipes are offered.
There are around 20 different Home Chef meals available and 12 extras.
Another thing I love about these weekly meals is the option for customization.
For example, if you choose the Sizzling Chicken Tacos, you have the opportunity to swap the meat out for either USDA Choice sliced flank steak, impossible burger, shrimp, sliced pork, or steak strips.
This wide range of choices is quite rare with other meal delivery services.
If you order from this meal delivery service ahead of time, you can easily swap meals, skip weeks or cancel orders - as long as it's before Friday noon CT, a week before delivery.
1.1. Available Options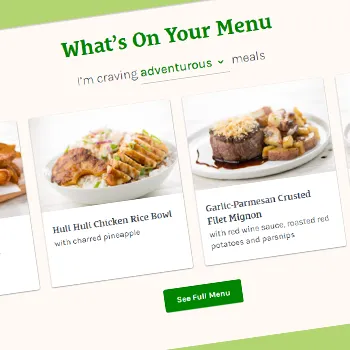 Customers using Home Chef have two options: 
Home Chef
Fresh and Easy plan.
Home Chef is a meal kit service offering easy recipes with pre-portioned ingredients.
Most meals take around 30 minutes to cook.
You can also choose from the Culinary Collection, meal kits made for special occasions - essentially 'premium meals.
Fresh and Easy is more along the lines of a ready meal, offering oven-ready meals, grill-ready, and 'Fast and Fresh' options, including low and no-prep recipes.
Here is how many Home Chef meal kits you can choose from depending on the category: 
Meal kits: Includes three culinary collection meals, nine regular kits, and one family meal.
15-minute meal kits: Includes three options.
Easy prep meal kits: Includes one fast and fresh, and three oven-ready meals.
Extras: Includes two desserts, one bread, two breakfasts, three sides including entree salads, and five protein options.
How many meals you can choose depends on your subscription, as well as which category you picked during signup (meal kits or microwave/oven-ready).
1.2. Categories for Dietary Restrictions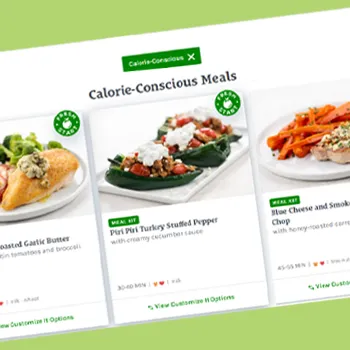 Customers can also select four additional categories for oven-ready meals if they have any dietary restrictions.
This includes Calorie-conscious, less than 30 minutes, Carb-conscious, and vegetarian meals.
You will also find extra labels attached to each meal stating milk, wheat, and soy ingredients.
If you have any dietary preferences, you can choose from either the 'calorie-conscious or 'carb-conscious categories.
You also have the option to avoid certain foods such as pork, fish, mushrooms, and peanuts.
2. Easy-to-Follow Recipes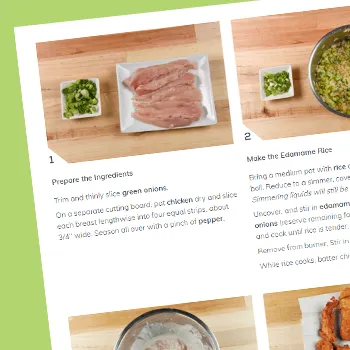 You will find detailed instructions both on the Home Chef website and on the recipe cards that come with your Home Chef box.
The easy-to-follow instructions include:
Shelf Life
Ingredients
Cooking Times
Nutrition Info
Spiciness Level
Difficulty Level
Step-By-Step Guides Featuring Colored Pictures
The recipe card includes a "Before You Cook" section which highlights the steps you will need to take while prepping your meal.
Since we have chosen to customize our meal with different proteins, we were shown how to cook the various types of meat or use the addons.
Home Chef meal kit intends for recipe cards to be used more than once, including hole punches on the sides so they can easily be stored in a binder.
3. Recyclable and Reusable Packaging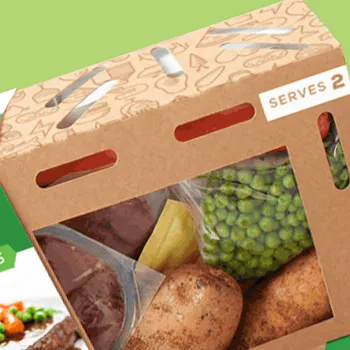 Since the Home Chef meal kit delivery service comes with a lot of packaging to keep the food fresh and safe, materials must be either recyclable or reusable.
Home Chef delivers their meal kit service inside a cardboard box, which according to their website, is made from partially recycled cardboard and is recyclable curbside.
The PET liners and insulated liners are made from recycled denim and cotton.
This is also completely recyclable; however, you will have to separate the film from the contents [2].
The box also contains ice packs, produce bags, plastic containers, and recipe cards. The packs can either be reused or recycled with other plastic once drained.
The plastic containers are all curbside recyclable; however, you may have to travel to find a center where you can recycle the plastic bags.
I would prefer to see Home Chef using more sustainable packaging in the future.
However, it seems they are trying to keep most of their packaging reusable and recyclable.
4. A Simple Home-Cooked Meal
If you're a first-time cook, all kits show a skill level from easy to expert, so you can choose the appropriate level when meal planning.
I found all three home-cooked meals in my first box to require minimal skill, with some knowledge needed for basic cooking terms such as mince, sift, dice, etc.
Just a note, first-time cooks may be a little stumped when it comes to the cooking time for certain meats.
For example, a meal kit included two steaks, but one was thicker than the other, so I had to cook both for different lengths of time.
This meal-delivery service includes everything you need for cooking, besides some basic ingredients such as pepper, salt, and cooking spray.
You will also need essential kitchen equipment such as knives, cutting boards, pots, and pans, baking sheets, mixing bowls, etc.
If you don't have much cooking equipment at home, it is probably best to go for an oven-ready meal.
The time for each meal varies slightly. While Home Chef advertises their easy Home Chef meal kits to take around 30 minutes, I have found them to take closer to 40-45 minutes, one meal even taking an hour.
If time is a make-or-break factor for you, they offer 15-minute Home Chef meal kits and oven-ready home-chef recipes, which typically take around 30 minutes or less.
All in all, I do believe Home Chef designed recipes for customers to enjoy cooking that they would otherwise not.
What Can Be Improved with Home Chef Meal Delivery Service
While I enjoy the Home Chef meal delivery service and what the company has to offer, I would like to see some things improved in the future.
Unfortunately, there are no specific meal options for vegans' meal planning.
I have also noticed that the vegetarian options are somewhat limited, only providing two or three meal kits per week.
This may be a problem for families or couples who are vegetarian or vegan.
Another thing to note is that the Home Chef meal delivery service doesn't have a particularly sustainable ingredient sourcing, unlike other meal kit deliveries.
They do have a few low-calorie and low-carb meals; however, they tend to be relatively high in saturated fat or sodium.
Home Chef Pros and Cons
Pros
Customizable meal plan - for example, swapping beef for chicken breast or chicken breasts for lamb chops
Recipes vary from beginner to expert, allowing customers to develop their skills and experiment with different techniques
You can skip one week or cancel your order without any penalty
Each meal kit includes a detailed guide to cooking and prepping
Cons
They only offer two to three vegetarian options and no vegan options
They don't sustainably source their ingredients or produce, with ice packs for packaging
Other Users' Experiences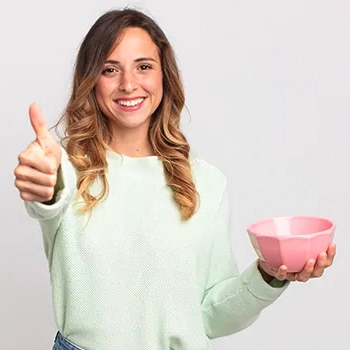 After checking out some reviews on Reddit and YouTube, it seems like most people have positive things to say about Home Chef meal services.
Many people comment that it's very easy to create a delicious meal in under 30 minutes.
One customer mentioned that they received some bad tomatoes, so they called customer service and received credits to their account for future meals.
People seem to like that you can choose your meals or have the company choose them for you. This saves time and allows customers to be a bit more experimental.
The only negative thing I could find was that customers felt like they didn't have many options for vegetarian or diet-inclusive home chef recipes.
How Does Home Chef Compare to Other Meal Kit Companies?
If you're not sure that Home Chef is the right service for you, here is how they hold up compared to three other meal kit delivery services.
1. Sunbasket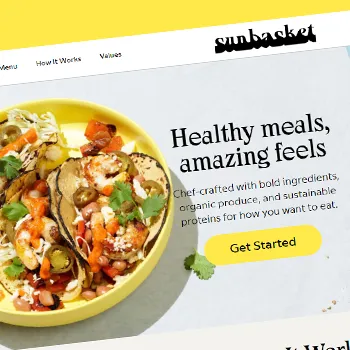 Sunbasket is a meal kit delivery service that prides itself on healthy and organic meal options.
Similar to Home Chef, they offer both meal kits and ready meals and some sides and breakfast options.
They offer a wide range of world cuisines such as Japanese, Korean, Mexican, and Mediterranean dishes.
Sunbasket also allows customers to choose from dairy-free, soy-free, gluten-free, family-friendly, and more, slightly more inclusive.
However, it is more expensive.
2. Green Chef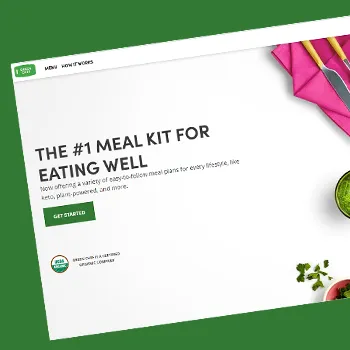 Green Chef offers a range of meal kits that take little to no prep time, allowing customers to choose from plant-based, low-carb, and balanced living meals.
You can choose from only 12 recipes a week, which is slightly less than other meal companies.
Unlike Home Chef meal services, they don't allow for customizations or intergraded meal plans.
3. Freshly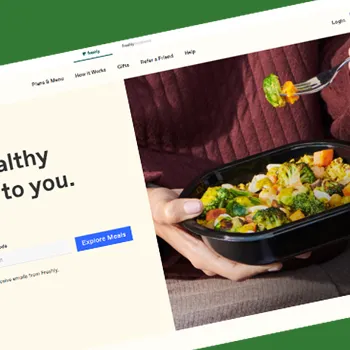 Freshly offers a wide range of recipes and options to fit your dietary needs.
Dairy-free, Gluten-free, and under 500 calories are among these options.
Freshly also allows customers to order up to 12 recipes per week, which is considerable compared to most companies.
Unfortunately, they only provide single-serving dishes, which could be a problem for large families.
Related Article: Trifecta Nutrition Meals Review
How Much Does Home Chef Cost?
Unlike other meal kit companies, the price of Home Chef can be a little confusing.
A standard Home Chef meal will cost you $6.99 per serving; however, the price will change if you add any customizations.
If you'd like to try the recipes within the Culinary Collection, you will pay anywhere between $10.99 - $17.99 per serving.
Since Home Chef meals essentially have their price, Home Chef doesn't discount your total order depending on how many servings you purchase.
Shipping will cost between $7.99 - $13.99, depending on your location and order.
If you choose more than two servings, you will be able to get a $5 discount [3].
FAQs
Does Home Chef Offer Microwave Meals?
Yes, Home Chef offers microwave meals.
All ready meals can be microwaved in about five minutes and take no prep.
They can also be cooked in the oven [4].
Can You Choose the Number of Servings for Your Order?
Yes, Home Chef gives you the option to select two, four, six, or eight servings for every recipe.
Should You Buy Home Chef?
Home Chef is an excellent option for beginner cooks or those who do not have enough time to shop and prepare meals.
With Home Chef's recipes, you will be able to create delicious food in under an hour.
That being said, some customers may be put off by the idea that Home Chef does not sustainably source their ingredients.
If you want to ensure the food you are eating is organic, grass-fed, pasture-raised, or sustainably caught, you should check out Trifecta.
They ensure all their foods include no antibiotics and strive to make cooking sustainable again.
If you're interested in trying out Trifecta's meals without the commitment, click here to learn more.
We Recommend This Instead
Trifecta
Click For Best Price

Pros
Customizable meal plan - for example, swapping beef for chicken breast or chicken breasts for lamb chops
Recipes vary from beginner to expert, allowing customers to develop their skills and experiment with different techniques
You can skip one week or cancel your order without any penalty
Each meal kit includes a detailed guide to cooking and prepping
Get the BEST PRICE until the end of December
Cons
They only offer two to three vegetarian options and no vegan options
They don't sustainably source their ingredients or produce
Was this article helpful?