If you're in the market for a brand new pellet grill, chances are you've come across the name "Camp Chef." Camp Chef are home propane grills, smokers, and various ovens.
However, their pellet grills are what makes them famous - with 20 different models under their belt.
The newest grill they have come out with is the Woodwind Wi-Fi 24.
Being an avid griller myself, I knew I had to get my hands on the Woodwind 24 to see what all the fuss was about. So I've put it through its paces to offer you an unbiased, comprehensive review.
In this deep dive into the Camp Chef Woodwind, we'll explore its standout features, the perks of its design, and any downsides you should be aware of.
What is Camp Chef?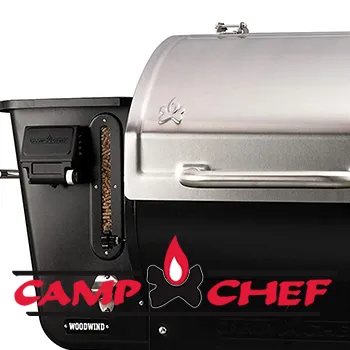 Camp Chef is a company that specializes in manufacturing outdoor cooking equipment. Unlike grilling companies such as Traeger and Pit Boss, Camp Chef started their journey making outdoor cookers in Cache Valley, Utah.
Their first ever product, a propane camp stove, became incredibly popular in the 1990s.
According to Camp Chef, they were established on the idea that there had to be a better way to cook outdoors. [1]
As a leading manufacturer for 20 years, the company moved on to expand its line of outdoor cooking equipment, creating portable BBQs, smokers, flat-top grills, and the famous pellet grills.
Their Woodwind range gained a large audience due to the great value for money and quality of the build. The manufacturer also claims to value expert advice and customer service above all.
Camp Chef Woodwind Wi-Fi 24 Overview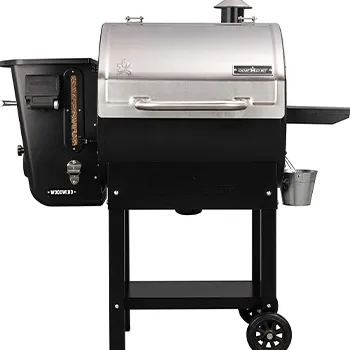 The Woodwind Wi-Fi 24 is a pellet grill inside the Woodwind range, offering a total of 811 square inches of cooking space.
This 24-inch grill uses wood pellets to create smoke, infusing your food with a wonderful smoky flavor as it cooks.
It also comes with built-in Wi-Fi technology, allowing you to monitor your food without being next to it.
The Woodwind 24 has a very traditional feel to it, with a stainless steel body and a black steel hopper attached to the left of the pellet smoker.
It comes fully equipped with a full-color PID controller (proportional-integral-derivative).
It allows you to set cooking times, easily adjust the temperature of your smoker, and even get notifications sent to your smartphone when the meat has reached your desired temperature.
Almost everything you can do directly on your grill, you can do it through your phone too.
"The grill is the summer equivalent of a fireplace; everyone gravitates to it."
- Katie Lee, Chef
Since the Woodwind is a pellet grill (often referred to as a pellet smoker), it uses wood pellets as its source of energy.
These pellets are fed from the hopper and into the central fire pot of the smoker.
There is also a heat diffuser pan placed above the firepot. It is there to evenly distribute the heat, keeping the entire grill consistent.
Another thing I love about the Woodwind 24 is the option to add a sear box.
It can reach a whopping 900 degrees Fahrenheit, creating some beautiful sear marks on your meat.
Woodwind Wi-Fi 24 Specifications

Here are the specifications of the Woodwind Wi-Fi 24:
Cooking area: 811 square inches (the lower rack has 429 inches, the upper rack has 382 inches)
Overall height: 42 inches
Overall weight: 150lbs
Pellet hopper capacity: 22lbs
Cooking Chamber Capacity: 4850 cu. in.
Storage and shelves: 1 side shelf, 1 bottom shelf
Meat probes: 4 stainless steel probes
Wi-Fi connection: Yes

Warranty: 3 years
Benefits and Highlights: The Camp Chef Woodwind Review
Here is an in-depth look into some of the impressive features and benefits you can enjoy when using the Woodwind 24.
1. Camp Chef Woodwind Wi-Fi 24 Features:

When I say this state-of-the-art grill is jam-packed with features, I mean it. Here's what you can expect when purchasing the Woodwind 24. [2]
PID controller
Full-color screen controller
Camp Chef Connect App compatible (Wi-Fi)
Four stainless steel meat probes
Smart Smoke Technology, adjustable smoke settings from 1-10
160º F - 500ºF temperature range
Pellet Hopper Cleanout/Purge
Slide and Grill Technology's direct flame grilling reaches 650°F
Ash Cleanout System
Bottom utility shelf
Stainless steel firebox
2. Large Hopper Capacity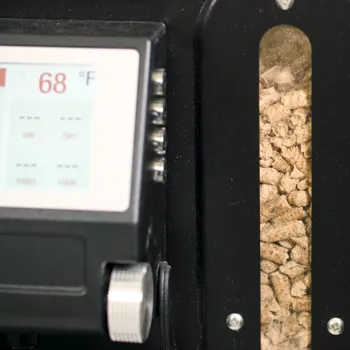 The first thing I look at when purchasing a wood pellet grill is how many pellets it can hold in one go.
Most pellet grills I've had in the past have had small capacity, meaning I would have to fill it up constantly.
The Woodwind is able to hold a whopping 22lbs, meaning it is perfect to fit an entire 20lbs bag.
Most pellet grills are only able to take half a bag, meaning you have to find a safe and dry place to store the rest of the pellets.
The Woodwind 24 makes it super easy to add more pellets.
Another thing I love about the new grill is its quick empty pellet purge function.
It allows you to swap out the pellets whenever you want or empty the remaining pellets. No longer do you need to scoop the pellets manually - it's a great grill feature.
3. Adjustable Smoke Level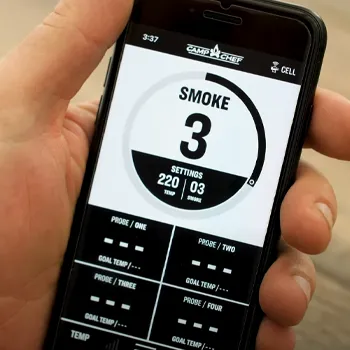 The Woodwind 24 allows you to have control over the smoke setting. A regular grill won't let you do this - however, it is a handy feature to have.
The Woodwind 24 lets you select a number from 1 to 10.
Once the number has been selected, the grill will automatically adjust the burn rate and the number of pellets it feeds from the pellet hopper, allowing you to create less or more smoke.
The Woodwind 24 allows you to have full control over your cook - giving you a limited amount of smoke for delicate cuts and max smoke for your ribs and briskets.
I found this feature to come in handy when smoking things like fish. Since I could easily control the smoke and heat, there was no sticking or crumbling of the fish.
4. Customizable Heat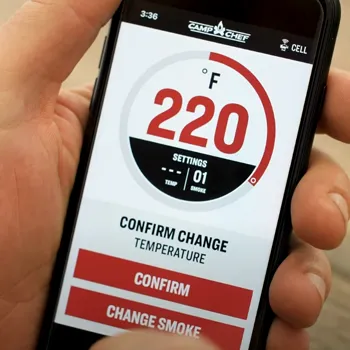 The Woodwind 24 has a temperature range of 160 degrees F - 450 degrees F, meaning it has a great range to cook with, but not so much when you want to go low and slow.
To do a complete cold smoke, you'll need to get your grill to around 80 degrees F.
However, you are able to do some low grilling via indirect heat.
Unfortunately, the direct heat isn't enough to sear your meat over direct flame.
You can purchase a separate searing box to add to your pellet smoker if you're looking to up your grilling performance (but don't worry, there is a little hack we'll share with you later.)
The unique feature comes in with the PID controller. I was able to remotely control the temperature, adjusting the heat within five increments.
It means I could get the target temperature without worrying about it getting too hot or cold.
Both the upper and lower grates can be used for cooking; however, it is often used as a warming rack.
5. Easy Ash Cleanout System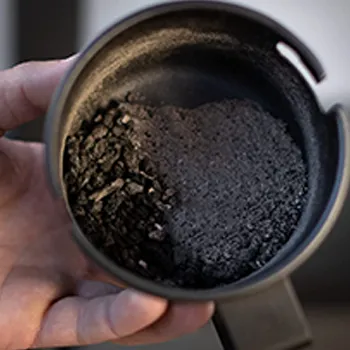 The manufacturer knows how irritating ash build-up is. When your pellet grill experiences too much build-up, the burn cup may struggle with lighting.
So, the only way to clean up your pellet grill is to remove the greasy racks, trays… but not with the Woodwind 24. You can do all of that with just a pull of a lever.
All you need is a removable cup, and you can collect all the contents of the burn pot without messing around.
The pellet smoker is fitted with a slider rod that attaches to the flat plate below the burner pot. When the rod is pulled out, the plate moves and drops the ash into a cleanout cup.
It saved me so much time when it came to cleaning since I didn't have to remove the drip pan, heat deflector, or drip tray.
According to the manufacturer website, they are the only Camp Chef pellet grills in the industry with this system. [3]
6. Slide and Grill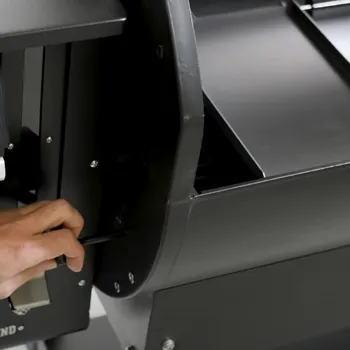 So, you know that "hack" I referred to earlier? Well, this is it. The manufacturer has included an innovative system that allows you to convert your pellet smoker into a direct heating grill.
With a flick of a lever, you can move the central heat deflector (above the drip pan) away, exposing the direct flame.
It allows the grill to cook the food directly. This is all thanks to the drip plate, fitted with slanted slits that easily let the flame through.
"I love the culture of grilling. It creates an atmosphere that is festive but casual."
- Bobby Flay, Chef
The grill allows for direct flame cooking and can reach 650 degrees F. However, keep in mind that the smoker can't be used for open fire grilling.
There is a section that opens up on the bottom plate, big enough for two or three steaks.
7. Four Meat Probes
This Woodwind grill includes four meat probes, allowing you to monitor four different foods at once.
The design is quite simple but definitely effective. The way the probes have been designed ensures no smoke or heat escapes when the probes are in and out of use.
8. Wi-Fi Compatibility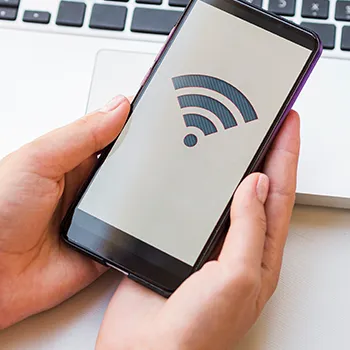 This is what the Woodwind Wi-Fi 24 is all about - its smart technology.
While the pellet grill features a full-color display, it can also connect to your home Wi-Fi, monitored and controlled via a smartphone app called the "Camp Chef Connect."
You can set and forget your smoker, monitoring its every move via your phone.
I was able to change the temperature, smoke level, set up the meat probes, and even shut down the grill.
Plus, I even got notified about any changes, so I didn't need to babysit my phone while I was out.
The app has both Wi-Fi and Bluetooth options and is available on both iPhone and Android.
Unfortunately, the app on the Google Play Store doesn't have very good ratings, with people saying the app frequently lost connectivity.
Also Read: Best WiFi Pellet Grills & Smokers
9. Ease of Use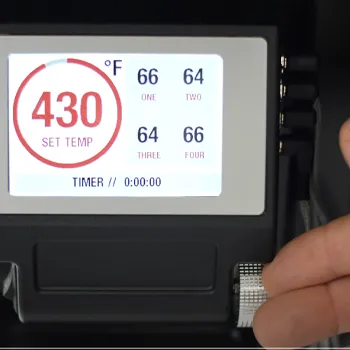 This pellet grill is a pretty easy model to get the hang of.
All you have to do is switch it on, set the temperature using the dial or your App, and the pellet grill will do all the work - you don't even have to be in the same room as it cooks.
All the handy features such as the ash cleanout, pellet chute, adjustable smoke levels, and direct grilling make the whole process a lot easier.
The pellet grill features upper and lower grates that can be rearranged to make the cooking surface bigger or smaller.
Thanks to this, I was able to cook multiple portions of meat at once.
The smart grill technology allows you to easily set the grill temperature as well as feed pellets in the smoker to control the smoke setting, adding a tasty smoke flavor to your meat.
You can also easily swap these pellets in and out, perfect if you're looking to change wood types mid grill.
10. Storage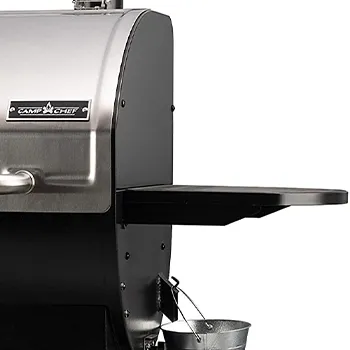 The Woodwind does have some available prep area to the right side of the pellet grill, opposite the hopper.
However, if you install any of the add-ons that I will go over shortly, you're going to lose that space.
There is a slight shelf on top of the hopper, which you can use for preparing veggies or balancing plates.
Unfortunately, there are no hangers available for utensils. However, there is a shelf underneath the pellet grill that can be used for storing things, but it doesn't come with any door.
11. Maintenance and Cleaning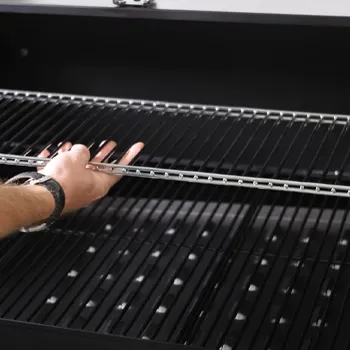 Since the pellet smokers come equipped with the easy ash cleanout system, this means you only have to vacuum the electric smoker once a month.
To remove any leftover ash, you'll have to remove the cooking grates and wash the drip pan with soapy water.
The rest of the pellet grill is also pretty easy to clean, so there are no complaints from me.
12. Optional Add-ons
If you want to take your Woodwind to the next level, there are a few add-ons that you can purchase.
Optional Propane Attachments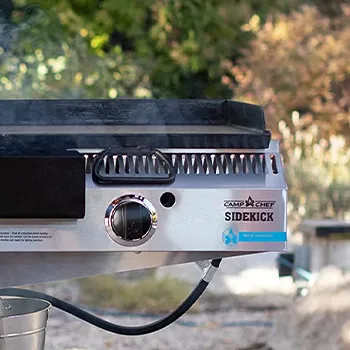 Apart from the main grill, you can add a little side grill, better known as the Sidekick.
It is essentially a propane grill powered by gas. It has an impressive 28,000 BTU, meaning it's great for searing.
The Sidekick gives you 14-inches of cooking space, meaning you can add a removable griddle, grill, oven, stockpot, and much more.
They also include a pre-seasoned steel griddle, meaning you won't have to buy any more accessories if you don't want to. [4]
Sear Box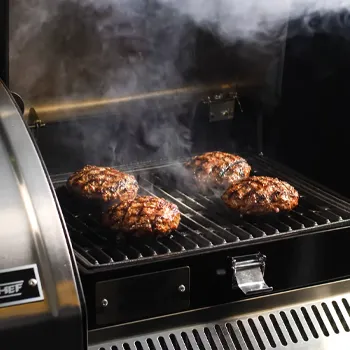 If you really can't live without searing, you can purchase a searing box that fits on the side of your pellet grill, opposite the hopper.
It includes a 28,000 BTU cast-aluminum burner (basically, a gas grill) and a Stainless Steel BBQ Box.
It has a built-in temperature gauge so you can easily monitor your pellet grill. It is a matchless ignition, the heat fully adjustable using a control knob.
With the heat that this pellet grill produces, you can create some really pretty grill marks.
What Can Be Improved?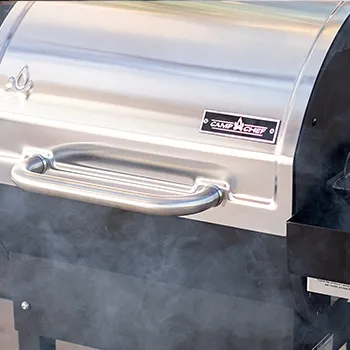 Overall, I was very impressed with the Woodwind.
The overall grilling experience has been a delight - however, there are a few things that I would change if I had the chance.
There seem to be a few problems with the temperature accuracy. It doesn't happen often, and it isn't a big deal; however, I have noticed a slight variance with the temperature the pellet grill is using and the one I set it to. It is still much more manageable than a charcoal grill.
Woodwind Wi-Fi 24 Pros and Cons
Pros
Smart Wi-Fi technology
Easy to clean due to the ash cleanout system
4 temperature probes included - most pellet smokers come with 1 or 2
Direct flame slider rod if you're not going to buy the searing box
Cons
Temperature can be a little inaccurate
The storage shelf has no door
How Does it Compare to Other Pellet Grills?

If you're still unsure about the Woodwind 24, take a look at how it compares to other pellet grills on the market:
1. Rec Tec RT-700
Among all the pellet smokers out there, the Rec Tec RT-700 is most similar to the Woodwind.
It also features Wi-Fi technology, allowing you to control the pellet grill via Bluetooth. You get 720 square inches of grilling space, which is less than the Woodwind.
It does have a huge hopper unit - 40lbs, to be exact. That being said, that may be too large for some people, especially if you need to scoop everything out when changing the wood flavor.
2. Weber SmokeFire
The SmokeFire is available in two sizes - one with 672 square space and another with 1008.
While this can be great for people looking for a larger pellet grill, it doesn't really offer any middle space as the Woodwind does.
While it is a famous company with lots to offer, this specific line seems a little rushed, causing quite a few problems for customers.
3. Camp Chef SmokePro SG
If your budget isn't flexible enough for the Woodwind, you can always go with the SmokePro SG.
It gives you similar features at a more affordable price. You can still adjust the smoke settings; however, there are only 2 meat probes included.
You can also add the same features, such as the Sidekick and Searbox.
Other Gas Grills We've Reviewed:
Other Users' Reviews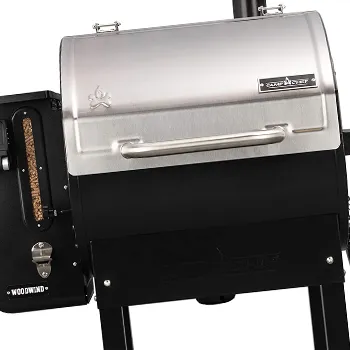 The Woodwind has an outstanding 4.5 stars out of 5 on Amazon, with many customers raving about how much they love the smoker.
People seem to love the features such as smoke control and monitoring the cook via the app.
Many customers have also praised its versatility and the fact you can have a smoker, grill, and searing station all in one.
The only complaints I could really see were within the difficulty of setting the machine up.
Some struggled with the construction and had to ask the company for help, who, thankfully, responded swiftly.
Is the Woodwind Wi-Fi 24 Worth it?
It seems like this pellet grill has hit it out of the park when it comes to versatility, ease of use, and all-around grilling experience. Many people love the fact they can grill, smoke, and sear all on the same unit, saving time, money, and space.
The Woodwind 24 also comes at a great price when you consider how many features are included, not to mention the Wi-Fi capabilities as well as the innovative hopper system.
If you're ready to elevate your meat-cooking mastery to epic proportions, this is the grill you've been waiting for. Ready to take the plunge? Click here and sink your teeth into a world of grilling greatness.
We Recommend
Camp Chef Woodwind
Pros
Smart Wi-Fi technology
Easy to clean due to the ash cleanout system
4 temperature probes included - most pellet smokers come with 1 or 2
Direct flame slider rod if you're not going to buy the sear box
Cons
Temperature can be a little inaccurate
The storage shelf has no door
Was this article helpful?