Finding a quality gas grill on a budget isn't an easy feat. Some cheaper grills often lack durability, proper cooking area, and other features that make grilling easier.
We wanted to see whether this is really true, which is why we've tested dozens of gas grills under $300 for you. After trying them ourselves, we compared our notes with online reviews to ensure we didn't overlook anything.
You'll find all our key insights in this guide. Here are the seven best gas grills under $300.
The Best Gas Grills Under $300
#3rd Best Choice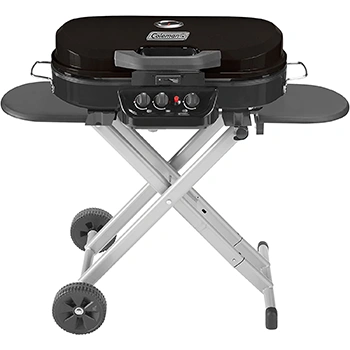 Coleman
Check Current Price
Top 7 Gas Grills Under $300
After testing dozens of popular gas grills under $300, we've narrowed down our list to grills with only the best and most comprehensive features.
We rated the grills based on:
How easy they are to clean, transport, and assemble
How much cooking area and power they provide
Additional features like side burners and warming racks
Without further ado, here are the seven best gas grills under $300 you can order right now.
Our Top Products
3 Things to Consider Before Buying a Gas Grill
It's time to decide which of these seven best gas grills under $300 is right for you.
Here are three questions to help you with that.
1. How Big Should Your Cooking Area Be?
Firstly, consider how big of a cooking surface you need. The main thing to focus on is the size of the grates, as that's where you'll be cooking.
A 400-square-inch range can satisfy the needs of most households. For reference, a 500-square-inch grate can accommodate about 24 hamburgers at once [1].
But you may need a larger grate if you have a big family or plan to entertain often. In that case, you may want to invest in a grill with a larger cooking area. Anything between 550 and 650 square inches should be enough.
Also, consider how many burners you need.
Two-burner grills may be enough for the average household, but they're not ideal for backyard gatherings. You'd be better off with gas grills with four or more burners if you plan on feeding many mouths.
Lastly, remember that grills can have additional features that make up for smaller grates.
Many gas grills we've reviewed had warming racks and side burners. Such features are perfect for making side dishes or keeping cooked food warm, so you won't have to use the main grates for that.
2. Do You Need Portable Grills?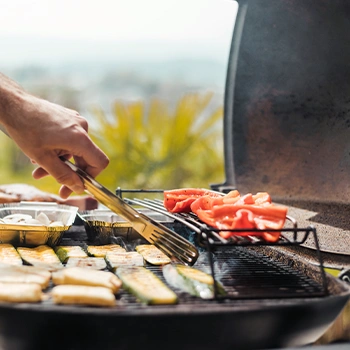 Portability was a massive factor for us while compiling this list. The easier a grill was to transport, the higher rating it has.
But portability may not be as important to you if you're planning to grill in your backyard most of the time. That probably means the only time you'll move the grill will be when you need to store it.
In that case, you need a stationary grill.
First and foremost, it needs to be stable and sturdy.
Secondly, it should have more features than portable grills you use on the go. If you'll use a grill full-time, you'll probably want it to have warming racks, side burners, and side tables.
But if you are planning on taking your grill with you when camping or going on road trips, you should consider:
How much the grill weighs
How you'll transport it — Consider whether a grill has wheels or if it needs to be carried.
How much space the grill takes up — Especially if you'll be transporting it in a smaller vehicle.
For example, Weber Q2200 is a prime example of a portable grill. It doesn't weigh much and doesn't take up a lot of space. So, you can easily store it and move it around, although it doesn't have wheels.
But Weber Q2200 isn't the best choice if you need a full-time grill. So, make sure to consider whether portability actually matters to you.
3. How Many Options Do You Need?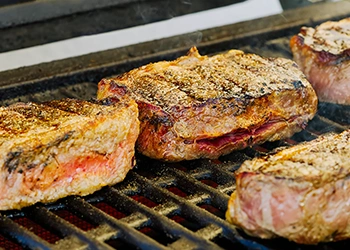 Some gas grills allow you to remove the grill grates and replace them with stove grates or griddles for extra meal options. For example, you can use a griddle for cooking pancakes and other breakfast foods. Consider whether you want that option, too.
Also, decide whether you want a grill that runs exclusively on gas. As we've seen, some grills allow you to switch between charcoal and gas fuel.
That's a plus because both charcoal and gas have their pros and cons:
Gas grills are typically healthier and easier to use and clean.
Charcoal gives meals a great smokey flavor and is less expensive.
So, decide whether gas is enough for your needs or if you'd prefer a combination of gas and charcoal.
Related Articles:
FAQs
How Long Do Stainless Steel Grills Last?
Stainless steel gas grills last up to 10 years if maintained and cleaned regularly.
Are Bigger Grills Better?
No, bigger grills aren't necessarily better. Whether a grill is good or bad doesn't depend on its size but strictly on quality. Also, not everyone needs a large grill.
What Is the Best Gas Grill Under $300?
After carefully weighing all the options, we've got a clear winner. In our opinion, the best gas grill under $300 is the Char-Broil Performance Stainless Steel 4-Burner gas grill.
This best gas grill has a large cooking area and four burners, making it suitable for most households. Despite its size, the grill is easy to transport because it doesn't weigh much and comes with two large wheels.
But the main thing we liked about this gas grill under $300 is that it's sturdy enough to work as a stationary grill. That's the option most portable grills lack.
If you want the biggest bang for your buck, check out the grill yourself and see why so many grill masters love it.
Char-Broil Performance Stainless Steel 4-Burner Cart Style Gas Grill (Best Overall)
Our #1 Recommendation
Ample cooking surface
Easy to clean side burner
Portable stainless steel gas grill with porcelain-coated cast-iron grill grates
Food cooks evenly
Get the BEST PRICE until the end of December
Was this article helpful?