As a dedicated carnivore, I've spent years testing pellet grills and smokers from the leading brands in the industry, searching for those models that will bring versatility and reliability to my BBQ sessions.
I wanted to make an ultimate list of those that ticked all the important boxes, like cooking capacity, build quality, and ease of use, so I finally rounded up the following nine.
Here's my selection of the best pellet grills and smokers you can get today.
The Best Pellet Grills and Smokers
Top 9 Pellet Grills and Smokers
Pellet Grills and Smokers Buyer's Guide
Here's a list of things to keep in mind while you navigate your way through the best pellet grills and smokers.
1. Cooking Capacity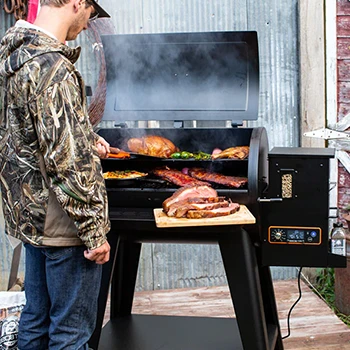 Before deciding on the best pellet smoker for you, think about how many people you will cook for. Do you often entertain, or will you use it for cooking for a small family? Do you plan to cook large cuts or a few burgers?
If you plan to cook for a few people or have limited space, go for pellet smokers with a smaller cooking area.
Tip: Pay attention to the secondary cooking area. This is usually another rack above the main cooking area. It gives you more cooking space, but these raised grates aren't exposed to heat the same as the main space, so they aren't ideal for high-heat cooking. Make sure the grill is able to distribute the heat evenly across the main and secondary areas for consistent results.
2. Wi-Fi Connectivity
Most pellet smokers on this list have Wi-Fi connectivity. This means pellet grills have a computer in them. The Wi-Fi technology monitors and controls the pellet grill temperature from anywhere, as long as there's an Internet connection.
Some companies have an app you download and control the pellet grills from there. Some apps, such as Traeger, have recipes with included temperatures, which is great for grilling newbies.
Overall, Wi-Fi connectivity means you don't need to check on the food. You can relax or entertain and get alerts on your phone when the meat is cooked or the hopper needs pellets.
Read More: Best WiFi Pellet Grills & Smokers
3. Pellet Hopper Capacity
The pellet hopper on pellet grills is the container that holds woold pellets so the auger can take them to the fire pot. The size of the pellet hopper on pellet grills determines how long you can cook without having to refill.
Some pellet grills have a capacity of 40 lbs which gives you 40 hours of cooking time at standard cooking temperature. Most pellet grills have a capacity of 20 lbs which is enough for about 20 hours of cooking.
Note: If you live in a cold climate, pellet grills will use more pellets to maintain the desired temperature, which means more refilling. A larger hopper capacity is a good idea in this case.
4. Build Material
You should check the build material inside and outside the pellet grills. Best pellet grills will have stainless steel components, such as the fire pot, cooking grates, and drip pan.
This ensures they can withstand and maintain high temperatures, are rustproof, and will last a long time.
Powder-coated steel is a good alternative, but keep in mind it's not the best material in high-moisture areas and will rust.
Cast-iron porcelain-coated grill grates are also a good investment, as they can spread the heat evenly, have good heat control, and are easy to clean.
5. Temperature Range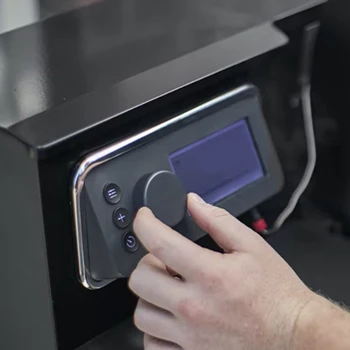 Pellet grills work similarly to ovens: You set the desired cooking temperature, and the grill maintains it by feeding pellets to the firepot. This is why you should check the temperature range.
If you plan to do low and slow smoking, you need a pellet grill and smoker than can go down to at least 180 degrees. But, if you plan to sear meat, you need a grill with a maximum temperature of at least 500 degrees.
Tip: Check the temperature increments the grill has. This gives you great control over the pellet grill.
Related Articles:
Which Pellet Grills/Smokers Offer the Best Warranty?
When it comes to pellet grills and smoker warranties, we will cover the companies that really stand out.
All of these companies offer solid warranties on their pellet grills that cover a wide range of parts for an extended period of time. They also all have good customer service ratings.
However, they do have some differences in their warranties.
1. Traeger Grills
Traeger offers a 3-year warranty on all pellet grill parts against defects and workmanship errors under regular use. It is important to note that this is for personal use only. Under commercial use, the warranty is only for one year.
Traeger also expects you to use only pellets that are compatible with their smokers. That may mean Traeger branded wood pellets only since other brands may clog the augurs in their pellet grills.
Traeger does not cover shipping or labor costs associated with the repair. Shipping can add up to nearly the complete pellet grills worth for their full-sized pellet grills. And labor can do the same for a portable grill.
Read More: Best Traeger Grills Reviewed in Detail
2. Camp Chef Grills
Camp Chef offers a 3-year warranty against defects in materials and workmanship on its pellet grills. This includes parts and labor. Camp Chef calls it a 'no-hassle' warranty, but paint and exterior coatings are not covered.
3. Weber Grills
Weber provides a 3-year warranty on cooking grates, the heat baffle, the burn pot, the pellet slide, and the electrical controller components of its pellet grills.
The rest of the wood pellet grill has an even more impressive 5-year warranty, including parts like the firebox, lid, etc. This is more than the budget pellet grill brands and more than most pellet smokers overall.
4. Pit Boss Grills
Pit Boss pellet grills have a 5-year warranty on the grill structure, meaning the firepot, burn grate, sear box, and augur.
Pit Boss does not guarantee the cosmetics of their pellet grills - meaning that the powder coat and paint are not covered.
Additionally, corrosion and rust are not covered unless they lead to structural failure.
Simple oxidation due to weathering is not covered for portable grills or a high-end pellet smoker with stainless steel construction.
5. Z Grills
The Z Grill company provides a 3-year warranty that is pretty standard for most pellet grills.
It covers defects in materials and workmanship on pellet cookers but not corrosion, rusting, or normal wear and tear.
FAQs
What Is the Best Brand of Pellet Grills?
The best brand of pellet grills is Traeger. The pellet grill market is very competitive, but Traeger pellet grills are high-quality, built with stainless steel, and provide Wi-Fi connectivity for easy control.
Is It Worth Buying a Pellet Grill?
Yes, it's worth buying a pellet grill. They are more expensive than a gas or charcoal grill but have precise temperature control and can bake, smoke, sear, braise, and more. Moreover, pellet and smoker grill combos provide delicious smoke flavor.
Is a Bigger Pellet Grill Better?
Yes, a bigger pellet grill is better if you have a large family to cook for or if you entertain a lot. Keep in mind bigger pellet grills need more pellets to heat them, which means a higher expense.
How Long Do Pellet Smokers Last?
Pellet smokers last from 6-10 years before needing to be replaced. However, with proper maintenance, some pellet smokers can last even longer. The key to prolonging the life of your pellet smoker is to make sure that it's always clean and well-maintained.
What Does a Pellet Grill Warranty Not Cover?
A pellet grill warranty will often not cover:
normal wear and tear
labor to install a replacement part
paint defects
accessories like shelves or covers
modifications or non-standard parts
corrosion or oxidation
shipping a returned product
What's the Best Pellet Grill for You?
Pellet grills and smokers are more expensive than a gas grill or a charcoal grill, so you need to be careful when choosing the best pellet smokers for you.
After reviewing some of the top models out there, I've decided to give my vote to Traeger Ironwood 885. It produces a delicious smoke flavor and has a large cooking area of 885 square inches, so you can cook for many people at once.
The construction on this pellet grill is high-quality. It is made of stainless steel and has a double-wall construction.
The grill can retain the internal temperature, so you always have consistent cooking results. Finally, it has Wi-Fi technology and a meat probe, which make use super easy.
Traeger Ironwood 885 (Best Overall & Wireless)
Our #1 Recommendation
Wireless connectivity
Pellet sensors and meat probes
The trapdoor design makes cleaning easy
Meat probes for monitoring the temperature
Get the BEST PRICE until the end of December
Was this article helpful?