Kamado grills are an ancient method of cooking and grilling that have recently experienced a resurgence in popularity.
I had used these grills since before they were in vogue. But with the explosion of options on the market today, how do you choose the best kamado grill?
To help narrow down your choices, I have tested out the best kamado grills and written this review.
Let's get into it.
#3rd Best Choice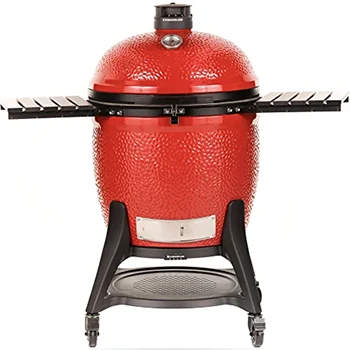 Kamado
Check Current Price
Top 7 Kamado Grills
Buyer's Guide for Kamado Grills

When purchasing a kamado-style grill, there are several factors to consider. Here are some of the most important:
1. Size and Capacity
Consider the size of your outdoor space and how many people you typically entertain when choosing a kamado grill.
A larger kamado will allow you to cook more food at once and even double as an outdoor oven for roasting or baking.
They are great for entertaining and larger grills can be expanded with additional accessories like shelves, stands, or extra racks.
2. Heat Retention and Fuel Efficiency
Thicker walls on a kamado grill will make it better at retaining heat. This will result in needing less fuel to maintain an even cooking temperature for long periods.
This makes them ideal for low-and-slow cooking over an extended time without worrying about running out of charcoal quickly or needing frequent refueling.
Purists note that a ceramic kamado grill will have the best insulation, but insulated metal grills are also becoming increasingly popular and have good heat retention.
3. Temperature Management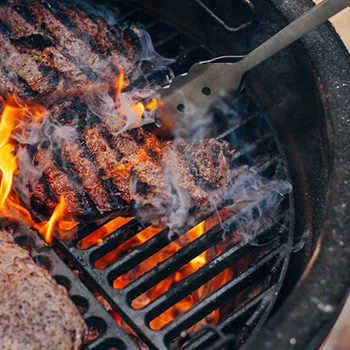 Temperature management is vital in kamado grilling - the ability to easily adjust the temperature will ensure that you can cook your food as desired.
Look for a ceramic kamado grill with adjustable air vents, dampers, and built-in thermometers for better temperature management and accuracy inside the cooking chamber.
Note that the heat retention of ceramic grills means that they heat up faster than they cool down.
4. Cooking Versatility
Ensure you choose a kamado charcoal grill that advertises a wide temperature range. 
This way, you can use it as a traditional grill, pizza oven, or smoker. Look for a model that offers multiple cooking functions to get the most out of your investment.
5. Fuel Source
Most kamado grills use either charcoal briquettes or lump charcoal as their fuel source.
Lump charcoal requires less frequent refueling than briquettes, but briquettes are easier to control, making them better suited to longer cooks that need more consistent heat output over time.
Some kamados are able to use wood as a fuel source, but typical kamado grills do not.
6. Accessories
Many accessories exist that allow you to get even more out of your kamado grill.
These include racks for indirect cooking, griddles and skillets for cooking on top of the grates, firebox dividers for separating coals from food during smoking sessions, and a pizza stone to cook pizza like in a professional brick oven.
Some grills may come with a chimney starter, removable warming rack, or an electric starter for added convenience and versatility.
7. Cleanup
Choosing a kamado with easy cleanup is important. Look for grills with removable ash pans and built-in drip trays to help make cleanup easier.
Some models even come with integrated ash removal systems that simplify emptying the ashes after each cookout. That said, the ceramic walls can make cleaning a kamado less complicated than other grills.
8. Quality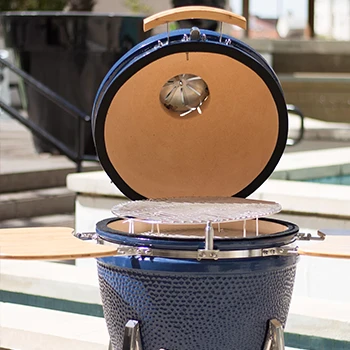 Kamados come in different sizes and styles, but you want to choose one with quality materials that won't crack under high temperatures or everyday wear and tear.
Metal is less likely to fracture than ceramic but is also less efficient at retaining heat.
You want a grill made from high-quality materials that are built to make it through many seasons of use outdoors in any weather condition.
9. Warranty
Most high-end ceramic kamado grills come with manufacturer warranties that cover defects in material or workmanship over a specified period of time.
You want to read through this information before buying your grill to know what type of coverage you're getting. Generally, a more extended warranty implies higher quality.
10. Portability
If you plan on taking your grill camping or tailgating, look for a lighter-weight model that is easy to transport yet still rugged enough for outdoor cooking.
Metal grills are lighter than ceramic cookers with thick walls, and metal is a more durable material. This may make it easier to carry; however, you lose some insulation with this type of kamado.
Related Articles:
11. Extra Features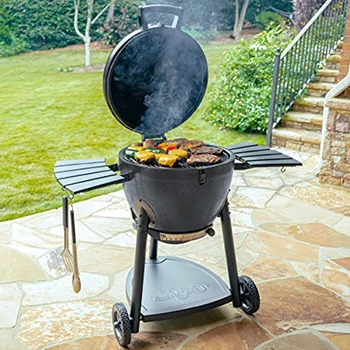 Some models include additional features such as side shelves where you can store utensils or ingredients while cooking, wheels for easy transportation around your backyard or patio, and even storage compartments for keeping charcoal or wood chips within easy reach when needed.
Others have ash removal systems for easy cleanup, lid locks/hinges, interchangeable cooking surfaces, digital thermometers, searing grids, and pizza stones.
12. Grill Grates
The type of grates used can significantly affect the performance of your kamado.
You should look for grills that have durable parts, such as stainless steel or cast iron grate, that are designed to hold onto heat and provide even heating across the surface.
Also, search for models with a heat deflector and removable cooking grates that are easy to clean with a grill brush and sponge.
Who Should Buy a Kamado Grill?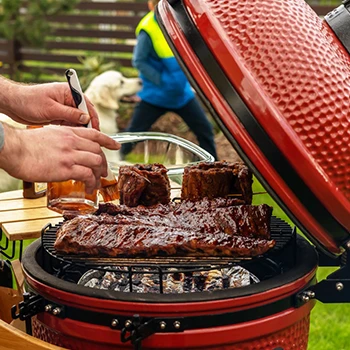 People who want a truly versatile grill that can slow-roast, smoke, sear, and bake should buy a kamado grill. Its highly insulated construction retains heat better over time, making it more energy efficient than traditional gas grills or other charcoal grills.
It can cook any style of cuisine – from Argentinian Asado to Texas-style barbeque and Tandoori cooking.
With the ability to hit high temperatures, kamados also open up the world of low-and-slow smoking and can even be used as an oven.
Who Should Not Buy a Kamado Grill?
People who prefer a "set it and forget it" style of cooking should not buy a kamado grill. These grills are for those who crave the ritual of tending to their hot coals and take pride in mastering the art of cooking with heat.
A kamado grill is not an appliance you can just throw some food on, heat up, and forget about, like with a gas grill. There's an element of creativity and finesse that needs to be brought out when handling it.
FAQs
Is It Worth It to Get a Kamado Grill?
Yes, it is worth it to get a kamado grill. These grills have excellent fuel efficiency and cooking power and are designed to last for years. They can accommodate a variety of cooking styles, such as searing, grilling, smoking, and baking.
How Long Will a Kamado Last?
A kamado grill can easily last for almost 20 years. A ceramic grill does not have the corrosion that metal grills experience, and with proper care, you can extend its life even further.
Does Food Taste Better on a Kamado?
Many grill masters believe that food tastes better on a kamado. Because the temperature is well-maintained, meat is juicier and more tender when cooked on this type of grill.
Will a Kamado Crack in the Rain?
No, a kamado will not crack in the rain. Its ceramic construction allows it to maintain its shape and structure even with exposure to moisture. However, the metal parts can rust, so you should store your kamado under a cover or in a sheltered area when not in use.
Can You Leave a Kamado Outside in Winter?
Yes, you can leave a kamado outside in winter if it is stored in a proper cover. A protective cover will help protect moisture from accumulating in the grill, which could expand when frozen and crack the kamado.
Does a Kamado Need to Be Seasoned?
No, a kamado does not need to be seasoned. A ceramic cooker is ready to use right out of the box. However, you should still clean it properly before and after each cooking session.
What Is the Best Kamado Grill for You?
After reviewing the features and benefits of all the best kamado grills on the list, I recommend the Weber Summit Kamado S6 as my top pick.
Its heavy construction and insulated metal walls help to retain heat efficiently, while its adjustable draft system makes temperature management easy for impressive performance.
Plus, users rave about this grill online and love how well it holds up no matter what they are cooking. From slow-cooked ribs to juicy burgers, this grill is designed for anyone looking for an excellent kamado grill.
Weber Summit Kamado S6 Charcoal Grill (Best Overall)
Our #1 Recommendation
Stainless steel diffuser plate for low-temperature smoking
Rugged porcelain-enameled steel construction
Dual-position fuel grate
Insulated walls reduce charcoal usage
Get the BEST PRICE until the end of December
Was this article helpful?