Ordering steaks online can be confusing your first time. When mail-order steaks first came to be, there were only a few brands. Now, however, there are dozens.
With so many options on the market, it can be tricky to choose the healthiest option. To help you eat better, I have teamed up with other culinary professionals and decided to test-to-recommend the best mail order steaks so you can focus on preparing meals only.
Our team has tested dozens of different steaks, ordered them, prepared them, cooked, grilled, and took a bite to make the final cut. After testing different brands, we narrowed down the best providers to order a steak.
11 Best Mail Order Steaks
Buyer's Guide on Best Online Order Steaks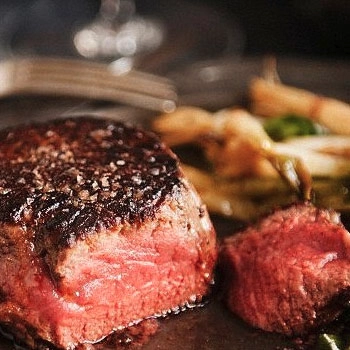 In our Buyer's Guide for the Best Online Order Steaks, we examined important things to make sure their steaks are really top-notch. These factors include:
The flavor of the steaks
The reputation of the butchers and farms
Customer feedback
Wide menu option
Value for money
Because there are a lot of different delicious steak delivery providers, it was important for us to narrow down the top providers. These key considerations allowed us to objectively name the top businesses for steaks on the internet.
"The customer service at Butcher Box is only rivaled by their superior products. For anyone looking for top-quality, sustainable, humanely raised meats; this is the place!"
- Gretchen R., Verified Better Business Bureau Reviewer
Related Articles:
The Flavor of the Steaks
The flavor of the steaks will depend on many factors. Little is known, but how meat is handled will affect the taste.
When looking for a place to buy steak, how they handle their products could change their final flavor when cooked. Consider researching online steak retailers using flash-freezing methods for their meats.
Flash freezing is one of the best industry practices to contain the product within a short period. The temperature will affect quality and safety, resulting in better-tasting steaks.
How do you know if the steak is flash-frozen?
When delivered, you will see tiny ice crystals on the cuts. Cooking these means less moisture will leave the meat, making the steak have better flavor. If it has been sitting out before freezing, the water will instead pool or evaporate.
The Reputation of the Butchers and Farms
In terms of the reputation of the butchers and farms, it's great that the most trusted online sellers are honest. They share information about the farm where your steak comes from. This is different from lots of stores that bring in meat from other countries without you knowing.
Buying meat from old-school butchers will give you a level of transparency supermarkets can't afford.
The best part is to vet the online company before buying from them. Sometimes, it takes a simple Google search to learn everything about their practices and sources.
Of course, you have to be discerning with the information you choose to believe. Look for telltale signs of deception before committing to a company.
Customer Feedback
Customer feedback might be crucial when it comes to mail order steaks.
If the company has only positive or negative comments, consider looking for another one. Some shady companies pay reviewers to leave only positive reviews to inflate their standing.
A company with far more positive than negative reviews is more believable. Also, check how they respond to these ratings. If they are respectful and promise to improve, you will likely get some excellent experience.
Wide Menu Option
If they have lots of choices, it's better for you because you can get everything you want from one place. This is even more important if the company doesn't have free shipping.
Value for Money
You can get great value for money if you shop your meat online.
Most online meat companies offer discounts when you buy meat in bulk. After all, it encourages you to buy more from them.
Think about their bundles and packages when looking for the company with the best online order steak. Choose the one with the highest discount rates.
If they can offer free shipping when ordering in bulk, the better. Ask about the company's meat packaging to ensure your steak will remain fresh for a long while after delivery. It ensures freshness if you aren't home when they get delivered.
FAQs
Is Ordering Meat Online Safe?
Ordering meat online is safe with reputable suppliers. Online food providers follow industry standards similar to offline restaurants, ensuring proper handling and frozen shipping.
Is It Better to Purchase Meat From the Supermarket or Butcher Shop?
In general, butchers offer better meats than the local supermarket, where meat may be frozen or injected with water. Butchers are more honest as they know they're competing against big establishments, so they will offer the best quality to ensure you come back for more.
The #1 Online Steak Provider
After thoroughly reviewing over a dozen steak providers, we've narrowed down ButcherBox as the best. They are great not just for steaks but also for other types of meat, from ground bison to seafood.
Because they regularly deliver each month, you don't have to worry about constantly going to the grocery store. This, combined with their free delivery, also means you can save on restaurant costs using high-caliber hormone and steroid-free meat.
You can select from different box options and can even customize your box based on your preferences. For high-caliber steaks regularly delivered to your door, check out ButcherBox.
#1 Meat Delivery Service
ButcherBox
Click For Best Price

Pros
Grass-fed and grass-finished beef delivered directly to your door
Without antibiotics or added hormones
Customizable boxes available
Select from up to 21 different cuts
Get the BEST PRICE until the end of September
References:
https://www.ams.usda.gov/grades-standards/slaughter-cattle-grades-and-standards
https://www.usda.gov/media/blog/2013/01/28/whats-your-beef-prime-choice-or-select
Was this article helpful?