Ordering steaks online can be confusing your first time. When mail-order steaks first came to be, there were only a few brands. Now, however, there are dozens.
Our team has tested most of them and narrowed down the best providers to order a steak from in this best online steak company reviews.
11 Best Online Order Steaks
1 - ButcherBox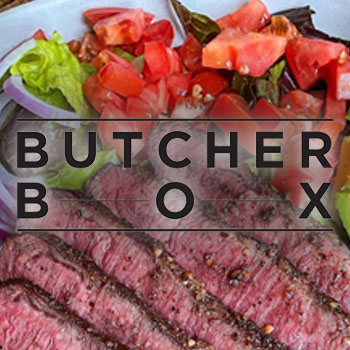 ButcherBox is our go-to source for steak and other meat types, including chicken, beef, pork, and seafood. We like that they offer free shipping when you order steak for a monthly meat subscription.
They specialize in grass-fed beef without hormones or antibiotics. They offer mail delivery throughout the United States.
ButcherBox offers four different subscription boxes and allows you to swap out specific products from each order if you so choose.
Pros
Free delivery throughout the United States
Grass-fed meats
No hormones or antibiotics
Monthly subscription delivery services
Click For Best Price
Quick Facts:
Humanely-raised heritage breed pork
Select from up to 21 different cuts
Customizable boxes available
2 - Crowd Cow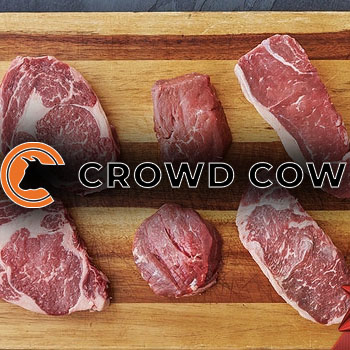 Crowd Cow comes in at number two due to its selection of dry-aged beef and American Wagyu. These are tender and marbled cuts, which can be more flavorful.
We like that Crowd Cow offers specials such as free products on first box orders.
They make meat delivery easy through their intuitive website and the ability to set up a recurring delivery of your previous order.
Crowd Cow delivery ships throughout the United States, except Alaska and Hawaii.
Pros
American Wagyu and dry-aged steaks
Regular gifts for first-time users
Easy to use website
Ships throughout the continental US
Click For Best Price
Quick Facts:
100% grass-fed, pasture-raised meat
Humanely-raised without added hormones
Flexible shipping options
3 - Good Chop
Good Chop is an online butcher that sells quality meat from domestic family farms.
They don't offer any exotic game meats but are focused on quality basic cuts, such as beef and pork.
Good Chop was founded to provide Americans with a meat service they could trust.
This meat delivery service offers steaks such as New York Strip steak, Ribeye, Sirloin, Filet Mignon, and more.
The company says they are a local butcher, as all their meat comes from the US.
They put a lot of emphasis on animal welfare and sustainable animal raising, so you can be sure you're eating a top-notch steak.
Pros
All meat comes from the US
Sustainably raised animals
Free shipping
High-quality cuts
Click For Best Price
Quick Facts:
Only sell US-sourced meats
2 subscription box options
4 - Snake River Farms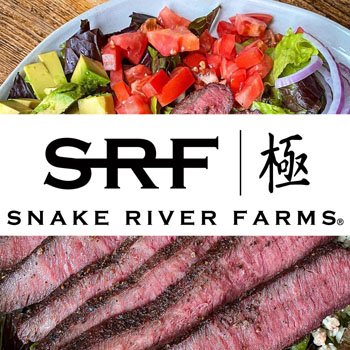 Snake River Farms is known for its American Wagyu style beef and natural prime beef sourced from family farms in the US.
The meat company specializes in these high-caliber hand-cut beef types and offers cuts ranging from New York Strip steak to filet mignon.
Something of note is that Snake River Farms is one of the only companies listed to offer premium Angus filet mignon. According to the Snake River Farms website, is of a higher quality than USDA Prime.
Snake River Farms utilizes a wet aging process as opposed to the traditional dry aging. This is reportedly a way to keep the meat juicier and more tender.
Pros
Snake River Farms has non-GMO fed animals for their filet mignon
Real Wagyu beef
21-day wet aged steak
Easy ordering process
Cons
Snake River Farms has no worldwide shipping
Click For Best Price
Quick Facts:
American Wagyu Beef & Kurobuta Pork
Sourced from family farms in the US
Higher than USDA Prime options
5 - Porter Road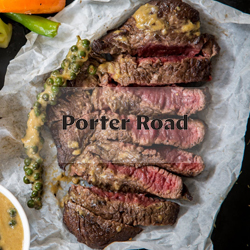 Porter Road began as a catering business and has since developed into a mail order steak company.
The main facility of Porter Road is in Kentucky, where they still sell with high-standards for processing, ensuring a no-stress, toxic-free environment to local people and restaurants.
According to their website, the Porter Road company's founders place a premium on sourcing only high-grade cattle that are raised optimally.
Some of their best-selling steak options include their filet mignon, NY strip, boneless ribeye, and bone-in ribeye.
Our review of Porter Road might come in handy in case you wish to learn more.
Pros
Works with small family farms
Pasture-raised cattle
Hand-cut meat
Minimum 14-day dry aging
Click For Best Price
Quick Facts:
Environmentally friendly meat sourcing
Allows individual purchase, or you can subscribe
6 - Chicago Steak Company
The Chicago Steak Company is another of the oldest steak delivery services around. Their most popular cuts include ribeyes, sirloin steaks, prime rib, strip steaks, and filet mignon.
Chicago Steak Company specializes in USDA prime beef, which is considered to be some of the best.
According to the Chicago Steak Company website, USDA prime represents the top 2% of beef served in the US and is a step above USDA choice commonly found in any butcher shop or grocery stores (1).
The Chicago Steak Company ships throughout America and offer numerous recipes on their site.
Pros
Chicago Steak Company has USDA prime beef
Wide choice of meats
Ships throughout the US
Gift boxes as well as individual choices
Click For Best Price
Quick Facts:
Great Steak Debate Peoples Choice Award winner
Both wet and dry-aged cut options
7 - Holy Grail Steaks
Holy Grail Steak Company is among the more interesting meat product providers on this list.
They are the only company in the US that can sell Japanese Kobe Beef under an exclusive license from Kobe-Niku.
Holy Grail offers some of the highest grade steaks out of any provider on this list.
With that said, however, they come at a much greater cost than any of the other meat box providers.
Aside from Kobe Beef, they offer A5 Wagyu, Black Angus, and Kurobuta Pork. Their best-selling product, according to their website, is their dry-aged upper prime black cowboy ribeye.
If you wish to learn more about Holy Grail Steak Company, visit this link.
Pros
Deliver to home throughout the US
Michelin-grade steaks
Free delivery of $199
Hand-cut meats
Cons
Caters more to restaurants
Click For Best Price
Quick Facts:
USDA Upper Prime steak
Authentic Japanese Wagyu Beef
8 - Fossil Farms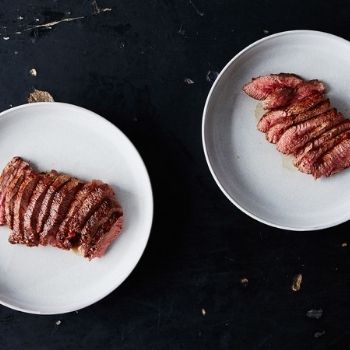 Fossil Farms offers unique types of meat, including ostrich, alligator, kangaroo, wild boar, top-caliber beef, and more.
Like a few of the other providers mentioned here, they offer hand-cut and authentic Japanese Wagyu and Angus.
Something to note is that they provide a wide range of cuts that can be delivered to your home.
According to the Fossil Farms website, they offer grass-fed beef that is never given growth hormones, steroids, or antibiotics.
Pros
Wide choice of alternative meats
Plenty of cuts to select from
High-caliber cattle
Ships throughout the country
Cons
More money than some providers
Click For Best Price
Quick Facts:
Steroid, hormone, and antibiotic-free
Humanely raised and grass-fed
9 - Omaha Steaks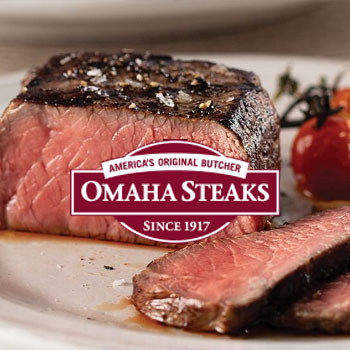 Omaha Steaks is one of the oldest mail-order steak providers in America. They started as one of many family-owned butcher shops in Omaha, Nebraska.
Omaha Steaks has been in business since 1917 and developed from local butcher shops to mail-order steaks and finally to online delivery.
Omaha Steaks sell a range of cuts, from New York strip steaks to filet mignons and ribeye steak.
You can choose from a variety of other meats, including lamb chops, pork chops, turkey, and even caviar or foie gras.
Pros
More variety than a local grocery store
Delivers throughout America
Wide selection of specialty meats
Gift baskets and other gift types
Cons
Some people complain about support
Click For Best Price
Quick Facts:
Complete meal and steak packages
Regular holiday special offers
10 - Kansas City Steak Company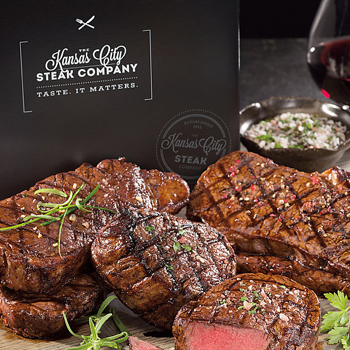 Kansas City Steaks is another butcher shop turned web-based meat provider. The business was founded in 1932 as a family-owned butcher shop in Kansas City.
Since then, they have become one of the larger mail-order steak companies in the US. Some of their most popular cuts include their T-bones, ribeye steak, sirloin steaks, Kansas City strip steaks, and tenderloin.
They also offer a selection of other meats, including lamb, pork chops, chicken, and seafood. Their price tag can be a bit higher for some items than some of the other providers on this list.
You can learn more about the company in our Kansas City Steaks company review.
Pros
Discounts on delivery over certain amounts
Large variety of high-quality meats
Easy to use website
Delivery throughout the US
Quick Facts:
Serves USDA Prime and Choice beef
Complete satisfaction guarantee
11 - Harry & David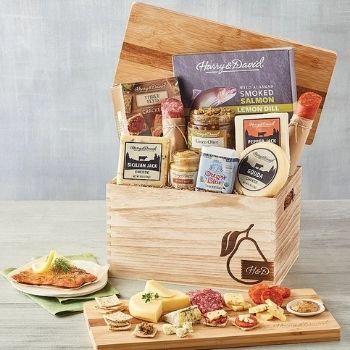 Harry & David show up last on our list only because they have a more limited selection of steaks when compared to some of the other companies on our list.
Because Harry and David are more focused on gourmet basket varieties, they offer less in the way of everyday meat options.
With that said, they do have quite a few high-quality steaks to choose from, including their prime rib, bourbon, and peppercorn marinated steaks, and filet mignon of top sirloin.
Harry & David are located near New York City and ship throughout the country.
Pros
Marinated steak options
High-quality gifts
Steak alternatives such as ground beef
Quick Facts:
Customizable gift basket selection
Ships throughout the US
Buyer's Guide on Best Online Order Steaks
When trying each of these meat providers, we looked at a few key considerations to ensure that their steaks were truly high-caliber. These include:
Flavor of the steaks
Reputation of the butchers and farms
Customer feedback
Wide menu option
Value for money
Because there are a lot of different delicious steak delivery providers, it was important for us to narrow down the top providers. These key considerations allowed us to objectively name the top businesses for steaks on the internet.
"The customer service at Butcher Box is only rivaled by their superior products. For anyone looking for top-quality, sustainable, humanely raised meats; this is the place!"
- Gretchen R., Verified Better Business Bureau Reviewer (2)
Related Articles:
The Flavor of the Steaks
When looking for a place to buy steak, how they handle their products could change their final flavor when cooked. Consider researching for online steak retailers using flash freezing methods for their meats.
Flash freezing is one of the best industry practices to contain the product within a short period. The temperature will affect quality and safety, resulting in better-tasting steaks.
How do you know if the steak is flash-frozen?
When delivered, you will see tiny ice crystals on the cuts. Cooking these means less moisture will leave the meat, making the steak have better flavor. If it has been sitting out before freezing, the water will instead pool or evaporate.
The Reputation of the Butchers and Farms
The good news is the most reputable online providers are more transparent. They will tell you the exact farm your steak came from. It's unlike many groceries that import meat abroad, with you none the wiser.
Buying meat from old-school butchers will give you a level of transparency supermarkets can't afford.
The best part is to vet the online company before buying from them. Sometimes, it takes a simple Google search to learn everything about their practices and sources.
Of course, you have to be discerning with the information you choose to believe. Look for telltale signs of deception before committing to a company.
Customer Feedback
In a similar vein, consider looking at what past customers are saying.
If the company has only positive or negative comments, consider looking for another one. Some shady companies pay reviewers to leave only positive reviews to inflate their standing.
A company with far more positive than negative reviews is more believable. Also, check how they respond to these ratings. If they are respectful and promise to improve, you will likely get some excellent experience.
Wide Menu Option
How diverse are the company's offerings?
The more choices they offer, the better your chances of getting everything you want within a single outlet. It becomes more critical if the company lacks free shipping options.
Value for Money
Most online meat companies offer discounts when you buy meat in bulk. After all, it encourages you to buy more from them.
Think about their bundles and packages when looking for the company with the best online order steak. Choose the one with the highest discount rates.
If they can offer free shipping when ordering in bulk, the better. Ask about the company's meat packaging to ensure your steak will remain fresh for a long while after delivery. It ensures freshness if you aren't home when they get delivered.
FAQs
Is Ordering Meat Online Safe?
Ordering meat on the internet is safe as long as you are using a trusted food supplier. Web-based food providers must operate using the same standards as an offline restaurant or grocer. This means the food must be handled properly and shipped frozen.
Is It Better to Purchase Meat From the Supermarket or Butcher Shop?
In general, butchers offer better meats than the local supermarket, where meat may be frozen or injected with water. Butchers are more honest as they know they're competing against big establishments, so they will offer the best quality to ensure you come back for more.
The #1 Online Steak Provider is...
After thoroughly reviewing well over a dozen steak providers, we've narrowed down ButcherBox as the best. They are great not just for steaks but also for other types of meat from ground bison to seafood.
Because they regularly deliver each month, you don't have to worry about constantly going to the grocery store. This, combined with their free delivery, also means you can save on restaurant costs using high-caliber hormone and steroid free meat.
You can select from different box options and can even customize your box based on your preferences. For high-caliber steaks regularly delivered to your door, check out ButcherBox.
#1 Meat Delivery Service
ButcherBox
Click For Best Price

Pros
Grass-fed and grass-finished beef delivered directly to your door
Without antibiotics or added hormones
Customizable boxes available
Select from up to 21 different cuts
Get the BEST PRICE until the end of March
Was this article helpful?