During the decade I've been on a carnivore diet, I learned that cooking equipment plays an essential role in getting a quality meal.
Once I got my knives sorted, I wanted to find the best possible cutting board.
I tried countless plastic, wood, and composite cutting boards, tested them by cutting different kinds of raw meat, and checked the design, durability, and ease of cleaning.
Here are the ten cutting boards I think are worth the money.
#3rd Best Choice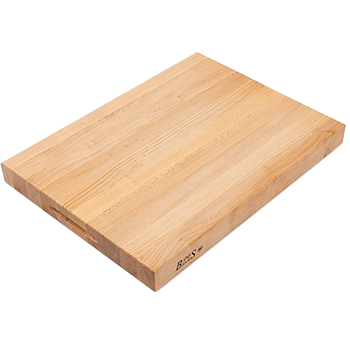 John Boos
Check Current Price
10 Best Cutting Boards
1 - Weber Cutting Board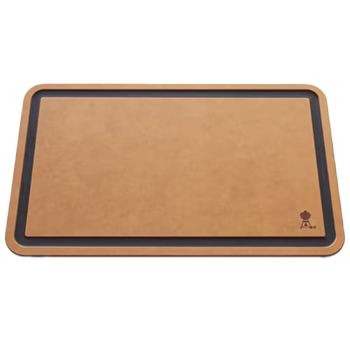 Weber is a household name in the world of BBQ grills, so I wanted to try their cutting boards as well, and I wasn't disappointed.
This cutting board has two sides: one for food prep and the other for serving.
The board has grooves on the perimeter that do an excellent job catching juices, so you have less mess during carving and less cleanup time.
I found the surface can mostly withstand repeated chopping and carving. There were some marks left but nothing too serious.
This board fits on several Weber wood pellet and gas grills, so it's a perfect size for prepping food on your Weber grill's side table. You can even use it to pile up the ingredients for s'mores.
The cutting board is dishwasher-safe, so you don't have to handwash it.
Pros
Lightweight
Has a prepping and serving side
Dishwasher-safe
Fits on most Weber grills
Cons
Some marks on the surface after chopping
Click For Best Price
Quick Facts:
Dimensions : 10.7 x 0.3 x 17.7 in
Weight : 970 grams
Material : Paper fiber
2 - Camp Chef Bamboo Cutting Board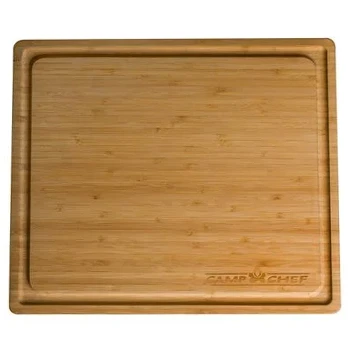 Camp Chef has a quality bamboo cutting board with a massive surface area of 468 square inches, so you'll have enough room to prepare your veggies, ribs, ham, and more.
Camp Chef's board is designed with a recessed groove around the outside which does a great job of catching juices, so all the mess is in one place.
I found the bamboo construction solid and eye-catching. There are handholds for easy carrying, so I even used this board to bring dinner to the table.
The board can be used with Camp Chef's Patio Cart or on its own.
The only thing I didn't like was the weight. This cutting board weighs 13.5 lbs, which is understandable considering the massive surface, but it's still one of the heavier boards I've used, especially when piled with food.
Also, it's not dishwasher-safe and has to be oiled from time to time [1].
Pros
Huge surface
Solid bamboo construction
Has handholds for easy carrying
Cons
Heavy and difficult to clean
Click For Best Price
Quick Facts:
Dimensions : 18 in. x 26 in
Weight : 13.5 lbs
Material : Bamboo
3 - John Boos Block RA03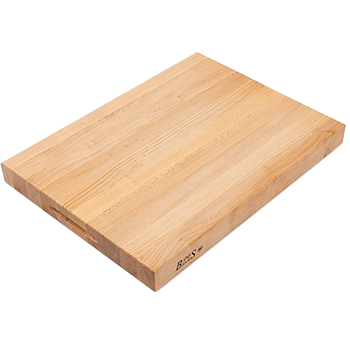 John Boos's maple cutting board has a sleek construction. I also liked how thick it is, which ensures extra stability.
There aren't any groves or spikes on this board, which means there's nothing that stops or catches the juices.
I used a baking sheet underneath it to catch the juices, but it would have been nice if the board had some grooves, especially considering its high price.
I didn't like that the board weighs 25 lbs and is fairly heavy and clunky. It's one of the wooden boards that's difficult to move around.
Overall, this board is well-built and will last for years. Make sure to wash it and oil it occasionally to keep it in top condition.
Pros
Thick and sturdy construction
End-grain design
NSF certified
Check Current Price
Quick Facts:
Dimensions : 24 x 18 x 2.25 in
Weight : 25 lbs
Material : Maple
4 - John Boos Maple Classic Reversible Maple Cutting Board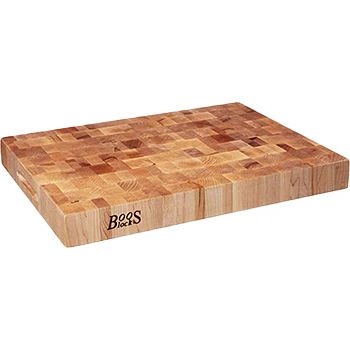 Reversible wood end grain is the second-best wooden cutting board from John Boos that I tried.
Generally, maple is a good material for wooden boards because it's durable and good for the blade. John Boos takes it a step further with this board with the end-grain design.
This cutting board is made up of short pieces of wood arranged vertically and fused together. The ends make up the cutting area, so the board has a beautiful checkerboard pattern.
The end grain gives a nice give, so it's more gentle on your wrists and knives.
There aren't any cut marks, so it's perfect for cutting and prepping. Keep in mind it also doesn't have any grooves for juices, so you'll have some cleanup to do.
Pros
Large surface
Eye-catching design
Gentle on knives
Check Current Price
Quick Facts:
Dimensions : 20 x 15 x 2.25 in
Weight : 19.8 lbs
Material : Maple
5 - TeakHaus Edge Grain Carving Board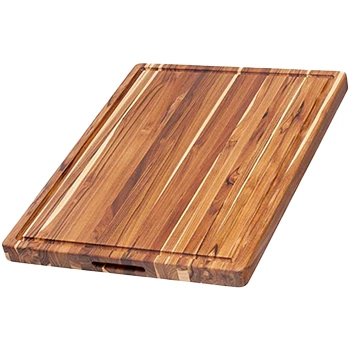 TeakHaus edge grain carving board has a 3/4 in juice canal that catches drippings. I found the canal can hold about 6 oz of liquid, which wasn't enough to hold drippings from a whole turkey, but still enough for a steak or a chicken.
The board is 1.5 in thick, which is rare for wooden cutting boards, but it means it won't warp as easily as thinner ones.
I liked that this is one of the sustainable wood-cutting boards. It's made of sustainably harvested teak, which feels good under the knife [2].
It's a generous size and stays in place. Also, it's not too heavy, and I can easily move it.
I could easily cut both parallel to and against the grain. The teak is hard enough for lean cuts and soft enough not to blunt the knife.
Finally, teak is vulnerable to moisture but requires less oiling than most other wood-cutting boards.
Pros
Made from sustainably harvested teak
Requires little oiling
Hand grips on the sides
Check Current Price
Quick Facts:
Dimensions : 24 x 18 x 1.5 in
Weight : 0.9 lbs
Material : Teak
6 - OXO Good Grips 2-Piece Plastic Cutting Board Set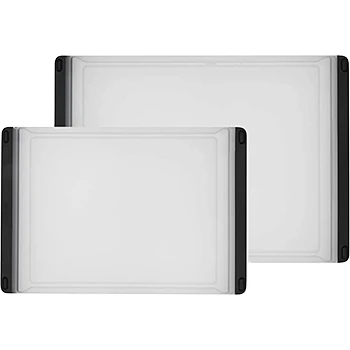 OXO makes some of the best plastic cutting boards on the market. They grip the counter nicely and don't slip.
I used this two-piece set for various foods, from raw meat to fresh vegetables. The boards felt good, and the food didn't roll around during the cutting.
The built-in juice groove is helpful when cutting juicy meat and tomatoes. The boards are dishwasher-safe, so the cleanup is easy.
Both plastic boards are extremely lightweight and slim, so you can easily carry them around, which isn't the case with a wood cutting board.
Similarly to other plastic boards, the material wears over time, so it isn't as durable as end-grain boards, but it'll last for several years.
Overall, this lightweight and sturdy board is easy on the wallet, but it's not quite as durable or attractive as end-grain boards.
Pros
The non-slip grip doesn't let it shift
Grippy edges serve as handles
Dishwasher-safe
Check Current Price
Quick Facts:
Dimensions : 13 x 9 x 1 in
Weight : 2 lbs
Material : Plastic
7 - Joseph Joseph Cut & Carve Multi-Function Cutting Board
Joseph & Joseph board has a clever design that's seen in an angled surface and lets the juices roll down and collect against the high rim.
I found this angled design can hold up to 10 oz of liquid, which is more than most other plastic boards.
This plastic board has one smooth and one textured side with raised spikes that holds meat in place while you slice.
The spiked side is very helpful in keeping the food in place, but it can also piece the meat on some tender cuts.
The size is 11.5 x 15 in, which fits a whole chicken or a roast, but a turkey would probably spill off the sides. However, the smaller size means it fits easily into a dishwasher.
Also, I didn't like that there were knife marks on the board after only a few uses, so the surface isn't as durable as other plastic cutting boards.
Pros
Angled surface catches drippings
Has a smooth and textured side
Doesn't stain
Check Current Price
Quick Facts:
Dimensions : 14.8 x 11.6 x 1 in
Weight : 1.6 lbs
Material : Plastic
8 - Dexas Angled Acacia Wood Cutting Board with Well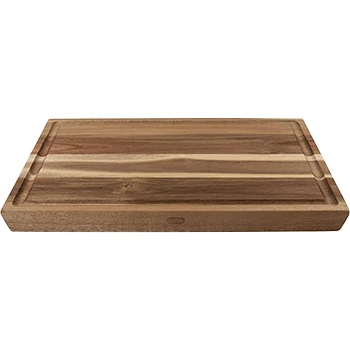 Dexas made an angled wood board with a simple but elegant design. Unlike other wood boards on this list, this wooden board has a 45-degree sloped edge.
The grooves can hold about 2 oz of liquid, which is less than most other boards.
Beveled sides also serve as a convenient handle area so that you can use this as a serving board.
Like most other wood boards, this one is also reversible. You can use the side with juice grooves, so the handles are on the short sides or use it on the flat side, and the handles are long. Admittedly, the latter version makes it a little awkward to grip.
Dexas board is made of grained wood and polished to a satin finish, so you can also use it as a charcuterie board.
As with all wood boards, it has to be hand washed, but its small size makes cleanup easy.
Pros
Exotic Acacia wood provides appealing aesthetics
Sloped edges
Made in the USA
Check Current Price
Quick Facts:
Dimensions : 15 x 20 in
Weight : 5.4 lbs
Material : Acacia wood
9 - Architec Concave Carving Board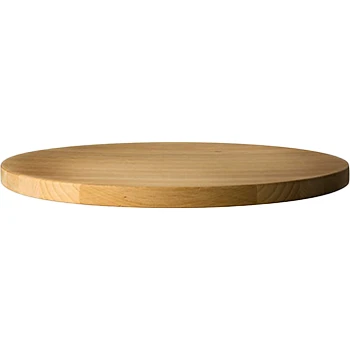 If you want a different-looking cutting board, Architec Concave could be the one. This board is made of a blend of dark acacia wood and light beechwood, so there's a mix of colors that results in an attractive appearance.
The unique concave surface works well for carving juicy cuts. I found the concave dip to be almost imperceptible, but it's deep enough to catch the juices and keep them in the middle of the board when cutting meat. The board holds 8 oz of liquid, which is impressive.
Architec Concave board has excellent stability. There are rubber pads underneath that keep it steady on wet and dry surfaces. However, this means you can't use the board on both sides.
There aren't any handles, but the cutting board can easily be lifted because the pads elevate it enough to have a fingertip grip.
Pros
The concave design holds liquids in the middle
Pads prevent sliding
Wood color contrast design
Check Current Price
Quick Facts:
Dimensions : 18 x 14 x 1.13 in
Weight : 4.3 lbs
Material : Acacia and Beachwood
10 - Epicurean Gourmet Series Cutting Board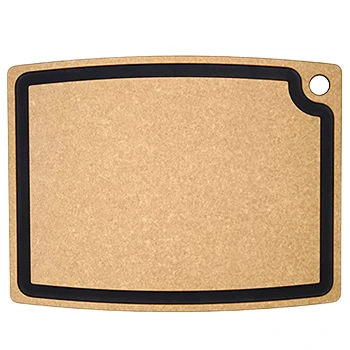 Epicurean Gourmet Series cutting board is made of paper composite. It can resist stains and heat up to 350 degrees. It's durable, has a reversible design, and has a knife-friendly surface.
The board is light, but I found it stays put when in use, even though it doesn't have grips. There's a suction-like effect when I use it on a wet surface.
Liquids bead up on the surface but don't result in stains or odors. The overflow ends up in a juice groove located along the border.
You can also flip it and use the other surface that doesn't have a juice groove if you need more space.
Overall, this is a good cutting board that doesn't cost a fortune, but it'll have some knife marks. Also, you need to keep it stored on the side to avoid warping.
Pros
Thin and light but durable construction
Has a side with and without a juice groove
Heat resistant up to 350 degrees
Check Current Price
Quick Facts:
Dimensions : 17.5 x 13 x 0.25 in
Weight : 3 lbs
Material : Paper composite
Buyer's Guide for Best Cutting Board for Meat

Here are some things you should look for when buying a cutting board.
1. Material
Cutting boards are usually made from one of these materials:
Plastic - The best option for raw meat because it's dishwasher-safe and non-porous.
Wood - Difficult to clean as it can't go into the dishwasher. But wood boards are easier on knives and prevent them from dulling. Plus, wood boards have the best presentation when carving up turkey on the dining room table.
Composite - Made from heavy-duty material. They are durable and dishwasher-safe. However, they are hard on the knives and cause them to dull more quickly than wood boards.
Bamboo - It's gentle on the knives and prevents dulling longer than other materials. Bamboo boards are durable and last for years. However, these boards are rigid and tend to splinter quickly.
Also Read: Best Knives for Cutting Meat
2. Design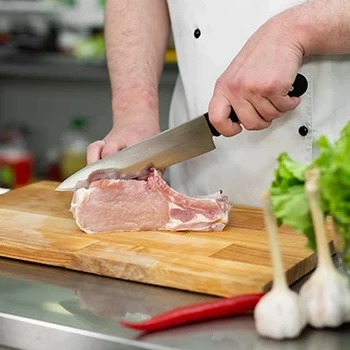 Some boards have a groove around the perimeter that catches liquids when cutting meat or juicy vegetables. The groove prevents the liquids from ending up all over your counter.
However, the downside is that a juice groove decreases the amount of space you can work with. This is why you can opt for a double-sided board, so you get the best of both worlds.
If you intend to carve a lot, look for a board with a deep groove and a pour spout, so it's easy to drain the juices.
3. Size
A smaller cutting board (around 15 inches) is easy to fit in the sink or dishwasher. It's easy to store and take out as needed but doesn't give enough space for carving large meat cuts.
If you cook a lot of big roasts, carve often, or want to use the board as a rolling dough surface, go for a larger board, for example, 20 in.
Keep in mind these take up more space, and storage can be an issue. Plus, they are more difficult to wash, and you need more counter space to use them.
FAQs
What Type of Cutting Board is Best for Meat?
The plastic board is best for meat because it's dishwasher-friendly and non-porous. Wood boards are also good options, but they can't go in the dishwasher.
What Is the Most Sanitary Type of Cutting Board?
The most sanitary type of cutting board is a bamboo board. They are hard and not very porous. Bamboo also absorbs little moisture and is resistant to scarring.
What Type of Cutting Board Should You Not Use with Meat?
The type of cutting board you should not use with meat is glass boards, ceramic, and marble. The knife slips and slides on glass cutting boards.
What's the Best Meat Cutting Board for You?
Cutting boards are not that big of an investment but can make your cooking experience so much easier and enjoyable.
Although every board on this list will serve its purpose, I found Weber's cutting board to be the most versatile. It's reversible so that you can use one side for prep and the other to serve food.
Most importantly, it has grooves around the edges that catch juices, so you have less cleanup. Also, you can just put it in the dishwasher when you're done carving.
The board fits on several Weber grills, but it's an excellent piece of kitchen equipment even if you don't have a Weber grill.
Weber Cutting Board
Our #1 Recommendation
Lightweight
Has a prepping and serving side
Dishwasher-safe
Fits on most Weber grills
Get the BEST PRICE until the end of May
Was this article helpful?