During the decade I've been on a carnivore diet, I learned that cooking equipment plays an essential role in getting a quality meal.
Once I got my knives sorted, I wanted to find the best possible cutting board.
I tried countless plastic, wood, and composite cutting boards, tested them by cutting different kinds of raw meat, and checked the design, durability, and ease of cleaning.
Here are the ten cutting boards I think are worth the money.
The Best Cutting Board for Meat
#3rd Best Choice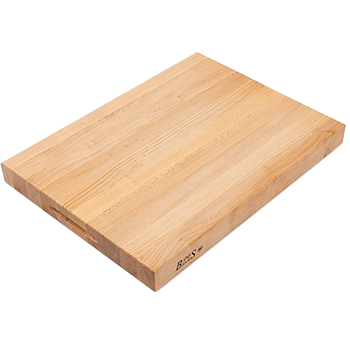 John Boos
Check Current Price
10 Best Cutting Boards
Buyer's Guide for Best Cutting Board for Meat

Here are some things you should look for when buying a cutting board.
1. Material
Cutting boards are usually made from one of these materials:
Plastic - The best option for raw meat because it's dishwasher-safe and non-porous.
Wood - Difficult to clean as it can't go into the dishwasher. But wood boards are easier on knives and prevent them from dulling. Plus, wood boards have the best presentation when carving up turkey on the dining room table.
Composite - Made from heavy-duty material. They are durable and dishwasher-safe. However, they are hard on the knives and cause them to dull more quickly than wood boards.
Bamboo - It's gentle on the knives and prevents dulling longer than other materials. Bamboo boards are durable and last for years. However, these boards are rigid and tend to splinter quickly.
Also Read: Best Knives for Cutting Meat
2. Design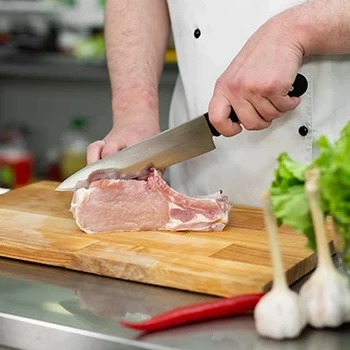 Some boards have a groove around the perimeter that catches liquids when cutting meat or juicy vegetables. The groove prevents the liquids from ending up all over your counter.
However, the downside is that a juice groove decreases the amount of space you can work with. This is why you can opt for a double-sided board, so you get the best of both worlds.
If you intend to carve a lot, look for a board with a deep groove and a pour spout, so it's easy to drain the juices.
Another design feature to look for is the non-slip edge. It helps keep the board in place, which is especially useful if you chop a lot. However, this isn't a must-have feature, as you can easily add rubber feet to the board, or place a towel underneath.
3. Size
A smaller cutting board (around 15 inches) is easy to fit in the sink or dishwasher. It's easy to store and take out as needed but doesn't give enough space for carving large meat cuts.
If you cook a lot of big roasts, carve often, or want to use the board as a rolling dough surface, go for a larger board, for example, 20 in.
Keep in mind these take up more space, and storage can be an issue. Plus, they are more difficult to wash, and you need more counter space to use them.
FAQs
What Type of Cutting Board is Best for Meat?
The plastic board is best for meat because it's dishwasher-friendly and non-porous. Wood boards are also good options, but they can't go in the dishwasher.
What Is the Most Sanitary Type of Cutting Board?
The most sanitary type of cutting board is a bamboo board. They are hard and not very porous. Bamboo also absorbs little moisture and is resistant to scarring.
What Type of Cutting Board Should You Not Use with Meat?
The type of cutting board you should not use with meat is glass boards, ceramic, and marble. The knife slips and slides on glass cutting boards.
What's the Best Meat Cutting Board for You?
Cutting boards are not that big of an investment but can make your cooking experience so much easier and enjoyable.
Although every board on this list will serve its purpose, I found Weber's cutting board to be the most versatile. It's reversible so that you can use one side for prep and the other to serve food.
Most importantly, it has grooves around the edges that catch juices, so you have less cleanup. Also, you can just put it in the dishwasher when you're done carving.
The board fits on several Weber grills, but it's an excellent piece of kitchen equipment even if you don't have a Weber grill.
Weber Cutting Board (Best Overall, Lightweight & Dishwasher Safe)
Our #1 Recommendation
Lightweight
Has a prepping and serving side
Dishwasher-safe
Fits on most Weber grills
Get the BEST PRICE until the end of December
Was this article helpful?