Seeking the premium meat quality, and looking to explore that unique flavor of wagyu, requires a certain level of expertise. This is why we decided to run a three-month test and find out if this service can deliver on the expectations we have.
As an advocate for the carnivore diet, I understand how important it is to find meat that delivers in terms of nutrition. This is why we put extra attention to Wagyu beef by Snake River Farms.
Here is our honest review.
What Is Snake River Farms Wagyu?

Snake River Farms Wagyu is a premium brand that offers American Wagyu beef. What sets it apart is its distinctive approach of blending Japanese Wagyu cattle with traditional Angus cattle, resulting in beef that boasts exquisite marbling, exceptional flavor, and tenderness.
Snake River Farms Wagyu sources American Wagyu cuts, prime rib, gourmet pork chops, Kurobuta pork, and other premium roasts.
Since its inception in 1968, the company evolved from a modest ranch to a sustainable prime beef provider. Their premium products exhibit superior texture and flavor, surpassing competitors.
Our Rating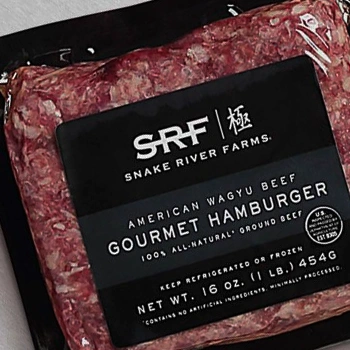 Pros
American Wagyu Beef & Kurobuta Pork
Friendly customer support
Higher than USDA Prime options
Snake River Farms website is easy to navigate
Black vs. Gold - What Should You Choose?
When choosing between Black and Gold Grades, consider your preferences. Both surpass local grocery meats.
Opt for Gold Grade to indulge in premium beef, though pricier (25% more than Black Grade). Despite the cost, it's comparable to upscale restaurant steak prices, ensuring a top-tier dining experience.
I ordered one of each to determine whether they were vastly different. In my opinion, the Gold Grade ribeye has a more tender texture. Both are excellent and are a substantially better option than the USDA Prime.
However, if I hadn't tasted both grades side by side, the difference would have been unnoticeable. One difference I noticed is that the Gold Grade ribeye steak has a higher amount of fat.
Snake River Farms: Black vs. Gold Grade Steaks
Snake River Farms meat has two grades of American Wagyu beef. It's the same as buying various USDA beef grades. However, they use the Japanese Beef Marbling Score (BMS) on a scale of 1 to 12.
Black Grade
The Black Grade steaks from Snake River Farms have a rating of 6 or above on the BMS scale. It isn't the best, but it's higher than the most high-quality USDA Prime beef. The average weight of the Black Grade Ribeye is around 15 ounces, with cuts about 1.5 inches thick.
Gold Grade
This grade is the cream of the crop since it's the highest grade of American Wagyu beef available. Its Japanese Beef Marbling Score can go from 9 to 12. For this reason, a 1.5-inch thick cut of a Gold Grade ribeye costs much higher [1].
Snake River Meat Choices & Selection

Snake River Farms is a bit different from other online mail-order delivery services you'll find. They specialize in two main products:
American Wagyu Beef
If you love to make great steaks on any special occasion, then you will enjoy the Snake River Farms American Wagyu Beef or American Kobe. This is a particular type of amazing Japanese beef that comes from unique breeds of cattle that have higher intramuscular fat content.
The American Wagyu beef has a lot of good marbling, which gives it its tender, buttery texture and juicy taste savored by many.
For connoisseurs, Snake River Farms Wagyu beef may be one of the best and most highly priced meats in the world.
They offer various types of gold grade and black grade American Wagyu cuts, which are way superior to USDA's Prime cuts. Examples of high-quality cuts you can get are:
You can even go for ground beef or filet mignon with this level of quality.
Last but not least, they offer fantastic Teres Major steaks. If you are not familiar with this delicious and high-quality beef cut, be sure to read this article.
Wagyu fat melts at a lower temperature than other stakes, resulting in a rich, buttery flavor

- Alicia Rooker, Editor of Taste at Home Magazine
Snake River Farms Kurobuta Pork
If you want to get pork, then this may be a better choice. Kurobuta is a cut of pork that you can mostly find in restaurants. This comes from the Berkshire breed of pigs, which originates all the way back from the United Kingdom, giving it a slightly higher price tag. On the other hand, Modern Kurobuta pork is a special hybrid of Berkshire, including domestic Japanese black pigs.
This pork scores good on the marbling scale, which means that it has a more tender texture. It is also very juicy, which means it could really make a tasty pork belly roast recipe. It is better for cooking longer at higher temperatures than other pork cuts (2). We have another article dedicated to Kurobuta pork so check it out to learn more.
You can still get various gold or black grade cuts of this pork like pork chops, ribs, pork tomahawk steak, and others.
Recommended meat delivery articles:
Snake River Farms Hot Dog Products
Aside from steak cuts, Snake River Farms Wagyu meat offers hot dog products. Here are two types:
American Wagyu Hot Dogs
American Wagyu Hot Dogs are crafted from American Wagyu beef. These hot dogs are infused with special spices and slow cooked over hardwood, resulting in a distinct and delectable flavor.
Premium Style Hot Dog Products
Snake River Farms has Double R Ranch hot dogs made in the Northwest. They use their old family recipe, smoking the Double R Ranch products in a blend of hardwood to give a unique taste.
Testimonial from Amazon:
'' - Exceptionally delicious hot dogs, ranking on par with Prather Ranch. Additionally, Snake River Farms' corned beef is truly delightful! - Chandler Mahal''
Snake River Beef Production Process
Snake River beef production process is shaped in a manner that supports and delivers the utmost quality standards.
Snake River Farms says its goal is to make its standards one of the industry's best for American Wagyu beef. Its parent company, Agri Beef Inc., controls the entire production process to maintain the highest quality standards for American Wagyu beef.
They are the best commercial producers that I have ever used. Their beef brisket is several steps above any other I have found.
When we first tested the services, we ordered various cuts like filet mignon steaks, brisket, and two packs of American Wagyu beef hot dog options. And even during the subsequent times we ordered, we can always see that every product's quality was consistent and better than the traditional ones we see from a grocery store or butcher.
Family-Owned Farm Sourcing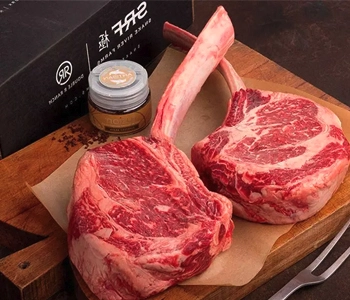 Their every meat product has family-owned farm sourcing, meaning that it originates from their own ranch or select family-owned farms in the Northwest United States.
According to the Snake River Farms Wagyu Beef website, they make a point only to choose to work with ranches that adhere to their stringent guidelines for animal well-being and sustainable farming practices.
They claim that all their animals are fed adequately and are raised according to these top principles, as well.
Quality
Snake River Farms products are some of the best high-quality meats that we've tried.
The American Wagyu steaks have a gold or black grade rating, which is superior to some prime Japanese Wagyu beef products. Every time we cook them, we become excited about how rich the beef's flavoring and marbling are.
It exceeds the quality of the other companies I have used.
We are also impressed with Snake River Farms gourmet hot dog options and brisket made from their Prime meats. They're not like any items we see in a grocery store. They taste great, and we would love to share them as a hearty meal with our friends and family. We can see that the packaging and how they ship their steaks ensure freshness.
How Is Customer Service?
Customer service is an important part of every business, and we wanted to test that segment as well. After receiving our purchase, we called someone from Snake River Farms to ask questions about the meats' proper storage.
The representatives were quick to respond to our queries. They displayed a good understanding of all their products and services. Overall, we found more positive than negative reviews with each order.
Sustainable Packaging & Delivery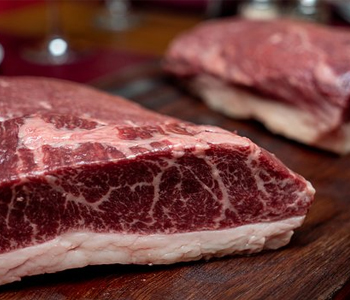 Sustainable packaging and delivery are important parts of this brand, utilized to deliver fresh meat in the shortest period possible.
All items to be delivered will come frozen inside recyclable packaging, which is a thermal insulated bag. Inside the boxes, you can see an insulated foam liner and a lot of dry ice to make sure that your order will stay frozen.
So, you don't need to worry about spoilage if your American Wagyu Beef box sits outside your house for a few hours.
Our frozen meat box even stayed on the porch for a couple of hours, as we were unable to pick it up immediately. When we opened it up, all of the items were completely frozen with dry ice and in good condition. Snake River Farms definitely offers one of the best meat delivery boxes on the market.
Shipping
Unlike most other meat brands, we found that Snake River Farms also delivers their Wagyu beef meat in Hawaii and Alaska.
But, because they use FEDEX, they can ship your order to remote areas like Hawaii and Alaska in a short amount of time. You can also opt for express or overnight shipping. My experience was extremely positive; the package arrived three days after I placed my order, and it was as fresh as promised.
In my review, the one downside I found is that they don't offer free shipping. It could be disheartening, considering the Snake River Farms cost for hot dog products and the like.
Most other brands I used offered free shipment if the meat order surpassed a certain price. But Snake River Farms still required a fee for shipment regardless of the money I spent.
According to the Snake River Farms website, there are four shipping options, including:
$9.99 Standard Shipping (Ground)
$39.99 Express Shipping (2-Day Air)
$79.99 Overnight Shipping (1-Day Air)
$49.99 Expedited Dry-Aged Shipping
Drawbacks We Noticed

One of the most significant drawbacks we noticed was the lack of choices. There are only two main Snake River Farms meats you can buy. It would be nice to have a selection of other meats like seafood and chicken aside from the Wagyu beef.
At the same time, it seems natural for us to offer free delivery when you buy a certain amount of prime-quality beef. The brisket and filet mignon we ordered would have easily pushed us to the free shipment threshold in many other delivery stores.
Comparing With Other Meat Delivery Services
Here's how Snake River Farms compares to other meat deliveries I most frequently use, including ButcherBox, Omaha Steaks, and Harry and David.
Snake River Farms vs. ButcherBox
ButcherBox is best known for sourcing grass-fed and organic meats, while Snake River Farms specializes in premium American Wagyu and Angus beef.
Although ButcherBox is much celebrated for its subscription-based model, Snake River Farms prides itself on sustainable practices, which might lead to slightly higher prices when compared to the competition.
Snake River Farms is often lauded for the exceptional marbling and tenderness of their steaks, contributing to a top-notch flavor experience. However, if you are looking for a wider range of options, ButcherBox comes out on top.
Snake River Farms vs. Omaha Steaks
Compared to Omaha Steaks, Snake River Farms will have a higher price justified by its premium products and high-end selection.
Their marbling and tenderness are not qualities that can be equally seen in Omaha's products. However, Omaha Steaks offer a diverse range of meat products, including steaks, burgers, and more.
Moreover, they are often appreciated for the convenience and variety of packages available for different occasions.
Snake River Farms vs. Harry and David
Harry & David is a suitable option for those seeking a selection of gourmet products. The variety of their offerings makes their products suitable for gifting.
Price-wise, Harry & David is much more budget-friendly, while Snake River Farms still comes with a higher price. Snake River Farms' products are praised for their exceptional marbling and tenderness, resulting in a higher price range.
What Snake River Customers Are Saying?
Most Snake River Farms reviews in Yelp are good and 5-star ratings. Here are some examples:
"We have ordered products from Snake River Farms about seven times over the last 2 years. Their meats never fail to delight our palates." - SC C.
"This was my first time ordering from them and I feel it won't be the last. I purchased the American Wagyu Beef Rib and I was seriously impressed by the taste of the meat." - Kevin P.
"The quality of the meat was not much higher than I can probably encounter, way cheaper at decent, local butcher shops." - Jim G.
FAQs
Can I Have My Snake River Farms Product Shipped At A Later Date?
You can have your Snake River Farms product shipped at a later date, as they have an option for a pre-arranged delivery for Wagyu beef. You can have your package shipped on any day for up to 21 days after you placed an order.
Can I Refreeze My Snake River Farms Meats?
You can refreeze your Snake River Farms meats, but only if a cut has not been entirely defrosted. Flavor remains if not fully thawed. Complete thawing may compromise taste; refreezing then is discouraged. Keep thawed meat in original packaging for up to 12 days in the fridge. Ground beef should not be refrozen.
Does Snake River Farms Accept Refunds?
Snake River Farms accept refunds, and you can file for a refund or replacement. The customer support team will assist with any report made on damaged or defective goods.
Is Snake River Farms Beef Grass-fed?
Snake River Farms beef is grass-fed for the first year. Subsequently, sustainably fed with grains, forages, hay, and potatoes. It doesn't contain any sort of growth hormone.
Is Snake River Farms Steak More Expensive Than Supermarket Meat?
Snake River Farms Steak is more expensive than supermarket meat. Despite its pricey cut, you'll see and taste the difference in flavor and tenderness. If you want good and tender cuts, the prices are worth it.
Is Snake River Farms Worth It?
Snake River Farms is worth it.
It did offer a decent value for our money as we received unique and good quality meat properly packaged and delivered on time.
However, given that Snake River Farms prices are really high and the meat options quite limited, we can't wholeheartedly recommend this subscription service.
We would recommend ButcherBox, which in our opinion, covers all important advantages a meal delivery service should have. They continually provided a very reasonably priced high-quality meat with above-average delivery options.
Snake River Farms might be the only option for states like Hawaii, and kudos for that, but for the past two years ButcherBox has proven to be the best overall choice for our team.
#1 Meat Delivery Service
ButcherBox
Click For Best Price

Pros
Grass-fed and grass-finished beef delivered directly to your door
Without antibiotics or added hormones
Customizable boxes available
Select from up to 21 different cuts
Get the BEST PRICE until the end of December
Was this article helpful?