Picanha steaks are a type of meat traditionally eaten in Brazil and later in Portugal. Though not as common in the United States, it has become more popular in the past few years due to the spread of Brazilian steakhouses.
The cuts generally come from the top back end of the cow next to the tail. If you're curious where to buy some, we've spared you the trouble.
Here's our roundup of the best places where you can buy picanha.
Best Places To Buy Picanha Online

1. ButcherBox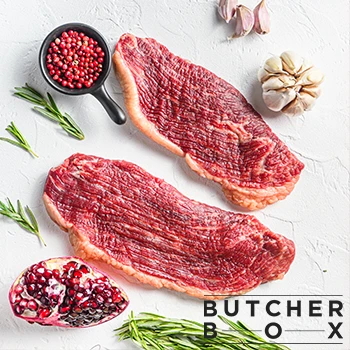 ButcherBox is a meat delivery service that sells grass-fed and grass-finished beef, heirloom-bred pork, and poultry raised crate-free.
They never use any hormones or additives and only source meat from farms that use humane growing practices. You can be sure you're getting quality meat from fairly treated animals.
Their picanha cuts are crazy tender, with a beautiful fat cap that melts as you cook it. You'll get melt-in-your-mouth meat that's best cooked medium-rare or roasted over an open fire.
ButcherBox has free shipping on all orders. We were amazed to see they sent a gift with every order, so it doesn't get more affordable than this.
2. Crowd Cow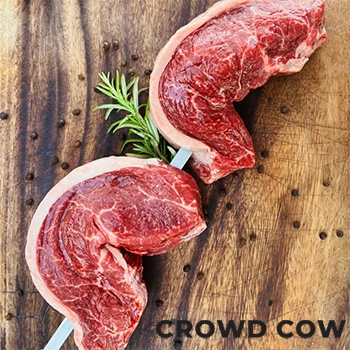 Crowd Cow offers their steak as Coulotte. Their cut comes from American Wagyu Angus ensuring that each cut is well-marbled and easy to grill.
Their steaks are pasture-fed using natural grain.
You can get this cut of meat shipped to your home in as few as two days after orders are placed.
Check out this link to see what else Crowd Cow has to offer.
3. Good Chops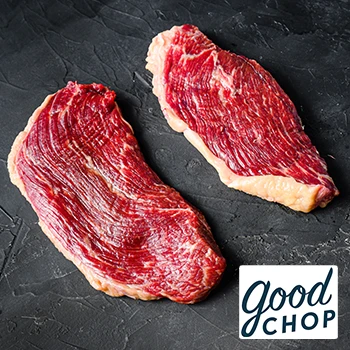 Good Chops offers 25 different meat cuts, and you can choose between medium or large boxes. Once you set up a subscription, you'll regularly get a meat box every four weeks.
You can choose between custom or pre-packed boxes and set up a delivery frequency that works for you.
Their picanha cuts come from US farms. Animals are responsibly raised, sustainably sourced, and not given any hormones or additives.
Apart from picanha, Good Chops meat delivery offers a wide range of cuts, such as ribeye, filet mignon, New York Strip Steak, and more.
4. Snake River Farms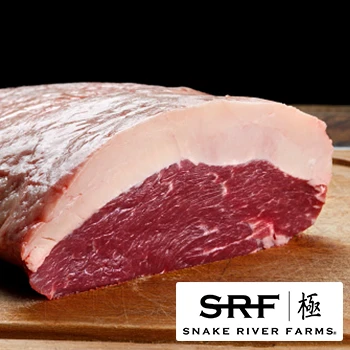 Snake River Farms is a great delivery option if you are looking for an American Wagyu rump.
This cut will generally command a higher price as Wagyu has better fat marbling than other cuts of meat and is harder to raise.
You can order meat deliveries throughout the year and can choose from standard or overnight shipping. If you wish to learn more about SRF read this review.
5. Porter Road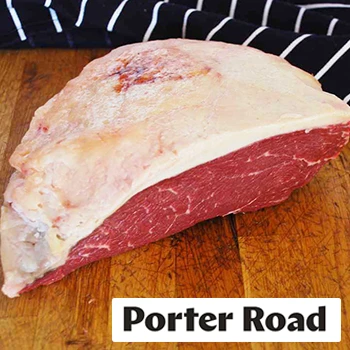 Porter Road differs from many of the other online butchers in that they offer dry-aged sirloin steaks with the fat cap still intact.
This process ensures that each piece of beef is great on the grill.
The company recommends letting the steak rest for fifteen minutes after you grill or roast it to let the juice redistribute.
You can read our complete Porter Road review by clicking here.
6. Omaha Steaks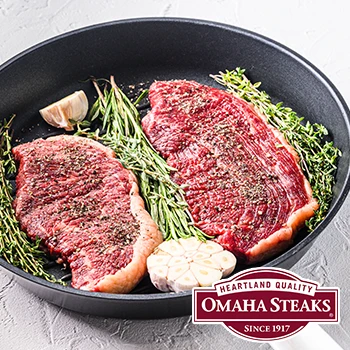 Omaha Steaks is one of the largest meat distributors in the country. We like that they have a reputation for high-quality steak.
The company lists their cut as top sirloin cap steak and recommends that you grill or roast it.
You can get your order using standard meat delivery or, if you would prefer, one to two-day delivery. You can learn more about what Omaha Steaks has to offer in this blog post.
7. Kansas City Steak Company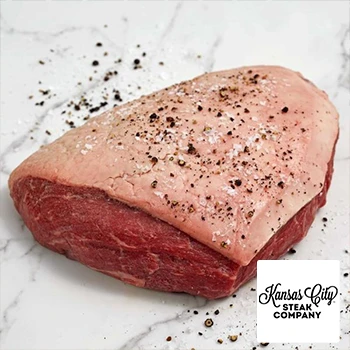 Kansas City Steak Company is another butchers' shop that delivers steaks throughout the country through online delivery.
Their sirloin cap steaks are three to four lbs and the most expensive we could see when reviewing different companies.
You can read our honest review of Kansas City Steak Company on this link.
What Does It Taste Like?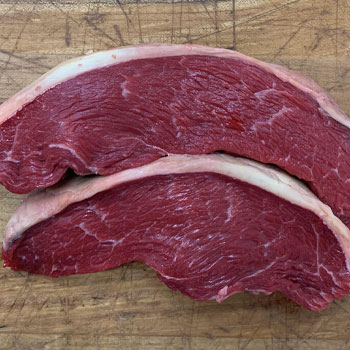 One of the reasons it is so popular is due to the tenderness of the meat and the flavor.
The beef flavor is typically closest to a top sirloin cap with a juicy flavor and tender texture.
We find that it can be very delicious if you cook it correctly.
From our own experience, you want to get a cut with the fat cap still on it as these are generally more tender and cook well.
"Picanha steak is a prized cut of beef in Brazil, also known as 'rump cap'. Ask your butcher for this, or a good quality rump steak will also work. "

- Jamie Oliver, Professional Chef & Restaurateur (2)
Related Articles:
FAQs
1. Is Picanha Better Than Ribeye?
Picanha is generally considered to have a more tough texture than ribeye steak but a juicer taste because of the fat cap, which you would not see with a ribeye. Many people prefer ribeye steak due to it being less tough.
2. Does Walmart Sell Picanha?
Walmart does sell picanha through their online store. It is important to note that each piece is much more expensive than the companies we reviewed above. Something else to consider is that at the time of the review, they were sold out.
3. What Is Picanha Called in English?
Picanha cuts in English are typically known as either a top sirloin cap or a rump cover. This is what the steak is known as in the United States. In the United Kingdom, the common term is the rump cap.
So, Where's the Best Place to Buy Picanha?
If you're looking to buy picanha, we recommend you check out ButcherBox. Picanha or culotte is quite a delight if you're after higher-quality beef with a distinct taste and texture.
However, it's important to note that this is a less common type of beef cut and harder to find in stores. ButcherBox is one of the few stores that offer this cut, and we like how their culotte cuts are well-marbled and easy to grill.
We were also impressed that we received our orders in just a couple of days.
We like that Butcher Box offers free delivery throughout the US and has grass-fed meats raised without hormones or antibiotics.
Our #1 Recommendation
ButcherBox
Click For Best Price

Pros
Beef fed with grass from a local farm delivered directly to your door
Without antibiotics or added hormones
Customizable boxes available
Select from up to 21 different cuts
Get the BEST PRICE until the end of March
Was this article helpful?