Let's face it; not everyone has $1,000 to spend on a fancy new gas grill. However, you can still purchase a quality grill with a budget of $500, with a durable build, various sizes, and impressive features.
That's why we have decided to test seven popular gas grill models in hopes to find the best gas grills under $500, highlighting their features, and best bits, as well as including a guide to what to look for when purchasing new gas grills.
The Best Gas Grills Under $500
Best Gas Grills Under $500:
Gas Grill Buyer's Guide:
When searching the market for a grass grill, there are a few things to keep in mind to ensure you're getting the most for your money.
1. Natural Gas Grill or a Propane Tank?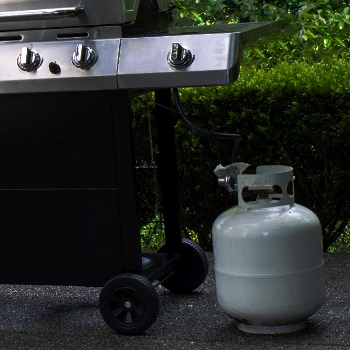 There are two options for gas grilling: using gas or a propane tank. Both are better for the environment than charcoal grills, but natural gas burns slightly cleaner than propane.
If you have a gas line in your house, buying a natural gas grill is more cost-effective in the long run.
That being said, propane gas grills are 64% more popular than natural gas burners [1].
There are a few reasons for this. Propane grills are much easier to use than gas. You don't need to hook it up to your house line; simply connect it to a propane tank, and you're good to go.
This also means that propane gas grill options are more portable than natural gas grills since they can be used anywhere.
2. Grilling Space
If you're purchasing the a gas grill, you probably don't expect to get many square inches for it.
However, as you can see from the above reviews, it's pretty easy to get your hands on a grill with 400 - 500 square inches of cooking space.
This will be enough to feed an average-sized family, while a grill above 600 square inches of cooking space will be better for a larger family or a pitmaster who frequently throws bbq parties.
Before buying your grill, you have to consider how much cooking area you need.
Think about how big your family is, the food you plan to cook, and whether you'll have guests often.
You'll also have to consider the height of your new grill. A rack would be a good idea if you want to toast your buns or cook vegetables.
If you need extra grilling space, you could always consider gas grills with a side burner.
3. BTU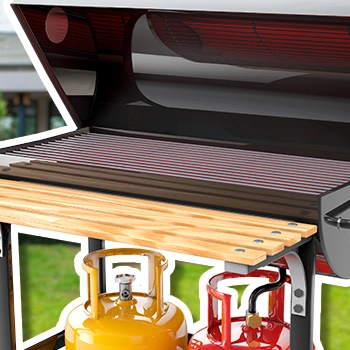 A high BTU (British Thermal Unit) doesn't necessarily mean your grill will produce more heat; it tells you how much energy and heat output the burners will need according to the fuel consumption [2].
You should consider the BTUs like the horsepower on a car; just like how other factors determine how fast your car goes, other factors will affect the hotness of your grill and how quickly it will heat up.
When you purchase a grill, the size and shape of the unit must also be considered.
If you have a larger grill, you will need a higher BTU, and if you have a smaller unit, a smaller BTU will be sufficient.
4. Heat Flux
The heat flux needs to be considered when determining how hot your grill will get. To figure out the heat flux, you need to divide the primary cooking surface of your grill (excluding any warming racks) and divide that by the BTU.
The higher the heat flux, the hotter your cooking surface will get [3].
5. Ignition
Most grills will have electronic ignition. It means that with a simple push of the button, your grill will ignite in seconds. You don't need to use the matches or a lighter. For example, many leading contenders, like Weber, use their patented ignition system to ensure the grill ignites the first time.
The best gas grills will have a high-quality, battery-powered ignition - these tend to last longer.
6. Number of Burners

The number of burners your grill has will affect how hot it will be and how quickly it will heat up.
Typically, if a grill has three or four burners, it will heat up much quicker than a grill with only one or two.
"The key to good grilling is to recognize that you are setting yourself up to cook in a whole new environment. This is actually one of the main purposes of grilling - to get yourself outside."
- Barton Seaver, Chef
More main burners will also make your grill more versatile for the foods you cook.
Since you have control over separate burners, you can control the temperature of your entire cooking area. These different heat zones can be used for direct and indirect cooking.
The main burners may be located front to back or side to side. The latter will provide you with more flexibility when you cook.
7. Grill Grates
The quality of your grill grates will determine how well your food cooks. Look for iron or stainless steel grates. These will resist rust and corrosion and be easier to clean.
However, if the cooking area is made from stainless steel, you may notice that the heat isn't held as well. This is why you should go with a cooking area coated with porcelain enamel.
If you purchase gas grills under $500 and find the grates flimsy or made of cheaper material, you should consider replacing them for an all-around better experience.
8. Build Quality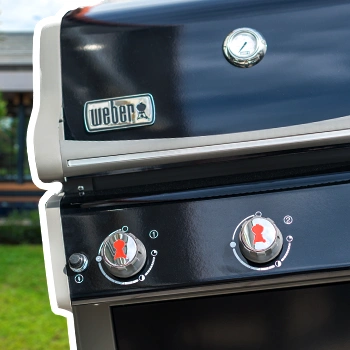 Affordable gas grills should still be made with durable and high-quality materials. Gas grills may be exposed to all types of weather that could easily damage a low-quality grill.
Look for a grill that is made from stainless steel, as they tend to be the most durable.
Grills made from cast aluminum or coated cast iron are also good, but they could experience some chipping, leading to rust. This rule also extends to the burners; stainless steel will be more durable.
It's a good idea to check the warranty and which parts it includes. Typically, the burners will have a more extended warranty than the grill's body.
Read More: Best High-End Grills
9. Portability
If you're looking for a grill to use on the go, there's no sense in buying one that has six burners and a cooking area of 600 square inches.
You're better off going with a compact propane gas grill that is either lightweight to move or designed for a tabletop.
Related Articles:
FAQs
How Many Btus Should a Grill Produce?
A gas grill should produce 80 - 100 BTUs per square inch of cooking area. So, if you have a 200-square-inch grill, your unit should produce around 16,000 - 20,000 BTUs. The BTU isn't everything you should look out for; the size of your grill, max temperature, and build quality will also affect its performance [4].
Can You Convert a Propane Grill Into Natural Gas?
Not all propane units can be used with gas. However, some may be converted. You will need to check the owner's manual to ensure you can do this safely, and if so, you need to purchase a natural gas conversion kit.
I recommend getting this from the same manufacturer as your grill. You can always buy knock-off sets online; however, you risk voiding your warranty if something goes wrong.
How Do You Clean a Propane Grill?
You should clean your grill using a grill brush after every cook. If you do this when the grill is still warm, it'll be easier to remove the grease and food particles since they haven't had time to harden.
If you have a cast-iron cooking area, you'll want to put some oils on the grates afterward. Deep clean your grill once a month.
Best Grill Under $500 - Our Winner
All the grills listed here are excellent options when it comes to purchasing a grill on a budget.
That being said, our winner has to be the Weber Spirit II E-310 Grill purely for its large cooking area, impressive BTU power, and ample amount of storage.
We loved this grill's handy grease control system, and we believe both beginners to the grilling world and pitmasters will be impressed with the value for money this grill has to offer.
Weber Spirit II E-310 Grill (Best Overall & Easiest-to-Maintain)
Our #1 Recommendation
Primary cooking area is 529 square inches
Includes two stainless steel side shelves, the left being foldable
Lots of storage space and places to hang your tools
Includes flavorizer bars, infrared technology, and a grease management system
Get the BEST PRICE until the end of December
Was this article helpful?