After embracing carnivore diet for over a decade now, I've developed an intense passion for grilling and I am always looking for powerful built-in gas grills.
I've had countless grilling sessions and tried and tested several grills, which has helped me compare the diverse performances of each grill.
I've rounded up the best built-in gas grills that offer the utmost convenience and performance.
Continue reading to learn more about the top 10 built-in BBQ gas grills worth purchasing.
#2nd Best Choice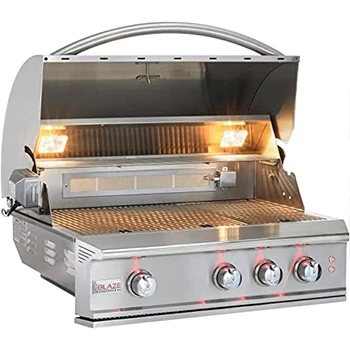 Blaze
Check Current Price
#3rd Best Choice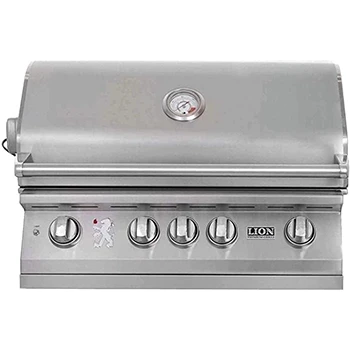 Lion Premium Grills
Check Current Price
Top 10 Best Built-In Gas Grills
Best Built-in Gas Grills Buyer's Guide
Here are three tips to consider when buying a built-in gas grill:
1. Grill Size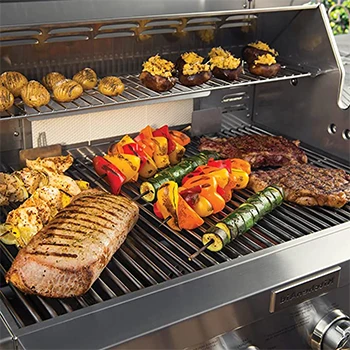 When looking at the size of a built-in grill, you should consider the number of burners it has and how much food the surface area can accommodate at once.
If you're cooking for a large group, choose built-in grills with 550 and 1000 square inches of cooking space and 5-7 burners.
These built-in gas grills offer a massive cooking surface that can hold up to 30 patties at one time. Such big grills, depending on the model, also come with 3-4 shelf racks for extra space.
A typical three burner gas grill features 450-500 square inches of cooking area, which is generally sufficient for the average household. People that entertain often or have large families may want a grill that offers five or six burners and features 550-650 square inches of cooking area. - Warners' Stellian, Appliance Specialist
Also Read: Best Small Grills
2. Fuel Type
It would be best to decide whether you plan to use natural gas or propane tanks to power your built-in gas grill.
Natural gas and propane are nearly equivalent in heat output and grilling performance. It's good to note that while natural gas is cheaper than propane, it burns faster, so you might end up using more of it than propane gas [1].
So, in the long run, propane is a better fuel choice as it heats up well and is quite hot with less usable substance.
3. Built-in Gas Grill Features
The most crucial built-in grill features depend totally on your cooking technique and are those you will actively utilize. It can be easier to find built-in gas grills tailored to your needs if you consider the features you like.
For example, all-infrared built-in gas grills would be the best option if you want extreme heat and sears that rival those in steakhouses.
Also, you can choose built-in gas grills with a smoking chamber or a tray attached to add flavorful wood chips while cooking if you want low-and-slow cooking or smokey tastes.
Related Articles: 
FAQs
Are Built-in Gas Grills Safe?
Yes, built-in gas grills are safe to install and use in any standard indoor or outdoor kitchen. Despite this, a natural gas grill is a little riskier than a propane grill since the natural gas line must be connected to your home's gas line.
How Long Do Built-in Gas Grills Last?
Built-in gas grills last between 5-15 years, depending on the brand, build quality, and your cleaning and maintenance practices.
How Do I Choose a Built-in Gas Grill?
You choose a built-in gas grill based on your cooking needs, grill size, material, and budget. Always go for an appliance that ticks all your boxes.
Is There a Standard Size For Built-in Gas Grills?
No, there is no standard size for built-in gas grills, but most range between 34-40 inches. It's best to pick a grill size you're most comfortable with.
#1 Best Built-in Gas Grills Recommendation
Installing a built-in grill in your custom outdoor kitchen can add durability and elegance.
If you're searching for a high-quality grill that gives exceptional performance and uniform heat distribution throughout the whole cooking surface, the Summit® S-460 is the grill for you.
This premium built-in gas grill is about more than appearance and feel. It offers top-tier burner quality, reliable ignition, and precise temperature control.
With its all-stainless steel cooking components, flavorizer bars, robust cooking grids, and handy capabilities that make barbecuing a snap, the SummitS-460 is Weber's top-of-the-line gas BBQ grill.
Weber Summit® S-460 Built-In Gas Grill (Liquid Propane)
Our #1 Recommendation
Stainless and durable flavorizer bars
Hassle-free burner ignition system
Heavy steel rod cooking grates
Premium lid cover
Get the BEST PRICE until the end of September
References:
https://www.elgas.com.au/blog/486-comparison-lpg-natural-gas-propane-butane-methane-lng-cng/
Was this article helpful?