As a 10+ year carnivore dieter who loves grilling and smoking meat on charcoal grills, I took it upon myself to try the different charcoal grill brands out there to see if they fit the $500 bill without compromising the quality.
After years of trial and error, I've finally curated a list of the six best charcoal grills under $500 that offer excellent features and top-notch grilling performance.
Let's get into it.
The Best Charcoal Grills Under $500
#2nd Best Choice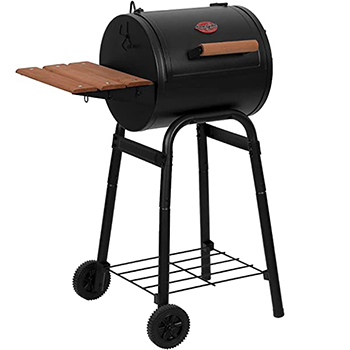 Char-Griller
Check Current Price
#3rd Best Choice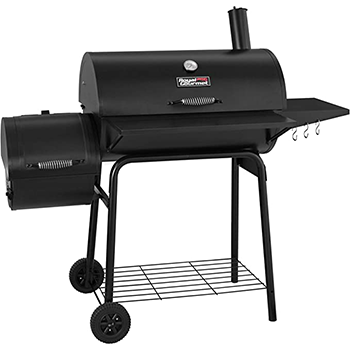 Royal Gourmet
Check Current Price
6 Best Charcoal Grills Under $500
Buyer's Guide for the Best Charcoal Grills Under $500

Here's a detailed buyer's guide to help you if you're planning on investing in a top-quality charcoal grill under $500.
1. Construction Material
The exterior construction material on a charcoal grill will determine how long it will survive and how well it will withstand the environment.
Charcoal smokers made of stainless steel or powder-coated steel are the most durable and can withstand high temperatures and cooking pressure. These type of materials also makes the charcoal grill rust-resistant for outdoor cooking.
I wouldn't recommend buying charcoal grills made of porcelain or enamel because they tend to chip and shatter easily with time.
Related Articles:
2. Charcoal Grill Size/Capacity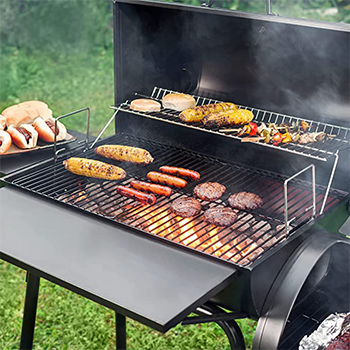 When looking for good charcoal grills under $500,  it's vital that you inspect the size based on cooking grates and total cooking area. Then, match these measurements with how many people you intend to cook for and the amount of food you'll be grilling.
Small grills are ideal for singles, small families, and hosting a visitor or two. These grills are around 26 inches or so in width, and they support only grilling with direct heat.
On the other hand, medium charcoal grills are ideal for medium-sized families and small gatherings. The width of the cast iron grates ranges from 27 to 33 inches, and they support cooking with both direct and indirect heat.
Finally, if you're frequently hosting larger family gatherings, large charcoal grills are a good fit for you. The cast iron cooking grids on such grills are 34 inches wide and larger.
3. Grill Accessories
When purchasing a charcoal grill,  always keep an eye out for extra equipment and accessories that come with the BBQ.
This is important because a grill with the necessary accessories will help you have the best grilling experience. Some of the accessories to consider include a rake, chimney, and fire starter.
Also Read: Best BBQ Tool Sets Under $50
4. Fuel Type
Most charcoal grills use either briquettes or lump charcoal as fuel. I recommend buying a charcoal grill that uses lump charcoal because it burns hotter and cleaner than briquettes since it is manufactured from real wood.
On the other hand, briquettes are a good fit if you want more smoke for your meat.
Because briquettes are formed of sawdust and other materials, they burn slower and generate more smoke than lump charcoal.
Read More: Best Charcoal Briquettes
Who Should Buy a Charcoal Grill?
Anyone who loves adding great smokey flavor to dishes and cooking large chunks of meat, including chicken and turkey, should buy a charcoal grill.
Charcoal smokers are also ideal if you want to care for your meat the old-fashioned manner, slow cooking and basting it with your preferred sauces and rubs for 6 to 24 hours.
Who Shouldn't Buy a Charcoal Grill?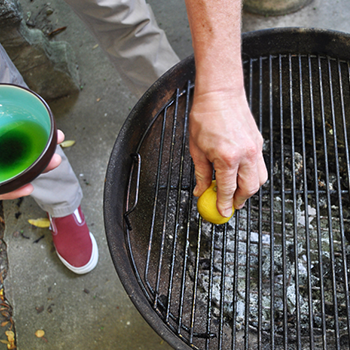 Anyone who wants a set-it-and-forget-it kind of grill shouldn't buy a charcoal grill.
Charcoal grills require a lot of tending and adding lump charcoal to keep the fire burning until your meals are cooked.
Also, if you want an easy-to-clean grill, charcoal grills aren't a good fit for you.
This is because charcoal grills have an intense cleanup process because of the interaction of coal and ash on the steel grill parts.
FAQs
Should I Clean My Charcoal Grill After Every Use?
Yes, you should clean your charcoal grill after every use by removing all the grease and food debris and emptying the ash collection tray. Cleaning and maintaining after every use will lengthen the lifespan of your grill.
What Is the Most Versatile Charcoal Grill Brand?
The most versatile charcoal grill brand is Weber. Weber grills are made of premium materials like cast iron, porcelain-coated enamel, and stainless steel. The brand also builds grills using welds rather than fasteners, which results in stronger, rustproof seams.
How Long Should I Let My Charcoal Grill Sit Before Using It Again?
You should let your charcoal grill sit for at least 24 hours before using it again for the next grilling session.
What is the Best Charcoal Grill Under $500 for You?
Charcoal grills are cost-effective and yield fantastic charcoal-smokey results. With a good charcoal grill, you can readily grill anything, from meat and bread to fruits and veggies.
Still, if you want to make charcoal grilling faster and easier, or you want to expand your options when cooking outside without going over the $500 limit, Weber Performer 22" is the grill that's worth serious consideration.
With its many features that blend the best aspects of a charcoal and gas grill, this Weber Performer charcoal grill gives the classic and smoky flavor of charcoal with increased convenience and efficient heat distribution.
Weber Performer Charcoal Grill 22" (Best Overall)
Our #1 Recommendation
Touch N Go gas ignition system
Gourmet BBQ system
Removable backlit LCD timer
Efficient heat distribution
Get the BEST PRICE until the end of December
Was this article helpful?