I have been dedicated to the carnivore lifestyle for many years, so I am always looking for places to source high-quality, sustainable, and delicious meat.
After seeing some positive testimonials, I decided to try out Walden Local Meat (WLM) for a few months. Here are the results from my research.
What Is Walden Local Meat?
Walden Local Meat is a whole-animal meat share program that delivers grass-fed, pasture-raised, and hormone/antibiotic-free meat to members in New England, New York, and New Jersey.
The company was founded in 2013 to connect consumers with the sustainable farmers who raise and deliver their food.
Benefits And Highlights

Walden provides its customers with many benefits, some of which are listed below.
1. Sourcing
Walden's unique value proposition is connecting the purchaser directly to the local farmer. This idea allows for full traceability of the product. It also creates a relationship of trust between the consumer and the producer.
WLM only sources from farms that meet their rigorous standards for animal husbandry, including pasture-raising, grass-feeding, and no hormones or antibiotics.
This way, they are sure their pork, beef, chicken, and eggs are from animals raised via sustainable agriculture.
The corporation is also committed to working with small family farms instead of large commercial meat industry operations. They partner with farmers and butchers who treat livestock ethically and with respect.
Because Walden knows the farms and farmers they do business with, I have found few companies with such high standards for sustainability and stimulating the community economy.
2. Quality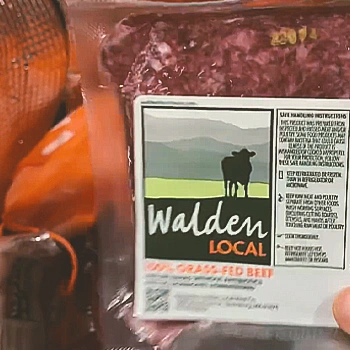 The quality of Walden Local Meat is excellent. The beef is grass-fed, so it is leaner and has a more intense flavor than the grain-fed beef you get at the grocery stores.
The chicken and pork are pasture-raised, so they are also very flavorful. These animals are raised in the sunshine and fed only natural grasses and plants, making the meat healthier and tastier.
Walden Local Meat is also hormone- and antibiotic-free. This is important to me because I do not want to consume pork and beef that was unnecessarily given these chemicals.
Thus, overall, I am impressed with the quality of WLM.
"Our intention is to link our re-emerging local agricultural economy to you. Behind every cut is a network of farmers, butchers, and laborers dedicated to using best practices from a health, environmental, and ethical perspective."
- Charley Cummings, Founder and CEO
3. Menu
Walden's menu is deceptively simple. The main fare includes grass-fed beef, pork, lamb, chicken, and fish. But, within each category, there are many different cuts and packages to choose from.
For example, the grass-fed beef options include ground meat, steaks, roasts, and stew meat. The pork selections include pork chops, bacon, sausage, and pork ribs.
And the chicken choices include whole birds, breasts, thighs, wings, and drumsticks. The fish and seafood options are extensive, from lobster to scallops, swordfish to squid, and clams to skate.
Despite the name, Walden Local Meat offers far more than meat. Interested in breakfast? You can get buttermilk, syrup, eggs, butter, and pancake mix.
Want to give Fido a treat? WLM has beef marrow bones. Looking for something more eclectic? You can get beef tongue, pigs' feet, pork tripe, or chicken hearts - add-ons for any taste [1].
Although I am impressed by the extensive meat selection, I was surprised to see how many bread products Walden has available. Sourdough, tortillas, bagels, and multi-grain breads are offered - not something I was expecting from a firm dedicated to meat consumption.
4. Frequency and Amount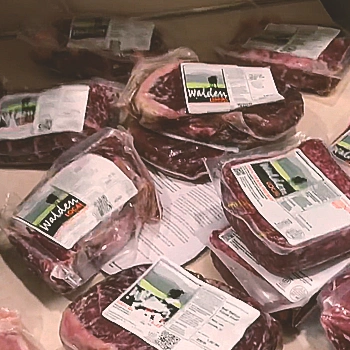 Walden Local provides a monthly plan as its base. However, if that is too frequent for your needs, you can have that moved to every other month.
You can also choose the size of your delivery. At the low end, you can get a small (6-7 pounds) package. There is a large (30-31 pounds) version on the upper side. The average order for a customer is 10-11 pounds per month.
I like that you can tailor the quantity and frequency of deliveries. I was also interested in their handy chart that helps customers choose the correct amount of food based on the number of people in their families and how frequently they eat meat.
5. Shipping
Walden Local Meat is genuinely local - and its shipping reflects that reality. The company itself delivers all orders. They do not use delivery services or third parties to ship their products.
I think it is a great benefit that Walden hand-delivers all orders to its customers on dry ice and in reusable canvas bags.
This shows the corporation looks at sustainability as a core mission, which is demonstrated even within the packaging. The packages I ordered arrived just in time, so their delivery service runs very smoothly too.
Shortfalls
Every positive comes with a negative, and Walden's shipping is no exception. Although you get fresh grass-fed beef delivered to your door by the service, the delivery radius is limited.
In order to get WLM to deliver to your home, you need to live in its shipping area: throughout the northeast - from New Hampshire and Maine to Connecticut, New York, and New Jersey [2].
Pros
High-quality meat that is ethically and sustainably sourced
Substantial and varied menu available with no processed foods
Local delivery ensures freshness
Flexible delivery frequency and amount
Cons
Lack of delivery outside Walden's local area
Comparisons

Walden Local Meat is a solid option for those looking for a high-quality, ethically-sourced meat delivery firm.
However, there is competition in this space. Let's look at some other services.
Walden Local Meat vs. ButcherBox
ButcherBox and Walden Local Meat both offer meat delivery services, but ButcherBox stands out in several areas. Firstly, it boasts a broader delivery coverage, serving almost all US states, whereas Walden Local Meat is limited primarily to the New England region. ButcherBox also offers greater subscription flexibility with five distinct options, ensuring customers have a variety of meat selections.
Walden Local Meat, on the other hand, operates on a meat-share basis, which might not offer as much flexibility in terms of meat selection. While both companies offer a range of meats, ButcherBox provides a broader selection, including sustainably-sourced seafood and occasional offerings like lamb and ground turkey.
Walden Local Meat vs. Crowd Cow
Crowd Cow is a meat share company that offers its customers the ability to choose from a wide variety of cuts and types of meat.
Crowd Cow delivers nationwide, which gives it an edge over Walden in terms of accessibility outside of New England or Long Island. However, Crowd Cow does not offer the same level of customization when it comes to delivery frequency and amount.
Walden Local Meat vs. Snake River Farms
Snake River Farms is a meat delivery service that specializes in American Wagyu beef, Kurabota pork, and chicken.
Snake River Farms is more focused on speciality meat products than local meats, though they do source solely from their 80,000-acre ranch in Washington. WLM works more with local farms to bring their products to market.
Related Articles:
Where To Buy And Pricing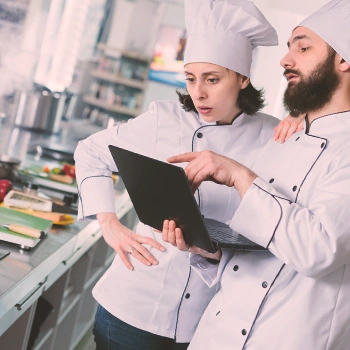 You can purchase Walden Local Meats directly from the company's website. The corporation offers a variety of different subscription plans, as well as the ability to purchase à la carte items. You pay for these add-ons separately from the main subscription.
The prices for Walden's meats are on par with other specialty meat delivery services. The price ranges from $10-to-$15 per pound, with a discount for larger orders.
This is more money than at the grocery store or butcher shop,
With WLM, you always pay as you go and can skip or cancel at any time.
Is Walden Local Meat Worth the Price?
Walden Local Meat is certainly worth your money. By supporting this company, you contribute to the well-being of local farmers and prioritize animal welfare. The meat provided by Walden comes from grass-fed cows, ensuring superior quality and ethical sourcing.
The company operates with transparency, giving you peace of mind about the origin of your food. Whether you're savoring succulent spare ribs or relishing the flavors of whole animals, Walden delivers deliciousness that satisfies primal cravings.
For those seeking a premium experience and a sense of responsibility, the slight price increase is well worth it.
What Customers Are Saying
Customers who have used Walden Local Meats are positive about the quality of the product.
They also appreciate the company's commitment to sustainability and ethical sourcing. Some review examples include:
"The quality of the grass-fed beef is amazing. It's so fresh and delicious. I love that Walden only works with local farms."
- Sherri T. , From Pinehurst
"I was really impressed with how much care went into packaging the meat. The pork, eggs, and add-ons arrived in perfect condition."
- David W. , From Lowell
FAQs
Where Does Walden Meat Come From?
Walden meat comes from small farms in New England and New York. The company works with over 50 different farms to source its ground meat, eggs, pork, and other add-ons.
Who Owns Walden Local Meats?
Walden Local Meats is a privately-held corporation owned by Charley Cummings since 2014. Its location is in Tewksbury, MA.
How Do I Cancel Walden Meat?
You can cancel your Walden meat subscription by logging into your account and going to the "My Subscriptions" page. From there, you will be able to cancel or modify your subscription.
How Good Is Walden Local Meat?
Walden Local Meat is a good meat share option for those in New England and New York who are looking for high-quality, ethically-sourced meat and fish. However, Walden's delivery area is currently limited to a small area of the US.
If you are looking for an affordable and tasty meat delivery firm with nationwide delivery, ButcherBox may be a better option for you. It has a wide range of box types to choose from, so you can find one that fits your needs.
#1 Meat Delivery Service
ButcherBox
Click For Best Price

Pros
Grass-fed and grass-finished beef delivered directly to your door
Without antibiotics or added hormones
Customizable boxes available
Select from up to 21 different cuts
Get the BEST PRICE until the end of December
Was this article helpful?