Traditional smokers make it difficult to control temperatures. Using these, you run the risk of undercooked meat that can make you sick.
With a vertical pellet smoker, you get a more consistent cooking temperature and more evenly cooked meat.
We've narrowed down and reviewed the best vertical pellet smokers to help you up your pellet grill game.
Top 10 Vertical Pellet Smokers in 2023
7 Important Considerations Before You Buy

1. Vertical Pellet Smoker Water Pan Capacity
One of the downsides with vertical smokers is they can dry out the meat more quickly. The solution to this is having a water container that will evaporate the water and help keep the meat moist and tender. You want to look for a water container that has a larger capacity.
Remember that the more often you have to open the door to replace the water, the more spikes and dips you are going to have in the internal temperature. Ideally, the best vertical pellet smoker can hold at least three liters of water.
2. Pellet Smoker Hopper Capacity
The hopper is the area where you put your pellets. As with the water container, you want a hopper that will hold enough, so you don't have to add more pellets continually.
Every time you open the door, you are adding enormous amounts of oxygen into the chamber, which can cause temperature spikes before the temp settles back.
This isn't an issue as much with vertical pellet smokers, which generally have larger hoppers but can be more of a problem with traditional pellet grills.
The best vertical pellet smokers should have a large enough hopper so you don't have to open the door and add more pellets too often.
3. Temperature Control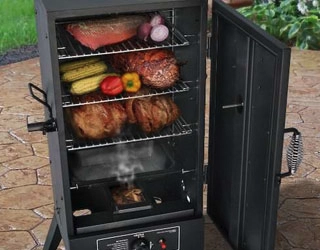 One of the most significant challenges when smoking meats is temperature control (1).
Vertical pellet smokers are typically better for maintaining a consistent temperature range compared to different types of BBQ smokers and pellet grills.
This is especially true for offset cookers as there is a separate fuel door that you open to add fuel and water. You can find out which offset pellet smoker model we think is the best by clicking on this link.
Electric pellet smokers are also better as you digitally set the temperature range, and the heating unit will kick in to help regulate the temp.
This is in contrast to gas-powered cookers that use dials or charcoal cookers that you have to work with to maintain the temperature range. For the doneness level of meat, you desire, it is best to use a meat thermometer.
Recommended Article: ThermoPro TP Review
4. Pellet Smoker Heating Element
There are various types of heating elements that you can select from (2). When it comes to the best vertical pellet smokers, you will likely decide between an electric heating element or a gas heating element. Most traditional vertical pellet smokers use an electric element that you can control digitally.
However, the reality is that you can use pellets with any pellet smoker. Suppose you're looking for an easy-to-use option that will give you the best and most consistent temperature range settings. In that case, we recommend a vertical pellet smoker with an electric element.
5. Cooking Grate
It may not be the most apparent aspect of grilling, but the material of the actual cooking surface can affect how your meat turns out. Cooking grates for vertical pellet smokers can be made from a variety of materials, including porcelain, stainless steel, and cast iron.
Some of the differences between cooking grate materials include:
Porcelain-Enameled steel - this is easier to clean than cast iron and, because of the porcelain, retains heat better than traditional stainless steel.
Stainless Steel - the main benefit of stainless steel grates is that they can last for a long time if properly maintained. These may be a good option if you don't want to replace parts regularly.
Porcelain-Enameled Cast Iron - because of the combination between porcelain and cast iron, this grate type retains the heat level for much longer than others. This also makes it ideal for achieving sear marks in steaks.
6. Ease of Use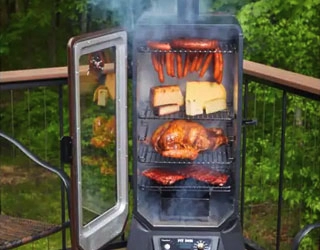 If you're new to smoking meats, these best vertical pellet smokers can be a great place to start. The main draw for many people is the electric components, which make it a more straightforward process to set the temperature range.
It also makes it much easier to keep the temperature range regulated throughout the cooking process for a more consistent cooking experience.
That being said, not all pellet units will be easy to control, and if you haven't used one before, the best vertical pellet smoker will be the one that's simple to use.
The more complicated the electronics are, and the more options you have, the more difficult it will be the first few times you grill. If you've never used a pellet smoker before, you should opt for one with easy-to-set-up controls and read our guide on how pellet grills work.
Related Articles:
7. Setting Options & Accessories
One of the significant benefits of these vertical smokers is the wide variety of extra features and accessories you can get. It ranges from various attachments for monitoring the temperature control of your meat to numerous different types of racks for cooking vegetables, carnivore jerky, ribs, or fish, which is why these vertical smokers are often considered as one of the best smokers of fish.
Some of the extra features you should look for in a pellet smoker include:
Jerky racks
Vegetable racks
Rib racks
Tube smokers
Bluetooth monitoring
Sausage hangers
Some of the best vertical pellet smoker units include all of these things. Other units will have some of these features with the option for you to add the rest as you need them. Before purchasing a pellet grill, you should think about which features will be most helpful or you can try to build your pellet smoker.
"Pellet grills are gaining prestige among professional grillers. Two of the top five teams in the Kansas City Barbecue Society competitions this year exclusively used pellet grills."

-Candy Weaver, President of the Kansas City Barbecue Society
If you regularly cook sausage, for example, having built-in sausage hangers can help make sure the meat is more evenly cooked and doesn't burn. Likewise, if you know you want to cook multiple racks of ribs at one time, then having a rib rack can be helpful.
FAQs
Are vertical or horizontal smokers better?
It depends. Vertical smokers are better than horizontal smokers if you want to smoke or roast different types of meats. These pellet smoker types cannot grill due to the heat source being further away. If you're going to grill different meats, then a horizontal pellet smoker may be better.
Can you get a smoke ring with a pellet smoker?
Yes, you can get a smoke ring with a vertical pellet smoker. The smoke ring occurs when the compound myoglobin mixes with the nitric oxide dissolved in the tissues of the meat. Nitric oxide is a byproduct of nitrogen dioxide, the product of burnt wood, mixing with hydrogen in the meat.
Is a vertical pellet smoker better than an electric smoker?
Generally, yes. A vertical pellet smoker is better than an electric smoker if you are looking to get smoky flavor in the meats. Pellet smokers are a good mix of traditional smokers and electric smokers. You get the ease of use of an electric pellet smoker with the flavor of a traditional smoker.
Do you need a water pan in a vertical pellet smoker?
Yes. You need a water pan in a vertical pellet smoker if you plan on slow-cooking meat at lower temperatures. The water container serves as a barrier between the heat source and the meat. It also helps to catch any drippings from the meat to prevent flare-ups.
How do you offset a vertical pellet smoker?
You offset a vertical pellet smoker by adding a smokebox to the side of the smoker. An offset smoker is one where the smokebox is to the side of the cooking chamber with smoke entering from the side. A vertical pellet smoker has smoke going from the bottom up to the cooking chamber.
Is an offset smoker better than a vertical pellet smoker?
Not necessarily. Offset smokers take up a larger space because it lies horizontally. Unless you have extra space or area to spare, opt for a vertical pellet smoker whenever you smoke meat.
Do I need to put water in my vertical pellet smoker?
Yes. If you're using a vertical pellet smoker, place at least 2 liters of water, wine, apple juice, or beer in the pan.
Is a vertical pellet smoker better than a regular smoker?
It depends. If you are after convenience and consistent decent outcomes, then go for the best vertical pellet smokers. However, if you like a more authentic flavor and experience, you can stay with using chunks.
And the Best Vertical Pellet Smoker is ...
All of the vertical smokers on this list are solid choices, but the Pit Boss Sportsman 5-Series Wood Pellet Vertical Smoker gets our vote for the best vertical smoker you can buy right now.
We are particularly impressed with its digital control panel that makes each grilling session more enjoyable compared to other vertical smokers.
One of the main selling points was the sizable door-sized viewing window allowing you to easily monitor your food without opening up the unit.
The five cooking racks provide plenty of cooking space, and you can adjust them as needed; plus, it comes at an affordable price compared to similar vertical smokers.
Our #1 Recommendation
Pit Boss Sportsman 5-Series Wood Pellet Vertical Smoker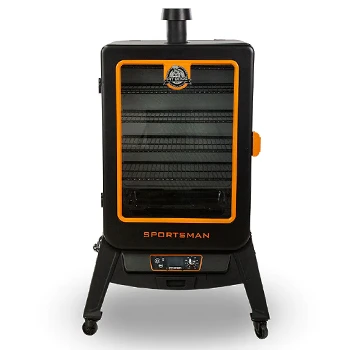 Pros
Massive cooking area
Convection cooking airflow
Five cooking options
Digital control board for ease of use
Was this article helpful?