I use my grill almost every day to prepare my meals in bulk. I wasn't getting that smoky tenderness that I wanted, so I checked out some pellet grills. My team and I tested over 10 different models, and that's when we discovered Pit Boss.
So we fired up one of their most popular models to bring you this Pit Boss 700FB review.
What is the Pit Boss 700FB?
The Pit Boss 700FB is an 8-in-1 pellet grill that includes a standard flame broiler to sear steaks and features a dual-tier rack. It has a digitally controlled burn system with an LCD readout that helps keep the temperature range from 180 to 500 degrees.
The Pit Boss 700FB grill comes with 700 square inches of cooking space, which means you can cook for about 4 to 6 guests. The cooking grids are made of porcelain-coated and gauge steel cast iron. It uses 100% hardwood pellets, which you can use to fill the hopper.
Pros
700 sq in total cooking surface
Digitally controlled burn system
Porcelain-coated cast iron
5-year warranty
Heavy-duty steel
Flame grilling plate
Cons
Wood pellets bought separately
Requires short break-in time
PIT BOSS 700FB Features & Specifications

Performance
During our Pit Boss 700FB review, we found the overall performance to be above average in the pellet grill industry. It held its own, among other more expensive pellet grills with the same amount of cooking space. Most reviewers seemed to agree that this pellet grill performed well for smoking, grilling, searing, and baking. We suggest using Pit Boss brand wood pellets in the auger.
Cooking Surface
This Pit Boss pellet grill has a 700-square-inch coated cooking surface, which is enough to cook one to two briskets or 15 burger patties. Like the Traeger grill and kamado grill, the main cooking grate is cast iron and coated with porcelain so that it is long-lasting and easy to clean. It includes an upper rack that can hold hamburger buns or vegetables.
The Cooking Surface Can Fit Roughly:
15 burger patties
2 briskets
6 Boston Butts
6 baby back ribs
Pit Boss 700FB Portability
The 71700FB wood pellet grill weighs about 117 lbs (53 kg) with an empty hardwood pellet hopper when fully assembled. Pit Boss smokers are not generally meant to be travel-sized. It has a set of cast iron wheels so you can roll it, but we don't recommend transporting it much further than around the backyard or patio.
Temperature Control
The temperature control on the 700FB pellet grill is handled by an external knob that sits outside the hopper.
You can set the cooking temperature using the LCD screen from 200 to 500 degrees Fahrenheit (93 to 260 C).
Once you set the temperature, you can forget about it, which makes it easy to operate.
The hopper will release the correct amount of wood pellets into the lower chamber.
The electric starter will keep burning the pellets when necessary.
There is another dome temperature gauge on the lid.
Design
The 700FB pellet grill is made of heavy gauge porcelain-coated stainless steel. It feels heavy and durable. The digital control knob and LCD screen are made of high-grade polymer that feels easy to turn.
We liked the stylish griddle design since it looks like a professional Pitboss smoker. We thought that the wheels were more durable and easy to roll.
Pit Boss 700FB Dimensions
This 700-sq inch wood pellet grill is smaller than some of the other competitors on the market. It stands at about 43 inches (109 cm) tall, which should be a comfortable cooking height for most people.
It measures 41 inches (104 cm) long and 25 inches (63.5 cm) wide, so it will fit on most normal patios in the backyard.
Quality
We thought the 700FB smoker was above average during our pellet grill review when it comes to quality. The welding construction was better than other wood pellet grills. We liked that the cooking grids were easy to clean due to their design.
The auger quality was also above average, with smooth operation at any temperature. During our testing, we didn't have any issues with it getting stuck.
Warranty & Customer Service
The Pit Boss 700FB comes with a 5-year warranty. The limited warranty will not cover normal rust or wear and tear.
Most customers thought that it had above average customer service.
During our grill review, I had to place a call to customer service regarding the temperature swings.
They recommended removing the pellets and refiling the hopper. Their solution worked, and I have had stable temperatures on the control board ever since. The customer service was helpful and quick.
Pit Boss 700FB Fuel Source
The fuel source for this pellet smoker is solely 100% hardwood pellets. We recommend using the Pit Boss brand pellets. They offer many different blends to choose from, which can change the flavor of your meat. The hopper capacity is 21 lbs (9.5 kg), and the grill burns about 2 lbs, or 0.9 kg, per hour on medium to high temperatures.
Pit Boss Pellet Blends:
Hardwood
Competition
BBQ
Whiskey barrel
Apple
Safety Features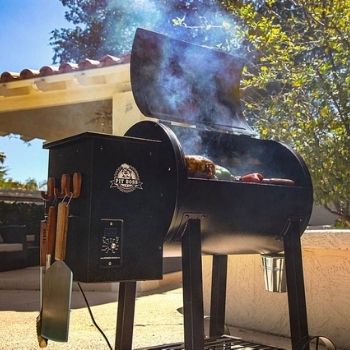 The temperature range of the 700FB model is controlled by a digital thermometer and LCD control panel or digital control board.
The grill comes with a dial that you can set to your desired temperature range, and the smoker will take care of the rest, thanks to its digitally controlled burn system.
This reduces the chance of overheating and burning your food. It so reduces the risk of flare-ups while cooking.
It also comes with an electric ignition button, which means you don't have to light the flame yourself.
Accessories
The 700FB comes with a polyester and PVC grill cover that will protect it from the elements when not in use. To enhance your grilling experience, you can get other accessories such as grill mats, rib roasting racks, meat probe, pellet variations, and marinating tools.
Optional Accessories:
Marinating injector
Rib roasting rack
Chicken leg and wing holder
Related Articles:
Specification Chart
| | |
| --- | --- |
| Cooking Space | 700 sq. inches |
| Temperature | 170°F- 500°F |
| Assembled Dimension | 44"T x 44"W x 28"D |
| Hopper Capacity | 18 lbs. |
| Controls | Digital |
| Coat | Porcelain-coated cast iron grates |
Where is The 700FB Smoker Manufactured?
The 700FB BBQ pellet grill is manufactured in Alberta, Canada. The company is a subsidiary of Dansons, Inc., which also produces Traeger and Louisiana Pellet Grills. Their main office is located in Phoenix, Arizona. Most of their pellet grills are produced in Canada, with some models coming from China.
Recommended Article: Which Company Makes Pit Boss Grills?
Unboxing The 700FB Smoker
During our Pit Boss 700FB pellet grill review, we found that most of it were already assembled. The main component in the box is the grill chamber and hopper. We followed these steps and had had it assembled in about 30 minutes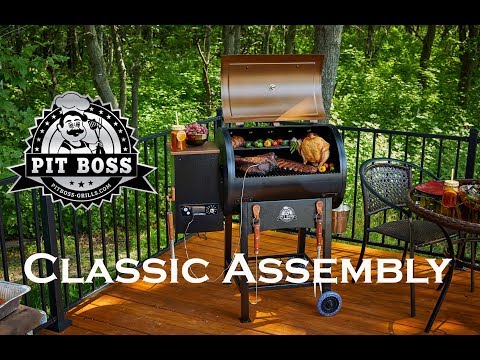 Step 1:  Attach the legs to the bottom of the barrel by laying it on its side. Screw the legs into the corresponding sections.
Step 2: Next, attach the bottom wire cast-iron grill grates to the legs. Also, attach the wheels at this step.
Step 3: Stand the smoker back to its upright position. Next, you should assemble the lid handle and dome thermometer. Use the screws provided to attach these modules to the lid. For meat thermometer, check ThermoPro TP20.
Step 4: Place the flame broiler and slider into the chamber first. Then, place the cooking grates and second-tier shelf inside the chamber.
Is The 700FB Easy To Clean?
Yes, the 700FB is simple to clean. You can clean all 700 square inches of cooking space in just a few minutes by using a steel wool pad, aluminum foil, or grill brush. If you opt for using a grill brush, feel free to check out our guide on how to clean a grill brush quickly.
The porcelain coating on the grill racks is resistant to rust and grease, which makes it easy to wipe off. You can also heat the inner chamber up to the maximum temperature to burn off excess fat and grease.
Related Articles:
Potential Downsides
One potential downside is that this model does not come with any additional cooking grid storage space like a cabinet or shelf to store grilling accessories. Another possible issue that we found is that this model doesn't come with a large smokestack to moderate smoking levels.
Related Article: Pit Boss 700FB Auger Not Turning

700FB Reviews & Ratings
After careful testing, my team and I thought that this grill was above average for this price range. We liked the sturdy construction of the upper chamber and auger. The dial system was easy to use. We thought that the wheels could use improvement, however.
Most users seemed to give this pellet grill high ratings. For example, most customers we found gave this product 4.5 stars out of 5. The company itself also received a "good" rating on its Facebook page.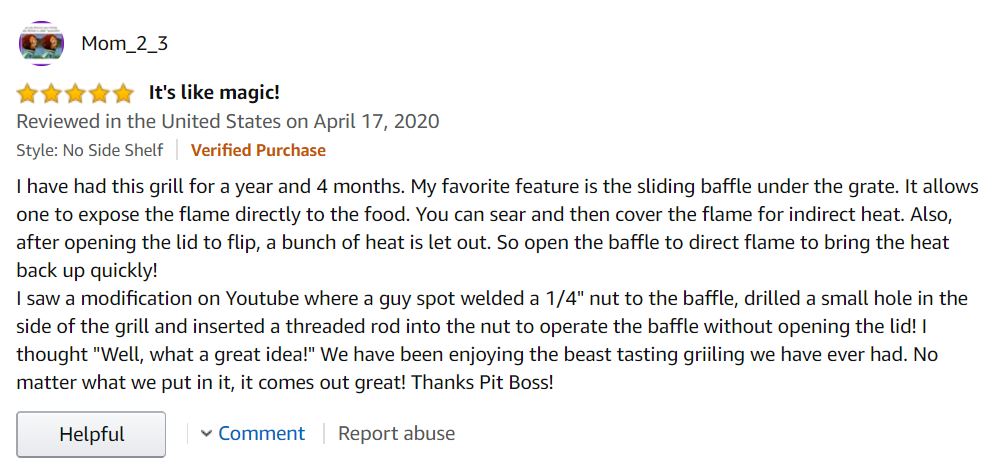 What To Cook On Your Pit Boss 700FB?
Here are our top favorite recipes to fulfill all your barbeque dreams when using this grill.
Easy Chicken Wings
Perfect for a busy weekend dinner. Serves 4 people.
Cooking time: 40 - 45 minutes at 350 degrees F
Ingredients:
1 pack of chicken wings
Extra virgin olive oil
Chicken seasoning
To make the seasoning, you'll want to combine pepper, garlic, lemon, and brown sugar to provide a great hickory flavor.
Directions
Set your Pit Boss grill to 350 F.
Blot your chicken wings with a paper towel to ensure they're dry.
Brush the extra virgin olive oil on both sides of the wings and sprinkle on your seasoning.
Keeping your grill at 350 F, grill your wings for 40 minutes until crispy. Flip them halfway through your cooking.
Serve hot and enjoy.
2. A Rack of Lamb
A rack of lamb is not only delicious, but it's also rather easy to prepare and quick to cook.
When you grill lamb, the aim of the game is to create a nice charred crust with a tender inside. Serves 8 people.
Cooking time: 30 - 35 minutes
Ingredients: 
2 tablespoons of Dijon mustard
Chopped, fresh parsley
Steak rub
2 racks of lamb
1 teaspoon of finely chopped rosemary
Directions
Grab 2 tablespoons of Dijon mustard and coat the racks of lamb generously.
Season the lamb with your chosen steak rub on both sides, adding the parsley and rosemary.
Turn on your Pit Boss 700FB and set the temperature to 400 F.
In the thickest part of the lamb, insert a temperature probe. You'll want to sear the meaty side down for 6 minutes.
Remove the lamb and turn the temperature down to 300 F.
Lean both of the racks against each other on the frill so they stand up. Grill for another 20 minutes until the internal temperature reaches 130 F.
Once the lamb has been removed from the grill, let it rest for 10 minutes before serving.
Pit Boss 700FB vs. Pit Boss 820?
Pit Boss 700FB might be a better option for several reasons:
Searing Space: The Pit Boss 700FB offers a larger searing zone compared to the 820 model. This means you can sear more food items simultaneously on the 700FB.
Convenience: While both models have similar grilling features, the 700FB is more desirable for its ease of assembly and its sliding flame broiler plate.
Price: The Pit Boss 700FB is priced at around $600, while the Pit Boss 820 is priced at around $550. Although the 820 is slightly cheaper, the 700FB offers more value in terms of its features, making it a better choice for those prioritizing searing space and convenience.
FAQs
Can I leave the Pit Boss on smoke?
Yes, but it depends on your recipe and what your're cooking. It's safe to leave the grill at around 225°F and let it cook until it reaches your preferred temperature.
Why does the Pit Boss smoke too much?
If you see your grill smoking so much, this means that the pot has caught fire and the pellets are most likely burning. However, with the Pit Boss, the smoke will just billow out for 3 minutes or so.
How long do pellets last in a grill?
Generally, 24 hours. A 40lb bag of pellets may last for over 24 hours, depending on the temperature, weather condition, and pellet type you use.
Is Pit Boss made by Traeger?
No, Pit Boss is not made by Traeger. Pit Boss is from a company called Dansons. Joe Traeger, the founder of Traeger Grills, joined Dansons in 2018. Currently, Pit Boss and Traeger grills continue to be each other's biggest competition.
Is The Pit Boss 700FB Worth It?
Based on our Pit Boss 700FB review, we believe it is worth checking out because it has an 8 in 1 functionality. You can use it to smoke at low temperatures, or you can slide the flame broiler plate over to sear a steak on an open flame. The LCD screen is also easy to read at a glance.
The large cooking space would probably be good for big families or large BBQ parties. The set and forget it digital thermometer was easy to use. It meant that you could enjoy a beer while the meat is cooked. If you think that this option would be good for you, then check it out.
We Recommend
Pit Boss 700FB
Pros
LCD temperature display
Porcelain coated cooking racks
Easy to assemble
Sliding flame broiler plate
Get the BEST PRICE until the end of December
Cons
Requires short break-in time
Was this article helpful?