Backyard cooks are what we all like to do. Love for the smoked meat makes us not only find celebrations to grill, but new months of the year to fire up our barbecues.
If you want to buy a new grill or replace the old one, you will probably be familiar with Pit Boss grills.
You are wondering who makes Pit Boss grills to make a final decision? Find out all details in the article below.
Quick Summary
Pit Boss Grills are owned by Dansons, a family-owned global consumer goods corporation founded in 1999 by Dan Thiessen and his two sons, Jeff and Jordan.
The brand has grown rapidly, receiving an innovation award from Lowe's in 2019. They offer premium grills, including the Wood Pellet Series and Ceramic Charcoal Barbecue Series, known for value and versatility.
Some Pit Boss grills are produced in China. The brand has faced legal challenges but maintains a strong reputation.
Who Owns Pit Boss Grills?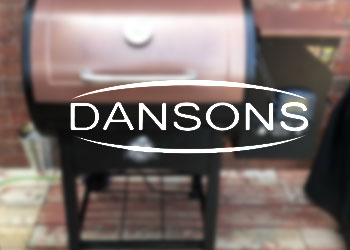 Dansons owns Pit Boss Grills. It is a family-owned and managed global consumer goods corporation. It was founded in 1999 by Dan Theissen and his two sons Jeff and Jordan.
Founder and company owner Dan Thiessen emerged as one of the earliest entrants in the wood pellet industry. Apart from Pit Boss grills, they own several award-winning, consumer-backed brands, including the well-known Louisiana pellet smokers.
Thanks to competitive industry-leading products, the company delivers good results after decades of presence in the market.
Their knowledge and understanding of the wood pellet industry resulted in building and converting multiple wood pellet plants and starting several successful pelleting grilling companies.
Driven by an entrepreneurial spirit, Dansons shows appreciation to consumers and stakeholders by striving to create innovative, best-in-class products.
Pit Boss Grill Brand Growth
Because of the right price-quality ratio, many users have purchased Pit Boss grill. There is also the Pit Boss Nation community, where people who love these grills can interact, share their recipes, tips and receive offers.
All these steps were observed by their main competitor, Traegers, especially after Dansons hired their members, Joe and Brian Traeger. Joe Traeger has contributed to the outdoor pellet grill's innovation, which uses wood pellets as fuel from an automated hopper.
Dansons have made this step to develop new pellet grilling products for Pit Boss pellet grill and promote the brand.
This case resulted in several lawsuits (1) against Pit Boss, which has ended in 2020. Jeremy Andrus, CEO of Traeger Grills, stated that the settlement is a significant step forward in the effort to protect the Traeger brand.
Traeger family members have rights to earn a living, he said,  but to respect the contracts and not use Traeger's name, barn, or likenesses to confuse consumers. (2)
"Grilling, broiling, barbecuing - whatever you want to call it - is an art, not just a matter of building a pyre and throwing on a piece of meat as a sacrifice to the gods of the stomach."

- James Beard, Chef
Related Articles:
Pit Boss Products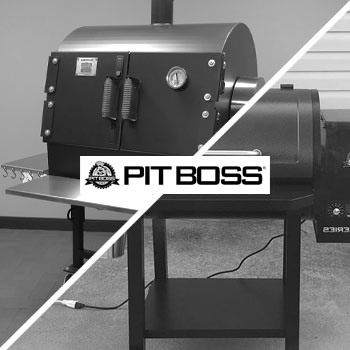 From the brand's launch, Pit Boss Grills has grown fast in the grill brands industry. Their efforts were noticed, so in 2019 they received an innovation award from Lowe's Company, Inc.
Pit Boss is the manufacturer of premium, long-lasting grills: Wood Pellet Series and the Ceramic Charcoal Barbecue Series.
They offer the best value per square inch in the pellet grill industry and provide a superior grilling experience at an affordable cost.
Pit Boss grills are designed to be as versatile as is practical. With heavy-gauge steel components, full structural strength, and durability, the company has built these grills to last. They are made for wood pellet fuel, which produces an exceptional taste.
On Pit Boss grills, you can grill, smoke, bake, roast, sear, braise, and barbeque your meal. You can also select the size of the grill that fits your needs.
For example, Pit Boss 700 Series is perfect for a group of four to six, while Austin XLis ideal for large groups or your perfect backyard BBQ event. You can learn more about Pit Boss 700 at this link.
Recently we saw many discussions on the Internet about where the US grills are produced.
There is not much information about Pit Boss grills on their website, but according to information available on the Internet, some of them are produced in China.
Read More: Traeger vs Pit Boss Grills
---
References:
https://www.traegergrills.com/press
https://www.traegergrills.com/press/traeger-wins-lawsuit-against-dansons
Was this article helpful?