Searching for a new grill can be an absolute headache - especially when there are so many available on the market.
When it comes to the Pit Boss 700FB and the Pit Boss Classic, you may notice these grills look very similar in both size and structure. However, are there really any differences other than price?
In this article, we'll use our extensive grilling knowledge to go over all you need to know about these Pit Boss grills: the differences, the similarities, and which comes out on top. Keep on reading to find out which grill is perfect for you.
Pit Boss 700fb VS Classic: An Overview
At first glance, you may not notice any difference between these grills. However, upon closer inspection, there are a few things that differ in each model.
Before we get into the similarities and differences, take a look at the following overview.
Pit Boss 700FB
Size
The Pit Boss 700FB offers 700 square inches of cooking space, weighing around 118 pounds.
This impressive space serves around 6 people - perfect for any backyard barbecue you may have.
According to the Pit Boss website, this grill can hold 32 burgers at once. That may be a little optimistic, however, the size is definitely adequate for a large family.
Temperature Control
The temperature range of the Pit Boss 700FB starts from 180 F and reaches 500 F.
The grill is perfect for barbecuing, grilling, roasting, baking, braising, smoking, and searing, with a heat output of 40,000 BTU's.
You could even cook up some pizza using the highest setting, and maybe some slow-cooked pork for the lowest.
Related Articles:
Pit Boss Classic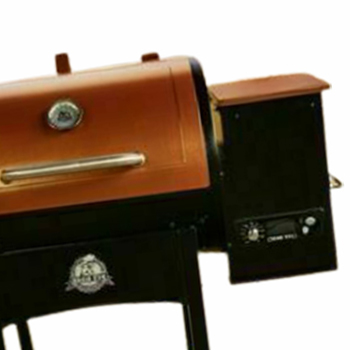 Size
The Pit Boss Classic features a 700 square cooking space, divided into two separate grilling racks.
It is very similar in size to the 700FB, so you'll be able to cook up the same amount of food on both grills.
Temperature Control
The Pit Boss Classic features a bigger temperature control board than the 700FB. However, it has the exact same temperature range (180 - 500F).
Also, the BTU range on the Classic is 20,000 instead of 40,000.
The temperature control on the Classic is super easy to use and is overall very reliable when it comes to grilling.
The Differences

Both machines may be similar in size and have the same temperature control, but there are three main differences when it comes to the Pit Boss 700FB and the Classic.
Control Board
You may notice the control board on the Pit Boss Classic is much bigger and robust. Both grills feature electronic controllers, but unlike the Classic's H1 digital controller, the Pit Boss 700FB uses a V1 digital controller instead.
If you choose to purchase the Pit Boss Classic, you'll notice the grill comes equipped with two meat probe controllers. The larger control board also has a "prime button" which is used for quick heat recovery.
You can quickly alter the cooking temperature with the handy dial placed on the controller.
The Pit Boss 700FB looks and feels a lot more simplistic in comparison. This grill doesn't come with any meat probes. The control panel simply features temperature control, so there really isn't much to it.
Appearance
The stylistic choice on both of these grills doesn't really differ. If you take a look at the grills side by side, you'll notice one is black and one is bronze. The bronze machine is the Pit Boss Classic and has different wheels to the 700FB.
The wheels on the 700FB are made from metal and seem like they'd be a little difficult to roll around. The wheels on the Classic are made from robust plastic which is rather easy to maneuver.
BTU
When you look at the two different BTU values, the Pit Boss 700FB is significantly higher, by almost 20,000 BTU.
While the 40,000 BTU on the 700FB may seem impressive, in some cases it can be a burden more than anything as it can result in less efficiency.
When you take into consideration both grills run the exact same temperature range, the higher BTU doesn't seem necessary. If anything, it'll burn fuel at a much faster rate for no reason at all [1].
Read More: Pit Boss 820 VS Pit Boss 700FB
Comparison Chart
| | | |
| --- | --- | --- |
| | Pit Boss 700FB | Pit Boss Classic |
| Temperature Range | 180 - 500 F | 180 - 500 F |
| Cooking Space | 700 square inches | 700 square inches |
| Hopper Capacity | 20 lbs | 20 lbs |
| Meat Probes | 0 | 2 |
| Control Type | V1 | H1 |
| Price | Around $600 | Around $400 |
Should you choose Pit Boss Classic or Pit Boss 700FB?
When it comes down to it, there isn't much difference between the Pit Boss Classic and the Pit Boss 700FB.
The performance and construction are pretty identical to one another, and both grills offer the same temperature range.
However, Pit Boss 700FB offer plenty of cooking space, had a higher BTU rating, and look nice appearance-wise which is why we would choose it before the Pit Boss Classic.
OUR #1 RECOMMENDATION
Pit Boss 700FB
Pros
Large searing zone
LCD temperature display
Porcelain coated cooking racks
Easy to assemble
Sliding flame broiler plate
Get the BEST PRICE until the end of December
Cons
No side shelf/lower cabinet
Was this article helpful?