Grilling is one of America's favorite pastimes. With so many options on the market, it can be difficult to decide which pellet grill is right for you.
Traeger and Pit Boss are two of the most popular wood pellet grills on the market. They both provide a variety of features, but what pellet grill is right for you?
In this article, I will explore the benefits of Pit Boss and Traeger products to help you decide which one is best for your needs.
With more than six years of experience as a competitive pitmaster, I can provide expert advice to help you make the best choice when buying your new pellet grill.
Let's compare Pit Boss and Traeger pellet grills and see what each has to offer.
Traeger vs Pit Boss: About Traeger Grills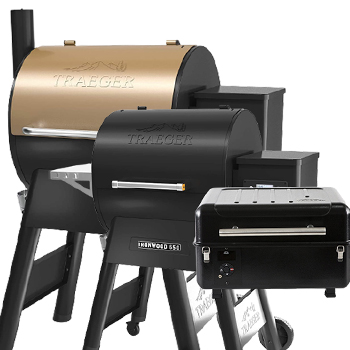 In 1987, Joe Traeger revolutionized the pellet grill industry with his original wood-fired grill, now over thirty years old [1].
Based in Mt. Angel, Oregon, Traeger is now a world leader in wood-fired pellet grills.
Seeing how the wood was being used to heat homes, Traeger made an intuitive leap to wood pellet grills and began manufacturing his new invention in a small machine shop.
He was on to something because the company has been making quality pellet grills ever since.
Using wood pellets crafted from woods like mesquite, apple, pecan, hickory, and more, a Traeger pellet grill holds a constant temperature while infusing your food with a smoky, fire-roasted taste.
This is unlike traditional grilling on charcoal grills that have variable cooking temperatures.
A Traeger pellet grill is a good choice for outdoor cooks who want to get the most out of their cooking experience without worrying about temperature fluctuations.
You get consistent results every time because Traeger pellet grill products use a thermostat to monitor the temperature on its pellet grill models, alongside its stainless steel grates.
Related Article:
Traeger vs Pit Boss: About Pit Boss Grills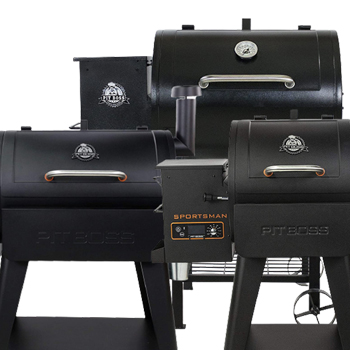 Pit Boss has a very different story than Traeger.
This company is a subsidiary of Dansons Inc. and was created in 1999 after the Traeger patent on most pellet grill products expired.
Dansons saw an opportunity, and Pit Boss pellet grills were born as a Traeger alternative.
Make no mistake, Pit Boss models are not just a Traeger knock-off. They have a ton of expertise.
After all, Joe Traeger and his son Brian began working for and making Pit Boss pellet grills in 2018 after selling their company in 2006 [2].
So you can see that Traeger and Pit Boss have an interesting history.
Where Pit Boss deviates from Traeger is that it is not solely focused on wood pellet grills. In addition to pellet smokers, Pit Boss also sells Louisiana grills, vertical pellet smokers, portables, griddles, charcoal, and gas grills.
Related Article: Who Produces Pit Boss Grills?
Top Traeger Grills
These are the best Traeger grill models.
1. Traeger Pro Series 575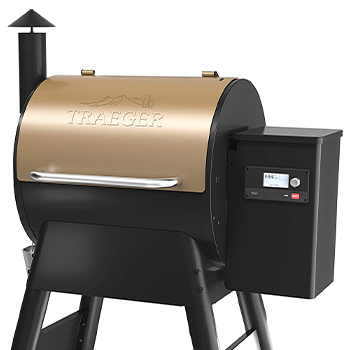 The Traeger Pro Series 575 is a quality wood pellet grill that comes with a generous 575 square inches of cooking space for your barbecue pleasure.
You can easily cook 24 burgers at a time on a grill of this size.
Furthermore, this grill comes with the Traeger app that lets you monitor meat temperature and control the grill from any location.
The controller maintains a precise temperature of up to 500°F.
The 575 comes with an included meat probe so you can watch your cooking as it is in progress.
No need to lift the lid and let heat out of your Traeger; just use the app and monitor from afar.
The 18 lb. hopper has a trapdoor that allows you to swap out one pellet flavor with another quickly and easily. The hopper is also easy to clean with removable ash pans.
The pellet purge system lets you eject unused wood after your grilling session so you can reload with a new flavor next time around.
The grill has locking, all-terrain wheels so that you can move it anywhere, even on uneven ground. So, be creative where you want to grill, and the Pro Series grills are sure to have you covered.
Pros
Dual LED temperature readout
Excellent WIFI app for your smartphone
Easy to use and get excellent results
Top tier quality
Cons
More expensive than a gas grill
---
2. Traeger Ironwood 650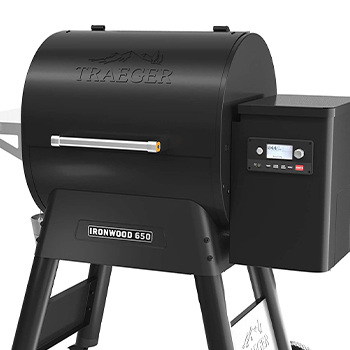 The Traeger Ironwood 650 has a whopping 650 square inches of cooking space - enough room for six pork butts or eight chickens.
With that much cooking space, you can cook a whole meal at the same time.
The grill has an app-based grill controller, so you can set the grill's temperature up to 500 °F for any food type and then let it do its job without having to adjust anything else.
The controller can adjust in 5 °F increments and is as easy to use as your oven.
Like most Traeger products, the Ironwood also comes with a meat probe that allows you to monitor cooking temperature remotely while using the app, meaning no need to lift the lid and interrupt cooking.
The grill has an impressive 20 lb. hopper capacity for wood pellets. Further, the hopper has a sensor in place so you can easily monitor your pellet levels. With a quick alert, you are ready to refill if your pellets get low.
"Cooking and eating food outdoors makes it taste infinitely better than the same meal prepared and consumed indoors."
- Fennel Hudson, Author
The Ironwood 650 has insulated double-sidewalls to provide heat retention, as well as a "TurboTemp®" system that reduces the time to get to your cooking temperature and brings the temperature back more quickly after opening the lid.
This grill gives you many options when it comes to smoking, including a dual position smoke/sear grate that lets you put your meat closer or farther from the fire.
It also has downdraft exhaust that keeps smoke flowing over the meat as you cook.
The specially designed channels on this grill create a vortex of smoke and heat to cook quickly but without flareups. Additionally, the "super smoke mode" lets the operator press a button and increase the wood flavor injected into the grill.
If you are looking for a perfect grill that can do it all - from grilling to smoking to searing - the Ironwood 650 can fulfill your every need.
Pros
Consistent temperature through the entire range
Extra features like tool hooks, super smoke mode, and an easy cleanout system on the large hopper for Traeger pellets
Downdraft system that maximizes the smoky flavor
Cons
Lower temperatures preclude true searing
---
3. Traeger Ranger Portable Grill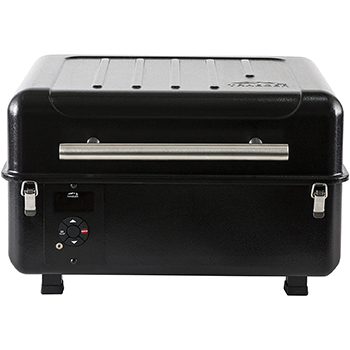 The Traeger Ranger Portable Pellet Grill is perfect for those who don't have a lot of cooking space but still want to grill.
It features the same excellent cooking performance and quality as other Traeger wood pellet grill products, only in a smaller size.
The 184 square inches of porcelain-coated steel cooking space can fit six hamburgers or ten hot dogs with ease.
Not only that, but this Traeger comes with a cast iron griddle so you can diversify your cooking surfaces.
Not only does the Ranger have the temperature accuracy that Traeger is known for, but it also has a warming mode that ensures your food is kept ready to eat even after it is cooked.
Further, you get a meat temperature probe at no extra cost that lets you monitor the internal temperature of your food without opening the wood pellet grill. This is perfect for when you want to keep an eye on things but don't want to interrupt that perfectly cooked meat.
The hopper capacity of the Ranger is 8 lbs. and the maximum temperature is 450°F. Anything you put on the porcelain-coated grates will be well-cooked at any temperature you desire.
And at the end of your adventure, this fully portable pellet grill comes with a latching lid that is perfect for closing everything up after a mobile grilling session. So, take a Traeger Ranger wherever you go and grill.
Pros
One of the most mobile portable pellet grills - bring it anywhere
Versatile - can cook on the porcelain-coated steel grill or griddle
Comes with a meat probe despite being on the lower end of the price range
Cons
At 60 lbs, it may be a little heavy for weaker grill masters
---
1. Pit Boss Sportsman 820
The Pit Boss 820 is a wood pellet grill and smoker with 849 square inches of cooking surface area.
This Pit Boss product comes with a dial-controlled temperature control board with an LED readout.
With this, you can control the temperature from 180 to 500 °F. The fan-forced convection keeps the temperature stable within the cooker.
You also can sear on an open flame at a temperature of up to 1,000°F and adjust the broiler flame level for both indirect and direct cooking.
Versatile beyond most cookers, the Pit Boss Sportsman 820 allows you to bake, braise, barbecue, roast, smoke, char, sear, and grill. With all these options, you can cook anything from a pot roast to smoked ribs and everything in between.
This Pit Boss product also has a meat probe thermometer that can tell you the doneness of your food and keep it from drying out, no matter what setting you use on the grill.
Pros
The large surface area lets you cook for a crowd
True high-temperature searing is an option for your food
You get a stable temperature with fan-forced convection and the digital control board
Cons
Heavy and difficult to move about the yard and patio
---
2. Pit Boss 700FB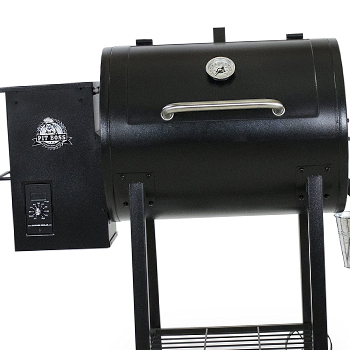 The Pit Boss 700FB is a heavy-duty wood pellet grill and smoker that can handle your every grilling need.
It has a cooking surface of 700 square inches and can hold enough food for big family dinners or parties.
The 700FB is great for both direct heat grilling, indirect low-and-slow smoking, as well as high searing temperatures.
The temperature range is 180° to 500°F for direct and indirect heat and up to 1,000°F for open grill searing.
The Pit Boss pellet grill digital temperature control panel means that you can set the temperature to your liking and then walk away, knowing that the grill will maintain the desired temperature.
The installed dome thermometer lets you verify the control board is accurate while you cook.
The 21 lb. hopper capacity makes sure you never run out of pellets and that your Pit Boss wood pellet grill provides great smoke flavor to your outdoor meal.
Durable and tough, this Pit Boss model comes with extra features, including reinforced legs, metal wheels, and a wire bottom rack. And with a 5-year warranty, you know you are getting quality Pit Boss products.
You can learn more about this fantastic grill in our Pit Boss 700 FB review.
Pros
Grill grates hold the heat, are relatively non-stick, and easy to clean
The hopper is generously sized and easy to clean
Durable and tough, you can move this Pit Boss model with ease on its legs and wheels
Cons
Due to its smaller size, there is no side shelf or lower cabinet
---
3. Pit Boss Sportsman 10532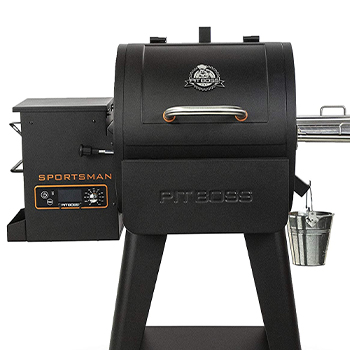 The Pit Boss 10532, better known as the 500SP, is perfect for those who want a smaller footprint while still being able to sear, grill, or smoke to perfection.
The digital control board will manage your heat and temperature, giving you the ability to cook your food just like a pro. It also integrates with Pit Boss meat probes so you can adjust your cooking without opening the lid.
With a temperature range of 180° to 500°F, you can cook just about anything.
Just let the Pit Boss do the work for you as you set it and forget it.
The 500SP has some hand features that you would not expect from this smaller model.
In addition to a 15 lb. pellet hopper size, the Pit Boss grill comes with a side shelf with a removable tray and a built-in spice rack.
The Pit Boss even has an integrated bottle opener, so you don't have to stop grilling just to open up a cold one.
Smoking pork butt, grilling wild game, or searing freshly caught fish are all within the capabilities of this grill. So, this Pit Boss is worth a long look if you want to take your grilling game up a notch.
Pros
The side shelf comes with a removable tray
Though a smaller model, it has the same digital control board technology as its larger siblings
A wide temperature range lets you cook just about anything
Cons
Though small for a Pit Boss, it is not as mobile as the Traeger Ranger
---
Bottom Line: Pit Boss vs Traeger?
Although both Traeger and Pit Boss grills are excellent and make solid wood pellet smokers, I have to put Traeger at the front of the line. Their experience, quality, and workmanship make them the best-in-class and explain why they are such popular pellet grills.
Of all the models reviewed, my #1 choice has to be the Traeger Pro Series 575. This wood pellet grill is the perfect blend of size and performance.
The next choice would be the Traeger Ironwood 650. It is a little bigger, but you can't argue with the way it infuses the smoky flavor through your barbecue.
So, Pit Boss or Traeger? You can't go wrong with the Traeger as you'll always have a grill that is up to the task and ready for your next big outdoor cooking experience.
Our #1 Recommendation
Traeger Pro Series 575
Pros
Dual LED temperature readout
Excellent WIFI app for your smartphone
Easy to use and get excellent results
Top tier quality
Get the BEST PRICE until the end of December
Cons
More expensive than a gas grill
Was this article helpful?