BBQ food is a staple of my carnivore diet, and I've used a smoker at least once a week for years.
Today, I'll talk about my two favorite electric smoker brands: Masterbuilt and Bradley.
I'll explain why I'm a big fan of both, and I'll also talk about their most prominent features and review the most popular smokers from these two brands.
About Masterbuilt

Masterbuilt started making electric smokers in 1973. This is a family-run company with one of the longest histories in the world of electric smokers.
Masterbuilt is currently headquartered in Georgia. Apart from electric smokers, they also manufacture fryers, grills, fuels, and accessories. For example, you can buy Masterbuilt charcoal, covers for all their smokers and grills, rotisserie kits, and more.
All Masterbuilt products are available on their official website and in shops across the US, such as The Home Depot, Cabela, and others.
1. Build Materials and Design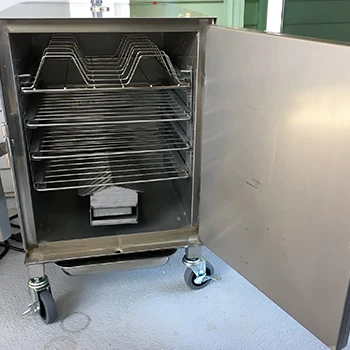 Masterbuilt smokers are made with robust materials, such as stainless steel. Some smokers are powder-coated with a layer of chrome. High-end Masterbuilt smokers will have stainless steel shelves and even side shelves for extra preparation space.
Stainless steel is durable and rustproof if you take care of it properly. However, stainless steel is also heavy and can be an issue if you want to move your electric smoker.
Masterbuilt has horizontal and vertical electric smokers. All horizontal electric smokers have wheels, but not all vertical ones do. Keep this in mind and choose a smoker with caster wheels if you want to travel with or move around your smoker.
Another design feature of Masterbuilt vertical smokers is a window. This comes in handy for checking on your food without having to open the smoker and let out smoke and heat.
Vertical smokers have a stainless-steel interior, a water bowl that catches drippings, and an ashtray for discarding used wood chip ashes.
The control panel is located at the top and lets you set the temperature and monitor the internal temperature during hot and cold smoking.
---
2. Cooking Capacity
Masterbuilt smokers have different cooking capacities. Their horizontal smokers have 560, 800, and 1080 square inches of cooking space.
Cooking space on vertical smokers depends on how many racks the smoker has. Most Masterbuilt vertical smokers have four racks, with a few models with three racks. The cooking space varies from 500 to about 1000 square inches of cooking space.
Overall, Masterbuilt smokers give plenty of cooking space but think about how much space you need. You probably don't need a smoker with four racks if you have a small family. On the other hand, if you cook large food items, such as whole briskets, or if you cook for a big number of people, you should go for a bigger smoker.
---
3. Fuel Source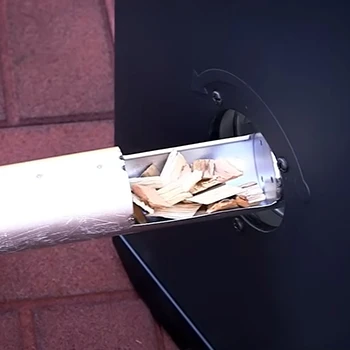 Masterbuilt smokers need electricity to run and wood pellets for fuel. Pellets have a double purpose: they provide a heating source and give a smoky flavor to your food.
The electric smoker auger feeds pellets to the crucible, where they burn. You can use different kinds of wood pellets, such as Hickory, Mesquite, Apple, and others. This gives you a chance to experiment and find which smoky flavor you like best.
Note: Some Masterbuilt electric smokers have a smoke-on-demand button that produces more intense smoke for a certain period. This is great when you want a more intense smoky flavor.
Finally, Masterbuilt smokers have different-sized hoppers. Most of them are around 20 lbs, which is enough to smoke a brisket for ten to twelve hours.
"Perfect for the beginner or the pro, you'll achieve competition-ready results in your own backyard without the hassle of charcoal or propane."
- Masterbuilt Official Website
---
4. Technology
Masterbuilt has an app for their Gravity series and Digital Charcoal smokers. This means you have complete control of the smoker from your phone.
You can set the temperature via the app, adjust temperature and time, and monitor meat probes. You can even shut down the grill via the app.
This means there's no need to hover over the electric smoker. You can control it from wherever you are. Moreover, you can search for recipes in the app, set reminders, and use them to make shopping lists.
---
5. Price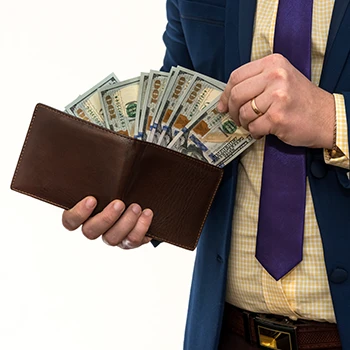 Master electric smokers are more affordable than most electric smokers.
For example, you can get a vertical electric smoker starting from $200 upwards, while their digital charcoal smokers are priced from $500 to $900.
You can get a smoker suited to your needs that won't break the bank.
Overall, you'll get good value for your money and a durable electric smoking product that can last for years.
---
About Bradley Smokers

Bradley Smokers is another family-owned company. This is a Canadian company located in British Colombia, with offices in Arizona in the US.
Apart from Bradley electric smokers, they sell smoker accessories, syrups, and recipe books.
Bradley Smokers was founded in the 1970s when the father of the current owner set out to create a smoker that achieves control over the smoke [1].
Nowadays, the company prides itself on convenience and consistency. They claim that you can create the same meal time and again with Bradley electric devices.
The biggest feature of their smokers is the automatic feeding briquette system that allows the smokers to work for nine hours before needing refueling.
1. Build Materials and Design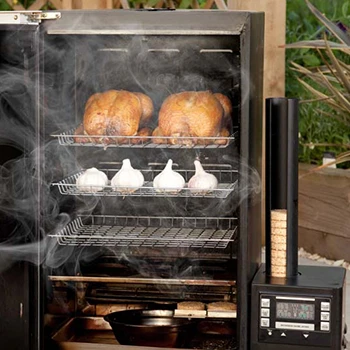 Bradley currently offers four smokers, and each of these is a cabinet-style smoker [2]. The smoker has between four to six slots depending on the model. You slide the shelves in these slots and use them for smoking meat.
There's a vent on the top for the smoke to come out and a heating element at the back. The smokers also have a reflective tray at the bottom of the shelves that catches drippings and a pan at the bottom of the smoker that's used to collect coal.
These smokers have stainless steel exteriors and insulated interiors, which makes them durable. The most expensive Bradley electric smoker is made from grade 76L stainless steel, so it'll last for years.
Read More: Where Are Bradley Smokers Made?
---
2. Cooking Capacity
Bradley only has vertical smokers, so the cooking capacity depends on how many racks the smokers have.
Generally, Bradley smoker has less cooking space than Masterbuilt. These smokers have 572 to 858 square inches of cooking space, while high-end Masterbuilt smokers have more than 1,000 square inches.
Bradley electric smokers spread this capacity across multiple small cooking grates. The rack dimensions are 4 x 11 x 13 inches in all their smokers. This is enough for chicken or pork chops. You can also fit a packer brisket or a slab of spare ribs, but you'll have to cut it.
---
3. Fuel Source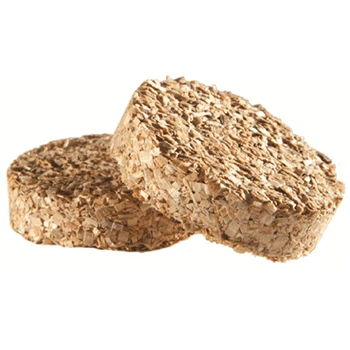 The fuel source is arguably the biggest difference between Masterbuilt and Bradley Smoker. Bradley smoker uses a wood addition system.
You need Bisquettes, which are compressed sawdust pucks. The wood addition system feeds these pucks into the cooking chamber and uses a heating element to make them smolder and make smoke.
A new puck automatically goes into the chamber every 20 minutes. The latest Bradley models can hold enough pucks for nine hours of smoking.
This is what makes Bradley different from other electric smokers. Normally, you need to manually feed more chips throughout the smoke time, and wait until they smolder, followed by adding chips once again after they're spent.
"Controlling the burn temperature and preventing the wood from becoming ash is all that is required for great flavour. Based on these principles, we developed Bradley Smokers to produce the best smoke flavour possible."
- Bradley Smokers' Official Website
This is all done automatically in Bradley devices, making them one of the market's easiest and most efficient smokers.
For example, if you smoke ribs for three hours, you'll know exactly how many wood chips you need, and you can load the smoker in advance.
Bradley has about 17 different flavors of wood chips available, and you can choose which ones you like and customize the flavor of your meat [3].
---
4. Technology
Bradley has an iSmoke app with iSmoke Bluetooth connectivity. You can install the app on your smartphone and control the electric smoker straight from your phone.
Some app functions include temperature control, cooking, and smoking times. Two temperature probes check the internal temperature of the food and send you results in real time, so there's no need to hover or go out to check on the smoker.
---
5. Price
Bradley electric smokers are priced from about $400 to $700, which makes them more affordable than Masterbuilt.
As I mentioned, there are four electric smokers, so you can choose which one suits your needs and budget.
Keep in mind you'll need Bisquettes for these smokers. Bisquettes aren't available in local or hardware stores, so you'll have to order them online from the Bradley Smokers website.
The price of Bisquettes turns out to be more expensive than wood pellets, but considering their efficiency and superb flavor, the price difference is worth it.
---
Top Masterbuilt Smokers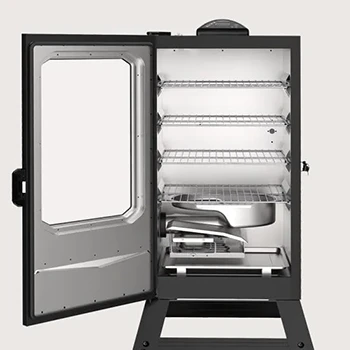 My top choice of Masterbuilt smoker is a 30-inch Digital Electric smoker.
It's made with stainless steel exterior and aluminum interior. A built-in digital controller lets you set the internal temperature between 100 to 275 degrees. You can also control the cooking time and turn the smoker on and off via the digital controller.
This electric smoker heats up quickly and is able to maintain precise temperature thanks to the integrated thermostat. This means the smoker doesn't need much input or work on your part.
The smoker has four racks and 711 square inches of cooking space, which is big enough to fit eight racks of ribs or six chickens. You should have more than enough space to cook food for a large family. However, I wish the cooking racks were wider so you could fit brisket without having to cut it.
You can control the smoker features via an app on your phone, which is especially useful in cold weather.
Pros
Excellent insulation and heat retention
Large cooking space
Suitable for cold smoking
Cons
Narrow width of cooking racks
Masterbuilt Digital Electric Smoker 30 inches specifications:
Total cooking space: 711 square inches
Dimensions: 20 x 33 x 20 inches
Weight: 45.9 lbs
Fuel type: Wood pellets
Material: Stainless steel and aluminum
Custom Rating Criteria:
Performance: 5
Durability: 4.5
Convenience: 4.5
Price: 5
Top Bradley Smokers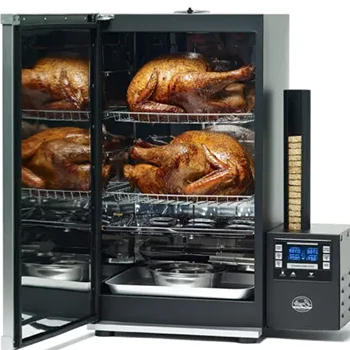 My top choice for a Bradley smoker is the 4 Rack Digital Smoker. This smoker uses Bradly wood Bisquettes which give a delicious smoke flavor. All you have to do is stack the Bisquettes in the chimney, and you're done loading the fuel for that smoking session.
One wood Bisquette lasts for 20 minutes. The best thing about the Bisquettes is that you know in advance when the smoke will stop. Also, the fuel is empty once the smoker is done. All ashes collect in a water pan at the bottom, which keeps your meat moist.
This smoker has Bluetooth enabled, so you get remote control via the app. You can have precise control of the temperature from your phone.
I found this smoker produces nice cold smoke for cheese and vegetables, and each wood chip I used produced a delicious smoke-infused flavor.
Pros
Set it and forget it feature
Great for beginners
Quality build
Budget-friendly
Bradley 4 Rack Digital Smoker specifications:
Total cooking space: 572 square inches
Dimensions: 19 × 22 × 34 in
Weight: 61 lbs
Fuel type: Bradley wood chips
Material: Stainless steel
Custom Rating Criteria:
Performance: 4
Durability: 5
Convenience: 5
Price: 4.5
FAQs
Does Masterbuilt Make Good Smokers?
Yes, Masterbuilt makes good smokers. They have good insulation, a smart wood chip tray system, and an affordable price.
Are Bradley Smokers Any Good?
Yes, Bradley Smokers are good. These smokers have precise cooking and consistent smoke flavor. There's also accurate temperature control and an automatic feed system that keeps smokers smoking for nine hours.
What is a Good Brand of Electric Smokers?
A good brand of electric smokers is Bradley. They are easy to operate and last a long time.
Do Bradley Smokers Come in Digital Versions?
Yes, Bradley smokers come in digital versions. The Bradley Digital Food Smoker has four cooking racks, 4 x 11 x 13 cooking chamber, and reaches temperatures up to 280ºF.
Masterbuilt vs. Bradley: The Bottom Line
Both of these brands manufacture quality electric smokers, but my vote for the best one goes to Bradley 4 Rack Digital Smoker. You can use it as a cold smoker for cheese and vegetables or for smoking larger cuts and delicious pulled pork.
This smoker has a decent cooking capacity. The build is top-notch. There's thick insulation throughout the smoker, and the door seals nicely and doesn't let any smoke escape from the cooking chamber.
The temperature control is impressive and doesn't fluctuate, so you have even smoking results. Finally, there's a wide variety of Bradley Bisquettes to choose from, so you're guaranteed to find a flavor you like. This smoker will give you mouth-watering, smoke-infused food.
Click here and see why this smoker is so popular among BBQ enthusiasts.
We Recommend This Product
Bradley 4 Rack Digital Smoker
Pros
Set it and forget it feature
Great for beginners
Quality build
Budget-friendly
Was this article helpful?