Take it from me, purchasing a pellet grill is one of the best investments a BBQ lover can make. Having the ability to add flavor and character to tons of different smoked dishes is a pleasure not everyone has.
With many brands on the pellet grill market, finding something that is worth it can be difficult, especially when all these companies claim to be the 'Best Grills Ever.''
On your searching into the unknown, you may have come across two specific brands. One being Rec Tec and the other being Traeger.
In this article, we're going to put Rec Tec and Traeger in a head-to-head battle, with an overview of each brand as well as comparing the specifications of each. There'll also be a few individual product reviews at the end if you're interested in either of these companies.
Traeger - an Overview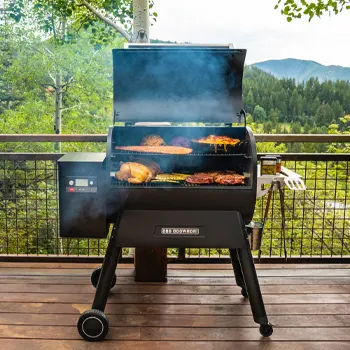 If you've ever wondered where the concept of pellet grills originated from, you have Traeger to thank for that.
Pellet grills were invented by Joe Traeger in 1985. In 1986, he went on to patent the idea, giving him the right to produce and sell Traeger pellet grills for 20 years [1].
During those years, Traeger grills became the go-to company, ensuring reliability and great results.
Since then, Traeger has developed their company in quite a few ways. To this day, they have remained the largest pellet grill manufacturer around.
Traeger houses the largest range of grills on the market - from small to tall, from portable to professional-grade. Their Pro Series models are the best sellers due to reasonable prices as well as great functionality.
A bold move Traeger grills made was transferring their entire production chain to China.
It caused a lot of concerns due to a lack of quality. However, as of late, they have turned their game around and produced an excellent set of grills at affordable prices.
Learn More:
Rec Tec - an Overview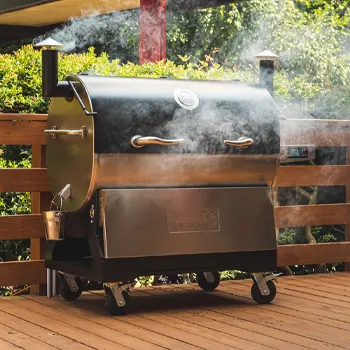 A few years after the Traeger grill patent expired, Rec Tec took a step forward into the grilling world. They managed to earn quite a lot following with their excellent quality and premium features.
Rec Tec is known for using heavy-duty metal parts, allowing their grills to withstand the test of time. They're also great at incorporating new and innovative features into their grills.
Rec Tec Grills also source parts from China; however, the assembly and quality checks are performed in the USA.
This means they rarely have trouble with quality issues.
Very recently, Rec Tec went through a complete rebrand and is now officially named 'Recteq.'
They also expanded their range of outdoor products to focus on items other than grills. We will, however, continue to refer to them as Rec Tec as that is what they are known as worldwide.
Read More: Where Are Rec Tec Grills Made Nowadays?
Rec Tec Vs. Traeger: 7 Differences
Now that we know a little bit more about the individual companies at hand let's take a look at what they both have to offer.
1. Temperature Control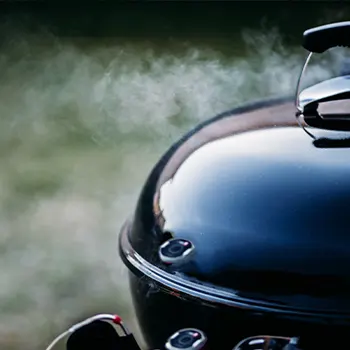 You'll be pleased to know that both Rec Tec and Traeger are pros when it comes to temperature control. Both brands have the concept down, with excellent features that make your cooking as easy as it can be.
Traeger grills incorporate a digital screen on each of their units where you can easily control and monitor the temperature.
The interface is easy to use and can be viewed even when the lighting outside isn't too great.
A handful of their units, such as the Traeger Pro 575 and the Traeger Firewood 885, come with their trademarked WiFIRE technology.
This allows you temperature control and monitoring from your phone.
All you have to do is download the handy Traeger app, and you can monitor the temperature while watching the game inside.
This app can also monitor the internal food temperature, which means you won't have to constantly open and close the door to check on your meat.
Rec Tec houses the same smart grill technology, with a built-in display as well as WiFi capabilities.
Rec Tec's temperature controller can be downloaded straight onto your phone, where you can monitor the pellet grill as well as adjust the temperature.
Rec Tec Vs. Traeger: Tie
When it comes to temperature control, there really isn't a winner here. Both brands are great at providing a consistent temperature, and the smart grill technology is almost the same on both Traeger and Rec.
2. Temperature Range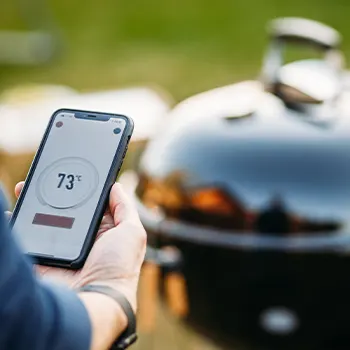 The temperature range is another feature in which both Traeger and Rec Tec flourish.
The highest temperature you will see on a Traeger grill is just above 400°F. Keep in mind searing happens at a temperature of 300°F, so you have plenty of heat to get some great grill marks.
Most of the grills in the Traeger range use a Pro D2 Controller. This controller ensures the temperature sticks within a -/+15°F.
Rec Tec has a PID style controller, which can be considered more advanced than Traeger's Pro D2. The PID controller is the same technology you'll find in commercial bakeries, used to maintain a consistent and steady temperature.
The temperature range of a Rec Tec is usually between 180 - 500°F, meaning it has a slightly larger range compared to Traeger.
Rec Tec pellet grills have the ability to keep -/+5°F within your target temperature, meaning they are more accurate compared to Traeger.
Rec Tec Vs. Traeger: Rec Tec
We have to hand it to Rec Tec for this one. Even though you'll be perfectly fine searing, grilling, and cooking on a Traeger pellet grill, the larger temperature range on the Rec gives you the freedom to cook meats such as the Tomahawk steak.
Both are fantastic when it comes to temperature range and control; however, Rec Tec has the slight upper hand.
3. Grilling Space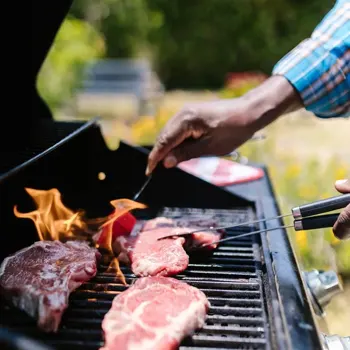 How much cooking area you require largely depends on what you plan to cook and for how many people.
For example, if you're cooking for a large family or plan to do a lot of bbq parties, you're going to need a large cooking surface. If you only plan to grill occasionally and a few pieces of meat at a time, you'll be fine with a smaller cooking area.
Traeger pellet grills use a handy numbering system which makes it easy for you to know the size of the cooking area.
The size of the grill is always next to the name. For example, the Timberline grills 1300 has 1300 square inches of grilling space, and the Pro 780 has 780 square inches.
"If summer had one defining scent, it'd definitely be the smell of barbeque."
- Katy Lee, Chef
Between the six units that Traeger has to offer, your options include 575, 650, 780, 850, 885, and 1300. They also have a portable grill which is 176 square inches.
Rec Tec has a similar system, including the cooking capacity next to the grill's name.
They offer nine different units, including 340, 380, 450, 490, 700, 1250, 2400, and 2500. It's good to keep in mind that the sizes listed also include the second upper cooking rack and sometimes a third.
Unlike Traeger, Rec Tec uses the same features throughout the entire range, so you're only paying extra for the larger cooking area.
Rec Tec Vs. Traeger: Tie
While it may seem like Rec Tec has the upper hand here since they offer larger cooking capacities, they do make a huge jump between each size.
The most popular grill sizes are usually around 550 - 850. Rec Tec only offers one grill within this range, whereas Traeger offers four.
4. Pellet Hopper Capacity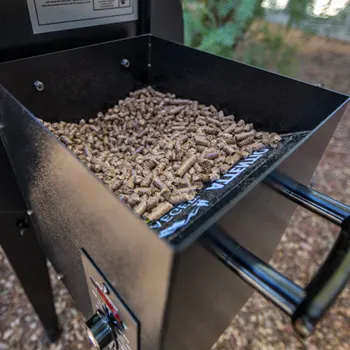 Pellet hopper capacity doesn't seem like a big deal until you have a 24-hour smoke on your hand and you're refilling your pellet grill every couple of hours.
Traeger offers 18, 20, or 24 pound pellet hoppers. According to their website, you'll use around 1 - 3 pounds of pellets per hour. If you're cooking at low temperatures, your pellet smoker will be able to go around 18 - 24 hours without being refiled.
Rec Tec offers pellet hopper space of 20, 30, 40, and an impressive 66. According to Rec Tec, the smallest pellet hopper size of 20 will give you more than 20 hours of uninterrupted cooking time.
Rec Tec Vs. Traeger: Rec Tec
Even without the pellet purge system, Rec Tec wins this one due to the larger capacities on offer. That being said, for most, Traeger's capacity is still plenty.
5. Mobility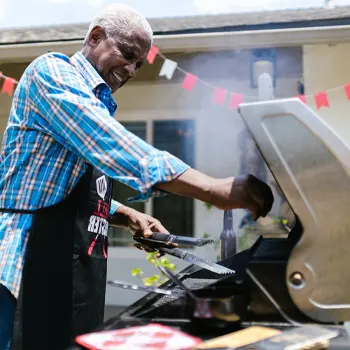 For many, their pellet smoker usually finds a spot in the garden and doesn't move from there. However, some people go camping or like to chase the sun, so they opt for the best portable smokers.
Traeger is pretty good when it comes to portability and convenience.
They have a line of grills specifically designed to be used on the go. Their Ranger pellet grill is small enough to be placed on a worktop yet big enough to cook 10 hot dogs at once. It weighs as little as 60lbs.
Rec Tec's smallest grill weighs 80lbs and is a lot larger than the Ranger.
It does have foldable legs, which give it points for convenience. However, it isn't the best option if you're going camping.
Rec Tec Vs. Traeger: Traeger
Due to the sheer ease of convenience, we're going to give this one to Traeger.
6. Construction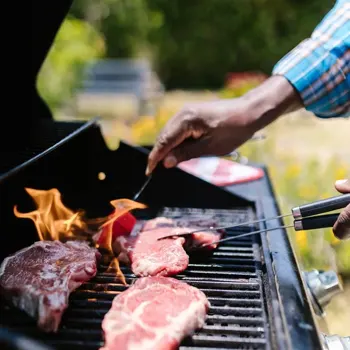 When it comes to construction, both Traeger and Rec Tec produce great grills. They both retain heat, create solid smoke, and are made from high-quality materials.
Traeger grills are constructed from powder-coated steel and feature porcelain-coated cooking grates. The Traeger Ironwood series also includes double-sided wall insulation, which aids heat retention.
Their two grills in the Timberline range are constructed using steel grates. The inside of these timberline grills is fully insulated with a stainless steel interior.
Rec Tec models all use stainless steel components which is why they are usually considered among the best stainless steel grills on the market.
This goes for their cooking crates, cooking chamber, firepots, drip pan, and heat detectors.
Unlike Traeger, Rec Tec's grills are not insulated. However, you can buy a grill cover for the RT-700.
Rec Tec Vs. Traeger: Traeger
While both companies produce high-quality grills, Traeger takes the upper hand with their built-in insulation. Their use of porcelain and coated steel instead of stainless steel construction makes the midrange units more affordable.
7. Warranty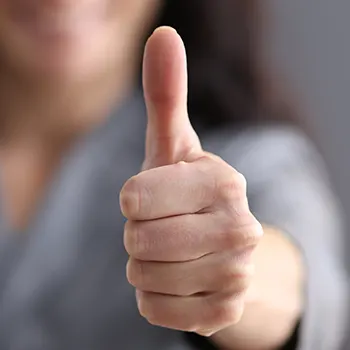 When you're looking to drop a large amount of money on any product, you have to take a look at the warranty. The warranty is a good indication that the company stands behind what they're selling.
The brands that offer the longest warranties are the ones that have the least amount of problems with their products.
Traeger offers 3 years on their warranty for all of the units under their name [2].
Rec Tec, on the other hand, offers their warranties depending on the product. For the mid-range items, you will be covered for 2 - 4 years.
However, on their more expensive units, you will be covered by a whopping 6 years.
Rec Tec Vs. Traeger: Rec Tec
While 3 years is a good amount of time, Rec Tec really takes the cherry on this cake with their impressive 6-year warranty.
Overall Winner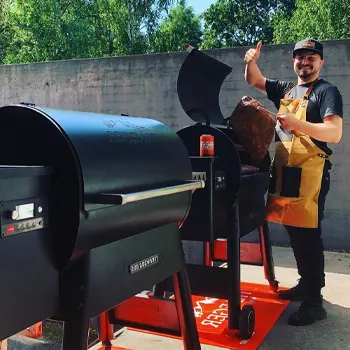 After careful consideration, we can now present to you our chosen winner: Traeger.
It was a close call, especially when both brands offer the perfect pellet grills.
The reason we chose Traegeris because we believe you get better value for your money. For example, the Traeger Ironwood series is very similar to most Rec Tec grills, just for a better price.
While not all grills are made with steel grates, the materials used still hold great heat retention while being budget-friendly.
If you were counting on stainless steel, you can still make your dreams come true with a Pro Series pellet grill.
Individual Product Reviews
While we gave a pretty good sum-up of both bands above, I thought giving a few individual product reviews would give you a better idea of the grills at hand.
Below, you'll be able to find six different models split into budget-friendly, mid-range, and top-of-the-range categories.
1. Budget-Friendly
Here are two budget-friendly units:
Rec Tec RT-340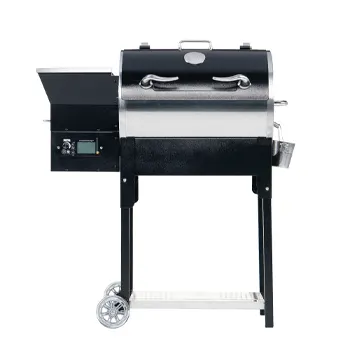 This model is a perfect pellet grill choice if you're looking for something smaller than your typical pellet grill. The Rec Tec RT-340 features 341 inches of cooking space, which gives you plenty of room to grill up multiple burgers at once.
The RT-340 features Rec Tec's smart technology WiFi, which means you can monitor and manage the pellet grill from your own living room.
For extra portability, the legs of the RT-340 are also foldable to make it easier to travel. It has a 20-pound pellet capacity, which means you can smoke undisturbed for almost 20 hours.
The RT-340 also comes with an 80 pounds pellet bundle, along with a 2-year warranty.
Specifications:
Cooking area: 341 square inches
Secondary cooking area: 171 square inches
Temp range: 200°F - 500°F
Hopper: 20 lbs
Warranty: 2 years
Price: $819
Pros
Dual meat probes
Smart grill technology
Hopper holds an entire bag of wood pellets
Stainless steel construction
Cons
Short warranty
Only has two wheels
Traeger Tailgater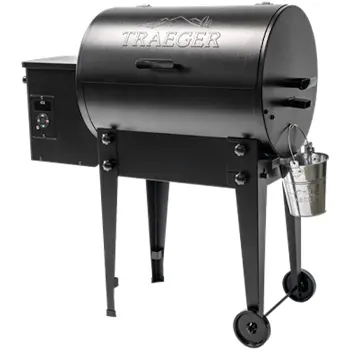 The great thing about the Traeger Tailgater is how much portability it has to offer. If you're one for camping or cooking in outdoor settings, 300 square inches of cooking space is great for you.
The main cooking rack is made from powder-coated steel and is enough to feed multiple people at once, holding 12 burgers or two whole chickens.
It also comes with an 8lb hopper, digital control panel, and an automatic auger.
When you purchase your new pellet grill, it will also come with 20 pounds of wood pellets as a bonus.
Specifications:
Cooking area: 300 square inches
Temp range: 180°F - 450°F
Hopper: 8 lbs
Warranty: 3 years
Price: $469.99
Pros
Great for camping and portability
Reliably affordable
Legs fold for extra convenience
Cons
Small pellet hopper
Temp range isn't high enough for searing
2. Mid-Range
Here are two mid-range units:
Rec Tec RT-590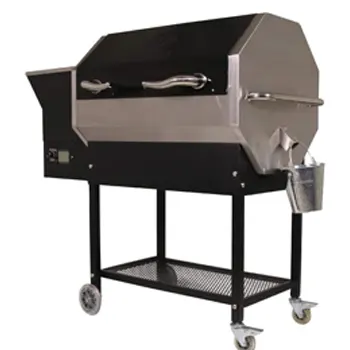 Rec Tec RT-590 is a mid-range pellet grill that holds the same features as the budget range but instead has a cooking size of 592 square inches, which is great for a medium-sized family. The secondary cooking rack is 180 square inches.
The hopper gives you a generous 30lbs, so it will give you well over 30 hours of smoking time.
The RT-590 also comes with 2 meat probes, PID and smart grill technology, and 4 wheels.
As with all Rec grills, the RT-590 is completely made from stainless steel.
Specifications:
Cooking area: 592 square inches
Temp range: 200°F - 500°F
Hopper: 30 lbs
Warranty: 4 years
Price: $899.99
Pros
4 years warranty
Can hold 30lbs of pellets
Versatile mid-sized pellet grill
Temperature Probes
Cons
A little expensive compared to other mid-range pellet smokers
Filling the hopper leaves you with half a bag of opened pellets
Traeger Pro 575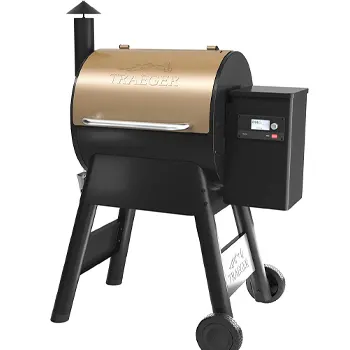 The Traeger Pro 575 is the top-selling pellet grill in the Traeger range. The cooking grate is big enough to house 4 chickens at once. Traeger Pro grills feature WiFIRE, which connects your pellet grill right to your phone.
There you can control the pellet grill remotely. The RTD probe also measures the temperature every second to ensure it stays within 15 degrees of your desired temperature.
Specifications:
Cooking area: 575 square inches
Temp range: 180°F - 450°F
Hopper Capacity: 18 lbs
Warranty: 3 years
Price: $799.99
Pros
Stainless steel grates
Dual LED temperature controller
Great build and quality
Durable powder coat finish
Cons
Searing becomes hard due to low temperature
Hard to wheel across uneven surfaces
3. Top Of The Range
Here are two top of the range units:
Rec Tec RT-700
Out of all the home-sized grills on the RT range, the Rec Tec RT-700 is the largest, with 702 square inches of cooking space.
The unit is made from complete stainless steel construction, with a huge 40lbs of hopper space. That means you will never have to refill the hopper halfway through the cooking process.
With a temperature of 200°F - 500°F, you'll be able to do slow cooking, as well as smoke at a higher temperature.
Just like Rec grills, the RT-700 features a temperature controller, PID controller, and two meat probes.
Specifications:
Cooking area: 702 square inches
Temp range: 200°F - 500°F
Hopper Capacity: 40 lbs
Warranty: 6 years
Price: $1199.99
Pros
Huge hopper space
6 years of warranty
Can cook for large groups of people
Stainless steel construction
Downdraft exhaust
Cons
App has limited functionality
The hopper is placed on the back, which makes it hard to reach
Traeger Ironwood 885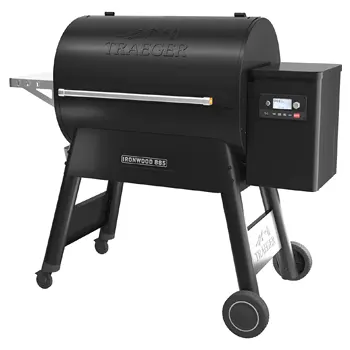 The Traeger Ironwood 885 is on the expensive side of the Traeger line, paired with a lot of innovative and handy features.
The D2 auger drive system controls the flow of pellets to ensure none get sick inside of their wood pellet grills.
The hopper is big enough to hold 20lbs of pellets, which gives you 20 hours of smoking time.
It also features double-wall insulation to ensure none of the important heat inside escapes.
Specifications:
Cooking area: 885 square inches
Temp range: 160°F - 500°F
Hopper Capacity: 20 lbs
Warranty: 4 years
Price: $1499.99
Pros
WiFIRE monitoring and control app
Easy to clean
Large temp range
Downdraft exhaust system
Cons
On the expensive side
Doesn't have much portability
Wrapping Up The Pellet Grill Battle
Both of these companies offer great grills with lots of added features. While we picked Traeger as our winner, it completely comes down to what you prefer and what features you need.
If you need a large pellet grill with a large grilling area, Rec Tec grills are for you. If you prefer portability and need more choice in size, Traeger is a good bet.
You can't go wrong with either company. However, Traeger is definitely a budget-friendly option.
Was this article helpful?