If you want to experience healthy food without the need for prep, or you simply don't have enough hours in the day, you should consider trying out Sunbasket.
In our quest to find which meal kit delivery services are affordable yet effective, we decided to test the Sunbasket meal kits for a month.
We'll go over how they work, the cost, and the meal options available.
What is Sunbasket, and How Does it Work?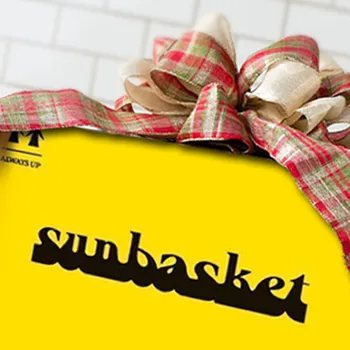 Sunbasket is a meal delivery service that ships its members organic and fresh ingredients every week, allowing them to cook their meals at home without the need to visit a grocery store.
The company was founded in San Francisco in 2014 by chef Justine Kelly and entrepreneur Adam Zbar [1].
Sunbasket currently operates three centers on the East Coast, one on the West, and another in the Midwest.
Sunbasket currently ships to every state in the U.S, excluding Hawaii, Alaska, Montana, North Dakota, and selected places in New Mexico.
Benefits and Highlights
After testing Sunbasket for an entire month, here are a few benefits and highlights that stood out to us.
1. Easy Signup Process and Meal Customization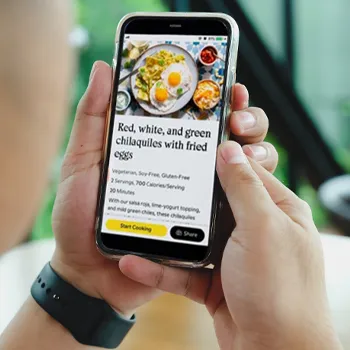 The first thing I noticed about the Sunbasket meal delivery service was how user-friendly their website is. It makes signing up a breeze, mainly due to its free app, available on Android and Apple.
Upon signing up, you will be asked whether you're interested in the Fresh & Ready or the Meal Kits.
The Fresh & Ready meals come completely prepared, so all you have to do is pop the ready meals in the microwave for 3 minutes, and your dinner is ready. It's is essentially a ready meal made for healthy eating.
You have the option to pick 4 - 10 Fresh & Ready meals a week.
If you go with the Meal Kit, you will have far more options for customizing your ingredients and choosing specific meals based on your diet or restrictions. First, you will need to pick from the following options:
Paleo
Gluten-free
Diabetes-friendly
Vegetarian
Mediterranean
Pescatarian
"No, I don't follow any of these diets."
The great thing about Sunbasket is it's completely flexible.
Unlike other meal kit companies, you aren't chained to one category once you choose your diet. You can mix and match as much as you want; this option just makes it easier for customers with strict dietary restrictions.
Once your plan is chosen, you can choose to avoid certain meats such as pork, beef, or lamb, choose dairy-free, soy-free, and gluten-free options, as well as high protein, low calorie, and more.
The next step is to pick how many people are dining, which is where it gets slightly confusing.
On the signup page, you will be given only two options: two or four servings.
However, once you go to the meal selection page, you can actually choose up to 16 servings of the same meal.
You can then choose either two, three, four, or five meals per week.
2. Large Selection of Fresh Meals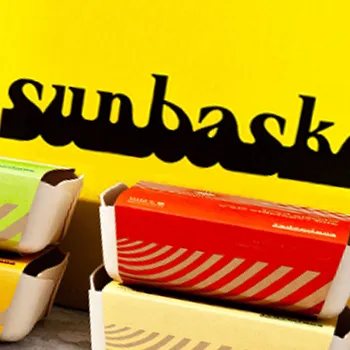 Every week, the menu for Sunbasket updates with new recipes containing a wide range of culinary styles.
The amount of available meals varies each week.
While testing Sunbasket, I came across various recipes such as fresh pasta, corn tortillas, Japanese curry, Korean soups, pork chops, and many more.
Since Sunbasket centers around healthy meals and being inclusive to one's diet, all meals are tagged with dairy-free, soy-free, gluten-free, family-friendly, etc.
The meal kits also come in three options: 
Pre-prepped
Classic
Chef's Table
"It's quite true to say that if you work with marvelous fresh ingredients, the simplest dish is taken to another level." - Ainsley Harriott, Chef
The pre-prepped option includes measured, pre-chopped, and pre-prepped ingredients. Therefore, just throw everything together, and you'll have a meal in 15-20 minutes.
The classic meal kits take a little longer, usually around 30 minutes. You will still receive all ingredients, and there is no need to go grocery shipping, which makes meal planning easy.
Lastly is Chef's Table, the "fancier" option of the three. Here, you will have access to the more premium meal plans for an extra cost, choosing organic meat, unique ingredients, and flavors.
I was delighted to find that you can order extra cuts of meat and some homemade snacks.
You will also have a selection of bites such as sweet potatoes, breakfast options like egg bites, and desserts. These add-ons are also exclusive to your dietary preferences.
3. Helpful Support Materials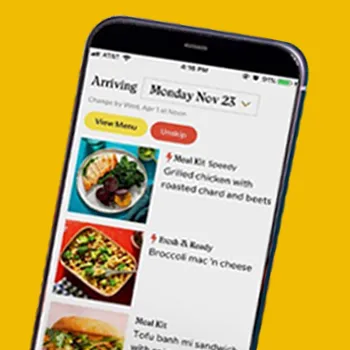 All of Sunbasket's meals come with a detailed recipe card, including instructions, ingredients needed, nutritional information, and a photo of the finished meal.
All four meals I ordered within the first week were made without any problems, and the cooking instructions were also available on the Sunbasket app, which I found to be super handy.
Their website has a blog with various tips and techniques related to cooking kits.
4. Eco-Friendly Packaging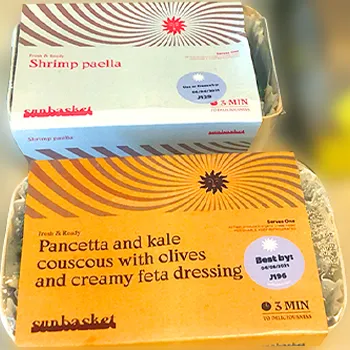 Just one look at the Sunbasket website will be enough to tell you that they care about recycling and being eco-friendly.
According to their "Recycle" section, their boxes, paper insulation, denim insulation, ice packs, fiber trays and sleeves, meal bags, recipe cards, egg cartons, jars and containers, and plastic and films are all completely recyclable and reusable [2].
They even encourage customers to get creative with the materials and create art projects.
The state you live in determines when you can get your meal delivery service. Usually,
Sunbasket ships between Sunday and Thursday. I chose to get my first box delivered on Monday morning.
"Cooking should be a fun experience, not a chore. I've always found it to be a really nice way to end the day." - Justine Kelly, Founder of Sunbasket
All of the individual meal kits were placed in paper bags with a recipe label. Inside, each paper bag had labeled ingredients and corresponding recipe cards.
I can sometimes be skeptical when it comes to meal delivery services. I have had a few bad experiences with other meal kits and their ingredients.
However, with Sunbasket, all the meal kits came with fresh produce, which was bright and ripe.
I had some trouble when it came to recycling plastic packaging and films. I traveled over seven miles to recycle these, which isn't a road trip, but it isn't very convenient either.
5. Quality Ingredients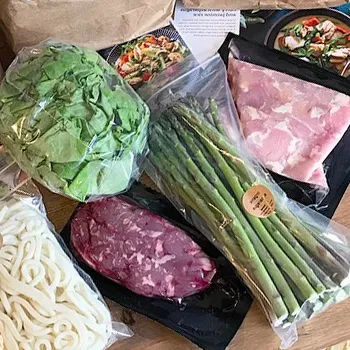 Sunbasket is a great meal kit delivery service when it comes to healthy cooking made sustainable.
They partner with a range of local farms and fisheries, providing them with the freshest and tasteful ingredients.
According to Exclusive Chef Justine Kelly, all Sunbaskets suppliers avoid spraying industrial chemicals and take care of their soil [3].
Since Sunbasket works with fisheries that are Marine Stewardship certified, this leads to sustainable seafood.
Suppliers grow organic food such as organic produce, eggs, dairy products, and some organic meats.
Sunbasket meals have a reputation for being one of the healthiest options for meal kit companies. They include fresh vegetables, fewer refined carbs, and reasonable calorie counts.
If you receive any non-organic produce, Sunbasket will let you know.
6. Healthy Meals Made Easy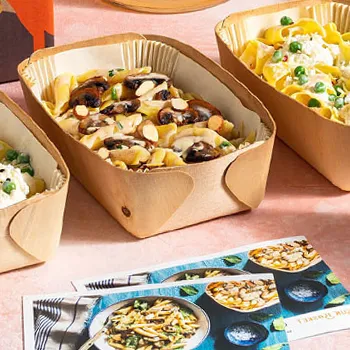 Over the past few weeks, I have thoroughly enjoyed almost every single meal I have prepared and eaten.
They came with easy-to-follow instructions and were almost entirely pre-prepped, so even during a busy week, I didn't spend too much time cooking.
Most meals took less than 30 minutes to make, and the clean-up process was a breeze. When it comes to taste, I can say that 90% of meals were a 10/10.
The other 10% were slightly lacking in flavor. I'm not sure if it was to do with the spices included, but a small percent of the meals felt a little flat to me.
Of course, this can easily be fixed with a bit of grocery shopping. However, it does slightly defeat the purpose of meal kit services.
That being said, the healthful meals were all-around delicious, and they really do bring back the excitement to healthy cooking.
Three meals were also vegetarian, and I found the vegetables to be incredibly fresh and tasty.
What Sunbasket Can Improve
Sunbasket leaves little to be desired. The meals are fresh, tasty, and for the most part, organic.
That being said, there are a few improvements I would like to see Sunbasket take into consideration.
First, I feel like there is a little too much variety when it comes to meals.
While this may be ideal for some people, I had a hard time choosing between recipes and, at first, found it a little overwhelming.
Another thing to note is that organic seafood and meats come at an extra cost.
While it's typical to pay more for organic meats, I believe organic meats should be a given for the price of the meal delivery service.
Sunbasket Pros and Cons
Pros
They provide seven different meal plans to cater to all dietary needs 
Meals are customizable, right down to avoiding certain meats or dairy
You can choose as many as 16 servings for one recipe 
A large percentage of ingredients are sustainably sourced, and there is little food waste
Cons
The number of recipes can be overwhelming for some 
If you would like organic seafood or meats, you will have to pay extra
How Does Sunbasket Compare to Other Meal Kit Companies?

There are plenty of food delivery services on the market today, so finding the right one for you can be tricky.
If you're not sure that Sunbasket is for you, here is how it holds up compared to 3 other popular companies.
1. Green Chef
Much like Sunbasket, Green Chef meal delivery offers a range of meal kits that involve almost no prep and can be cooked in no time. They offer three different meal plans - low carb, plant-based, and balanced living.
You can choose from 12 tasty recipes per week, which is slightly less than Sunbasket.
They are a little more expensive than Sunbasket; unfortunately, it doesn't integrate meal plans or customizations.
2. Blue Apron
Blue Apron is the go-to meal service when you're looking to try a wide range of cuisine. Just like Green Chef, you can choose from 12 meals per week. However, only three of these are vegetarian options.
Blue Apron offers a range of fresh ingredients, even though they are slightly cheaper than most meal services. Unfortunately, Blue Apron doesn't allow for much customization within their recipes.
3. Freshly
Just like Sunbasket, Freshly meal delivery lets you choose a wide range of options to fit your dietary needs.
Gluten-free and under 500 calories are among these options. You can also choose to have 12 meals delivered at once, far more than most meal kit services.
However, the downside to Freshly is they only offer single servings of their dishes, so if you're catering to a big family, you will have problems there. You can also order sides. However, they have to be ordered with the main meal.
Other Meal Delivery Services We've Reviewed:
How Much Does Sunbasket Cost?

How much Sunbasket costs depends on the meal plan you choose and the number of people dining.
Here is a breakdown in cost according to the Subasket website [4].
For two people:
2 Meal Kits (4 Servings) $14.49 / serving
3 Meal Kits (6 Servings) $13.49 / serving
4 Meal Kits (8 Servings) $12.49 / serving
5 Meal Kits (10 Servings) $11.49 / serving
For four people:
2 Meal Kits (8 Servings) $12.49 / serving
3 Meal Kits (12 Servings) $11.49 / serving
4 Meal Kits (16 Servings) $11.49 / serving
5 Meal Kits (20 Servings) $11.49 / serving
Depending on your postcode, you will also have to pay for shipping, usually around $7.99.
Other Users' Experiences
It seems like Sunbasket is a fan favorite when it comes to meal plans.
According to reviews on Google, many people praise how fresh the ingredients are and how easy the website is to navigate.
Many customers enjoy that you can easily cater to specific dietary needs and select up to 16 servings of the same menu.
Others have also pointed out that Sunbasket is on the expensive side compared to most companies, especially when you have to also pay for shipping.
FAQs
Can You Pause Your Sunbasket Subscription?
Yes, you can pause your Sunbasker subscription at any time. Be sure to make changes before the cut-off on Wednesday at noon PST [5].
Do I Need Any Supplies to Cook With Sunbasket?
You will need basic kitchen supplies such as pots, pans, cutlery, knives, and spoon to cook with Sunbasket.
You won't need any cooking ingredients other than oil and salt.
Is Sunbasket Worth It?
Sunbasket is an excellent option for anyone looking to expand their horizons when it comes to food, on top of making cooking easy and fun.
You can conveniently get healthy meals delivered straight to your door without the need for grocery shopping or prepping.
Meals can be made within 30 minutes, with little clean-up involved. You also have the option to choose meals depending on your dietary needs.
If you're interested in trying this tasty meal service out, you can check out the website to find out more.
We Recommend
Sunbasket
Pros
They provide seven different meal plans to cater to all dietary needs 
Meals are customizable, right down to avoiding certain meats or dairy
You can choose as many as 16 servings for one recipe 
A large percentage of ingredients are sustainably sourced, and there is little food waste
Get the BEST PRICE until the end of September
Cons
The number of recipes can be overwhelming for some 
If you would like organic seafood or meats, you will have to pay extra
Was this article helpful?