Fish can be challenging to smoke correctly. You don't want to go crazy with too much heat and burn your meat. This is a problem with many popular fish smokers.
They are overkill for fish. That's why we've tested and reviewed the best fish smoker to help you find the best option for you.
The 11 Best Fish Smokers in 2023
Buying Guide For Choosing A Fish Smoker

Type of Smoker
Charcoal
Charcoal is traditionally the better option as it is capable of using a richer smoke taste in your meat. The major downside is that it can be more difficult for beginners to use.
Electric
Electric smokers are better for beginner users, especially the digital type with easy controls. However, these are not as portable as you will need a source of power.
Gas/Propane
Propane smokers offer a nice balance with the ease of using an electric smoker but a richer smoke taste when used with wood chips.
"Gas smokers are ideal for cooking fish, roasting vegetables, or making a fast dinner of sausages and peppers."
- Josh Cohen, New York Restaurateur (1)
Material Quality and Construction
With any smoker, one of the primary concerns you should have is what materials it's built from and how durable the construction of the smoker is. The best smokers from reputable companies like Weber and Char-Broil are built with quality construction in mind.
For materials, you want the outer shell and grates to be constructed from insulative yet durable material. Two of the primary materials you should be on the lookout for are stainless steel or cast iron (2). Particularly stainless steel is a good option due to its ability to withstand corrosion and rust.
"Stainless Steel is widely used in food- and beverage-relevant applications because of its high corrosion resistance in combination with good mechanical properties."
- Neda Mazinanian, KTH Royal Institute of Technology Division of Surface and Corrosion Science (3)
Heat Control and Temperature Range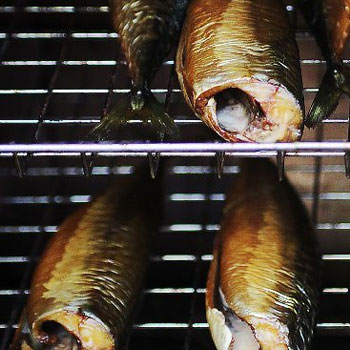 Because filets can burn so easily, you want the ability to easily control the temperature range.
Therefore, it's ideal that the smoker has some kind of numbered heat control settings such as the Weber Smokey Mountain has on the damper or some kind of precision digital control system (4).
Ease of Use and Maintenance
The easier that a smoker is to use, the more likely your meat will turn out correct.
If you don't have any experience with charcoal, gas smokers and electric smokers can be good choices. Gas and electricity are a bit easier to control and also clean and maintain than charcoal and wood.
Total Cooking Area
Regarding the cooking area, the best smoker is the one that fulfills your specific needs. If you are only using your smoker for occasionally cooking a few filets for your family, you will be fine with 300 to 500 square inches of smoking space.
If you are regularly smoking for large groups, however, we recommend 800 square inches or more.
Dimensions and Weight
The dimensions and weight will affect how portable your fish smoker is. Some of the best models have been created to take on camping trips and other areas you might need them.
Consider if you will be traveling with your smoker and if so you should factor that in when looking for the best model for your needs.
Warranty
Because smokers take a lot of abuse, buying a model that has a good warranty is essential. Ideally, you want to look for a model that provides at least a two-year warranty on all parts.
Pay particular attention as many companies will provide different warranty lengths on different parts of the smoker.
Extra Features
You can find numerous extra features when it comes to the best smoker for fish, and while many of them are helpful, not all of them are essential.
Some of the best extra features that we like to see include:
Shelving space for plates
Hooks for storing grill brushes
Meat probes for internal monitoring
Digital thermometers
Storage spade for gas tanks (propane smokers)
Tips on Smoking Fish
Fish can burn incredibly easily, and the last thing you want is to ruin your meal. Remember that lower temperatures and longer smoking times are always preferable to a charred meal when smoking fish.
Make sure that you aren't drying out your fish by smoking them for too long.
Fatty fish like tuna is better for smoking than salmon. This is because the fat absorbs the smoke flavor better than leaner fish with less fat content.
If you're looking to buy the fresh fish and other seafood conveniently, check out Sizzlefish. Their ready-to-cook fish are wild-caught, fresh, and great for smoking.
When smoking fish, you also want to make sure you are using the right woods, so you don't get any funny flavors. The best woods to use when smoking include:
Related articles:
FAQs
Will smoking fish ruin my smoker?
No. Smoking fish will not ruin your smoker. Many people think that the fish smell will get into the smoker, however, this should not be a concern if you are smoking fish at low temperatures and cleaning your fish smoker after each use.
What is the best temperature to smoke fish?
The ideal temperature to smoke fish is between 175 and 225 degrees Fahrenheit (79 and 107 degrees celsius). Smoking fish is possible at lower temperatures to ensure the flavor is being infused in the smoked fish. However, you need to heat your meat to these temperatures for safety.
Do different fuel sources affect how smoked fish tastes?
Yes. Different fuel sources such as wood and gas can affect how smoked fish tastes. It's important to make sure you are using a wood type that matches the specific smoked fish you are making. Because smoked fish has a strong flavor, you want a wood that will infuse well into the meat.
Is cold-smoked fish safe?
Yes. Cold smoked fish is safe if you do it correctly. You must brine the meat to kill off bacteria. You should also ensure that you are not rushing the cold smoking process. The primary reason people get sick from cold smoking is due to pulling the meat too early.
How long should you smoke fish?
You can smoke fish for a few hours at low temperatures for a rich wood taste. However, you should heat the meat between 175 and 225 degrees Fahrenheit (79 and 107 degrees Celsius) for at least 20 to 30 minutes to kill off parasites and bacteria.
Our Verdict For Best Fish Smoker
From a large cooking area and functional smoke vault to a pellet grill, the Pit Boss Copperhead 3-Series is everything you need for a perfectly smoked fish.
And because the right temperature for smoking fish is tricky to achieve, the good news is that this versatile smoker comes with an inbuilt temperature knob to set and track different temperatures.
We recommend it because it does an excellent job of infusing a rich wood flavor into smoked fish with its smoke technology that controls the amount of smoke you use.
We also like the convenience that comes with this appliance: you can braise, smoke, roast, and BBQ your smoked fish.
Pit Boss Copperhead 3 Vertical Pellet Smoker (Best Overall & Easiest-to-Use)
Our #1 Recommendation
Excellent construction build
Budget-friendly
Easy to set up and use
Compact footprint
Large built-in hopper
Get the BEST PRICE until the end of December
Was this article helpful?