As a carnivore lifestyle devotee who hasn't always lived in a house with a backyard, I had to test my options with small grills. Leading brands in the industry didn't fail me, but with so many options available, it was hard to choose the best one out there.
To help you pick the premium one, I tested and reviewed a ton of them and narrowed it down to the seven that make the grade.
Continue reading to find the one that offers the most value for your money.
7 Best Small Grills
Buyer's Guide

Investing in a high-quality grill can be challenging if you don't know what features to look for. Here's a detailed buyer's guide to help you buy the right grill that'll suit your barbecue needs.
1. Size of Grill
The number of burners on a portable gas grill is typically used to classify its size. However, the number of burners does not necessarily equate to the proportionate cooking surfaces provided by the grill. It's just a bonus to understand how many units a grill has so that you know what to look for when buying one.
Grills are classified based on these criteria:
Small grills: Holds 15-18 burger patties. Small grills are perfect for little cookouts, and if you don't have a lot of storage room for your grill. They are also more portable because of their smaller size and are often less expensive if your budget is limited.
Medium grills: These are grills with a 20-25 burger patties capacity. This is the most common grill size and is frequently the optimal size and price range for most grillers. The pricing and included features range from mid-range and few features to high-end and fully loaded.
Large grills: Can hold up to 30 burger patties. These grills are customarily reserved for professional grillers because they are reasonably huge, have the largest cooking surface and the most burners, and are often the most costly than regular grills.
2. Heat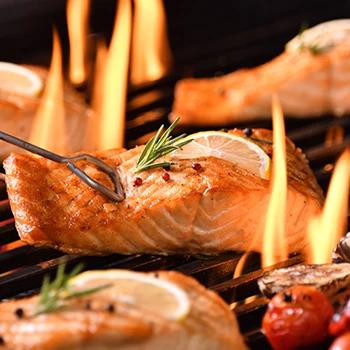 Another consideration when buying a small grill is the British Thermal Unit (BTU) rating. This is a metric of how much heat the burner produces.
A grill with a greater BTU rating does not always create more heat because other factors determine the BTU rate. These factors include the amount of heat produced, the size of the electric grill, and how efficiently it holds and transmits that heat.
Please don't buy a grill only because it has a higher BTU rating. Try comparing that figure to the size and structure of the grill. Smaller, more portable grills may achieve higher cooking temperatures while consuming fewer BTUs.
Also, with BTU in mind, look for grills with heat diffusers above the burners. This promotes consistent heat distribution and shields them from grease. If you can afford it, go for brass and stainless steel burners, as these don't burn out or rust easily compared to aluminum-plated ones.
Aluminum-plated ones are not the best because as natural gas burns, it deteriorates these plates faster if you're a frequent griller.
3. Price Point
Small gas grills may cost as low as $200 or as much as $5,000. Ideally, it would be best to base your expenditure on your grilling needs.
You may buy a cheaper grill with fewer features if you grill less frequently or cook for a few people. But if you're grilling professionally or want more sophisticated features on your grill, then you're better off spending more.
First, figure out your budget. You don't have to spend a fortune on a new small charcoal grill; instead, purchase within your means. You can always save up for grander electric grills later on, but many respected brands sell at low prices if your money is tight.
It is crucial to remember that if you are searching for a low-cost, entry-level small propane gas grill for around $300, the area to cut back cost is on extra features that you won't necessarily need.
Related Articles:
4. Durability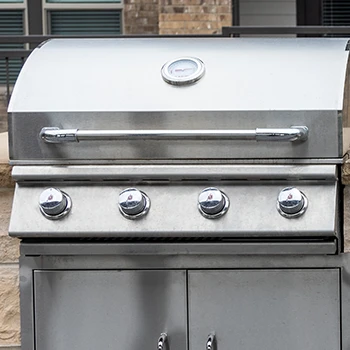 Materials, metal thickness, and the quality of grill pieces all have an impact on how long they will survive. However, the most important factor in determining the longevity of a gas/propane grill is how well it is maintained.
A well-maintained barbecue grill may last a while. But even the greatest grill can rust and crumble apart if left exposed and uncleaned. Of course, a nicer electric grill will last longer, but if you take care of it, an inexpensive grill might also last a long time.
I recommend maintaining your electric grill well despite the brand you buy because your maintenance practices affect how durable your grill will be.
5. Portability
If you don't have room for a standalone grill or wish to carry one, go for smaller, portable models that are lightweight and easy to carry.
Small grills come in various sizes to fit your space and your culinary demands. Some portable propane grills include wheels to help you transport the grill from one location to another, while others have built-in grips for easy carrying.
Also Read: Best Portable Grill
The Recommendation for the Best Small Grill Is…
The leading brands in the industry didn't fail BBQ enthusiasts who must grill in confined spaces.
Of all the small grills I tested, the Weber Spirit II E-210 grill stands out as one of the top grills to consider because it produces no smoke or fire flare-ups.
As far as entry-level grills go, the Weber Spirit II E-210 is hard to beat. Within its smallish frame lies a superb two-burner grill with plenty of cooking space, impressive cooking power, and a dependable cooking top.
As if that's not enough, this grill also features all the great qualities of a premium grill at a reasonable price.
Weber Spirit II E-210 (Best Overall & Most Versatile)
Our #1 Recommendation
Has enamel flavorizer bars
Easy to use
Functional grease management system
Conveniently fits into small spaces
Get the BEST PRICE until the end of December
Was this article helpful?