One of my least favorite activities is cleaning my grill. Recently, another trainer from my gym told me about grill mats and how they make cleaning up a breeze. I knew that I needed to give them a shot.
My team and I tried them out and decided they were worth a guide for our readers. Keep reading to find out how to use these mats to enhance your carnivore diet experience.
What Are Grill Mats?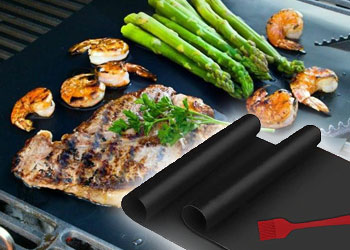 Grilling mats can be used on top of your cooking racks or at the bottom of your oven.
A grill mat is a non-stick fiberglass cloth that is coated in a heat resistant material called polytetrafluoroethylene (PTFE). We recommend using best copper grill mats as they offer the best value for money.
They are dishwasher safe, and you can cook almost anything on them.
Benefits Of Using Grill Mats
A grilling mat can be more beneficial than using foil or a grilling pan. With a grill mat, you don't have to worry about aluminum foil falling apart when you flip your food. They provide a clean surface to cook without leaving a mess afterward.
A mat for grill works with temperatures up to 500 degrees Fahrenheit (260 C). A BBQ grill mat has a non-stick surface that can be cut to any size or shape. They are top-rack dishwasher safe,  or you can hand wash them.
4 Steps To Use A BBQ Grill Mat

Step 1
Before you fire up the grill, you should remove your BBQ grill mats and wash them with warm soapy water. You might want to use some olive oil on the cooking surface before using it for the first time, but you can go without it. It could help prevent some foods from getting too hot and sticking to the grill.
 "This is also a great way to prevent stains and the risk of fire damage, especially on wood decks,"

- Stuart Meyer, CEO, National Barbecue and Grilling Association
Step 2
The next thing to do is to fire up your gas or charcoal grill. Remember a grill mat works well with any meat or side dish, so don't limit your choices. Place the grill mat on the cooking rack and make sure that the temperature stays under 500 degrees.
Related Articles:
Step 3
Place your food directly on the mat and grill as you normally would. Avoid using metal utensils because they may cause damage or flare-ups in the structure of the mat. Always use silicone or plastic accessories without metal tips.
Step 4
After you are done cooking, remove the mat from the cooking rack and clean it with soapy water or place it at the top of your dishwasher. You should clean it every time you use it for the best results.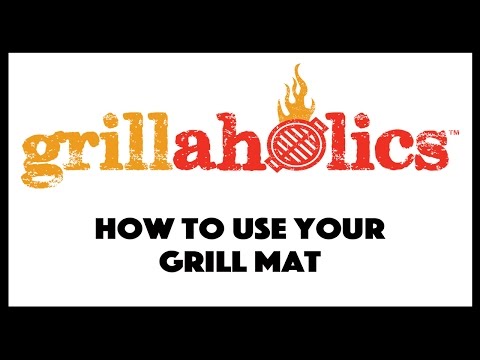 Things To Avoid When Using Your Grill Mats
If you want to see some serious grill marks on your steaks or burgers, then we recommend that you don't use a grill mat. The mat provides a completely even cooking space so you won't be able to see any grilling marks.
Never use metal cooking utensils since they may scratch your mat. We also recommend that you never use one over direct flames. You can use it with fire, but don't place the mat directly on top of the flame.
FAQs
What kind of food can I cook on grill mats?
You can make almost any type of food. You can cook asparagus, potatoes, and other sides. Certain foods like pancakes, grilled cheese, hot dogs, or even ribs slathered in barbecue sauce, are easier to cook on a grill mat.
Are they necessary for grilling?
No, they are not necessary, but they can make cooking easier and more enjoyable. They work as well, or better than a grill pan.
Do they make a difference in the taste of the food?
The mat may make things taste a bit less oily than a normal grill rack. To prevent food from sticking on a grill rack, you usually have to use a lot of oil. The mats provide a more clean cook, which makes oil less of a necessity.
Can I use grill mats on any type of grill or smoker?
Yes, a grill mat goes well with almost any type of grill or smoker as long as there is a rack to place them on.
Was this article helpful?