Not all lump charcoal for smoking is created equal, and some of it even has the potential to harm your health with dangerous chemical additives. We're going to cover what you want to look for in the best charcoal types for smoking meats then list the top ten options we've personally tested.
Editor's Choice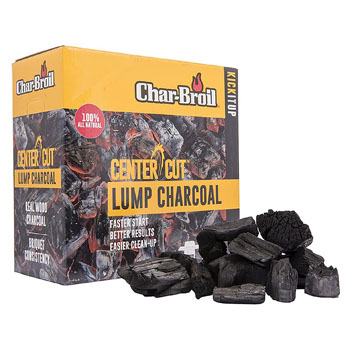 Char-Broil
Check Current Price
#2nd Best Choice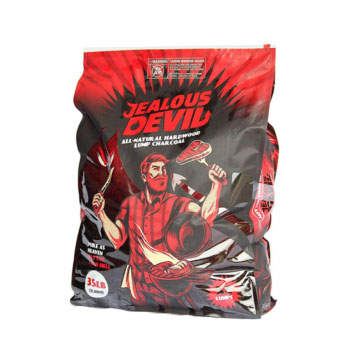 Jealous Devil
Check Current Price
#3rd Best Choice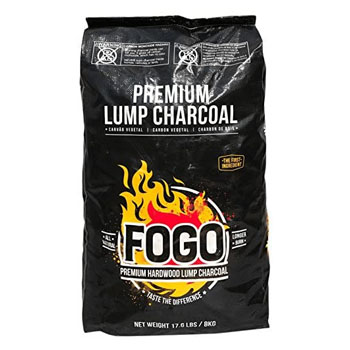 FOGO
Check Current Price
The 10 Top Charcoal Types For Smoking Meats
Things To Consider When Buying Lump Charcoal or Briquettes

Density
The all-natural lump charcoal density will affect everything from how well each piece burns to how evenly it will burn. More dense coals will typically burn for a longer period but may be more difficult to light. When it comes to lump charcoal vs briquettes, briquettes tend to be denser.
Wood
In choosing the best charcoal, the type of real wood that the product is made from affects the flavor of your food. There is no perfect option for all food types, but a general rule to follow when paring charcoal with food is:
Hickory - Beef, Pork, Poultry
Pecan - Briskets, Ribs, Roast
Oak - Lamb, Beef, Pork Sausage
Mesquite - Red Meat
There are many other real wood types, but these are some of the most common for cooking. Many lump-type charcoals will be a mixture of different hardwood types.
Related Articles:
Ash
Ash is the byproduct of burning charcoal on the grill. The issue with ash is that if left in your grill for a long, it can cause corrosion. Lump-type charcoal generally produces significantly less ash, which can be beneficial. If you use briquettes, always make sure you are cleaning your grill regularly.
"Ash deposition can significantly aggravate the corrosion of metal."

 

- Yu Sun, Journal of Chemistry (1)
Absorption Rate
If you choose the best charcoal briquettes, they should be able to easily absorb lighter fluid. You use lighter fluid with briquettes to help them light more efficiently. We advise using a lighter fluid substitute with lump-type charcoal so you don't ruin the flavor.
What types of charcoal can be used with a smoker?
Briquettes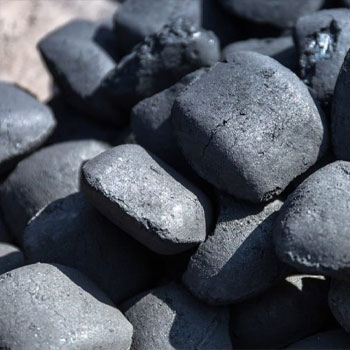 Briquettes are made from compressed coal or other materials.
These are held together using a binder of some kind such as starch or kaolin (2) and, often, have sodium nitrate or other additives to help them light easier.
This is what people usually think of as charcoal.
Charcoal Briquettes Key Facts:
Made from compressed materials
Burns longer and more evenly
Lights faster
Lump Charcoal
Lump charcoal is created from whole pieces of hardwood. It's made by slowly burning wood without oxygen until it's dried out and carbonized. The wood that it comes from ranges from leftover building material to whole pieces of wood from trees. One downside is it takes longer to light.
Lump Charcoal Key Facts:
Made from natural wood
Burns faster
Produces less ash
Read More: Best Lump Charcoals
What to avoid in charcoal?
Flavored Charcoal
Flavored charcoal often uses unnatural chemicals and adds additives to create the bag's smoky flavor (3). This usually refers to cheap hickory or mesquite-flavored briquettes you can buy in stores.
Other Additives
Aside from flavored charcoal, many cheaper lump charcoal brands use fillers and other additives that can potentially cause issues. These range from ignition enhancers making briquettes easy to light to different binders that keep the coals held together.
"Further additives are inorganic fillers which delay the heat release of the burning briquette, and ignition enhancers (sodium nitrate) to make them "easy-lighting."

 

- Walter Emrich, Charcoal Briquettes and Activated Charcoal Manufacturing Guide (4)
How should you store charcoal?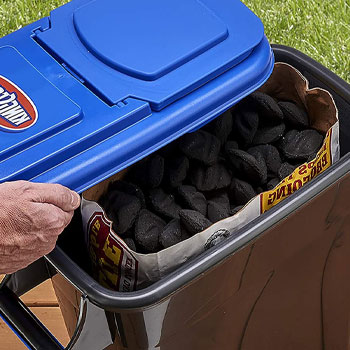 Storing lump charcoal properly is essential for maintaining its quality and ensuring that the charcoal burns efficiently when used.
It's important to store your charcoal, whether it's briquettes or lumps, in a location unaffected by outside temperatures and humidity. This implies avoiding storage in a shed or closet, especially in high-humidity areas or where exposure to precipitation like rain or snow is possible.
Charcoal, especially the best charcoal, should remain dry, well-ventilated, and cool.
Many prefer to store charcoal in a sealed bucket, reducing the chance of moisture intrusion and producing very little charcoal dust. An electric charcoal starter can then be used to ignite the charcoal when it's time to cook.
We often suggest storing briquette bags in a garage closet, where they are less susceptible to environmental changes. This way, your charcoal is ready and in optimal condition whenever the need for a barbecue arises.
Proper storage ensures you'll always have great burning charcoal for your grilling needs.
Also Read: Best Charcoal Smokers
FAQs
Is Lump charcoal or briquettes better?
Many people consider lump charcoal to be better than briquettes because of reduced additives and chemical bonding agents. An added advantage is that when using lump charcoal for smoking, you get specific smoke flavors infused with the meat due to lump charcoal being made from particular woods.
Can you add unlit charcoal to a smoker?
Yes. You can add unlit charcoal to a smoker. However, it isn't advised. The reason is that unlit charcoal can temporarily lower the internal temperature. Instead of adding unlit briquettes or lump charcoal directly, we recommend using the best charcoal chimney starter to prepare the coals before adding them in.
How often should you add charcoal to a smoker?
You typically want to add the best charcoal to your charcoal smoker every few hours. It's a good idea to closely monitor your smoker's internal temperature every thirty minutes to an hour. If you notice the steady temperature starting to dip, then it's time to use the chimney and add in new briquettes.
Which Charcoal Is Best For Smokers?
After thoroughly testing the best lump and charcoal, we've narrowed down Char-Broil's Center Cut Charcoal as the best charcoal to use for smoking. It's good for use in a lump charcoal grill, electric smokers, or the best smokers.
The high-quality charcoal burns for a long time compared to some other lump types. It's also one of the best in terms of wood quality and will burn for a long time at a more steady temperature.
Char-Broil Center Cut Lump Charcoal
Our #1 Recommendation
Made from 100% real organic hardwood
Uniform 3-inch briquette size
Best lump charcoal we tested
3% max ash production
Was this article helpful?