Not all lump charcoal for smoking is created equal, and some of it even has the potential to harm your health with dangerous chemical additives. We're going to cover what you want to look for in the best charcoal types for smoking meats then list the top ten options we've personally tested.
Editor's Choice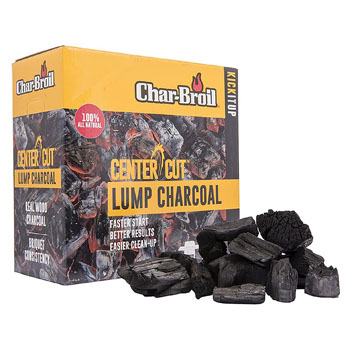 Char-Broil
Check Current Price
#2nd Best Choice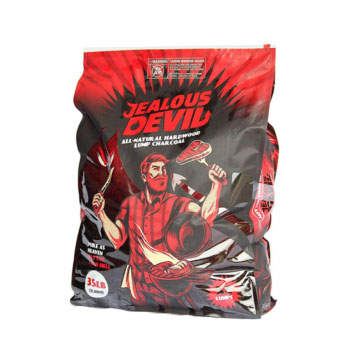 Jealous Devil
Check Current Price
#3rd Best Choice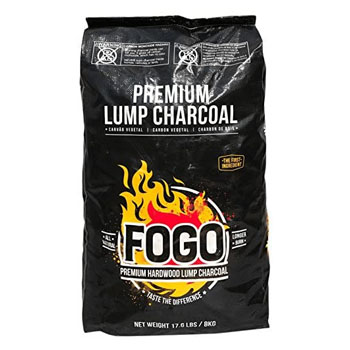 FOGO
Check Current Price
The 10 Top Charcoal Types For Smoking Meats
1 - Char-Broil Center Cut Lump Charcoal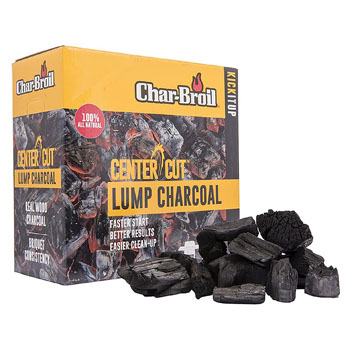 This is a lump charcoal for smoking with a center cut, meaning that it is only made from the core of the main section of trees and not limbs or branches.
The Char-Broil Center Cut Lump charcoal is made from clean-burning 100% hardwood and is entirely organic.
Char-Broil claims to have fired this for a longer period, minimizing unwanted wood sparks or any dirty smoke and ash.
According to the company, this best charcoal for smoking not only produces cleaner smoke but can also help keep your smoker cleaner due to very little ash being produced.
Pros
Made from 100% real organic hardwood
Uniform 3-inch briquette size
Best lump charcoal we tested
3% max ash production
Check Current Price
2 - Jealous Devil All Natural Hardwood Lump Charcoal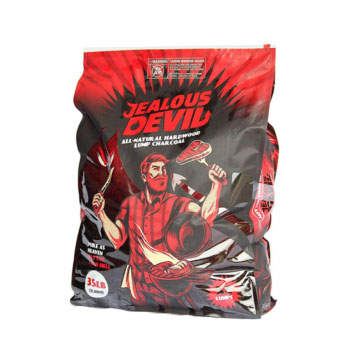 Jealous Devil is made from 100% hardwood, which gives it a longer burn of 7000 cal/g of energy. We like how it doesn't give out sparks, pops, or snaps when lighting.
This may be the most interesting type of premium-quality lump charcoal for smoking that we came across when doing our research, as these are more on the denser side.
It's suitable for outdoor cookouts as it's easy to light, whether by the best charcoal starter or charcoal chimney starter.
The lump charcoal also gives off a distinct woody flavor that deliciously enhances the taste of our meats.
Pros
Easy to light
Less ash than standard lump charcoal
Produces consistent heat
Burns longer when cooking
Cons
Can be messy upon opening
Check Current Price
3 - FOGO Premium Hardwood Lump Charcoal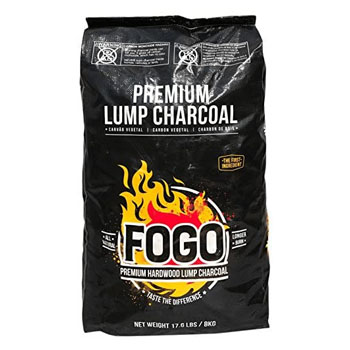 FOGO Premium is made from 100% hardwood oak trimmings that produce a rich smoke flavor in meats.
There are no additives or bonding agents used, and each lump charcoal is capable of longer burning times and maintaining cooking temperatures.
The manufacturer notes that this lump charcoal has a quick ready to use time, allowing you to start cooking in just 15 minutes after you light it.
Pros
Ready to use in fifteen minutes
17.6 lbs in each bag (3.44 kilograms)
Long burn time for grilling
100% natural lump charcoal
Check Current Price
4 - Bradley Smoker Bisquettes, Mesquite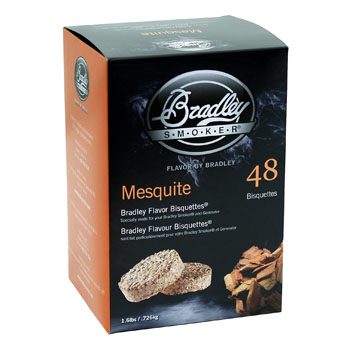 Bradley is a popular maker of the best charcoal for smoking that works, especially with their unique brand of smokers.
These are made from compressed chips and are similar to what you might get from a pellet smoker.
These smokers best work with this particular type of bisquette, so it's essential to get the right fuel type for cooking.
One advantage of these bisquettes is that each burns hotter and can add a unique flavor to your food.
Pros
Provides a rich smoky flavor
Good for slow cooking food
Best for smoking with Bradley smokers
No additives or impurities
Cons
Not good for other smokers
Check Current Price
5 - IPPINKA Kishu Binchotan BBQ Charcoal, 3lb of Lump Charcoal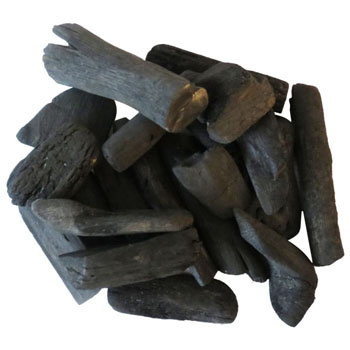 IPPINKA is a Japanese manufacturer that specializes in binchotan-style lump charcoal for smoking.
Binchotan is made from Japanese Ubame Oak is a traditional style of charcoal used for hundreds of years in the country.
It's famous for the rich smoky flavor that it produces and is often used in Japanese food smoke and grill.
One of the things that we like is you can save the lump charcoal to use later if stored properly. These all-natural lump charcoal burn at a high cooking temperature helping to sear in the meats natural juices.
Pros
Gives food a rich oak smoky flavor
Reusable after first-time use
High smoking temperature
Long burning and chemical-free
Cons
Specific storage requirements
Check Current Price
6 - Bradley Smoker BTHC24 Bisquettes, Hickory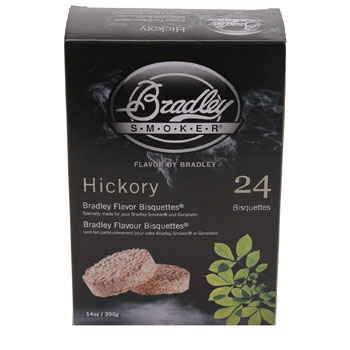 These are the Hickory variety of the Bradley smoking bisquettes.
Hickory can be the best charcoal option if you are looking for a great type of hardwood for smoking a wide variety of meats such as briskets, ribs, burgers, and more, hickory can be a good option.
These Bradley Smoker bisquettes are used in Bradley made smokers and provide a good and consistent temp for slow smoking meats. Each box comes with 24 bisquettes.
Pros
Good for slow smoking meats
Each box has 24 bisquettes
Hickory flavor infusion
Good for pork and other meats
Cons
Not good with charcoal grill cooking
Check Current Price
7 - Bradley BTAP48 Smoker Bisquettes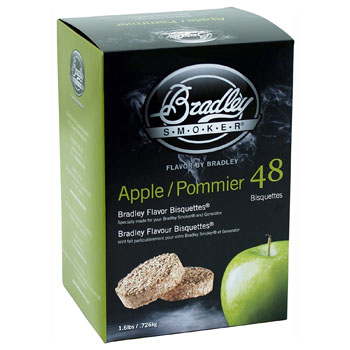 This is the Applewood version of the Bradley Smoking unites hardwood chip bisquettes.
This variety is made from compressed hardwood, in this case, Applewood. Applewood can be a good choice if you are going to cook foods such as salmon, pork, and poultry.
These hardwood bisquettes do a good job of infusing smoke into your food without leaving any chemical aftertaste from additives or impurities.
Pros
Rich Applewood taste
Each box has 48 bisquettes
All-natural organic hardwood
No additives from binders
Cons
For use with Bradley smoking units
Check Current Price
8 - Bradley Smoker Caribbean Blend Bisquettes
This is another Bradley hardwood bisquette box, this time with a more tropical and Caribbean variety.
These hardwood bisquettes combine mesquite taste with Caribbean allspice, cinnamon, clove, nutmeg, and pepper.
This can be a great choice if you plan on smoking meats such as pork, poultry, or more tropical varieties of fish. These are for use with Bradley Smoking Units.
Pros
Caribbean spice flavored
Infuses a rich hardwood taste
Completely natural and organic
No impurities or additives
Cons
For use with Bradley smoking models
Check Current Price
9 - Best of the West Mesquite Lump Charcoal
Best of the West offers traditional western mesquite flavored charcoal lump good for cooking meats such as chicken, pork, burgers, briskets, ribs, and more.
These are quality lump charcoal for smoking that burns clean and is made from 100% pure mesquite.
There are no additives or fillers for a clean mesquite hardwood taste.
Pros
Completely natural hardwood
No additives or fillers
Rich mesquite taste
100% organic lump type charcoal
Cons
Small pieces can burn quickly
Check Current Price
10 - MUXI Portable Grilling Charcoal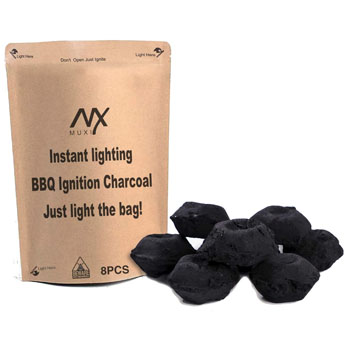 These are convenient to use briquettes that come in an easy light bag.
The upside of using a briquette type of the best charcoal for smoking is that it generally burns hotter and for an extended period.
One of the things we like about MUXI portable grilling charcoal is that it doesn't have any lighter ignition fuels or other impurities that can leave a bad flavor in your food.
Each MUXI bag comes with eight pieces of naturally made charcoal.
Pros
Won't leave bad flavor in food
Easy starter bag for charcoal grills
Long cooking time
Made from natural charcoal powder
Check Current Price
Things To Consider When Buying Lump Charcoal or Briquettes

Density
The all-natural lump charcoal density will affect everything from how well each piece burns to how evenly it will burn. More dense coals will typically burn for a longer period of time but maybe more difficult to light. When it comes to lump charcoal vs briquettes, briquettes tend to be denser.
Wood
In choosing the best charcoal, the type of real wood that the product is made from affects the flavor of your food. There is no perfect option for all food types, but a general rule to follow when paring charcoal with food is:
Hickory - Beef, Pork, Poultry
Pecan - Briskets, Ribs, Roast
Oak - Lamb, Beef, Pork Sausage
Mesquite - Red Meat
There are many other real wood types, but these are some of the most common for cooking. Many lump type charcoals will be a mixture of different hardwood types.
Related Articles:
Ash
Ash is the byproduct of burning charcoal on the grill. The issue with ash is that if left in your grill for long, it can cause corrosion. Lump type charcoal generally produces significantly less ash, which can be beneficial. If you use briquettes, always make sure you are cleaning your grill regularly.
"Ash deposition can significantly aggravate the corrosion of metal."

- Yu Sun, Journal of Chemistry (1)
Absorption Rate
If you choose the best charcoal briquettes, they should be able to easily absorb lighter fluid. You use lighter fluid with briquettes to help them light more efficiently. We advise using a lighter fluid substitute with lump type charcoal so you don't ruin the flavor.
What types of charcoal can be used with a smoker?
Briquettes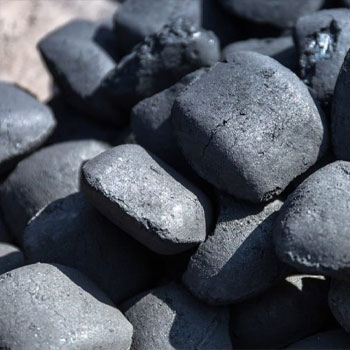 Briquettes are made from compressed coal or other materials.
These are held together using a binder of some kind such as starch or kaolin (2) and, often, have sodium nitrate or other additives to help them light easier.
This is what people usually think of as charcoal.
Charcoal Briquettes Key Facts:
Made from compressed materials
Burns longer and more evenly
Lights faster
Lump Charcoal
Lump charcoal is created from whole pieces of hardwood. It's made by slowly burning wood without oxygen until it's dried out and carbonized. The wood that it comes from ranges from leftover building material to whole pieces of wood from trees. One downside is it takes longer to light.
Lump Charcoal Key Facts:
Made from natural wood
Burns faster
Produces less ash
Read More: Best Lump Charcoals
What to avoid in charcoal?
Flavored Charcoal
Flavored charcoal often use unnatural chemicals and add additives to create the bag's smoky flavor (3). This usually refers to cheap hickory or mesquite flavored briquettes you can buy in stores.
Other Additives
Aside from flavored charcoal, many cheaper lump charcoal brands use fillers and other additives that can potentially cause issues. These range from ignition enhancers making briquettes easy to light to different binders that keep the coals held together.
"Further additives are inorganic fillers which delay the heat release of the burning briquette, and ignition enhancers (sodium nitrate) to make them "easy-lighting."

- Walter Emrich, Charcoal Briquettes and Activated Charcoal Manufacturing Guide (4)
How should you store charcoal?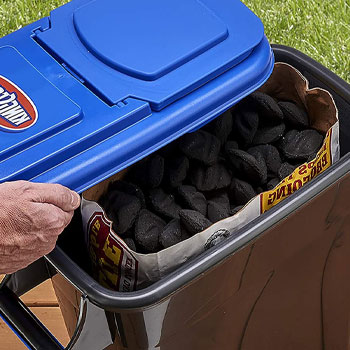 It's advised that you keep it in a location that won't be affected by outside temperatures and humidity.
This means you want to avoid storing your briquettes in a closet or storage shed if you live in a high humidity area or if there is a chance it could get wet from rain or snow.
It's essential when storing charcoal is that it remains dry and well-ventilated in a cool place. Many people store the best charcoal in a bucket that can securely seal.
We prefer to store our briquette bags in a garage closet if possible, where it is less susceptible to the elements.
Also Read: Best Charcoal Smokers
FAQs
Is Lump charcoal or briquettes better?
Many people consider lump charcoal to be better than briquettes because of reduced additives and chemical bonding agents. An added advantage is that when using lump charcoal for smoking, you get specific smoke flavors infused with the meat due to lump charcoal being made from particular woods.
Can you add unlit charcoal to a smoker?
Yes. You can add unlit charcoal to a smoker. However, it isn't advised. The reason is that unlit charcoal can temporarily lower the internal temperature. Instead of adding unlit briquettes or lump charcoal directly, we recommend using the best charcoal chimney starter to prepare the coals before adding them in.
How often should you add charcoal to a smoker?
You typically want to add the best charcoal to your charcoal smoker every few hours. It's a good idea to closely monitor your smoker's internal temperature every thirty minutes to an hour. If you notice the steady temperature starting to dip, then it's time to use the chimney and add in new briquettes.
Which Charcoal Is Best For Smokers?
After thoroughly testing the best lump and charcoal, we've narrowed down Char-Broil's Center Cut Charcoal as the best charcoal to use for smoking. It's good for use in a lump charcoal grill, electric smokers, or the best smokers.
The high-quality charcoal burns for a long time compared to some other lump types. It's also one of the best in terms of wood quality and will burn for a long time at a more steady temperature.
Char-Broil Center Cut Lump Charcoal
Our #1 Recommendation
Made from 100% real organic hardwood
Uniform 3-inch briquette size
Best lump charcoal we tested
3% max ash production
Was this article helpful?