With over 20 different online meat delivery services to choose from, how do you know which ones are worth your money and which ones are a complete waste of time?
Omaha Steaks vs Kansas City Steaks, two of the upper contenders, argue that they have the best service for delivering organic, high-quality beef to your door. We think one of them comes out on top.
Let's find out why.
Key Difference Between Kansas City Steaks & Omaha Steaks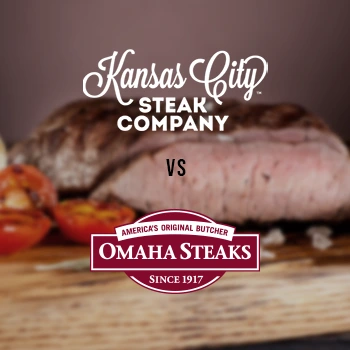 The main difference between the two delivery services is in their sourcing practices.
Kansas City Steaks sources 100% grass-fed beef for steaks, while Omaha Steaks finishes their cattle on grain for years.
Kansas City Steaks also appears to have USDA Prime, while its competitor labels their meat cut deals as agency-inspected.
Both serve other items such as pork, ham, seafood, plus free-range chicken.
They sure seem to have more game options, including bison and veal cut.
We had even heard rumors that Kansas City steaks were expensive. Still, when we tried out some popular ribeyes and American-style filet mignons a day ago, Omaha's deals ended up being more costly in the cart, and it's something that we're not used to.
Omaha Steaks
Shipping to US, Canada, and Puerto Rico
Sources from all over the US
Wide seafood choice
Fast delivery time
Kansas City Steaks
Auto-delivery options
Cancellation 3 days prior to shipping time
Sources from local stockyards
100% organic, free-range
Comparing The Menu Options

Both companies have similar nice classic beef and quality meats, such as New York strip steak, filet mignon, ribeyes, top sirloin, prime rib, and a T-bone with really tasty flavor.
They both also offer high-grade seafood, free-range chicken, turkey, and Berkshire pork for meat delivery.
We love how they both offer exclusive Black Angus all year long, as well.
We say that's one good meal you would want to try and share with your family or give as a gift to close friends.
For your party, you can add wine, a variety of country dish sides, and everything's perfect.
For the purpose of our Omaha Steaks review, we found out that the business may have a more extensive menu that you can place an order on. They offer bison, veal, wet-aged beef, and gourmet burgers for you to cook.
Bison
Bratwursts
Dry-aged strip steak
Filet mignon burgers
Swordfish
Kansas City Steak Company had a less extensive offering when we ordered, but they never ran out of private stock USDA prime beef, prime rib roast, filet mignons, and steak burgers.
Hot dogs
Brisket
Pulled pork
Lamb
Crab cakes
Meat Sourcing
Omaha Steaks sources their best selection package from all over the US with a focus on Nebraska, which is where their first butcher shop is. They get great grain-fed cuts from farmers that feed their herds grass and finish with grain, which would help fatten every cow.
Family farms
Focus in Nebraska area
Grain finished beef
Kansas City Steaks Company sources their best cuts from only local stockyards. They source and order cattle that are free-range and are fed a diet of 100% grass.
100% grass-fed diet
Sourced from local stock
USDA certified beef
Steak & Meat Quality

Both of these services sell good quality and world-class products that include wagyu, Kobe, and great-tasting bacon than you may find at a grocery store.
During our review, we found that the taste quality of Omaha Steaks was definitely sub-par compared to Kansas City Steaks Company.
The steak was slightly less marbled than what we usually had, but it wasn't that bad as we still got the value back for the four-ounce sirloin and ribeye we bought as gifts by delivery.
Omaha
Larger steaks
Better value for some cuts
More flavorful burgers
Kansas City
Tender ribeyes
Higher quality marbling
Smaller steaks
Differences In Shipping & Delivery
Omaha Steaks offers a larger delivery area since they ship to all 50 states, Canada, and Puerto Rico. For the other service provider, the delivery place only includes the US.
When we got our gift card order from the website for delivery, both product providers use a styrofoam cooler packaging and frozen dry ice. The dry ice wasn't melted upon delivery, just like how we wanted the dry ice to be while on travel.
We thought they both had fairly similar shipping costs, but Kansas City Steak Company offers a few dollars less.
"You can get more information about your steak when you buy it online than you may have gotten if you bought it in person,"

- Marc Forgione, Iron Chef [1]
Pricing & Plans
You don't need to send a subscription to order from either of these service providers, so there aren't many plans to sign up for or save with when buying delicious steaks. You may avail of a gift card if you please, though.
During our review, our order from Omaha meat delivery had a more expensive cost.
We have read full reviews that suggest their prices are much lower, so it might depend on the ordered meat.
Related Comparison Guides:
Does One Have Better Customer Support?
From our research, the customer service support for both of these mail order steak product companies may be way above average. They both have received an "A+" rating from the BBB.
They both offer a satisfaction guarantee more than anything else, so if anything is not to your liking, you can call them for a refund or exchange.
We found it slightly more difficult to get a hold of a customer rep at Omaha Steaks when we sent a message.
Omaha Steaks vs Kansas City Steaks: Winner

Omaha Steaks vs Kansas City Steaks was a tough battle, but out of all the similar services we've tried, ButcherBox is still our favourite steak delivery company.
We recommend ButcherBox instead. Excellent selection of grass-fed beef, free-range organic poultry, heritage-breed pork, and wild-caught seafood are just some of the main reasons.
Aside from offering high-quality meat, we are impressed with the affordability of their subscription model.
#1 Meat Delivery Service
ButcherBox
Click For Best Price

Pros
Grass-fed and grass-finished beef delivered directly to your door
Without antibiotics or added hormones
Customizable boxes available
Select from up to 21 different cuts
Get the BEST PRICE until the end of May
Was this article helpful?