Both Butcher Box and Omaha Steaks are well recognized for their high quality meat and great meal delivery services.
However, many people claim that the two have some subtle differences that make one slightly more advantageous than the other.
We decided to put this claim to the test, and after many hours of research and three-month-long testing, we've gathered a few interesting facts for you.
Let's discuss both Butcher Box and Omaha Steaks below.
A Quick Comparison Between Butcher Box and Omaha Steaks

The main difference between Omaha Steaks vs Butcher Box lies in their sourcing practices. The Butcher Box provides sustainably sourced beef and free-range organic chicken fried steak, while Omaha Steaks offers traditionally sourced prime meat cuts that aren't grass-fed.
While both are grass-fed meat delivery services, Omaha Steaks does not offer free shipping or a subscription plan like its competitor.
Omaha Steaks charges tiered shipping costs based on product quantity.
Butcher Box

Butcher Box started with the idea that 100% grass-fed beef should be available to everyone. The meat delivery service ​offers high-quality meats from pasture-raised farms.
Custom and curated meals
High quality beef and humanely sourced meat
Free from antibiotics and no added hormones. (Federal regulations prohibit the use of hormones or steroids in poultry.)
Omaha Steaks
Known as "America's Original Butcher," Omaha Steaks began as a neighborhood butcher shop. It has one of the largest selections of meats we've seen, including prime beef.
Abundant meat
Custom meal kits
Known for high meat quality
Which Has a Better Meat Selection?

At first glance, it would seem that Omaha Steaks is the winner when it comes to meat in a box option and different small or big cuts. Indeed they have plenty more to choose from.
Upon closer inspection, I found that Omaha Steaks wasn't always a good option for the carnivore diet. Many of the premium meats this meat delivery service sells are pre-seasoned and come with non-carnivore diet sides.
The Omaha Steaks options include free-range chicken, beef, and pork. You may save time in seasoning before cooking, but even small condiments are not recommended for carnivore dieters.
With Butcher Box, you get the best grass-fed beef, pork, and free-range organic chicken. Every flavorful meat Omaha Steaks uses is no doubt hand-picked and of good quality. It's no-nonsense, and I also don't have to worry about their meats messing with my diet.
Comparing the Butcher Box and Omaha Steaks Sourcing Practices
Butcher Box has one of the best reputations for food sourcing practices out of the various meal delivery services, including Omaha steaks, Porter Road, the Thrive Market, and Snake River Farms.
Butcher Box
Butcher Box only sources clean, high quality meat from family farms that are free from GMOs and hormones.
From their grass-fed beef to organic chicken to heritage breed pork, all of the Butcher Box products are sustainably sourced and humanely raised.
For years, Butcher Box only picks the best butcher shops and farms to be the company's partners.
Omaha Steaks
Omaha Steaks doesn't focus on the additive-free and clean eating market, as proven by their pre-seasoned steaks.
Omaha Steaks sell traditionally sourced prime cuts of meat but are not grass-fed.
Menu Options
We noted above and in our Omaha Steaks review that this meat service offers more choices. But, its competitor options are more plentiful if you are on the carnivore diet. I'm a big fan of their heritage pork box and breakfast sausage.
Butcher Box offers top-notch grass-fed beef steaks and other beef cuts. To name a few of the best options are chuck roast, sirloin steaks, beef burgers, strip steaks, bacon, and filet mignon.
For fish and seafood lovers, I've found the Butcher Box sockeye salmon to be a real treat.
Overall, Butcher Box subscription has a wide variety of meats to choose from than Omaha Steaks. It's easy to mix and match your Butcher Box custom meal box and purchase it. It won't even take up much of your time. Just don't forget to use paper towels.
Research spanning three decades suggests that grass-based diets can significantly improve the fatty acids (FA) composition and antioxidant content of beef…

- Amber Abbott

College of Agriculture, California State University
Butcher Box vs Omaha Steaks: Is There a Difference in Quality?
Both Butcher Box and Omaha Steaks also offer high-quality beef, only one specializes in clean eating. Butcher Box's founding mission was to "make grass-fed beef more accessible."
Each one of their item in the Butcher Box catalog is clean and free of chemicals and hormones, which makes it a great selection for carnivore dieters. Even when you're new to the diet, the Butcher Box choices will significantly help in your transition.
The goal is that you can cook a restaurant-grade steak or other great meat in your kitchen. So if you're looking for top-tier cuts, great value, and a rich meaty flavor, I lean towards choosing the Butche Box. This is something Omaha Steaks delivery has not guaranteed.
Omaha Steaks also has a quality gourmet meat selection with cuts like NY strip steak, pork tenderloin, and rib-eye steak. But, it doesn't have the guarantee that its products in a box are clean and additive-free.
However, as a carnivore diet follower, I view meat as more than a food source. It's the very foundation that provides me energy and sustenance throughout the day.
So, food quality is at the top of my list when evaluating these two services. If you're on the same diet like mine, choose wisely between the quality of Omaha Steaks and Butcher Box options.
Related Comparison Guides:
What About Pricing?
Butcher Box and Omaha Steaks offer custom meal options; the latter one ​offers gourmet meat packages or pick and choose orders. While its rival has monthly ​delivery with four main meal kits and a custom box option.
You can have your meat shipped bi-monthly or every month. Omaha Steaks offers quality gourmet meat cuts, but the pricing tends to be higher.
However, I wouldn't choose Omaha Steaks if you're geared more toward healthy meat delivery at a more affordable per meal price point (by pounds or per box).
Overall, I believe the Butcher Box service is more affordable than Omaha Steaks for carnivore diet practitioners, especially with the custom box. Using Omaha Steaks regularly, your order in a box will add up fast, especially when you're looking into availing their products for more years to come.
ButcherBox vs Omaha Steaks: Shipping Cost
Omaha Steaks' delivery costs are also higher compared to Butcher Box. The money I save each year on shipping quickly makes up a month of meals.
Plus, I consider the waiting and shipping time for Omaha Steaks (if I ran out of my supply, I have to go out looking for flash-frozen meat in the grocery, which will cost more).
Butcher Box
Free shipping on their mail delivery
Sent in dry ice packaging and is frozen
Offers delivery ​around the US
Order individual items or in bulk
Can send bi-weekly or monthly
Omaha Steaks
Charges tiered shipping cost based on how much you buy and do not deliver to US territories like Puerto Rico.
When it comes to the shipping time, my packages arrived 1 - 3 days after they charge the credit card. One time there was a delay in delivery and they informed me in advance, and then a few days later they proactively applied a $30 credit to my account.
ButcherBox vs Omaha Steaks: Packaging & Deliverability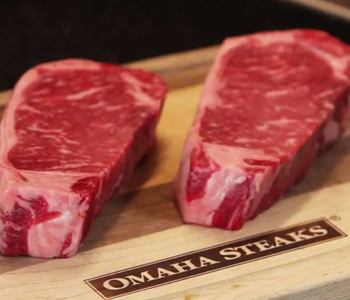 Butcher Box makes all deliveries in small gift boxes packed with free dry ice to make sure your pork chops and grass-fed ground beef arrive without issue.
Their grass-fed meat is shipped vacuum-packed to ensure freshness upon arrival for your carnivore diet meal plan. With Butcher Box, you can track all of your packages easily from their website for a hassle-free purchase.
The Butcher Box company delivers throughout the 48 contiguous states, excluding Hawaii and Alaska.
When I asked, they noted import and export restrictions, which prevented shipping outside the continental US. Omaha Steaks do not offer all of these services.
ButcherBox vs Omaha Steaks: Customer Support & Service
I've had only positive experiences with the customer service with both delivery services. Both have online customer service representatives that respond in time, on their site, or via phone call. But, because the Butcher Box focuses on clean meat, they have been better at answering my past questions.
As a carnivore diet follower, my focus is specific. I want to find the highest quality and cleanest meat I can get that is cost-effective. The Butcher Box service is more in line with most people's needs than Omaha Steaks.
Here's What Customers Are Saying
User reviews for both companies were somewhat mixed, but we encountered more positive testimonials for Butcher Box than Omaha Steaks:
"I must say I love Butcher Box. I have tried many different meat companies in the past year or so, and so far they have been the best."

- Brett P

On Trustpilot
"The site gives you flexibility in choosing your next box meat selections, as well as ship date, and shipping frequency. Without exception, I receive my box within 1-2 business days after the billing date."
- Sabrina M
On Trustpilot
"I realized that the box saves me a lot of time at the supermarket and I reckon their prices are pretty similar to budget places like Costco."
- Kristen F
On Trustpilot
Here's what customers are saying about Omaha Steaks:
"I sent a box of steaks as a gift to each of my four children. They told me they all loved the quality and the taste of the meat."
- Elizabeth C.
On Sitejabber
"For me, it's not worth it by a long shot. They used to be really good, but now I feel they are just a brand."
- Slow_D-oh
On Reddit
"We did order a couple of times back in the day but we became regulars during the pandemic. We usually order the better cuts, such as Prime Reserve, I must say they are pricey but pretty good."

- Jerry S.

On Trustpilot
Omaha Steaks vs ButcherBox - Which One Should You Buy?
Based on our experience with both ButcherBox vs Omaha Steaks, we felt that Butcher Box is the clear winner of quality meat supply.
I especially liked the fact that they value clean meat, product selection for carnivore dieters is well-rounded, plus their products are overall less costly compared to Omaha Steaks as you save a lot on order and delivery costs.
All things considered, we feel Butcher Box is just a better overall choice if you want a rich meaty flavor for your meals.
#1 Meat Delivery Service
ButcherBox
Click For Best Price

Pros
Grass-fed and grass-finished beef delivered directly to your door
Without antibiotics or added hormones
Customizable boxes available
Select from up to 21 different cuts
Get the BEST PRICE until the end of May
Was this article helpful?