With a wide variety of pellet grills available in the market, choosing the one with the best features for long-term use and effortless grilling is essential.
When I heard about the 450B, I was excited to check it out and see if it was worth purchasing. I put it to the test for a whole month and read tons of online reviews to help you make the right choice.
So does this pellet smoker really deliver? Keep reading for my full Z Grills 450B review.
What Is Z Grills 450B?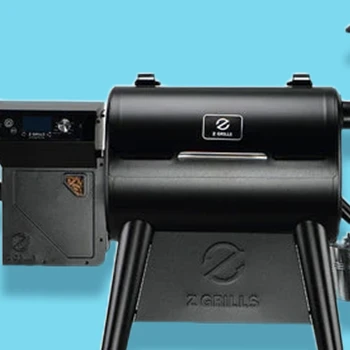 The Z Grills 450B is a high-end pellet grill. This 2021 Z Grills model (Z Grills ZPG-450B) offers most of the necessary features that the BBQ enthusiast demand, with several upgrades from the 450A.
The 450B does great grilling burgers, steak, and sausages while being easy to use and clean.
Over the years, the Z Grills pellets have undergone several iterations, each aimed at improving the grilling experience.
How Does Z Grills 450B Work?
Z Grills 450B works on a loaded hopper with natural wood pellets. The grill also has a fan that circulates the smoke and heat, ensuring even cooking throughout the cooking chamber.
Set your desired cooking temperature, and let the grill do the work.
Tips for Using the Z Grills 450B

Here are some tips from the BBQ pitmasters to help you get the most out of your pellet smoker:
Keep your grease bucket tray: Scrap the grease tray and scoop out any excess ash from the fire pot and cooking chamber every 2-5 cooks. Not only will this help your grill to function at its best, but it will also help to prolong its lifespan.
Remove unused pellets: Remove any remaining pellets with pellets of a different flavor or fresh ones after each cook to ensure the auger mechanism doesn't get clogged.
Clean outside surfaces with water: Wash with warm soapy water to remove grease from the exterior surfaces. Avoid using abrasive cleaners, abrasive cleaning pads, or oven cleaners.
Clean internal component: Z Grills advise using a long-handled cleaning brush explicitly made for porcelain-coated grill grates to clean them. Cleaning your grill grates after every use is recommended. Also, clean the inner Resistive Thermal Device (RTD) temperature probe after each use.
Turn off the grill before cleaning: The grill should be unplugged and cool before cleaning, maintenance, or inspections.
Get a thermal blanket: Even though the 450B has powder-coated steel that makes it capable of producing excellent results in moderate weather conditions, you might also want to get a thermal blanket if you light up a barbecue in cold weather.
Keeping your grill clean is essential for peak performance. A build-up of grease and ashes can not only lead to a less than effective grill, but it can also be a safety hazard. So, if you're serious about grilling, follow my advice.
"The Z Grills ZPG-450B is neither the biggest nor the fanciest thing that the market has to offer. Nevertheless, this all-encompassing pellet grill can handle just about anything thrown in its way with great results and satisfaction".
-Luna Regina, Food Blogger at Healthy Kitchen 101
Features of Z Grills 450B

The 450B comes with a variety of features that makes grilling even more fun, including:
A digital display: The PID controller (Proportional Integral Derivative) with an LED display makes it easier to monitor your target temperature and smoke levels while also being able to do all eight different types of cooking: grilling, smoking, baking, roasting, searing, braising, barbequing, or char-grilling. It's the same tool used by other brands like Camp Chef.
Manual feed feature: With the manual feed button that allows you to open up and adjust your smoke or get the internal temperature back on track fast when they start going off course (literally), there's no need for worrying about hovering over an element anymore.
Mobility: The 450B is also very mobile. It has two all-terrain wheels and two caster wheels. The 450B weighs 75 pounds. It's big enough to cook a lot of food at once, but it's not so big that it's cumbersome to move around.
Pellet view window: The 450B also has a window on the pellet hopper that allows you to check the pellet level quickly.
Pellet hopper cleanout: Another feature is the pellet cleanout system. It's a door that allows you to clean the wood pellets easily.
Pellet hopper capacity: 15 lbs with upper rack and main cooking area. It can fit four rib racks, three whole chickens, and eighteen burgers.
Capacity: The cooking chamber equips a 128 square inches and a 331 square inches main cooking surface.
Pros and Cons
Pros
The Pid controller keeps excellent temperature control
The 450B is easy-to-use, even for beginner grillers
Quick cleaning thanks to the pellet cleanout door
Easy to move around on any surface
Cons
No wifi connectivity and meat probes
Custom Rating Criteria
Convenience: 4/5
Durability: 4.5/5
Maintainance: 4.5/5
Price: 5/5
Shortfalls
There are a few shortfalls to be aware of before making your purchase. Remember that the 450B doesn't contain a Wifi controller and integrated meat probes.
Additionally, it can produce a fair amount of smoke, so it's essential to ensure adequate ventilation in your cooking area. Otherwise, you might find yourself coughing and your eyes watering.
"There's no doubt that Z Grills offers some of the best bang for your buck in the pellet grill arena. There might not be wifi technology yet, but implementing the PID technology adds so much value to their products".
- Phen Pavelka, BBQ Expert at House of BBQ Experts
How to Use Z Grills 450B?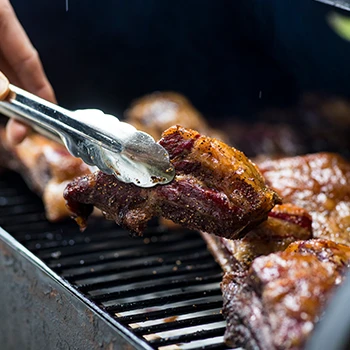 Carefully load the pellet hopper with up to 15 lbs of natural wood pellets. Next, choose your desired temperature range thanks to the PID controller.
This will give you the best smoke flavor and ensure your food is perfectly cooked.
The Z Grill 450B can reach temperatures up to 450 degrees Fahrenheit so that you can customize your cooking experience.
Unlike a charcoal grill, the 450B must be turned off manually. Do not try to smother the fire; just leave the lid closed until the fire is extinguished.
Finally, sit back, relax and take your backyard gatherings to the next level.
Smoking on the 450B
I wanted to experiment with various settings to evaluate the effectiveness and quality of the pellet smoker. Let's see how well it performed with two different cooking techniques: low and slow cooking and grilling.
You can cook low and slow smoked ribs with Z Grills's unique PID controller technology to get that smokey flavor. I started the 450B on the smoke mode with the lid open.
Then, I waited until the pellet was ignited to turn the temperature dial to 220°F. Within 10 minutes, my grill came up to temperature, and I added the ribs.
The cooking time for beef ribs took me about 7 hours. However, the thickness of the meat, cooking temperature, type of meat, humidity, or altitude are all considered variables to determine cooking time [1].
The smoker did a great job of maintaining temperature; throughout the entire run, I only noticed a 10-degree difference from the specified temperature.
Grilling on the 450B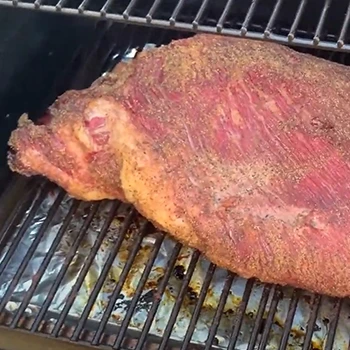 The 450B is excellent for smoking but falls short in grilling/searing. You can use it to grill your steak, hotdogs, burgers, or veggies, but the 450B can't go above 450 degrees Fahrenheit.
So it doesn't get hot enough to get that particularly flame-grilled flavor and takes more time, but it can still leave some grill marks on food.
Gas grills do a much better job because the higher the temperature, the better your food when it comes to grilling.
The 450B also doesn't have unique grilling features such as the "slide and sear" system.
Who Should Buy Z Grills 450B?
Experienced grillers and beginners can buy the Z Grills 450B. This pellet smoker has features that make grilling easy, even for beginner grillers.
It has 459 inches of cooking space, making it a good choice for couples and small families.
How Much Does It Cost and Where to Buy?
The suggested retail price of the 450B is around 500 dollars, and you can buy it directly from the Z Grills website or authorized retailers.
Shipping and Delivery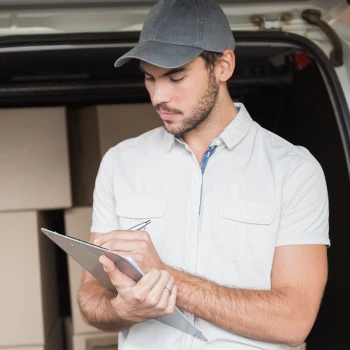 The 450B offers free shipping on all online orders within the continental U.S. Most orders will be delivered to your doorstep in 3-8 business days.
My order arrived in 3 days, as estimated. Z Grills may ship items in multiple packages to ensure your order arrives quickly.
So don't be surprised if you receive more than one package when your order arrives.
If you're not satisfied with the pellet grill, you can replace it, exchange it, or get a refund at any time within 30 days of purchase.
Just return the item in its original condition and packaging, along with your receipt or proof of purchase.
Included Extras
The 450B comes with a rain cover with the Z Grills logo. This waterproof cover is made of polyester fabric to protect your grill against rain, snow, sun, and sleet. Z Grills also offers buyers a pair of assembly gloves at no cost.
Unboxing and Assembly Instructions
The 450B comes in one box containing the product, a manual with detailed instructions, and tools needed to finish the job without too much headache: screwdrivers, wrenches, and simple installation instructions. It takes around 30 minutes and two people to assemble the grill.
Customer Feedback

To know whether or not the 450B lives up to its claims, I've also checked hundreds of reviews. I found over 800 ratings on Amazon, and over half (75%) rated it 5 stars.
However, there were some repetitive complaints concerning Z Grills' customer service and few troubleshooting services.
He was impressed with the quality and performance of this product. He found that it has been one of the easiest cooks he has ever done compared to other kinds of pellet smokers he used.
- White from the United States
He found that the grill assembly was pretty complicated and that there is a learning curve to shift from a gas grill to a wood pellet, but not as much if you're accustomed to cooking outdoors with charcoal or traditional wood.
- Jason from the U.S.
She previously owned 3 Traeger grills and found that this Z-grill is superior to them in terms of construction, gauge steel, sturdy lid, and the storage underneath to store the pellets.
Comparison to Other Pellet Grills
When it comes to grilling, everyone has their preferences. I've got options if you'd like to know about similar products!
Here are some other pellet grills alternatives you might want to consider.
Pit Boss Copperhead 5-Series Wood Pellet Vertical Smoker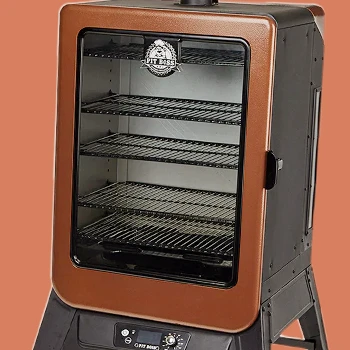 The Pit Boss Copperhead 5-Series allows you to cook for up to 25 hours.
It has 1,657 square inches of cooking area, 5 cooking racks, 5 porcelain-coated steel cooking grates, and heavy-duty wheels. Additionally, the grill grates can be very easily cleaned.
The Pit Boss 5-Series features a 5-in-1 cooking system: braising, smoking, roasting, baking, and BBQ are all at your fingertips with the push of a button.
On the downside, this wood pellet grill costs more than 450B (around 500 dollars).
Traeger Pro 575 Pellet Grill
One feature that makes this smoker stand out is its WiFire technology. Unlike the 450B, the Traeger Pro 575 allows users to control the grill anywhere. The maximum temperature is slightly higher than 450B (500°F).
However, this smoker is pricey (around 900 dollars) compared to most pellet grills available on the market.
Z GRILLS-550B Wood Pellet Grill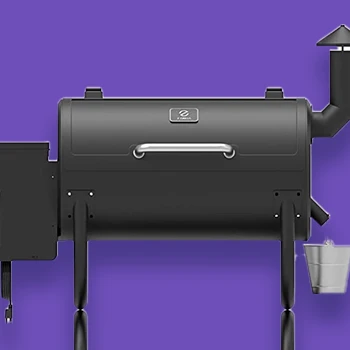 If you're looking for a good-quality pellet grill that won't break the bank, the Z GRILLS-550B wood pellet grill is a great option. It costs just $469.00.
It has a bottom storage shelf to keep all your grilling tools and accessories within reach. It also has all-terrain wheels that make it easy to roll over any terrain, whether snow, sand, or dirt.
However, this wood pellet grill has a slightly smaller cooking area than the 550A.
Related Articles:
FAQs
How Does the Z Grills 450B Return Policy Work?
The Z Grills 450B return policy works by returning unused and unassembled products with the original packaging for a full refund.
They accept an exchange or refund within 30 days of delivery and only if directly bought from their website.
How Long Does the Process of Assembling the Z Grills 450B Take?
The process of assembling the 450B only takes about an hour from start to finish with the tools provided.
Is Food Better When Cooked on Z Grills?
Food tastes better when cooked on Z Grills because of the wood-fired smoke.
To get that smoky flavor, you must cook at lower temperatures, around 180 - 250 degrees Fahrenheit, infusing your dish with rich flavors unlike anything else!
Can I Sear on a Z Grills 450B?
Yes, you can sear meat to your liking on a Z Grills 450B. The temperature range allows you to get a nice browned crust and cooked exterior.
It also helps maintain moisture levels, ensuring that it doesn't dry out as quickly when removed from heat or flame.
Where Are Z Grills Smokers Made?
Z Grills smokers are made in China, like almost all priced pellet smokers available today.
Are Electric Barbecues Any Good?
Electric barbecues are good because they're low maintenance, make food taste amazing, and have precise temperature control, unlike gas grills.
Should You Purchase The Z Grills 450B?
The Z Grills 450B wood pellet grill is one of the most popular products on the pellet grill market. However, it does not offer WiFire technology that lets you remotely monitor your food from anywhere.
I recommend checking out the Pit Boss 5-Series wood pellet grill if you want to set and maintain your grill's temperature without leaving your couch.
The Pit Boss 5-Series also features a meat probe that ensures your food is perfectly cooked. The built-in grease tray on the Pit Boss 5-Series pellet smoker is another excellent feature that makes cleanup a breeze.
Finally, its larger hopper capacity means you can cook for more extended periods without reloading.
So if you are in the market for a new grill, give the Pit Boss 5-series a try.
We Recommend This Instead
Pit Boss 5-Series
Click For Best Price

Pros
The Pid controller keeps excellent temperature control
The 450B is easy-to-use, even for beginner grillers
Quick cleaning thanks to the pellet cleanout door
Easy to move around on any surface
Get the BEST PRICE until the end of May
Cons
No wifi connectivity and meat probes
Was this article helpful?