Since the outdoor cooking market is filled with campfire grill grates, it's only natural that choosing one that works well can be a challenge.
Over the past year, our team of BBQ enthusiasts has tested 7 of the top campfire grates to find out which gives the best value for money. We have also included a buyer's guide to ensure you know what to look for when shopping.
Read on.
Editor's Choice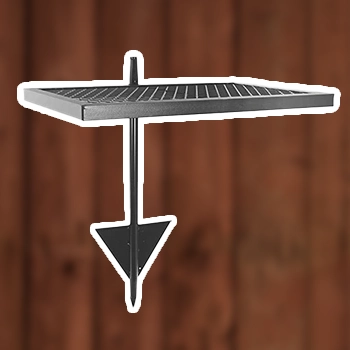 Texsport
Check Current Price
#2nd Best Choice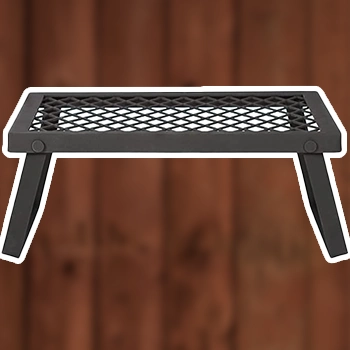 Amazon
Check Current Price
#3rd Best Choice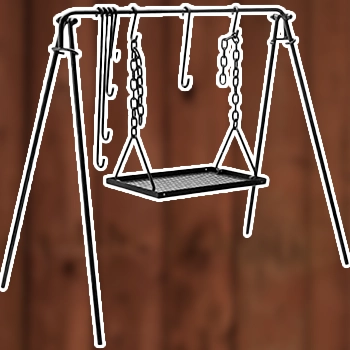 Bruntmor
Check Current Price
7 Top Campfire Grill Grates
7 Things to Consider When Buying Grill Grates

When shopping for the best campfire grill grate, there are a few things you'll need to take into consideration to get the best quality for the price.
1. Type of Campfire Grill Grates
The perfect grill grate all depends on what types of foods you're looking to cook. There are three campfire grills to choose from - flat-top, tripod, and swivel.
Flat-Top Grate
Flat-top campfire grill grates are the most traditional type, and they are the easiest to transport and set up since they sit on four legs above a fire pit grill.
The only downfall of these fire pit grates is that they aren't height-adjustable. We've found that putting a few bricks under the legs of this top camping grill can add some height.
Tripod Grate
We find tripod grates for campfire grills to be pretty hit or miss when it comes to grilling. While they look nice and often come with a few adjustments, such as hooks and various heights, we do find the actual grilling surface to be slightly unstable, and you need a sturdy cooking accessory. Since the grill grates are suspended on a chain, they tend to swing back and forth. However, it is suitable for holding pots and pans.
Swivel Grates
Swivel grates come with quite a few handy benefits. A heavy-duty swivel grate will hold steady over an open campfire.
Another nice thing about these swivel grates is they can easily move to the side, allowing your roasting food to cool down without removing them from the grate.
2. Direct Surface Grilling
You'll notice that a few of the fire pit grates listed here today are not fit for direct surface grilling. This means that it isn't safe to cook your food directly on the grates. Instead, you should use things such as pans and coffee pots to warm your food and drinks [1].
Some grates aren't suitable for direct grilling because they are made from cheaper metal.
The grates are usually painted during construction, and the paint can easily chip off and transfer to your food. While it isn't particularly harmful, no one wants to find a bit of black paint while they cook sausages.
Some people attempt to melt the paint off before they begin grilling. However, we wouldn't suggest doing this; buy a grill grate made from cast iron or stainless steel.
3. Material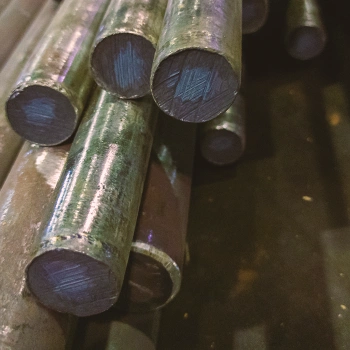 As we mentioned, campfire grates will be made from stainless steel or cast iron. These materials can withstand heat well, and they are typically very durable [2].
Stainless steel is recommended for a camping trip due to how lightweight it is. It is also easy to clean, resistant to rust and disperses heat well.
It may not be the most durable material, but if you're using it now and then for small outdoor feasts, it shouldn't be a problem.
Cast iron is excellent for dispersing heat, and it offers a good cook. It is less corrosive and more durable than most grilling grates, which can be both a pro and a con. While it lasts longer, it is also heavier to carry around, making it less portable.
4. Size
With campfire grills and cooking equipment, size does matter. If you're a large family or a crowded camping group, having a 13" cooking grate will not suffice. You need to think about how many campers you will be cooking for and calculate how big your cooking surface needs to be. For several people, a perfect campfire grill grate is 22" x 15".
5. Portability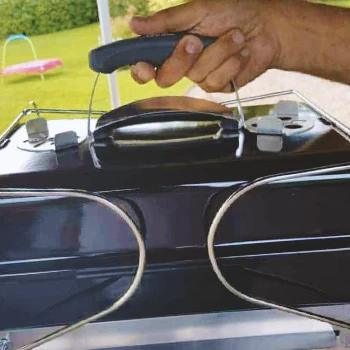 An important thing about a camping trip is portability. Campfire grates will offer enough surface area for grilling while still being easy to pack away and lightweight to carry.
BBQ grates usually have some sort of mechanism that allows you to pack them swiftly.
If you are looking for folding campfire grill grates, you should look for flat-top and tripod models with foldable legs. Swivel grates usually come with a carrying bag. Think about how the grate will fit in the trunk or your backpack.
6. Easy to Clean
You'll want to clean your grilling grate easily. Since you'll be packing up your campfire cooking equipment quickly and there likely won't be a bucket of hot soapy water around, you want to ensure it is a straightforward job when it comes to cleaning.
The best way to figure this out is to check the reviews of the grate you are interested in. Tinfoil is also a great way to keep the grates clean after an outdoor cooking session.
7. Price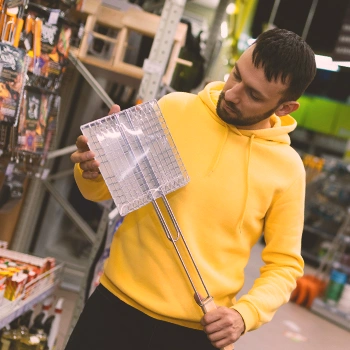 There are a handful of budget-friendly grates for campfire grills on the market. A good thing to remember is that they will typically last a few cooks and, more often than not, be designed to hold one coffee pot or one pan. They usually aren't designed for direct cooking.
More expensive grates are usually made from durable materials and come with extra features. Considering their quality, they are worth the extra price in most cases.
Make your decision based on your budget and the features you're looking for.
Related Articles:
FAQs
Are Thicker Grill Grates Better?
Thick grill grates are better at heat retention, and they work better when cooking delicate cuts such as fish or thin slices of meat. That being said, when it comes to outdoor cookware and camping grills, you also have to consider portability. The thicker the grates, the heavier the unit will be to carry.
Can I Use a Dutch Oven or Pan on My Campfire Grate?
Yes, you can use a Dutch oven or pan on your campfire grate. However, the weight the grilling grate can withstand depends on the manufacturer and model. Therefore, it is essential that they can hold the weight of pots and pans.
Some grates are also designed to hold heavy pots of water, while some will bend or break under pressure. If you're unsure that your campfire grill grate can withstand the weight, it is best to refer to the manual.
The Best Campfire Grill Grate - Our Winner
All of the grates listed here today are worthy competitors. However, the top campfire grate and our recommendation are Texsport Heavy-Duty Swivel Grill Grate. We love this model due to its flexibility. The grate is easy to set up, height-adjustable, and can rotate 360 degrees.
We found it to be sturdy when cooking, and it retains heat well. With ease of use and quick setup, this campfire grate is ideal for novice cooks and pitmasters alike.
Texsport Heavy Duty Barbecue Swivel Grill
Our #1 Recommendation
Made from heavy-duty steel construction
Straightforward and practical
Has a respectable size cooking surface area
Rotates 360 degrees
Was this article helpful?