As a keto diet follower, I always strive to keep my carb intake low by taking low-carb foods, including snacks like fried pork rinds. And over the years, I've stacked up a list of the best low-carb pork rinds that sat right with my diet and taste palette.
Here's a roundup of the best pork rinds you can buy online and add to your keto-carnivore routine.
Editor's Choice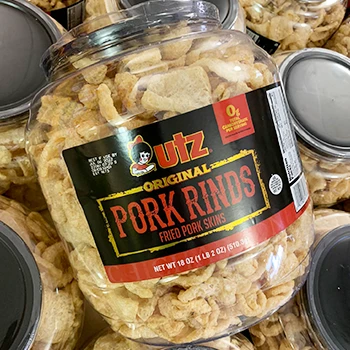 UTZ
Check Current Price
#2nd Best Choice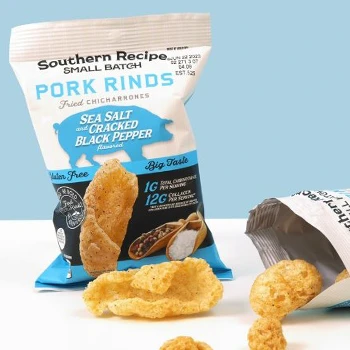 Southern Recipe
Check Current Price
#3rd Best Choice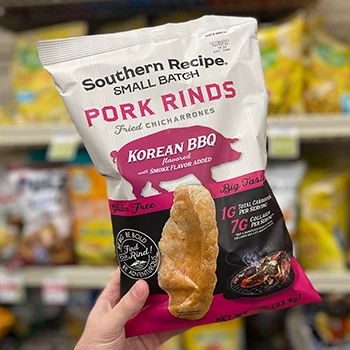 Kimchi BBQ Pork Rinds
Check Current Price
Top 11 Best Pork Rinds
Buyer's Guide

Here are vital things to consider when adding pork rinds to the carn ensure you get something that's healthy and nutrient-packed.
1. Read Ingredient List
Always read the nutrition label before buying any fried pork rinds. This can help you estimate the amount of protein, calories, and carbohydrates in each meal. It's crucial to pick a product that complements your dietary objectives.
2. Serving Size Matters
It's crucial to consider portion amounts when snacking. As a general guideline, stick to one serving, which usually is 20–30 grams of fried or baked pork rinds. This will guarantee you don't overeat and get the most out of your snack.
3. Take Your Dietary Restriction into Account
Due to dietary limitations, not everyone can consume baked pork rinds. Check the ingredients list of this crispy snack before buying if you have a gluten intolerance or a pig allergy. Not all pork rinds are gluten-free.
4. Buy What You Love
There are several flavors of fried pork rinds, including:
Pain
Sweet island BBQ
Parmesan peppercorn
Salted butter
Jalapeño pepper
I recommend buying the flavors that you love. Avoid pork rinds with a classic chili taste if you don't enjoy spicy cuisine!
Who Should Take Pork Rinds?
People on the ketogenic and Paleo diets should take pork rinds. Because pork rinds have zero carbs, they're ideal for the high-fat, low-carb lifestyle that's in line with these two diets.
Nonetheless, if you don't have any dietary restrictions, you're welcome to try out crushed pork rinds because they're a nutritious snack that's also gluten-free.
Related Articles:
Who Shouldn't Take Pork Rinds?

People who shouldn't take pork rinds include:
Those allergic to pork meat.

People with a high diabetes risk because the added sugars and fat in pork rinds aren't recommended for this group.

People with high blood pressure are at risk because certain brands are high in sodium. Excessive sodium consumption can increase the risk of high blood pressure [

1

].
"Flavored pork rinds are a low-carb, high-protein, and fat snack. However, most pork rinds have high salt levels. Also avoid pigless pork rinds with artificial flavoring, and preservatives."
- Anne Danahy, Registered Dietician
FAQs
Should I Eat Low-Sodium Fried Pork Rinds?
Yes, you should eat low-sodium fried pork rinds, as these are a healthier alternative to classic rinds. Most of these have natural Ingredient profiles and low calories and fat.
How Should I Store My Pork Rinds?
You should store your pork rinds in a cool and dry place. If you open a pack and don't finish the pieces, ensure you keep it in an airtight container.
Can I Use Pork Skins in Different Recipes?
Yes, you can use pork skins in different recipes like stew, soup, or when breading chicken.
Which Is The Best Pork Rind?
Fried pork rinds are a tasty and healthful snack that is heavy in protein and low in carbohydrates.
When you're hungry, deciding which baked pork skin brands and flavors to buy might be challenging, particularly if you're on keto. But because we did all the research and testing for you, we ultimately recommend UTZ pork rinds.
These are not only a high protein and low carb combo snack, but they're also pretty versatile for several recipes. Plus, it has a resealable bag to save some for later and enjoy a fresh, tasty, filling snack.
UTZ Pork Rinds
Our #1 Recommendation
Flexible for breading
Has low carbs
It's light and airy
Resealable package for easier storage
Was this article helpful?