Whether it is coal, gas, or an electric grill, Weber has conquered the world of barbecue in a short time. Who would have thought that two buoys with lids could become that famous?
Are Weber grills worth the money? Many people are asking this question, especially when they have to buy a new grill. After spending 24 hours reading and researching, we've come to these conclusions.
Quick Summary
Weber grills are expensive due to the high-quality materials used, innovative design, and engineering that ensures durability and optimal performance.
Weber offers a wide variety of grills to suit different needs, and they prioritize innovation, such as the iGrill app-connected thermometer and built-in systems for gas ignition.
Weber provides excellent customer support, easy access to replacement parts, and a long-lasting warranty of up to 10 years.
Main Reasons why Weber Grills are so Pricey

Some people consider Weber grills as expensive. And yes, their prices are on a higher level.
But, when creating grills, the Weber company has one goal - they want each user to grill a perfect steak on a high-quality grill.
That reflects in everything Weber does and, yes, it costs a bit more. Here's why.
1. Designed and engineered to last
Weber manufactures grills in Huntley, Illinois, using only the best U.S. and globally sourced components. Each of Weber's grills models has a design tailored to its purpose.
Their grills are well-designed and very stable and durable, made from great materials like stained steel (1).
They are built with the workmanship and quality that matter to grillers. All of their products are designed and engineered by a dedicated team of people and industry leaders.
Weber gives a lot of emphasis to testing products. They want their grills to last at least 10 years, so they have a strict company standard to meet this goal.
Read More: How Long Do Weber Grills Last?
2. Materials for great long-lasting results
Weber is continually reviewing the market. They are trying to offer models with better characteristics while making sure they are made of the highest quality materials.
Weber manufactures top-quality stainless steel grills, cast iron porcelain-coated steel. They help you to control the temperature better and avoid flare-ups.
When constructing the surface of the grill, Weber is using welds instead of fasteners.
It is more complex and costly (2) as it requires more time and more employees, but as a result, it has durable and rust-proof seams.
Recommended Article: Top-Quality Stainless Steel Grills
3. Innovation is Weber's priority
Through the decades, Weber has pioneered innovation to give grillers everywhere new ways to discover what is possible.
The Genesis series grills transformed the world of gas grilling years ago, while the Smoke Fire series offers an authentic all-in-one wood pellet grill.
Even now, every new inspiration, contemporary design, and new product starts in their Illinois home. Apart from product innovations, Weber is doing a lot to offer innovative features.
For example, you can get the Weber iGrill app-connected thermometer for your Weber grill. Or a built-in system for gas-igniting the charcoals.
4. Products for every customer

Weber has developed several different grills series, and each series satisfies a specific set of preferences of individual customers.
The well-known Weber grills series Go Anywhere, and Smokey Joe is suitable for camping and picnics thanks to the small barbecue area.
Buy Weber grill from the Q series if you are looking for a small, portable barbecue for your home.
The Weber Spirit two-burner gas grill and 3 burner gas grill are the best gas options to fit even the tiny spaces.
The Original Kettle grills are charcoal grills with a one-touch cleaning system.
The Performer series charcoal grills are very powerful, with even more things to offer. If you buy this Weber grill, you will get great features like a one-touch cleaning system and a side table.
The Weber Spirit II model of gas grills is available in two models and four bold colors to bring that added spark to your backyard.
The Weber Genesis ii model and Summit grills offer an entire outdoor kitchen.
Weber Genesis ii grills are available with two, three, four, or six burners. Summit series grills offer barbecue at the highest level.
The wide range of Weber accessories will satisfy all your needs, no matter which grill model you choose.
Related Articles:
5. Repair and replacement parts for Weber Grills
If something goes wrong with your Weber grill, it is very easy to get new parts. The company keeps replacing parts in stock for up to 10 years after a grill has been discontinued.
For some, even longer than that. Commonly used replacement parts, you can find on Weber's website.
If you can't find them there, you can fill the form so they will find the most suitable location to pick them up.
Since Weber grills are known for their durability, many users buy replacing parts for a purely cosmetic upgrade, but they are surprised at how much nicer their 15 years or 20 years old grill looks after the small change.
Weber also makes repairs easily available at a wide range of service centers, so you don't need to ship your grill anywhere.
6. Excellent customer support
Weber has very good customer support. According to reviews, they address concerns from customers who purchase their products.
They are prompt, professional, and courteous, willing to help their customers with questions and offer a quick reply for the problem solutions.
7. Long-lasting warranty
When you purchase a Weber barbecue, you are not just getting a high-quality product, but a premium warranty too.
Because they are confident in the quality of their barbecues, they give a 10-year warranty for the individual components of their gas, charcoal, and electric barbecues. Company Weber will also cover a shipping cost if the return of the product is necessary.
Read More: Which Pellet Grills/Smokers Offer the Best Warranty?
"When I figured out how to work my grill, it was quite a moment. I discovered that summer is a completely different experience when you know how to grill."

- Taylor Swift, Singer
A Brief History of Weber Grills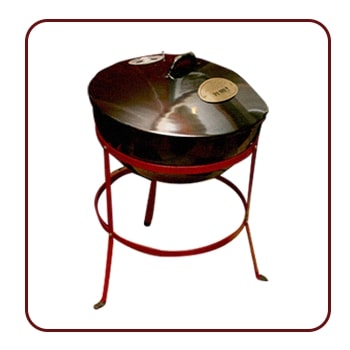 Driven by his passion for grilling the best steaks for family and friends, Weber's founder, George Stephen, invented the revolutionary kettle grill in 1952.
At the time, he worked for Weber Brothers Metal Works in Chicago, Illinois, and was inspired by a buoy's shape.
George knew that a rounded cooking bowl with a lid was the key to success. So, he cut the buoy in half, added three legs to the bottom, a handle to the top, and the rest is history.
The legendary barbecue has become a bestseller, and the Weber Grill has been recognized as an innovative designer that creates high-quality products.
Some Things to Consider
When we think about the cost of investing in a barbecue, we need to think about:
the cost of the grill itself
grill lifespan
accessories we need
Barbecue prices depend on the size, additional features, and quality. So, are Weber grills worth the money?
If you plan to use your barbecue often, it is good to invest more money in gas grills like those that Weber produces.
Cheap grill lasts shorter because of the lower quality materials, leading to changing the grill every 2-3 years.
People usually get new Weber grills because of their durability. They are composed of quality stainless steel and have a warranty of up to 10 years.
When you think about the grill price, you should have in mind additional equipment necessary for various grilling options.
Availability of spare parts, fast and reliable service, and prompt reply of the customer support is worth spending more now and not having problems and additional costs later.
If we consider all these parameters, it is good to spend more money on something that will last longer and won't let you down.
Read More: 
Are Weber Grills Worth the Money?
Should you pay more for Weber grills? If you are buying a grill for the first time, think like this.
On the positive side, these grills have advantages like steel or characteristics of a burner. No matter if you select Weber Genesis ii or Weber Spirit, you will see the difference from the first year.
On the negative side is the price, as Weber's grills are considered expensive.
You may think that buying a cheap grill will pay off, but imagine all problems that may arise and calculate from there. That will give you the best answer.
---
References:
https://www.sciencedirect.com/science/article/pii/S0143974X08001831
https://www.ibisworld.com/united-states/market-research-reports/barbecue-grill-manufacturing-industry/
Was this article helpful?