Traditional Texas BBQ enthusiasts have long loved New Braunfels smokers for their classic, no-nonsense design and rugged construction.
As a dedicated carnivore, I have smoked my share of barbecue and have used an old New Braunfels smoker in the past. I wanted to learn more about who makes this smoker, and I will share the results of my research in this article.
Summary of the Key Findings
New Braunfels smokers are offset smokers originally designed and built in New Braunfels, TX.
The W.C. Bradley Co. purchased this barbecue smoker company in 1997.
As of 2004, W.C. Bradley stopped all manufacture of New Braunfels smokers.
Founding Of New Braunfels Smokers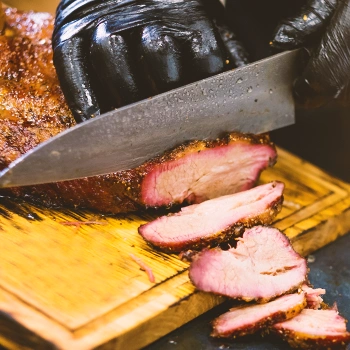 A true carnivore knows that the meat should never see the fire in authentic Texas barbecue.
The firebox should be separate from the grill and used to add flavor by creating smoke with dry smoking woods. This is the basic premise behind New Braunfels Smokers, which were popular for decades.
The New Braunfels Smoker Company was founded in 1989 by Ron Snider, who came to the national hardware store show with a prototype smoker and a dream.
Over the next decade, Snider worked tirelessly to manufacture the perfect smoker with classic construction, no-nonsense design, and thick gauge steel that could stand up to long hours of use.
"People are discovering that wood itself is a seasoning that doesn't add any sodium, fat or cholesterol to foods, so they're considering smokers."
- Ron Snider, Founder, New Braunfels Smoker Company
He built a manufacturing plant in New Braunfels, TX, and began building smokers using equipment predominantly invented by his crew. The team figured out how to make a small smoker that the purchaser could move.
Snider also created a method to mass-produce his smokers very quickly. To keep up with demand, his factory built as many as 1,600 smokers per day [1].
The W.C. Bradley Co. Era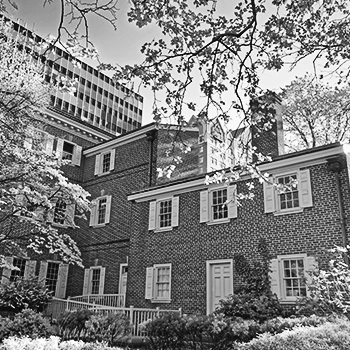 In 1997, W.C. Bradley Co. (the parent company of Char-Broil) purchased the New Braunfels Smoker Company to capitalize on the country's resurgent interest in charcoal grills. They wanted to expand their product line to include smokers.
A year later, W.C. Bradley bought Oklahoma Joe's, a grill and smoker company. It transferred all its manufacturing from Stillwater, OK, to the New Braunfels plant in order to take advantage of its size and speed of manufacturing.
However, in 2002, the company once again consolidated its smoker manufacturing and moved the entire operation to Colombus, GA [2]. W.C. Bradley Co. began building New Braunfels smokers at the same facility where it manufactured Char-Broil grills and smokers.
In 2004, W.C. Bradley decided it could not stay competitive in the outdoor cooking market with USA manufacturing. So it decided to shutter its Georgia facility and move all of its manufacturing to China. At that time, the company was retrenched under the Char-Broil name, and the New Braunfels Smokers brand was retired.
New Braunfels Smokers Today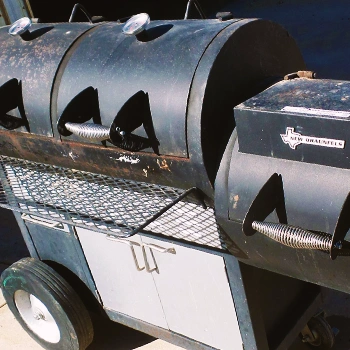 Unfortunately, after a storied history, you can no longer purchase New Braunfels Smokers from the company itself.
However, you can still find used or refurbished New Braunfels smokers for sale on auction sites and used cooking equipment markets.
Otherwise, you need to look at a different brand that will let you smoke meat indirectly at low temperatures.
Related Articles:
FAQs
Where Are New Braunfels Smokers Made?
New Braunfels smokers are made in China although they are now sold under a different brand name. You can still find used or refurbished US-made New Braunfels smokers for sale on auction sites.
How Do You Use a New Braunfels Offset Smoker?
To use a New Braunfels offset smoker, start the fire in the firebox and let it burn for about 45 minutes until your charcoal and wood chips have an ash coat and glowing center.
Place your meat in the cooking chamber and close the lid, adjusting your vents as necessary to maintain your desired temperature. Minimize opening the smoker to check on your food to avoid losing heat through the door.
New Braunfels Smokers
These days, you can no longer buy an unused New Braunfels smoker. But that doesn't mean you have to give up on delicious Texas-style barbecue.
Several companies still manufacture competitive products, offering the same quality and reliability as a classic New Braunfels smoker, but with updated features and a lower price point.
If you are looking for more modern options, check out this review of my favorite smoker grill combos.
---
References:
https://www.austinchronicle.com/columns/2001-06-29/82185/
https://www.bizjournals.com/sanantonio/stories/2002/03/25/daily14.html
Was this article helpful?