Bison, also referred to as buffalo once roamed free along the North American plains. It was a staple food for many Indigenous people.
These days, bison meat popularity is on the rise - mainly due to its healthy source of protein. Compared to beef, it is leaner, with less cholesterol and saturated fat. While many enjoy ground or bison stew meat, it is still hard to obtain in your local supermarket.
That's why you have to source it online, from the delivery companies like the ones we have reviewed below.
Along with our top 6 bison meat deliveries, we have included a buyer's guide to help you while you shop.
Our Top 7 Bison Meat Delivery Companies
1 - ButcherBox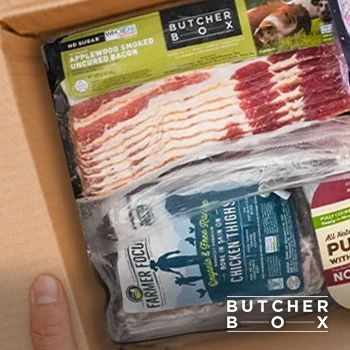 First on the list is ButcherBox, a meat delivery service that offers ground bison seasonally.
ButcherBox only sells meat from pasture-raised bison. This means the bison is grass-fed. Grass-fed meat is of the highest quality and is healthier compared to grain-fed cuts.
ButcherBox only works with ethical farms around the country to ensure the animals aren't given any hormones or additives. This results in sustainable and high-quality products.
The bison are allowed to roam free. They are raised in a stress-free environment, so you get delicious ground meat.
ButcherBox also has a comprehensive list of dishes you can make with ground bison — it includes everything from hamburgers to meatballs, taco bowl, and much more.
You can find the recipes for all of these on their website, so it's easy to make delicious bison meals.
Pros
Sell grass-fed ground bison
Free delivery
Customizable subscription box available
Bison aren't given hormones or additives
Click For Best Price
2 - Crowd Cow
First on the list is Crowd Cow, an organic service that specializes in pasture-raised buffalo.
They are partners with ethical farms and fisheries around the country, producing sustainable and high-quality products.
The bison roam free, creating a stress-free environment that leads to delicious bison steak, burgers, sausages, hotdogs, and brisket.
Crowd Cow meat delivery even includes a cooking guide on their website, ensuring customers always know how to handle their products.
They are a subscription box, however, so you will have to customize your order to ensure you have bison products in your first shipment.
Pros
100% grass-fed bison
Frequent sales and promotions
Completely customizable subscription
No added hormones
Cons
Shipping can take a few days
Click For Best Price
3 - Carnivore Club
Carnivore Club is another monthly subscription box, but with a twist.
Instead of specializing in meats that you have to cook like steaks, sausages, and ribs, they provide customers with snack boxes full of cured jerky, salami, and bites.
When it comes to bison, Carnivore Club have a special box named "Tony Roma & Buff Snack Box" which includes 3 different bison snacks.
These cured products work perfectly for dinner parties, served with cheeses, crackers, and fruits. It's a meat lover's box, without the hassle of cooking.
You can either subscribe to the subscription boxes and receive the items at a discounted rate or choose one or more boxes for a one-time purchase.
Pros
Ready to eat out of the box
Premium handcrafted products
Many unique cured food
Cons
Three-month commitment if you choose the subscription
Click For Best Price
4 - US Wellness Meats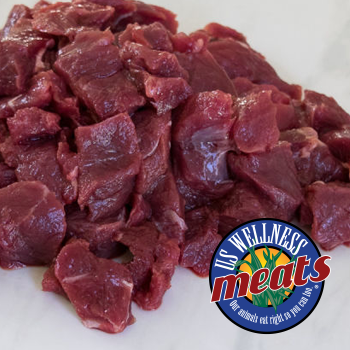 US Wellness is a business home to bison raised on pastures, who have free roam of the land.
US Wellness bison aren't injected with any artificial antibiotics or hormone injections, only fed a 100% grass diet.
Not only do they stock bison steaks, sausages, and all the usuals, you will also be able to get your hands on some very unique products such as bison kidney, pancreas, spleen, bones, and liver.
They ship to all 50 states, Puerto Rico and Canada.
Unlike the previous two companies, US Wellness doesn't offer subscription boxes but individual products you can choose from.
Pros
Unique bison products
100% grass-fed bison
No need to subscribe
Click For Best Price
5 - Meat N' Bone
4th on our list is Meat N' Bone, a large company that sources their bison from local family farmers around the midwest USA.
Meat N' Bone offer a small but premium selection of bison, including steak, jerky, and sausage.
They do have a selection of 100% grass-fed animals; however, most are fed a mix of grass and grain diet, which according to their website, enhances the flavor.
If you schedule ahead of time, they offer free delivery on all orders if you live in or around Miami.
Other states have to pay flat rate shipping depending on the location.
Pros
Works with select farms
Offers next day delivery
Special grain diet
Cons
Standard shipping may take a few days
Click For Best Price
6 - Snake River Farm
Snake River is a ranch located in Minnesota, specializing in grass-fed animals, brought up naturally without any injected hormones.
Snake River Farms believes that bringing their animals upon an open ranch helps minimize the stress, in turn producing great flavors and lean bison [1].
Since it is a small family-owned business that grows its animals on one ranch, there are a limited amount of products available.
However, this does ensure quality as they take great care of their bison.
Pros
100% grass-fed
Free-range bison
Family-owned
Cons
Have to email to place an order
Click For Best Price
7 - Farm Foods
Farm Foods is a completely transparent company, sharing where all their animals are sourced and raised.
Farm Foods offer a huge range of unique meats, bisons being on that list in the form of ground bison and sausage.
They partner with many farms around the USA and New Zealand.
Shipping is free on orders over $99, under is determined on weight. Packaging is made from non-biodegradable styrofoam.
However, they are making a move to upgrade their package and shipping materials.
Pros
Free shipping over $99
Complete transparency
Partners in New Zealand
Cons
A small selection of bison
Click For Best Price
What to Look for When Buying Bison Meat
When buying bison meat, there are a few things you need to look out for. Firstly, you should ensure the company raises free-roaming bison.
Try to shop as locally as you can. The further the company is, the longer you will have to wait for it to be delivered.
This also means the bison will be frozen for longer, in turn making it less fresh.
"Low and slow is the key to cooking great bison."
- Gordon Ramsay, Chef
You should also check your recipes beforehand to know which type of bison cut you will need. If you're making stew, you can purchase specialized cuts to be cooked.
FAQs
Is Bison Meat Healthier Than Beef?
Yes. It has fewer calories, less saturated fat, and more omega-3.
What Temperature Do I Cook Bison?
You cook bison at a temperature of 160 degrees Fahrenheit. Preparing buffalo over this temperature will cause the moisture to dry out [2].
The Best Bison Meat Delivery Service Is…
All of the above companies offer excellent products and excellent grades. However, ButcherBox has to be our winner purely for how they raise their bison. The animals are allowed to roam free and are 100% grass-fed. This ensures the meat is healthy, juicy, and tender.
Moreover, ButcherBox gives free delivery with every order, and they have a large selection of bison recipes you can make. Check them out, and see why we believe they have the edge in the meat delivery world.
#1 Meat Delivery Service
ButcherBox
Click For Best Price

Pros
Grass-fed and grass-finished beef delivered directly to your door
Without antibiotics or added hormones
Customizable boxes available
Select from up to 21 different cuts
Get the BEST PRICE until the end of February
Was this article helpful?