Chicken, beef, pork, lamb, and all your standard meats are pretty much always available in local grocery stores and butchers.
While it may be hard to get your hands on certain cuts, it's far harder to obtain wild game meat such as venison, wild boar, rabbit, etc.
Adding diversity to your meat diet can be hard, especially if you don't know the right places to shop.
That is why we have put together a guide about the highest-quality wild game meat, giving you our top 6 places to buy as well as what to look for when buying or cooking.
Our Top 6 Wild Game Meat Deliveries
1 - Crowd Cow
First on our list is Crowd Cow, an organic meat service that houses a whole range of wild game meats. Among their product catalog of beef steaks, chicken, and pork, they offer wild boar, venison, duck, ostrich, and bison.
They partner with ethical independently-owned farms, producers, and fisheries around the country to source high-quality and sustainable food.
When it comes to shipping, you have complete control over your order.
Crowd Cow builds a box based on your preferences, then sends you an email to review what's on offer.
This also includes which farm your cuts are sourced from. If you have a favorite farm, you can add, remove, or modify the cuts inside the box to suit your preferences.
Due to the way they source wild game meat, it may take 1 - 3 days for the box to be sent out for shipping.
Pros
Large range of wild game meat
100% grass-fed
Customizable box
No added hormones
Click For Best Price
2 - US Wellness Meats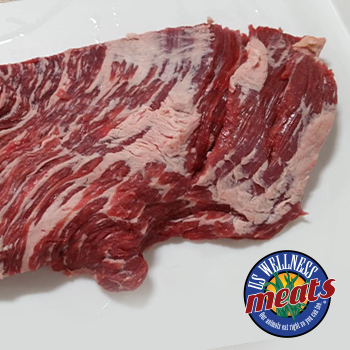 US Wellness Meats offer sustainable, pasture-raised game meat.
Among their wide range of wild game meats such as beef and lamb, they also house bison, elk, venison, game birds, and rabbits.
They only raise animals free-range, with no hormone injections or artificial antibiotics.
They ship to all 50 states, as well as Canada and Puerto Rico.
US Wellness Meats also have large discounts for customers who purchase directly from their website.
Unlike other wild game meat shipping services, US Wellness doesn't offer subscription boxes. Instead, it is more like an online store, with individual items priced differently.
For some, this may be a downside, but others may enjoy the freedom of shopping without commitment.
Pros
Wide range of products, even game birds
No required subscription
Easy to reach customer service
Cons
Extra handling fee on top of normal fees
Click For Best Price
3 - D'Artagnan
D'artagnan was founded by a French woman in 1985, and it's been a well-known name in the meat delivery business since then.
This meat delivery company believes animals should be raised free-range in a humane way. They are very transparent about their sourcing methods and the conditions they grow the animals in.
D'artagnan works with farmers committed to providing spacious and stress-free environments for animals. Most importantly, they ensure animals are healthy and raised without antibiotics.
Their wild game meat includes bison, rabbit, buffalo, venison, wild boar, and veal.
They also offer different cuts like burgers, steaks, sausages, and loins. All of these foods are sustainable, free-range, and sourced from local farms.
They don't require a monthly subscription; therefore you can shop whenever and whatever you fancy for dinner.
D'Artagnan delivery does come with a rather large price tag, so you may only shop once in a blue moon or if you're looking to expand your palate.
Pros
Transparent about their meat source
Humane farming practices
Wide selection of wild game cuts
Cons
No delivery on Monday or weekend
Click For Best Price
4 - Meat N' Bone
Next on our list is Meat N' Bone, a supplier sourcing the highest standards of meat from independently-owned farms around the midwest USA.
They pride themselves on consistency and quality, and their offerings include the best-tasting wild game meats such as wild boar, elk, venison, bison, rabbit, and duck, along with their typical cuts such as beef steaks.
Meat N'Bone also offers the game in sausages, jerky, steak, and rib racks. They do have a wide selection of 100% grass-fed produce; however, a majority of their animals are also grain-fed, which according to their website, enhances the flavor [1].
When it comes to shipping game meat, you may be waiting a few days. They receive inventory every Monday, Wednesday, and Thursday.
So, if you happen to want a popular wild meat cut, you may have to wait for an inventory restock. They do offer same-day delivery at an extra cost.
Pros
Many wild game cuts to choose from
Offers next day shipping
Only works with top farmers
Cons
Restock may take some time
Click For Best Price
5 - Farm Foods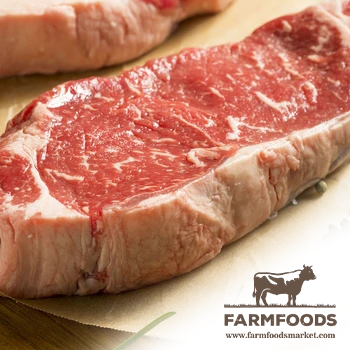 Farm Foods was founded with the desire to know exactly where the wild meat product is coming from.
They're completely transparent when it comes to sourcing and how the animals are raised.
They partner with family farms all around the country and even some in New Zealand.
In addition to lamb, steak, and pork, you can also buy wild boar, elk, venison, quail, rabbit, turkey, and yak.
If you're looking for a really special meal, you can even purchase feet, legs, and organs.
Shipping is free; however, there is a minimum order of 10 pounds. They pack their orders frozen with dry ice, which lasts around 12 hours.
However, Farm Foods meat delivery also packs their goods in styrofoam, which is a non-biodegradable material.
Pros
Complete transparency
Offers cuts which are usually hard to find
Free shipping with minimum order
Cons
Uses non-biodegradable material for shipping
Click For Best Price
6 - Fossil Farms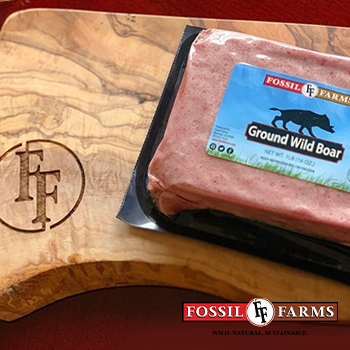 Fossil Farms, originally an ostrich farm, offerings include a huge range of wild game that you may struggle to find elsewhere.
They offer antelope, kangaroo, camel, alligator, yak, bison, venison, and a range of game birds such as guinea hen, quail, and pheasant, along with their typical grass-fed beef steaks.
Fossil Farms partner with over 200 producers that raise their animals without the use of hormones, steroids, or antibiotics.
If you're not quite sure of the grade or wild game on offer, you can actually purchase Fossil Farms' sample packs that include ostrich steak, elk, duck and venison burgers, etc.
While Fossil Farms meat delivery offer shipping around the US for a fee, they recently introduced local deliveries, which are free as long as you're living in New Jersey.
The packaging is styrofoam, which is a downside to this. However, Fossil Farms insist it is biodegradable.
"Vegetables are interesting but lack a sense of purpose when unaccompanied by a good cut of meat."
- Fran Lebowitz, Metropolitan Life
Pros
Cuts you can't find anywhere else, even for game birds
Helpful customer service
Sourced from local farmers
Cons
Website features can be a little hard to navigate
Click For Best Price
Buyer's Guide
Shopping for game can be tricky if you don't know what you're looking for. Below are a few things you should keep in mind if you want to pick up a delicious and tender cut.
Source
Farmed and not hunted is usually healthier. This is because they are raised in a particular way, including the food they eat and the land they roam. While the hunted game can be good, farmed game tends to be better.
Protein and Fat
Since wild animals have a natural diet, they tend to have a lower fat and protein content than farm-raised animals. This low fat and protein content can make hunted meats a lot harder when it comes to cooking [2].
Similar Reviews:
FAQs
What Kind of Animal is Game?
Game refers to species such as boar, bison, squirrel, antelope, deer, moose, snake, alligator, and more. It refers to species you would find in the wild and not usually cook.
Does Game Have a Lot of Protein?
Since game is used to refer to a whole range of the best-tasting wild game meats, the protein will depend on what species you buy. Venison has a very high protein count.
The Best Wild Game Meat Delivery Service Is…
After careful consideration, we can crown Crowd Cow as our winner for the best wild game delivery.
They house a wide range of best-tasting wild game cuts such as venison, rabbit, and bison, with a completely customizable box filled with sustainable, high-grade food.
They're completely transparent with their partners and have great reviews across all platforms online. Within a few days, fresh and unique food comes straight to your door.
They seem to always keep a good stock, so you will never run out of your favorite cuts again.
Crowd Cow
Completely transparent about where their products are sourced

Sustainable wild game meat, free of additives

A wide range of unique wild game meats delivered straight to your door

Completely customizable box
Our #1 Recommendation
Crowd Cow
Click For Best Price

Pros
High-quality meat delivered right to your door
Humanely raised without antibiotics or added hormones
Customizable meat orders available
Select from up to 21 different cuts
Get the BEST PRICE until the end of March
Cons
No free shipping for all orders
Was this article helpful?