Whenever I want to take a small break from meat but still want to keep my protein to a good level, I turn to veggies, grains, and fruits.
But because I'd never want to eat the wrong foods that'd steer me off track with my routine, I sought expert advice from my dietician, who advised me to try healthy plant-based meat alternatives.
Before heeding her advice, I spent hours researching plant-based meats to see if they were healthy and find the best ones I could introduce to my routine.
Here's everything I found out.
Quick Summary
Plant-based meat is fake meat made from plant foods, including tofu, tempeh, and jackfruit pork.
Like animal-based meat, plant-based products also have fats, proteins, and vitamins but in lower amounts.
Plant-based diet meats have been proven to reduce cardiovascular diseases, lower cholesterol and promote healthy weight.
What is Plant-Based Meat?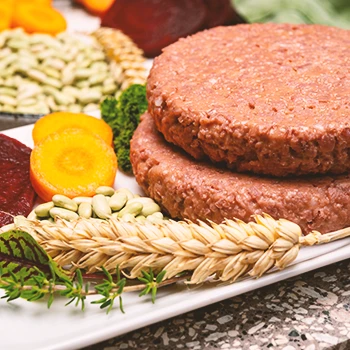 Plant-based meat is fake meat made from plant foods, including tofu, tempeh, and jackfruit pork. So they're basically less meat and more plants.
The plant-based meat industry has grown considerably over the past several years as food manufacturers create plant-based burgers and other plant-based meat options nearly indistinguishable from animal-based meat.
Protein, fat, vitamins, minerals, and water are components of most plant-based meat, much like animal meat. Modern plant-based burgers resemble red meat in appearance, taste, and flavor.
The typical plant-based ingredients for vegan meats sold in many grocery stores include: 
Pea protein
Soy
Veggies
Extra spices (for a natural meaty taste)
Each vegan meat product will have different plant ingredients depending on the manufacturer.
For instance, soybeans make tofu and tempeh, while wheat gluten is used during seitan meat production. Other protein-rich vegan meats have peas, favs/ mung beans, and brown rice.
Various vegetables and grains like chickpeas and lentils are also used to make these products.
Additionally, beet juice and apple extract are used in different plant-based burgers' colors and flavoring to give the patties a meat-like look.
Here are my favorite delicious meatless meal ideas that you can try:
Vegan fried chicken
Seitan steaks
Chicken popcorn
Tempeh breakfast sausage
Related Articles:
Is This Meat Healthy?

Yes, this meat is healthy, but studies show that most of them are nutrient-limited.
Plant-based proteins and calorie content are comparable to those of animal-based protein sources like ground beef.
But these meals are not necessarily a healthier choice over time since they may have lower concentrations of some nutrients [1].
These include:
Calcium
Potassium
Magnesium
 Zinc
Vitamin B12
And because all plant-based meat alternatives are processed foods, they have a higher sodium concentration which isn't good.
I found that people who replaced their animal-based meat diet with plant protein foods (beans & nuts) covered all their nutrition bases more than those who replaced solely with plant-based meat products.
It's also been proven that plant meat eaters can end up with inadequate nutrition if they solely consume these vegan meat alternatives without any balanced diet.
Here are some suggestions to keep in mind if you love plant-based meat substitutes and want to keep including them in your diet:
Eat plant-based meats as a component of a healthy balanced diet that includes other plant-based foods (legumes, nuts, and seeds) as additional protein sources.
If you are eliminating alternative protein sources, consider taking supplements of essential elements like vitamin B12.
Choose a plant-based alternative that is low in salt and saturated fat.
Combine plant-based meats with wholesome meals and beverages, such as vegetables and whole grains.
Plant-Based Meat Nutritional Profile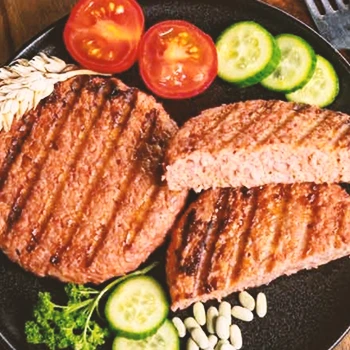 Here's a brief breakdown of plant-based meat nutritional profiles per the FDA dietary regulations.
100g of fried tofu has 17g of protein, 271 calories, 16mg sodium, and 0 vitamins C and D, compared to 100g of fried chicken which has 31g of protein and 165 calories.
While a 3-ounce ground meat serving has roughly 22g of protein, Impossible Burger meat has only 19g.
The difference in protein content isn't as significant as with other nutrients like Phosphorus which is 610mg and 310, respectively, for a 4-ounce serving of the two products.
"The biggest impairment with most vegan meat intake is lower vitamin B12 which can result in anemia and less red blood cells in the body."
- Katherine Marengo, Registered Dietician 
Contrary to any 80/20 beef burger, I found that the Impossible Burger has a healthier fat profile with 14g total fat, 8g saturated fat, and 0mg cholesterol as opposed to 80/20 beef's 23g total fat, 9g saturated fat, and 80mg cholesterol.
In the end, plant-based meats are under the processed food umbrella, so you should consume them in moderation.
This all-natural plant-based eating is better if you select the most nutrient-dense and minimally processed alternatives.
If you're a vegan meat eater, I advise that you add more healthy foods like beans, peas, veggies, nuts, and seeds to your dish.
These will provide higher-quality protein with no fillers and additives, as would organic, non-GMO tofu and tempeh meat products.
Pros and Cons of Eating Vegan Meat
Let's look at some pros and cons of eating vegan meat.
Pros
Here are the benefits of plant-based meats:
Lowering the danger of cardiovascular disease by reducing cholesterol levels [2].
Reduced inflammatory markers.
Lowering the likelihood of cancer.
Fostering weight reduction and bettering weight control.
Enhancing the health of the gut microbiota and digestion to improve bowel regularity.
Lowering blood pressure and hypertension risk.
Cons
Here is the downside of these meat products:
Less total plant protein
Higher sodium concentration
Less to zero vitamins B12
More expensive than animal meat
GMO soy products are used
Also Read: Vegan vs Carnivore
Tips for Choosing Healthy Vegan Meat

Here are four tips to help you find the healthiest vegan meat:
Look for plant-based meats with no more than 20% of the DV of salt per serving (the recommended daily maximum is 2,300 mg).
Aim for high levels of protein, fiber, and vitamin B12. For instance, strive for products with at least 3-8grams of fiber, 10 grams of protein, and 20% DV of vitamin B12 for each serving.
Go for genuine food components like organic soy, peas, essential wheat gluten, nuts, and veggies. Also, ensure the product has minimal saturated fat and a concise ingredients list. Avoid those ingredients that you're allergic to.
If you can, stay away from plant-based meat products that contain artificial chemicals (potato starch), hydrogenated oils, and added sugars.
Also Read: Veestro Vegan Meal Service Review
FAQs
Is Plant-Based Meat Nutritious?
Yes, plant-based meat is nutritious as it contains proteins, fats, and vitamins. However, the nutrient levels are lower compared to animal-based meat.
Is Plant-Based Meat Better for You Than Real Meat?
No, plant-based meat is not better than real meat. Dieticians advise people to consume reasonable amounts of real meat, a healthier alternative for maximum nutrient benefits. But if you're stuck with plant meats, pair them with other healthy plant protein foods.
Does Plant-Based Meat Mean Vegan?
No, plant-based meat doesn't mean vegan. The meats are not made solely from plant foods, as some include eggs and dairy products. However, they're categorized as vegan diets and are animal-meat substitutes for people on this diet.
Is Plant-Based Meat Healthy?
If you consume plant-based options properly, they may be a nutritional component of a balanced diet.
However, it's not a path that will promote the health results you desire if you solely consume plant-based bacon, sausage, and hot dogs as your protein sources while eschewing natural alternatives like legumes, seeds, nuts, and whole grains.
This is why it's recommended to eat animal-based meats once in a while.
If you decide to do so, hop onto these authentic, best meat delivery websites and order organic, premium, quality chops of meat to supplement your keto-carnivore diet routines.
---
References:
https://www.mdpi.com/2072-6643/13/8/2527/htm
https://www.medicalnewstoday.com/articles/is-plant-based-meat-healthy
Was this article helpful?